Lewis Hamilton denies a special 'party' mode on his Mercedes Formula 1 engine was key to the 0.887-second lap time improvement that earned him pole for the Australian Grand Prix.
The world champion had been under pressure from Ferrari's Sebastian Vettel after the first runs in Q3 in Melbourne, but stepped it up massively on his second effort to claim pole by more than 0.6s from the sister Ferrari of Kimi Raikkonen.
That prompted suggestions Hamilton's advantage could have been down to a special qualifying engine mode that he talked about recently.

But Hamilton insisted he made all his runs in Q2 and Q3 with the most powerful engine mode activated and the final lap was more about getting his tyres working properly.
"On that lap I was in the same mode as lap before - it was about getting the tyres in the right temperature and getting the sectors right," explained Hamilton.
"I can assure you we don't have a party mode - I used the same mode from Q2 to the end of Q3.
"There was no extra mode, no extra button I engaged."
This prompted Vettel to question why Hamilton had not been as far ahead earlier in qualifying, saying: "What were you doing before then?"
Hamilton responded: "I was waiting to put a good lap in, wipe the smile off your face."
"What goes around comes around," replied Vettel. "At the end of the day that's why we're here, we want to have fun, if that's what he enjoys on Saturdays he's doing pretty well."
When Hamilton interjected to say "it was a joke, dude", Vettel replied: "I know. He's free to have a party tonight, hopefully Kimi and myself have a party tomorrow."
Hamilton caught out by Ferrari qualifying pace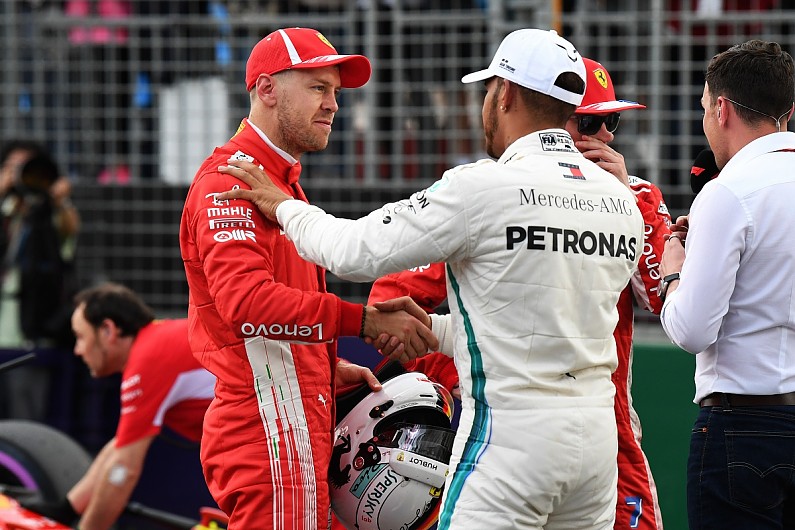 Hamilton said he was surprised that Ferrari had pushed him so hard in qualifying, where Vettel was fastest in Q2 and less than a tenth behind Hamilton after the first runs in Q3.
"It was a real surprise to see how quick the Ferraris were," Hamilton said.
"The speeds they had on the straights, they've obviously made an improvement in their power mode.
"I think we were similar speeds through the corner but their power mode was definitely quite strong.
"That last lap for me was definitely the best of the weekend - it was one of my best [ever] I would say."
Vettel admitted a mistake at Turn 13 on his final lap cost him the chance to join Hamilton on the front row.
"I think I had a little in hand," Vettel said. "I messed up a bit going into Turn 13, so not ideal from my side.
"But it still felt like a good lap and a good session - the car was coming alive. I'm pretty happy with what we did.
"0.7s is obviously quite big, some homework for us, but we've seen many times that usually on Sunday things get a little closer."