Renault Formula 1 advisor Alain Prost says the arrival of Carlos Sainz Jr at the team fills "a big hole" in its plans to move up the grid.
Sainz has been loaned to Renault for the end of this season and 2018, replacing Jolyon Palmer, and he remains under contract to Red Bull until the end of 2020.
Prost said Sainz's debut for Renault in last weekend's US Grand Prix, where he finished seventh while team-mate Nico Hulkenberg retired, was a perfect example of why the team wanted to make a driver switch mid-season to boost its constructors' championship position.
"It's always a small risk that you take when you change a driver in the middle of the season, but in fact it was exactly what we wanted to have," Prost told Autosport, adding that he feels the team would be fifth in the standings if it had had two cars regularly scoring points all season.
"We had unfortunately a problem with Nico, and we had Carlos to get points.
"If you want to build something, you cannot have a big hole somewhere.
"It's not being rude with Jolyon, but we are constructors and we need to have everything not perfect, but better, and we know we have a lot to do still.
"We are not going to develop [the car] very much, so we want to have the two drivers doing more or less what they have done.
"I hope we don't have reliability problems, and get the two in the points in the last three races, if possible."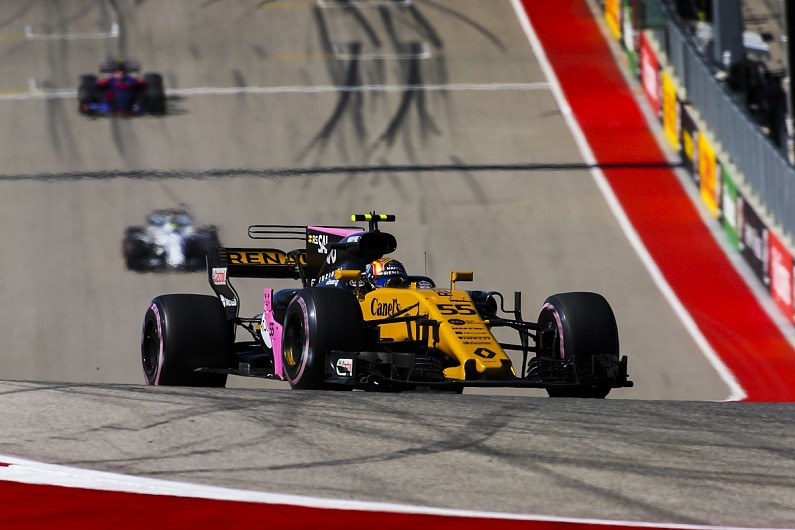 Renault pushed hard to get Sainz as part of an agreement for Toro Rosso to terminate its engine deal with the French manufacturer so it could switch to Honda, but Prost accepts that the Spaniard's longer-term future remains in Red Bull's hands.
"In this situation we don't have all the keys, but the market is very open next year," he said.
"There is no reason why we should change, but because we don't have all in our hands, we have to wait a little bit.
"We are lucky to get Carlos, because we wanted him, but we don't have him for the long term, so we have to be careful.
"For us, that's not a problem. We are in a period where we are building, so the timing is OK.
"We want to establish a strong relationship with him."
Prost offered advice to Sainz during his first weekend with the team, and he believes the Spaniard is ready to handle the pressure of being in a manufacturer team.
"Obviously he is young and he has done a few mistakes, but it's not important," he added.
"What is important when you are in a works team like this, it's a bit different. That's the only message I can give.
"He has to act a little bit different because you have more pressure, and I'm sure he's ready for that."