Red Bull's Max Verstappen set the pace in first practice for Formula 1's final Malaysian Grand Prix, as running was limited because of bad weather.
Verstappen posted a 1m48.962s on the intermediate tyres late on to finish 0.757 seconds clear of team-mate Daniel Ricciardo.
Fernando Alonso was just under a second further back as he took third for McLaren.
Heavy rain drenched the Sepang circuit throughout the morning and though it briefly eased, the intensity increased just as the session was due to begin.
FIA F1 race director Charlie Whiting chose to delay the session "indefinitely" because of the conditions.
The safety car completed several reconnaissance laps to assess the track and after 20 minutes it was deemed the conditions had improved.
Running started with an hour to go, with Alonso the first driver to try out the conditions on a set of wet Pirelli tyres.
Thirteen other drivers headed out and completed an installation lap before pitting, with the Mercedes, Red Bull and Force India duos choosing to stay in their respective garages at first.
The rain eventually stopped and the track dried sufficiently for Force India pair Esteban Ocon and Sergio Perez to head out on the intermediates.
Ricciardo followed suit and became the first driver to set a time, clocking a 1m55.601s with around 30 minutes to go.
The times started to tumble and the Red Bulls engaged in a private battle up front that at times took them three seconds clear of their rivals.
Verstappen improved the benchmark to a 1m51.201s as the track improved, only to be usurped by team-mate Ricciardo by just 0.007s.
Ricciardo then extended the gap to 1.482s as he became the first man to dip under the 1m50s before Verstappen went nearly eight tenths quicker to steal top spot.
Alonso waited until the final minutes to come out on intermediates and immediately jumped to the 'best of the rest' position behind the Red Bulls.
Ferrari duo Kimi Raikkonen and Sebastian Vettel were fourth and fifth quickest respectively, popping in their fastest times in the final moments of the session.
Championship leader Lewis Hamilton completed just eight laps and ended up sixth fastest, 2.556s off the pace and half a second clear of Mercedes team-mate Valtteri Bottas.
Lance Stroll finished eighth fastest, one place ahead of Pierre Gasly, who was making his race weekend debut in the Toro Rosso.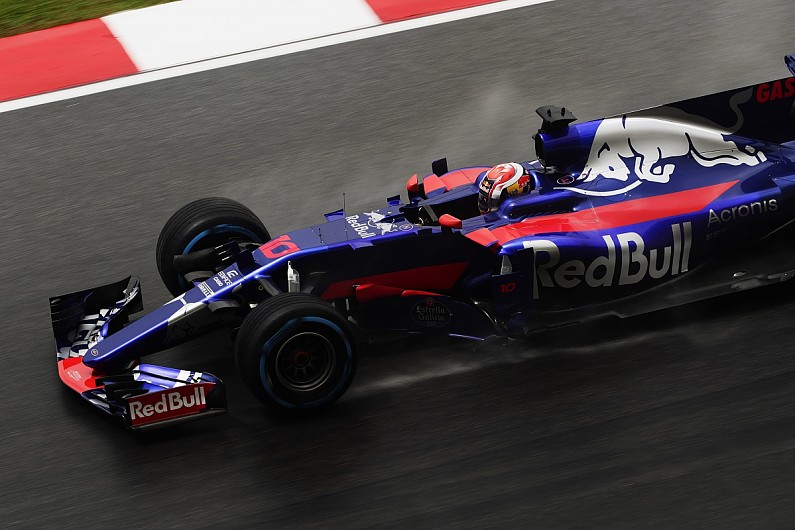 Sergey Sirotkin - standing in for Renault's Nico Hulkenberg for first practice - completed the top 10.
Felipe Massa was the only driver not to set a lap time, with Williams investigating a potential hydraulic problem.
Sean Gelael had the use of Carlos Sainz Jr's car at Toro Rosso and was 14th, while Antonio Giovinazzi was back on Haas duty in Kevin Magnussen's car - though he only completed six laps and was slowest of those to set a time.
Runaway Formula 2 leader Charles Leclerc made the first of a string of late-season Sauber Friday morning appearances.
Leclerc replaced Marcus Ericsson and ended up 16th, three tenths quicker than team-mate Pascal Wehrlein - who was one of a handful of drivers to have spins on the slippery track.
FP1 times
| Pos | Driver | Car | Time | Gap | Laps |
| --- | --- | --- | --- | --- | --- |
| 1 | Max Verstappen | Red Bull/Renault | 1m48.962s | - | 11 |
| 2 | Daniel Ricciardo | Red Bull/Renault | 1m49.719s | 0.757s | 12 |
| 3 | Fernando Alonso | McLaren/Honda | 1m50.597s | 1.635s | 6 |
| 4 | Kimi Raikkonen | Ferrari | 1m50.734s | 1.772s | 12 |
| 5 | Sebastian Vettel | Ferrari | 1m51.009s | 2.047s | 12 |
| 6 | Lewis Hamilton | Mercedes | 1m51.518s | 2.556s | 8 |
| 7 | Valtteri Bottas | Mercedes | 1m52.007s | 3.045s | 10 |
| 8 | Lance Stroll | Williams/Mercedes | 1m52.295s | 3.333s | 9 |
| 9 | Pierre Gasly | Toro Rosso/Renault | 1m52.380s | 3.418s | 14 |
| 10 | Sergey Sirotkin | Renault | 1m53.521s | 4.559s | 10 |
| 11 | Jolyon Palmer | Renault | 1m53.625s | 4.663s | 10 |
| 12 | Stoffel Vandoorne | McLaren/Honda | 1m53.771s | 4.809s | 10 |
| 13 | Esteban Ocon | Force India/Mercedes | 1m53.896s | 4.934s | 6 |
| 14 | Sean Gelael | Toro Rosso/Renault | 1m54.610s | 5.648s | 13 |
| 15 | Sergio Perez | Force India/Mercedes | 1m54.669s | 5.707s | 4 |
| 16 | Charles Leclerc | Sauber/Ferrari | 1m55.280s | 6.318s | 10 |
| 17 | Pascal Wehrlein | Sauber/Ferrari | 1m55.652s | 6.690s | 10 |
| 18 | Romain Grosjean | Haas/Ferrari | 1m56.211s | 7.249s | 8 |
| 19 | Antonio Giovinazzi | Haas/Ferrari | 1m56.339s | 7.377s | 6 |
| 20 | Felipe Massa | Williams/Mercedes | - | - | 3 |