Renault Formula 1 driver Nico Hulkenberg was "desperate" to beat the McLaren-Hondas in Singapore Grand Prix qualifying.
Hulkenberg had been fractionally ahead of McLaren's Stoffel Vandoorne in fifth in Friday practice at Marina Bay, but was only seventh in final practice as Fernando Alonso and Vandoorne took fourth and fifth.
In qualifying Hulkenberg outpaced Alonso to take the 'best of the rest' slot in seventh by 0.166 seconds, and got within two tenths of Valtteri Bottas's sixth-placed Mercedes.
Hulkenberg immediately radioed Renault to ask if he had beaten the McLarens and celebrated when told he had.
"It was an interesting fight and we set, and I personally had, that target [of beating McLaren]," said Hulkenberg.
"I definitely was desperate to, very determined to be ahead of them and be P7.
"It was quite satisfying with the last lap to get them."
Asked if he expected to maintain that position in the race, Hulkenberg replied: "I think we have the pace, our package is good and strong, if all goes well, yes."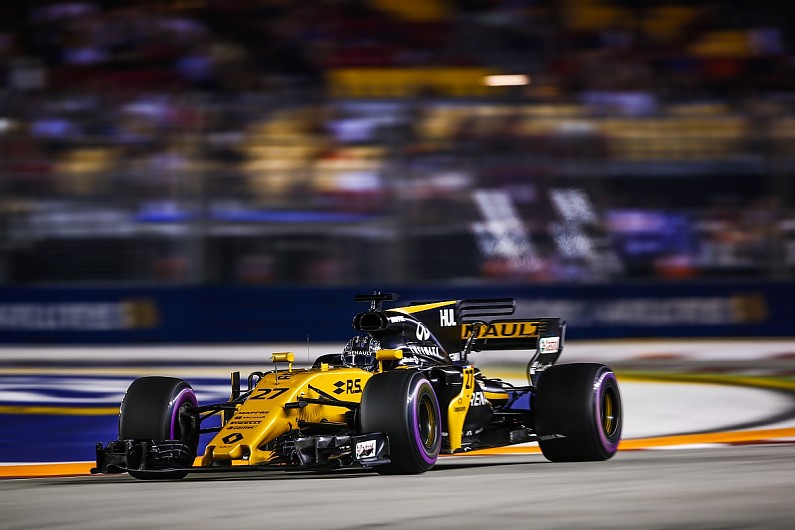 Alonso admitted McLaren had hoped for better than eighth and ninth given its practice pace.
"Obviously after FP3, we were P4, P5, we thought for one moment to be maybe fighting for sixth or fifth if some of the top guys make a mistake or something in the Q3 but it wasn't possible," he said.
"They did a good quali and also Nico beat us today so that's the target tomorrow, attack the Renault in front of us, defend from the guys behind and hopefully score points."
He was unsure whether McLaren or Renault had the better long-run pace.
"I think the race pace here is a little bit of a question mark because yesterday the long runs were not long enough," said Alonso.
"I think with the difficulty of overtaking, the positions will be more or less set after the first lap.
"We need to concentrate on a good start and after that we see if we can keep that position."
Team-mate Vandoorne felt McLaren had "missed a little bit" when it counted in qualifying.
"It's been reasonably good, we came here expecting to have both cars in Q3 and that's what we managed," he said.
"We definitely have the pace to be in the top 10 and to score points, maybe with a bit of mayhem in front. We've been competitive since the start.
"Q1, Q2 was very strong for us and maybe we missed a little bit in Q3 to make a step up but nonetheless a good result and hopefully we can carry that forward tomorrow."