Robert Kubica has begun the Renault test at the Hungaroring that is likely to decide whether he can return to Formula 1 in 2018.
The 32-year-old Pole took over Renault duties from Nicholas Latifi on Wednesday morning, in his first run in a contemporary F1 car since his career was interrupted by a horrific rallying crash six and a half years ago.
Kubica was at the Hungaroring to watch day one of testing on Tuesday - his first appearance in an F1 paddock since 2011's winter running.
He had previously turned down opportunities to visit grands prix, vowing only to return to the F1 paddock as a driver.
By the end of Wednesday Kubica wants to be regarded not just by Renault, but by the whole F1 paddock, as a credible contender for a future race seat.
"The last two months testing a 2012 car gave me quite a big boost and somehow I was hoping to get a chance to try a 2017 car," said Kubica ahead of the test.
"To have this opportunity during the offiical test is something special. It's a bit unexpected.

LIVE: Follow Kubica's F1 testing return
"I would like to have a comfortable feeling in the car but also see the team happy with the job I have done.
"It's not about laptimes and pace, but the commitment and feedback I can provide.
"It will be crucial and I will concentrate to do my best."
His two tests in a 2012 Lotus-Renault have proved to himself and Renault personnel that he can still handle F1, now the challenge is to change wider perceptions in a paddock where some feel he is deluding himself.
Though his CV features just one F1 win, Kubica was always regarded as one of the best of his generation - especially by rivals.
"Robert's one of the quickest drivers I've ever raced against," said Lewis Hamilton, who he raced in karts as well as F1.
"If he was still racing today he'd been in contention for a world title, if he'd not won one.
"Not a lot of great, great drivers come through. You have some that are much better than the rest, but still not the greatest, and then you have real special drivers like him."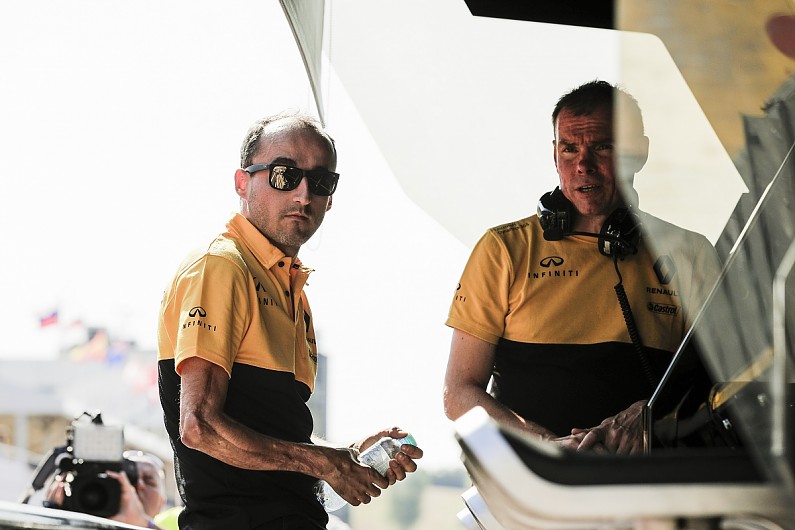 The presence of such a driver will add an interesting new dynamic to the 2018 market.
He is already in the frame at Renault, which was not the case before the initial invitation to test the E20 - when expectations were being firmly played down, and it was seen as a favour to an old friend of the team.
While happy to help him out, Renault did not want to raise Kubica's hopes too much, only for him to see them dashed.
His performance at Valencia changed all that. It quickly emerged that he had done a stunning job, overcoming all the challenges he had to face, and outpacing regular tester Sergey Sirotkin.
A second outing at Paul Ricard with the old car brought further progress. That and his performance in the simulator - Renault organised time for him at Red Bull - led to the chance to try the current car. Fortunately, a slot was available at the Hungary test.
This week's running is essential to his comeback hopes. The 2017 cars are the fastest and most challenging in years, so it is vital that he can both discover what they are like to drive, and demonstrate that the extra cornering forces are not a physical problem for him.
Even more importantly, he can do it in public, in full view of the other teams, and with nine other cars on the track. It's useful too that with its relentless series of turns, and inevitable hot conditions, the Hungaoring is a challenging venue.
Nico Hulkenberg qualified seventh, 'best of the rest', last Saturday - marking Renault as the fourth fastest team.
Renault is likely to let Kubica go for a qualifying-style lap because he has to sample all race weekend circumstances.
Team engineers are already confident the experience will be a breeze for him, and passing the FIA's cockpit extraction test proved straightforward on Monday.

Renault would not have let the process get to this stage had it not been convinced that he is a credible candidate for a race seat.
Autosport has produced a standalone special magazine to celebrate our 70th birthday. All current print subscribers will receive a copy for free. To order your copy of the 196-page Autosport 70th Anniversary issue, please go to: autosport.com/autosport70th