Fernando Alonso says he would like McLaren to make a decision on its 2018 Formula 1 engine supplier quickly so it can focus on next year's package.
McLaren is considering splitting with current partner Honda following another disastrous season in which it has scored just two points from 10 grands prix so far.
Having a competitive engine in 2018 is seen as a key factor in McLaren's hopes of retaining Alonso after his current contract ends at the end of this season.
The two-time F1 champion says he would support whatever decision McLaren makes, but hopes the team can decide sooner rather than later.
"It's up to them, but definitely the sooner you make a decision the better preparation you have for the following year so I guess they will try to make it an early decision," said Alonso after retiring from the British Grand Prix.
"Obviously I would support whatever decision they make.
"For me, for the team, [the focus is] Hungary in 15 days' time. A good opportunity, so that's reality. The other things are just dreams."
Alonso suggested McLaren had no doubt the weakest part of the package was the Honda engine.
When asked if McLaren would be fighting at the front if it had a Mercedes or Ferrari engine, Alonso said: "Who knows. It's difficult to guess, to imagine different combinations of cars and engines, etc, but I think we identified very clearly what we are missing so if we can improve that we can be competitive.
"But this is definitely not in the near future so we need look at reality and reality is in 15 days Hungary is a good opportunity for us, so hopefully we can do better there."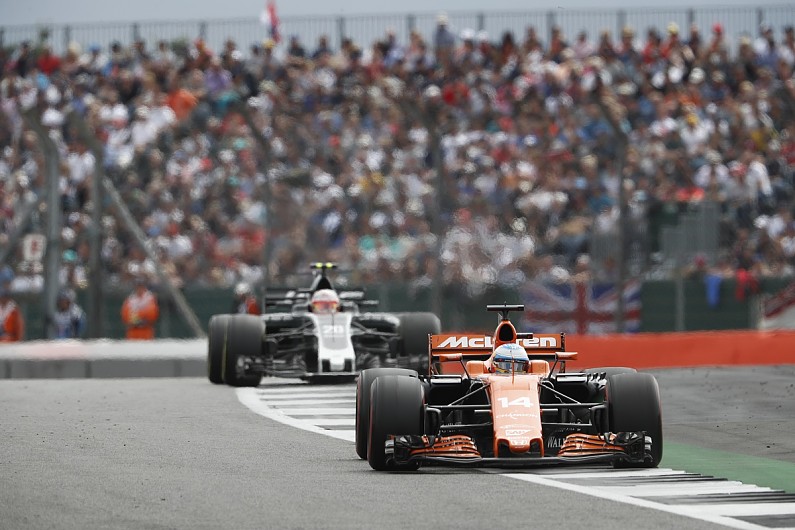 Alonso had started the British GP from the back of the grid after taking engine penalties, but retired from the race with a suspected fuel pump issue on lap 32 of 51.
He admitted the retirement was "less painful" as he doubted points were achievable, having not run higher than 13th.
"Tough time. Unfortunately we had another issue today. A fuel pump, I think, which hopefully didn't damage the engine and we can use the engine in the future," said Alonso.
"A difficult weekend, starting last, and following a group of cars it was a difficult race.
"We were not in the points, so today's DNF is a bit less painful because we were not able to take points."