Lewis Hamilton was presented with a race-worn Ayrton Senna Formula 1 helmet from the Brazilian legend's family after equalling his pole position record in qualifying for the Canadian Grand Prix.
Hamilton defeated his championship rival Sebastian Vettel in a tight qualifying session to take the 65th pole position of his F1 career, tying with Senna in second place on the all-time list behind Michael Schumacher.
After conducting his post-session interview in front of the fans at Turn 2, Hamilton was given a genuine race helmet used by Senna in the 1987 season when he drove for Lotus.
A "speechless" Hamilton kneeled on the ground and immediately took the helmet out of its presentation case, kissing it before taking it back to the paddock under his arm and hanging onto it during the mandatory photos for the top three, and the FIA press conference.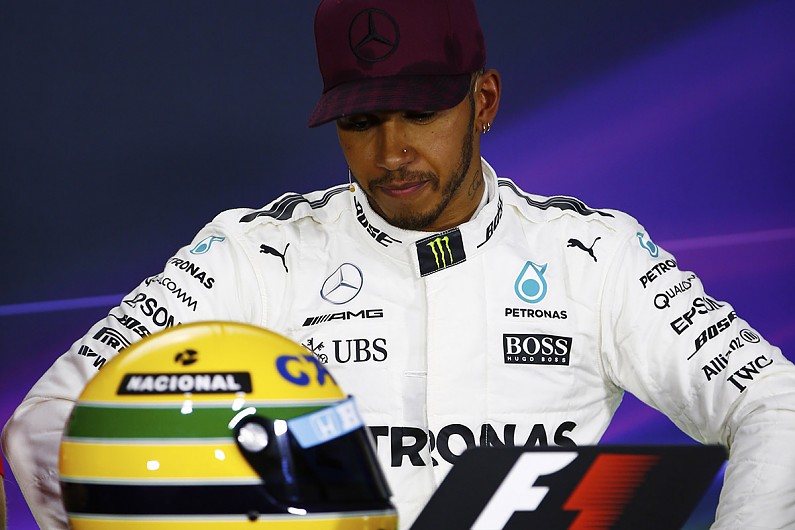 "Wow, I am shaking," said Hamilton. "Ayrton is the one who inspired me to be where I am.
"To match him and receive this is the greatest honour.
"For the Senna family to send me this, I don't posses any of Ayrton's artefacts, this is the most special thing I have above and beyond all my trophies and everything.
"I am honoured to be honoured by that family and honestly I couldn't be happier."
Hamilton admitted he had set a target of matching Senna's record since he surpassed his hero's tally of 41 race wins.
"I have equalled Ayrton in race wins a while ago so this has been my focus, literally as a kid I thought if I was lucky I could emulate Ayrton and I can't believe it," he added.
"I remember coming home from school and putting on video tape of Ayrton so it is really strange to think that now I'm here and I have that many poles.
"And being that it is the most difficult season of my career racing these great guys [Vettel and Bottas] and Kimi [Raikkonen], and having us so close, it pushes us all to the limit, it relies on us to be perfect.
"Of course we can't always be perfect but today I got as close as I could get."
With Schumacher's poles record standing at 68, Hamilton has set his sights on matching the seven-time world champion as well.
When asked if equalling Schumacher would mean as much, he said: I haven't got there so I cannot really say...I cannot really look that far ahead I have to be grateful and appreciate this moment.
"Ayrton was the guy who I knew at the beginning, it was the colour of the helmet, it is what you notice as a kid.
"To think I am close to Michael's incredible record, I plan on getting there, that will be an honour it itself at that moment, but that is all ifs and buts."