McLaren Honda driver Fernando Alonso says Formula 1's new breed of cars and lower-degradation tyres will mean drivers no longer have to race like 'small children'.
Alonso endured a trying fortnight of pre-season testing at Barcelona, with McLaren and engine supplier Honda encountering a number of technical issues that limited the Spaniard and team-mate Stoffel Vandoorne to a combined total of 425 laps across eight days.
But the two-time champion insisted his initial experience of F1's new generation of car had been positive, and that the extra grip on offer should transform drivers' experiences.
"The way you attack the corners, the way you feel the grip, has been a good surprise," he said.
"To be able to drive the way you want and not like a small child, so the tyres don't overheat - that's the best way to feel a Formula 1 car.
"It's been fun to drive freely again."
Those sentiments were echoed by Nico Hulkenberg, who said drivers would be able to drive the 2017 cars to a "natural limit".
Hulkenberg, who had initially been sceptical about the new rules package, described the driving experience as "more spectacular" - although he conceded observers would not be able to fully appreciate how much better it is for drivers.
"You can drive to your natural limit," he said when asked by Autosport about high-degradation tyres previously holding drivers back. "It feels and looks like this.
"I'm very much in favour of that and I hope it is like that.
"I think that's great news, for the sport and for me too - it's more towards my driving style, it's more natural.
"If you go faster it's always more spectacular," he continued. "If you go flat through Turn 3, it's a hell of a ride.
"It's pretty amazing. It's difficult for the public and you guys [the media] to understand. You don't get that sensation. It's pretty fucking cool."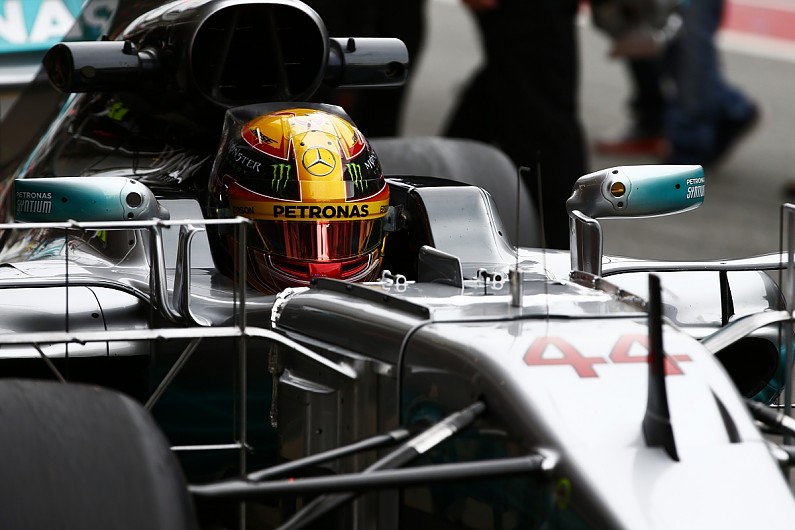 DRIVERS SPLIT ON DURABLE QUALITIES
As well as increase in downforce and improved grip, a change in Pirelli's philosophy means that tyre management during grands prix should be less of an issue.
Pirelli's pre-season analysis suggests tyres will be responsible for a one-second drop-off over 10 laps.
Hulkenberg conceded that testing in February and March meant degradation would increase when racing began, but he hoped it would still allow for "more pure pushing and racing".
But Mercedes driver Lewis Hamilton feared the situation could be similar to previous years at some events.
"You cannot push 100% every lap, the tyres still degrade," Hamilton said. "The tyres are a lot harder than last year.
"They are definitely a little bit less prone to melting, overheating. But they still do.
"And it is not even really hot here, so in places like Malaysia we will still have serious drop off and still have degradation as we have always have."