Lewis Hamilton has hinted there is still an untold story behind Mercedes' swap of mechanics between his car and Nico Rosberg's ahead of the 2016 Formula 1 season.
There were five differences in the engineering line-up on each car for 2016, including the number one mechanics being swapped - with the changes a mixture of normal staff turnover and personnel being moved from one crew to the other.

Rosberg defended the decision when quizzed about its impact on this year's title battle, saying it was a boost for team harmony as the respective crews had grown distant during the 2014/15 championship fights.
"We have been fighting for three years, we are fighting for race wins and championship, it is quite natural that a little separation can happen between the two sides of the garage," he said.
"For overall team performance that is not a good thing.
"You want great team spirit, everybody fighting for one direction and working together.
"And that is why the decision was taken to rotate a little bit."
But when Hamilton was asked for his view, he said "I want to hear the reason you were given" to Rosberg and then hinted there was a deeper story.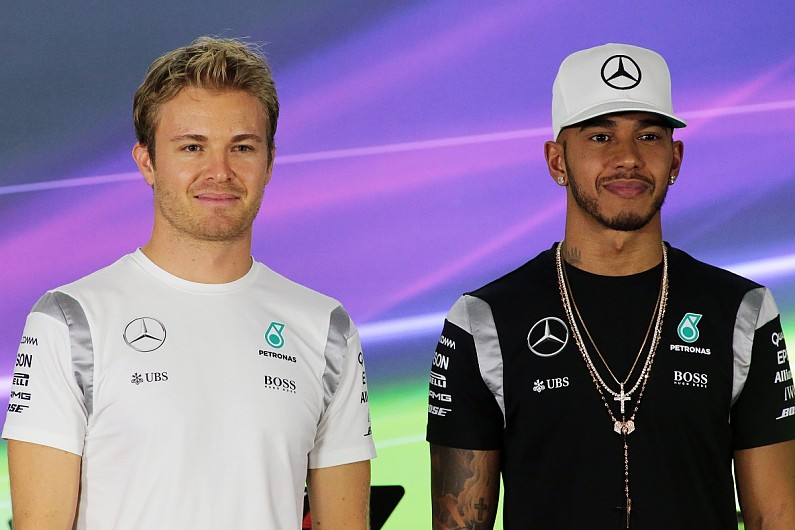 "You'll have to buy my book in 10 years' time to find out exactly what happened," he said.
"It will be an interesting read."
Rosberg admitted he was uncertain about the changes at first but now felt they had been beneficial.
"Of course initially it is not something that is super-comfortable, because my mechanics were close to me and it felt good and for everything to then change means it takes time to gel," he said.
"But I understand that from a team perspective it was the right thing to do and it worked quite well.
"Our team spirit is as good as ever, we had some great parties together and everyone is sticking together and it is an awesome feeling within the team, so it looks like for sure it was the right thing to do."