Lewis Hamilton believes fans do not care about Formula 1's high-tech power units, with the current engine formula too complicated.
F1's new hybrid era, which began in 2014, features power units that comprise six separate elements - internal combustion engine, MGU-H, MGU-K, turbo, energy store and control electronics.
Should a driver use more than five of any of those elements in a season, a grid penalty is awarded with subsequent changes increasing the size of the penalty.
Last weekend at Spa, Hamilton had three fresh power units fitted, which included a series of component changes, and was handed a 55-place grid penalty.
"What do I think to the actual rule? The fact we have six components of an engine and mismatch [of component usage], I don't think it's great," said Hamilton.
"People watching don't care about that.
"It's far too technical, far too complicated.
"Most people watching don't know what an MGU-H is and don't bloody care."
Hamilton also believes the sound needs to be improved, highlighting how he favours the days of V12 engines.
The FIA and teams are working on making a significant improvement for next year.
"It doesn't sound good," said Hamilton. "I still look online and watch old races with the old cars sounding great.
"I miss that. One day I hope we come back to that and simplify it."
Mercedes made use of a loophole in the regulations to build up a pool engines and take Hamilton's penalty in one hit, but its team boss Toto Wolff conceded the rules need to be changed to stop that practice.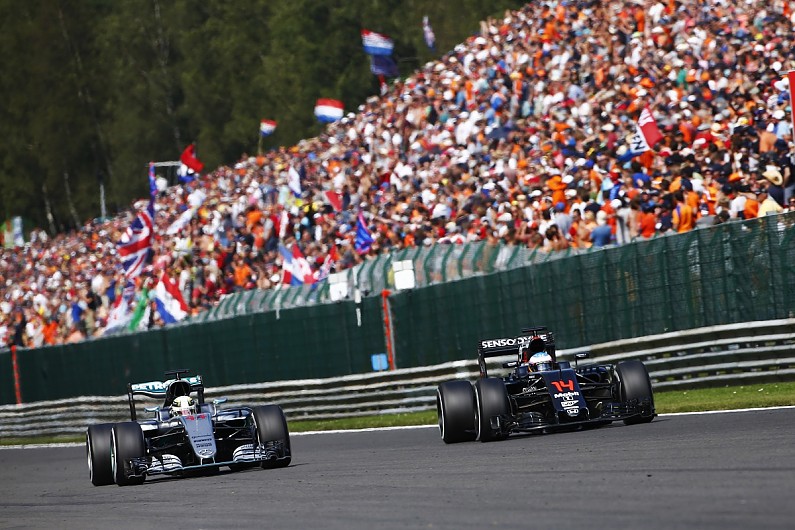 McLaren's Jenson Button, whose team-mate Fernando Alonso picked up a penalty of 60 places for changes at Spa, believes the penalty system needs rethinking.
Alonso initially took a hit of 35 places at Spa, so when he made another change equating to a 25-place drop it was essentially a penalty-free change because he was set to start at the back of the grid anyway.
"The number just shouldn't be there, but we should obviously get penalised because if we go over the amount of the engines or other parts we're supposed to use we should get penalised," said Button.
"I think it's wrong somebody just asked 'does this mean he [Alonso] gets another penalty?' It doesn't.
"That's why Mercedes has put three engines in this weekend.
"The figures are pointless and we shouldn't bother talking about them anymore. That is ridiculous."
Autosport has produced a standalone special magazine to celebrate our 70th birthday. All current print subscribers will receive a copy for free. To order your copy of the 196-page Autosport 70th Anniversary issue, please go to: autosport.com/autosport70th