Max Verstappen became embroiled in a pre-Canadian Grand Prix spat with Formula 1 rival Felipe Massa after the Brazilian stood by his criticism of the Toro Rosso man's Monaco accident.
In the immediate aftermath of Verstappen's high-speed collision with Romain Grosjean in Monaco, Williams driver Massa described the teenage rookie's driving as "pretty dangerous", adding that "experience counts in Formula 1".
Asked to clarify his remarks in Canada on Thursday, Massa said while he had been speaking before the FIA announced its grid penalty for Verstappen, his fundamental opinion remained.
"I was asked what I thought, and I thought he should be penalised because what he did was wrong," said Massa.
"When you are in your first year, 17 years old, and you do something like that, if you are not penalised it's completely wrong.
"The FIA needs to be strong in a proper way, and that's what they did, but that's what I said, and I don't change my mind. That's what I believe."
Verstappen initially responded: "Everybody can have his opinion, that's the first thing, but according to my data I didn't brake any later.
"The lap on which I crashed [the braking] was exactly the same as the lap before. I got my penalty. I'm focusing on Canada right now."
But then Verstappen could not resist a dig at Massa, adding: "Maybe you should review the race from last year and see what happened there."

Canada 2014: Row over Perez/Massa collision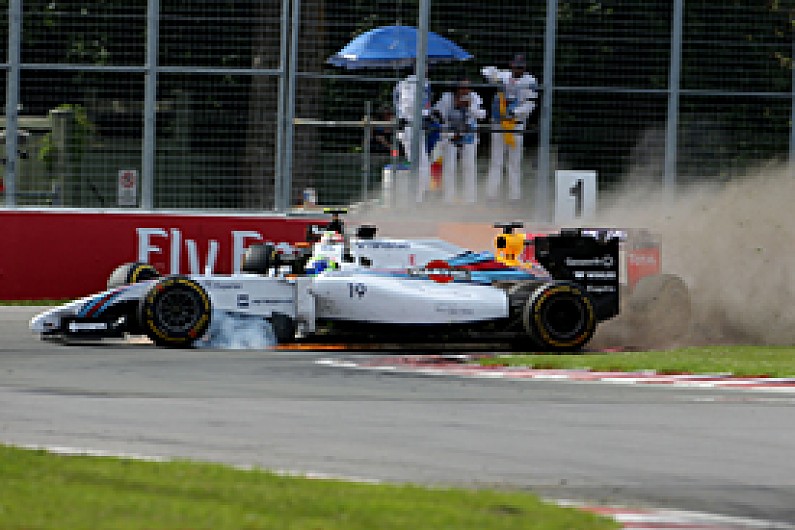 That was reference to Massa's crash into the back of Force India's Sergio Perez in the Canadian GP a year ago (pictured).
Defending himself, Massa responded: "It was a little different, no?
"I was on the side and he [Perez] moved the car under braking.
"I don't think you should move the car under braking, plus it was before the braking as well."
Perez was given a penalty for that incident.
VERSTAPPEN 'WILL NOT CHANGE'
Verstappen, meanwhile, insists he will not change going forward, even though the incident with Grosjean gives him a five-place grid penalty for Montreal.
Asked what he learned, Verstappen replied: "I learned the cars are pretty strong, so I'm happy about that.
"I didn't have any injuries or a lot of problems after that. I went go-karting on Wednesday, so I was fit again.
"But what happened will not change me as a racing driver.
"I will keep fighting, especially when you want to fight for the points, I will still go for it. I will not change my driving style."
On reflection would Verstappen not do anything differently if in the same situation.
"I was attacking, I wanted to respond, especially after the pitstop we'd had," said Verstappen.
"Maybe I would have turned a bit earlier to the right, tried to avoid it a bit more, maybe tried to do it on another lap.
"But there are not so many things I would have to do differently up until then."