Senior team figures believe Formula 1's decision-makers must avoid making sweeping rule changes amid plans for a revolutionary overhaul in 2017.
F1 chiefs want to revamp the sport within the next two years to improve its public appeal, with plans for a return to 1000bhp engines among the goals.
However, Williams performance chief Rob Smedley argues that not only is the current standard of racing "very good" but a major regulation change will only serve to benefit teams with bigger budgets and not necessarily improve the show.
"We need to leave it alone in the main," said Smedley.
"We should perhaps think about stopping tampering with it rather than thinking we are going to create a new set of rules that is going to fix everything.
"Every time you create new rules, you'll usually find the people with bigger resources, the cleverest thinking or those who stop working on the current generation of Formula 1 cars come out with a big gap.
"We do have to seriously think about not changing everything. The racing is very good.
"We have Ferrari and Mercedes and that's making for some good races. Behind them, there is some good racing."
Lotus technical director Nick Chester agreed with Smedley, adding that a major rule change will actually widen the field rather than result in closer racing.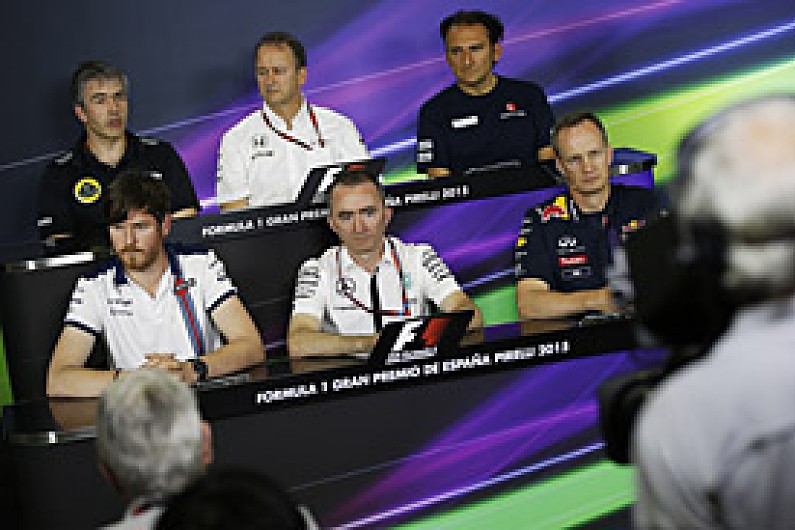 "People forget the racing is quite good," he said. "The cars are improving, we're seeing two seconds improvement from last year, so do we really need a huge change of regulation?
"It is going to open up the grid again, there will be bigger differences between teams and it will also add a lot of cost.
"We should not forget that the show is actually not bad at the moment."
Mercedes boss Paddy Lowe said that while drastic changes are not needed, changes to the sporting regulations could be made to improve the show at minimal cost.
"In terms of rules changes, it's not absolutely clear we need to change the cars radically," he said.
"Performance will increase anyway through normal development.
"An interesting area is in the sporting regulations. There are a lot of things we can do to improve show without spending a whole of lot of money.
"We have been discussing the use of tyres and how they are allocated.
"We're on the look-out for people to come out with ideas but I still say that in my view, the sport isn't in bad shape."