The Williams Formula 1 team is making every effort to ensure Valtteri Bottas can return to the cockpit for the Malaysian Grand Prix, according to deputy team principal Claire Williams.
The Finn was forced to pull out of the Australian GP after being evaluated by FIA medical delegate Jean-Charles Piette on the day of the race, having suffered back pain during qualifying.
He will need to be granted permission to race by the FIA and will be assessed at Sepang next Thursday, the day before practice starts.
"We are fully supportive of Valtteri and his determination to return to the cockpit in Malaysia," Williams told AUTOSPORT.
"He is receiving the best possible care and is doing everything he can to be fully fit again.
"We are committed to doing what we can to help the process, as of course we really want to see him back racing again.
"As he was deemed unfit to race by the FIA in Australia he will need to receive final approval by the FIA medical team in Malaysia on Thursday."
Bottas is spending the period between races in Indonesia.
"Valtteri flew on to Indonesia where he had always planned to be ahead of the Malaysian GP to help acclimatise to the hot and humid conditions whilst also adjusting to the timezone ahead of the race," said Williams.
"He has a leading physiotherapist with him who is working with Valtteri and his trainer to make sure he gets the best treatment possible."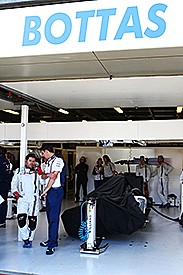 Should Bottas not be able to race in Malaysia, the team has yet to decide who would fill in for him - though at this stage a stand-in is a worst-case scenario.
It has both Susie Wolff, who tested the team's 2015 car at Barcelona in February, and GP3 champion Alex Lynn on its books, although it could also look outside of its roster.
"There are a variety of options available to us, which we are evaluating should we need a reserve driver," said Williams.
"However, at this point we are committed to seeing Valtteri back in the car and therefore we would not want to speculate or comment on any alternative."
Williams admitted that it was frustrating to only have one car on the grid in Melbourne, but wanted to ensure Bottas's health was not compromised.
Felipe Massa finished fourth in the race, meaning that Williams only lost three points to Ferrari, which looks set to be its main rival for second in the constructors' championship.
"It is frustrating to have only had one car in the fight, however Valtteri's health was the most important thing in Australia," said Williams.
"In terms of damage limitation, to come away only a few points behind Ferrari was a good result for our championship battle.
"From what we saw in Melbourne it is going to be a competitive year but we are up for the challenge."