Caterham's Formula 1 chief Colin Kolles says he has done all he can to try to save the team, admitting that its fate is now in the hands of administrators.
With legal representatives Smith & Williamson having closed off staff access to the Leafield factory on Thursday, the team is facing a race against time to get to its cars before they need to be shipped on Saturday to the United States for the next F1 race.
Kolles, who represents the team's buyer Engavest, says that his backers have done their utmost to seek a solution to the financial issues surrounding team supplier Caterham Sports Limited and have made the administrators their best possible offer for the use of the factory.
Asked if he was confident that matters could get sorted in time for Austin, Kolles said: "Everybody is prepared to go to Austin. The problem is that if the administrators are not changing their mind then it is difficult."
Although the cars are being shipped on Saturday, Kolles said it would be possible to get them away even if the team only gets access to the factory a few hours before they are due to leave.
Commercial director Ian Phillips added: "We were always going to prepare the cars in the garage in Austin, and that is due to begin there on Tuesday."
COMMITMENTS HONOURED
Kolles made clear that Engavest had honoured all of the commitments it made when agreeing to buy the team from Tony Fernandes.
"You have to understand this deal was done on full disclosure basis," he said. "And all the conditions and precedents have been fulfilled by the buyer.
"We have our position, and there is nothing more to say. But the administrators, they are not seeing the clear picture."
When asked if it was true there were other potential buyers out there to buy the team to keep it going, as the administrator had suggested, Kolles said: "I don't know. You have to ask the administrator.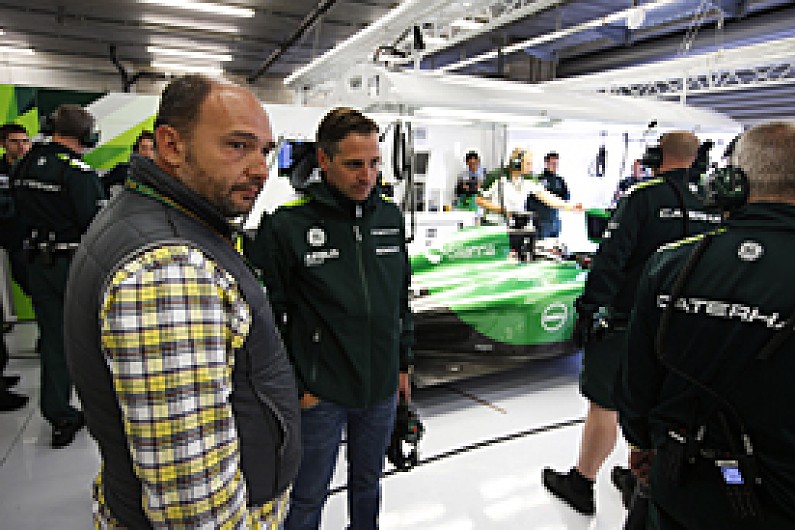 "I think he is in dreamland... maybe he wants to be the next team principal."
Key to the dispute between the Caterham F1 team and administrator is who owns what within the Leafield factory.
Kolles is adamant that 1MRT, the business Engavest bought, owns the cars, equipment and entry.
The administrators disagree and are therefore withholding access to the factory.
Kolles said: "We say very clearly: the cars and equipment belong to 1MRT. This is a simple fact.
"This is how it is even written by Mr Fernandes and Mr Riad Asmat in 2011.
"If the administrators think they have to stop it, and if they have a different opinion to it, then we have to go a legal way - which is damages."
When asked if there had been dialogue with Fernandes in the past week to try to resolve matters, Kolles said: "During the whole period, Tony Fernandes has rejected speaking to the buyer."