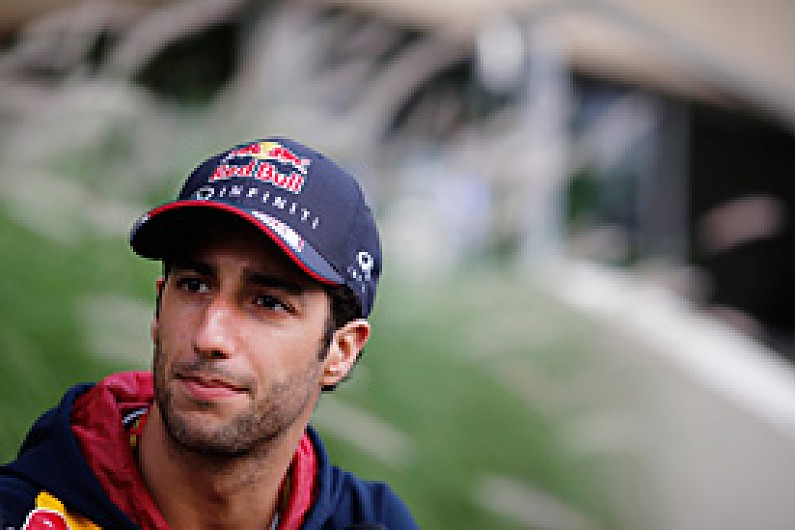 Daniel Ricciardo says Red Bull may have to wait until May's Spanish Grand Prix before it can take the fight to 2014 Formula 1 pacesetter Mercedes.
Red Bull emerged as Mercedes' closest challenger during last weekend's Malaysian Grand Prix, but team boss Christian Horner said further progress would rest on work from engine partner Renault.
Ricciardo, who lay fourth behind team-mate Sebastian Vettel before a pitstop problem ruined his race, hopes Red Bull will be closer in Bahrain this weekend but reckons it could be round five in Spain before the RB10 is able to use its strengths to catch Mercedes.
"I hope it's this weekend but once we get back to Europe, to Barcelona, I think we'll be more competitive, because time will have passed and we'll know much more," Ricciardo said when asked by AUTOSPORT when he thought Red Bull might be in a position to fight Mercedes.
"Our car mechanically and aerodynamically is quite good and Barcelona does reward that.
"If we're not there by then I think that's a race we'll start to show our true colours."
Ricciardo reckons Red Bull should be closer to Mercedes in Bahrain, owing to its strengths on the infield section of the circuit, but world champion team-mate Vettel was less optimistic, describing Red Bull as "too slow" to challenge its rivals.
"It's tricky. On every circuit you have straights, and at the moment it's not a secret - look at the speed traps, we are slower than the other teams, too slow to challenge them [Mercedes], Vettel said.
"We lose too much time there. That's not a complaint; fair enough they did a very good job so they deserve to be in that position.
"I think we are already much closer than we and probably everyone else thought. All we have to focus on is the fight we can fight right now.
"There is still a lot we can focus on from our side, in terms of car performance, in terms of driveability. Equally on the power front, Renault is pushing very hard and trying to make the engine more powerful.
"In a way it's a little bit similar to 2009 when we chose not to run KERS.
"But it's still a long season and the cars are early in their development. We need to be aware that anything can happen at any time.
"At the moment we seem to be making big steps. We just need to make sure that our steps continue being bigger than the steps other people are making and then we should have a say."