Malaysian GP: Daniel Ricciardo gets Bahrain grid penalty
| | |
| --- | --- |
| | Sunday, March 30th 2014, 11:15 GMT |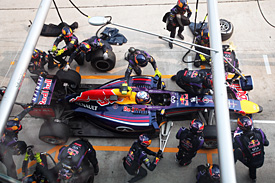 Daniel Ricciardo has been given a 10-place grid penalty for the Bahrain Grand Prix as a punishment for an 'unsafe pit release' by Red Bull in Malaysia.
Although he also received a 10-second stop/go penalty during the race, under the 2014 Formula 1 rules a grid demotion at the subsequent race is also applied.
The Australian was running fourth when he exited his pit before the left front wheel was properly attached at his final stop.
Ricciardo parked in the pitlane as soon as he spotted the problem and was then brought back by his mechanics.
He rejoined a lap down, but subsequently had a front wing breakage and a puncture, and was retired before the finish.
The Malaysian GP stewards ruled that Red Bull had breached article 23.12c of Formula 1's rules by "releasing a car in an unsafe condition during the race."
Ricciardo said he had known there was a problem as soon as he pulled away.
"I guess everyone thought the tyres were on," he said. "As soon as I left I could feel something wasn't right and the left front was loose."
His Red Bull team also received a reprimand thanks to a mechanic not wearing head protection during a pitstop.