Adrian Sutil has criticised Formula 1's lighter drivers for blocking an increase in the minimum weight limit.
The German is one of the heaviest drivers in the field at 75kg (not including his helmet and overalls), which combined with his Sauber being around 20kg over the weight limit, puts him at a significant disadvantage.
The drivers have discussed the problem since last year, but were not united in their desire to push for an increase in the minimum weight limit, currently set at 691kg.
While Sutil admits some of the lighter drivers did support his cause, he is unhappy with others for wanting an unfair advantage.
"The lightest drivers have a problem with it, they block it," said Sutil when asked whether drivers have discussed the minimum weight limit during briefings.
"I think it's unfair. I wouldn't like to win against a driver who is 20kg heavier and if I win by a tenth in qualifying, this is not the truth.
"He won, but I am in front of him, that's the truth."
When asked about Sutil's comments, Felipe Massa, the lightest driver in the field at 59kg without his kit, insisted that the problem is not with the German's weight but with his car.
"I think this is a problem with his team," said Massa.
"If a team has a heavier engine or a heavier car, it's up to them to do a better job.
"I am light, and I am happy to be light, but if I was 10kg heavier I wouldn't have any problems.
"My team did a better job and I don't think it's fair for a team that did a better job on the rules to be put on that level.
"It's like if somebody finds something better with the engine or aerodynamics. These are the rules of the moment."
SUTIL REMOVES DRINKS BOTTLE
Sutil is racing without a drinks bottle wherever possible to save weight.
The ex-Force India driver did use a drinks bottle in Malaysia, but with reduced fluid levels. He did not use one in the season-opening Australian Grand Prix and will not carry one on Sunday.
"No drinks bottle in the car is one thing," he said of the measures taken to tackle the weight disadvantage.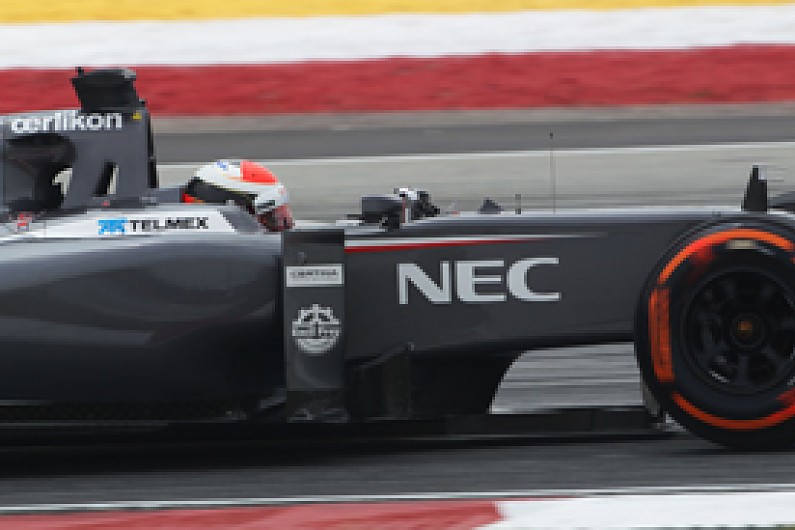 "For Bahrain, it's one-and-a-half hours and you have to drive with no drink.
"Normally you have one litre, or even one-and-a-half litres in Malaysia to drink, but in the situation [I am in] you are talking about 300-400g.
"And that's already a lot. You also have to count the bottle which has an empty weight of half a kilo."
Sutil also warned that measures taken to save weight by the heavier drivers could have health and safety implications.
"We are driving at 300km/h on the straights and we have to be in good shape physically and mentally," he said.
"It's not so easy anymore. You can't guarantee that every driver is on 100 per cent at the moment from a physical point of view."