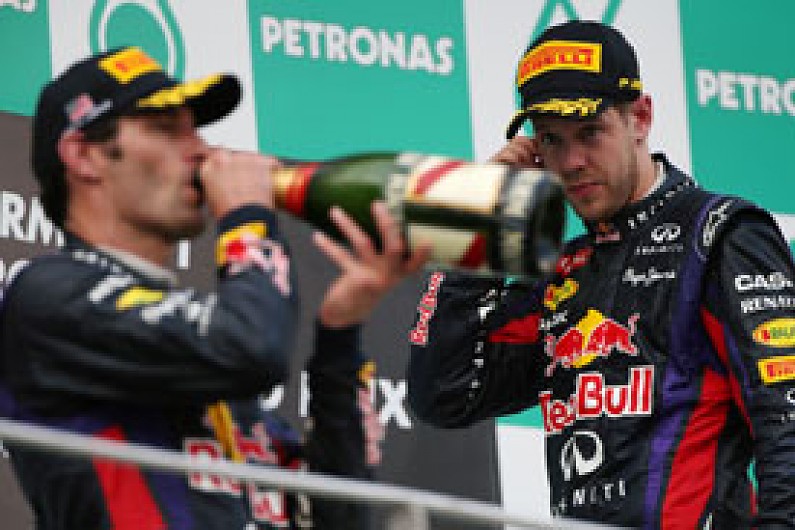 Mark Webber and Sebastian Vettel's Red Bull partnership cannot continue into 2014, reckons ex-Formula 1 team boss Flavio Briatore, who has been part of Webber's management throughout his F1 career.
Vettel's current contract runs to the end of 2014, while Webber's deal is for this year only at present.
Briatore believes Vettel's decision to pass Webber for Malaysian Grand Prix victory despite Red Bull ordering them to hold station with the Australian ahead destroys the relationship between the team-mates and could cost them the championship.
"I think there's no relationship anymore," Briatore told RAI Radio.
"It was already very formal beforehand between the two Red Bull drivers, that was very clear last year.
"Now Vettel says he will help Mark, but Mark doesn't need any help. He should have won the race, and it's possible that Vettel will win every other race.
"I don't think this relationship can be fixed. They are two professionals, they will win races and so on, but it's unthinkable that Mark may help Vettel in the future and I don't think Vettel will help Mark.
"So we'll have two enemies inside a single team, and this will hopefully advantage Ferrari."
Mark Hughes' GP report: Red Bull animosity spills over
Asked if he now expected Webber or Vettel to leave Red Bull after 2013, Briatore replied: "That's for sure. Last year, already, there were problems.
"Their car is very competitive so drivers want to stay there, but [Sepang] was proof that no one is in charge at Red Bull.
"Vettel is the boss there. You can't have a team manager also doing the driving."
Briatore accused Red Bull team boss Christian Horner of weakness, alleging that the power balance between Horner, technical director Adrian Newey, Red Bull advisor Helmut Marko and company chief Dietrich Mateschitz is flawed.
"If there was a manager with balls, he would have had them switch positions again," said Briatore.
"The problem is that there are two people with different ideas on the pit wall, with Helmut behind them doing the talking with Mateschitz, so you understand they are all scared."
He also criticised the fact that Newey was on the podium rather than Horner.
"Normally the team principal goes on the podium at the first race win of the season," said Briatore.
"Christian didn't even have the strength to get on the podium - because they're terrified with a driver in charge instead of the team manager. You'd first go yourself if you win the championship or the first race, and after that you'd send race engineers or your technical director.
"The fact that Christian didn't go on the podium after scoring a one-two says a lot about his weakness compared to the others."
Translation by Michele Lostia
Autosport has produced a standalone special magazine to celebrate our 70th birthday. All current print subscribers will receive a copy for free. To order your copy of the 196-page Autosport 70th Anniversary issue, please go to: autosport.com/autosport70th