The new Sauber C32's aggressive narrow sidepod packaging was inspired by Sergio Perez's accident in qualifying for the 2011 Monaco Grand Prix.
Chief designer Matt Morris revealed at Saturday's launch of Sauber's 2013 Formula 1 car that Perez's side-on impact with the wall at the chicane at just over 60mph made the team realise that it was possible to reduce the width of the sidepods by almost 50 per cent.
Despite such a drastic reduction in the size of the sidepods, Morris is certain the Sauber has not over-reached itself with the design, even though it took a long time to make the packaging possible.
"Checo had quite a bad accident in Monaco a few years ago and when we got the car back and we saw the sidepod all squashed in, we thought 'I wonder if we could do that?'" said Morris.
"The sidepods are a bold move, a bold design, but we are pretty confident.
"One of the huge challenges for us is in packaging all of the radiators and boxes. Like most things in Switzerland, we got it just in time!"
In addition to the aggressively-packaged sidepods, Sauber has also made some major changes to the braking system, which were tested but never raced last year, as well as lightening the chassis.
Other features, particularly at the front end of the car and the exhaust, are evolutions of the 2012 Sauber.
"We have a whole new braking system that we were developing last year," said Morris.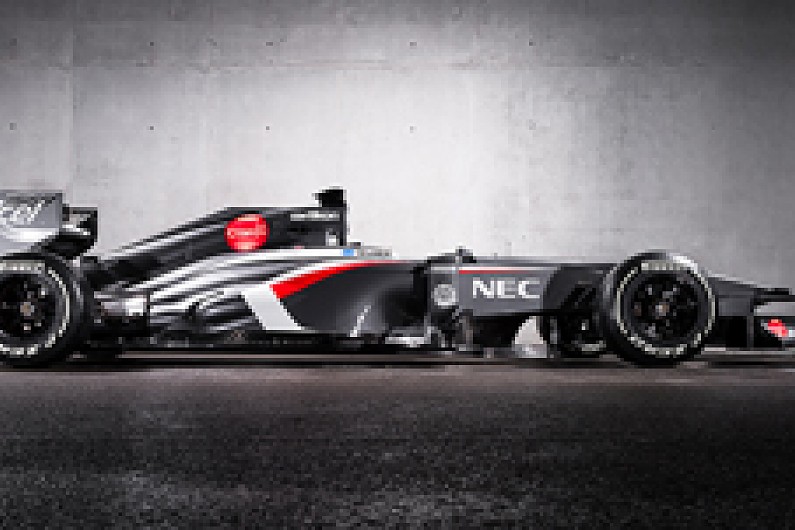 "In terms of the chassis, this is an area we've spent a lot of time and effort on to save weight. We've made some savings without compromising safety.
"The exhaust is not massively different to what we finished with last year, we just further enhanced it.
"The front wing is predominantly a carry-over from last year.
"One of the small regulation changes is an additional legality check on the front wing, so we've had to spend a lot of time changing the structure of the wing to be sure we pass that.
"That's something we spent a lot of time over the winter developing."
Morris added that Sauber planned to experiment with the passive DRS concept during pre-season testing.
"Passive DRS is allowed, so this is an area that we're looking at developing through the course of winter testing," he said.
Sauber C32 - full coverage:
Sauber reveals its 2013 F1 design
Sauber C32 in pictures
Sauber not chasing new engine supplier
Autosport has produced a standalone special magazine to celebrate our 70th birthday. All current print subscribers will receive a copy for free. To order your copy of the 196-page Autosport 70th Anniversary issue, please go to: autosport.com/autosport70th