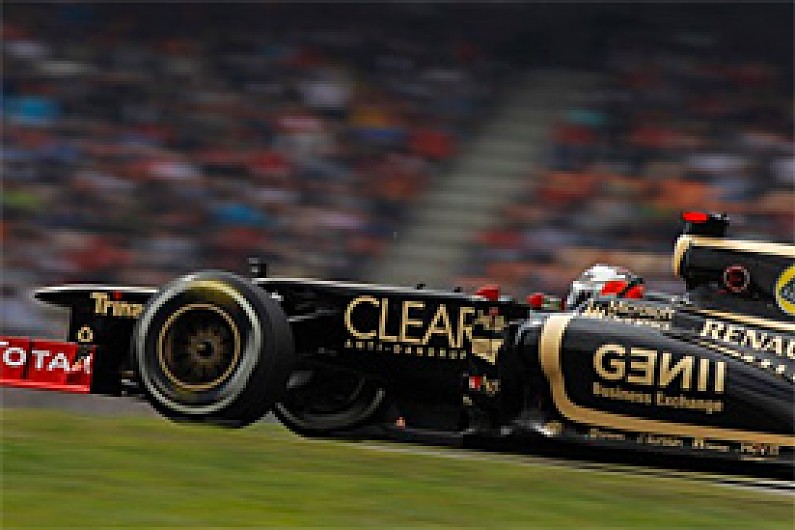 Kimi Raikkonen says it would be wrong for Lotus to believe that it has been unlucky not to win a race so far this year.
The 2007 world champion got his fourth podium finish of the season in Germany following Sebastian Vettel's post-race penalty while team-mate Romain Grosjean has made the top three twice.
Lotus has been close to winning on some of those occasions, but Raikkonen says that the fact that it has missed out so far this season cannot be put down to bad luck.
"Luck is nothing to do with it," said Raikkonen. "It's not unlucky if something goes wrong, it's because we did something wrong ourselves.
"If something breaks, it means somewhere there has been a mistake with a part or whatever it is, so it's not strong enough or has been designed wrong.
"Normally it's human error. It's the same as if I do a mistake in the car; it's not unlucky, it's my mistakes. That's racing."
Raikkonen said that Lotus had plenty of reasons to be happy with its start to the season, even if he felt that it was possible to achieve more in the first half of the campaign.
"We could be better, but we could be an awful lot worse," he added. "It's always easy to say we should win or do better in certain races, but when you have to make decisions you try to do the best possible. Sometimes it works, sometimes it doesn't. But you have to learn if you make a mistake.
"We know that we have to improve on certain things. We're still not 100 per cent happy with how things have gone on all the weekends, but I would say that is what I was expecting.
"I think we learned a lot from the first part of the season and hopefully we can improve. We'll try to achieve a little bit more in the second half. I don't know if it is going to happen or not, but we will see."