As I sit down in my window seat, 21A, I become aware of a continuous mumbling. Then a slight commotion catches my eye.
I look across the aisle to see a woman praying while performing the sign of the cross - not just once, but over and over again. While trying to convince myself that this is typical behaviour of passengers about to fly with Aeroflot, I decide to try to turn my attention elsewhere - and that's when I notice those five unmistakable Olympic rings on a disposable airline cup, with 'Sochi 2014' emblazoned next to them.
Sochi, a Russian resort town on the eastern shores of the Black Sea, is about to emerge on the world stage, both as host venue for the 2014 Winter Olympics and as the first home of a long-awaited Russian GP. And F1 Racing will be the first permanently accredited F1 media organisation to visit the circuit, which, as you read these words, is still being constructed within the new Olympic site.
It's now dawn and, having flown via Moscow, F1 Racing is on a minibus filled with Russian journalists waiting at the checkpoint of the Olympic venue, a few miles north of the Georgian border between the Black Sea and the Caucasus mountains.
With the skeletal shell of one half-built stadium visible through the morning mist and numerous uniformed officers standing around smoking and asking to see our 'papers', it all feels rather James Bond, as if we're on the fringe of the baddies' lair. Security has just been tightened, we're told, since the revelation that the bombers who attacked the Boston Marathon were of Chechen descent.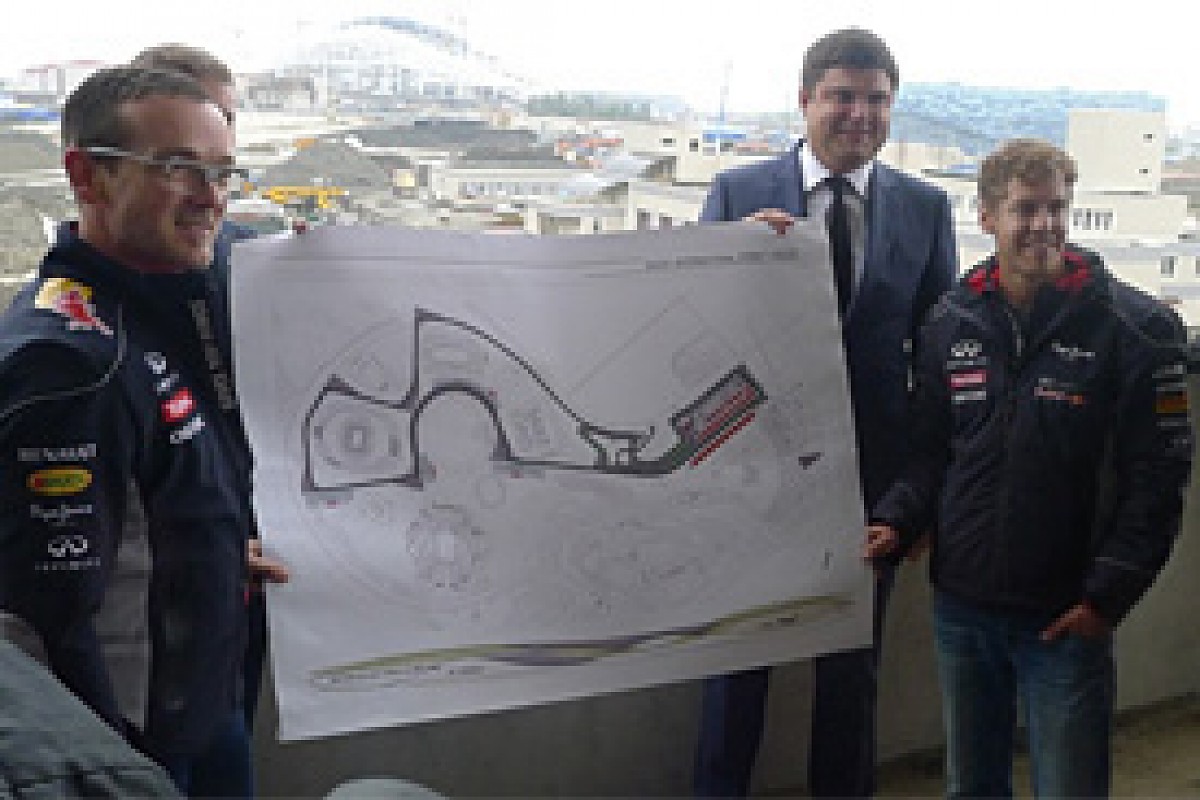 Vettel was impressed with the Russian facilities @ AUTOSPORT
We can see that a few of the stadiums that will host the Olympics next February are already complete, and during our stay the skating rink hosts the under-18 ice hockey world championships. But our interest, of course, is in the new F1 track and facilities.
Happily, first stop on our guided tour is the pit building, a short distance from the main collection of stadiums. And the star guest, fresh from victory at the Bahrain GP, is none other than Sebastian Vettel, brand ambassador for Red Bull partner Infiniti, which has organised this exclusive first look.
Russia is Infiniti's third biggest market, so Vettel's presence is of huge importance to the company, as Andreas Sigl, global director of Infiniti F1, explains: "Sebastian is our new director of performance, and has worked with us to create the FX Infiniti named after him. And Russia is such a key market for us."
Seb has flown direct to Sochi post-win, accompanied by David Coulthard and a number of Infiniti personnel. Victory celebrations continued in full swing on board, we gather, making Sochi an appropriate destination, given its reputation as the Blackpool of Russia.
Rich Muscovites choose the south of France for their holidays, while the remainder (of those who can afford holidays) choose the resort charms of Sochi - a city made popular by Stalin, who had a holiday home here. As the cold rain teems down on a sobering Monday morning, Sochi could hardly have felt more like Blackpool...
Suddenly there's a lot of arm-waving and indecipherable shouting and we're marched off the minibus, through the mud (which late next year will be transformed into the surface of an immaculately clean F1 paddock) and into the half-empty carcass of the pit building. As we enter, we see a table of hard hats. A nice gesture, but only one diligent soul wore one. And when he realised he looked like the lone representative of the Village People on the trip, he removed it swiftly.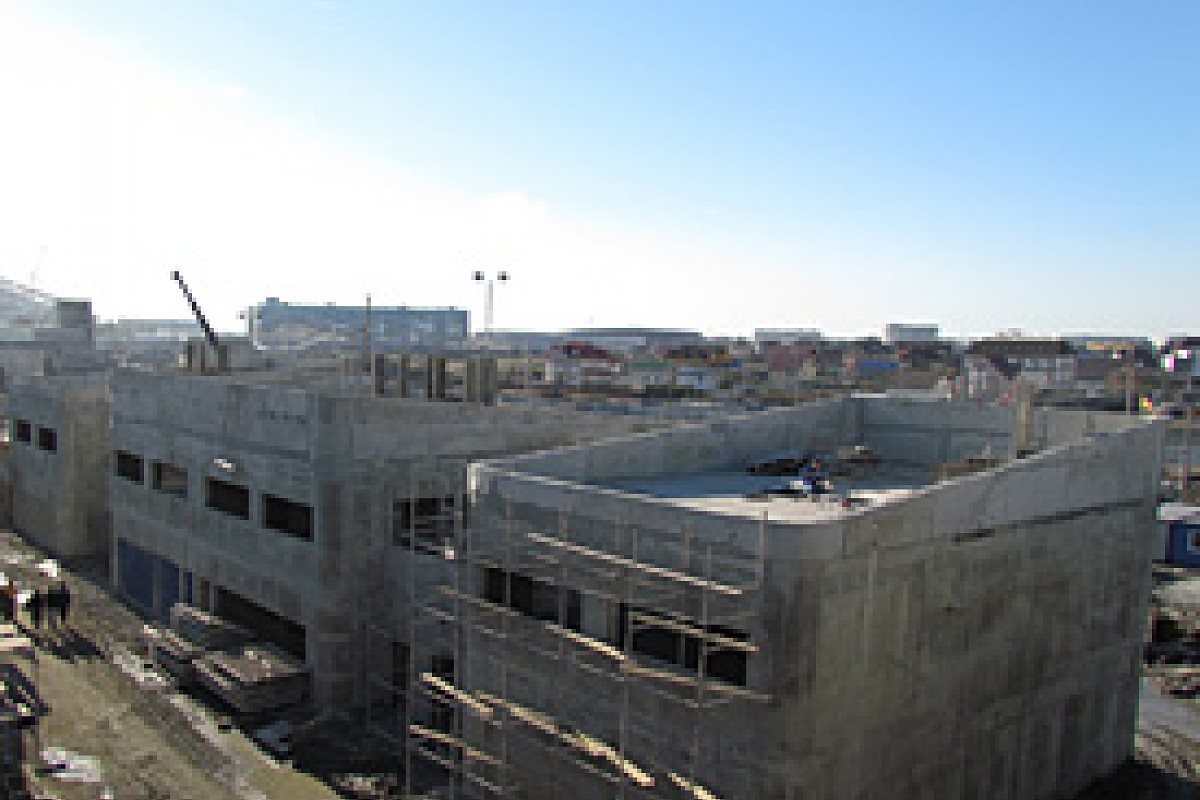 The pit building
From atop the pit building, the impressive work rate is clear to see. Grandstands on the opposite side of the main start/finish straight are a hive of activity; asphalt has been laid at the first corner and construction is advancing smoothly considering the race is still 16 months off.
"When I was here last September, nothing had been built at all," says Maria Melnikova, one of the Russian journalists on the tour. "A lot has been constructed since then, particularly the pit building and main grandstand, and I think this will be a really good venue for the 'formula racing.'" Just as I start to mouth 'Formula 1' to correct her, our conversation is interrupted by more shouting and arm
Moving into view is Sebastian Vettel, flanked by DC, members of the organising committee and the vice-governor of the Krasnodar region, a burly chap by the name of Nikolay Buturlakin.
"This is my first time in Russia, and after having a quick look around I think the facilities are incredible," says Vettel. "I haven't seen that much of the track, but from the drawings it looks interesting and fairly quick in places so it could be a great challenge for the drivers.
"The thing about these types of circuits from my point of view," he continues," is the atmosphere. Take Singapore - we race at night and there are no real fast corners but it's one of the most special races we have because the atmosphere is fantastic. That's what I enjoy as a driver because many fans come to the event over the weekend.
"Racing through the city at night is a real challenge - so Sochi will be different to Singapore, but it will be just as incredible being a part of this new Olympic Park and passing big stadiums integrated into the park, with the sea and mountains in the background. I can't wait to get racing here next year. But right now it requires a lot of imagination as there is a lot of construction and dirt around..."
And mud, Seb.
Having made his speech, Vettel is ushered around for a publicity shot with a Red Bull demo car and he drives part of the circuit in a sparkling limited edition FX Infiniti, which promptly becomes a shade of Krasnodar brown after he splashes through the puddles at speed.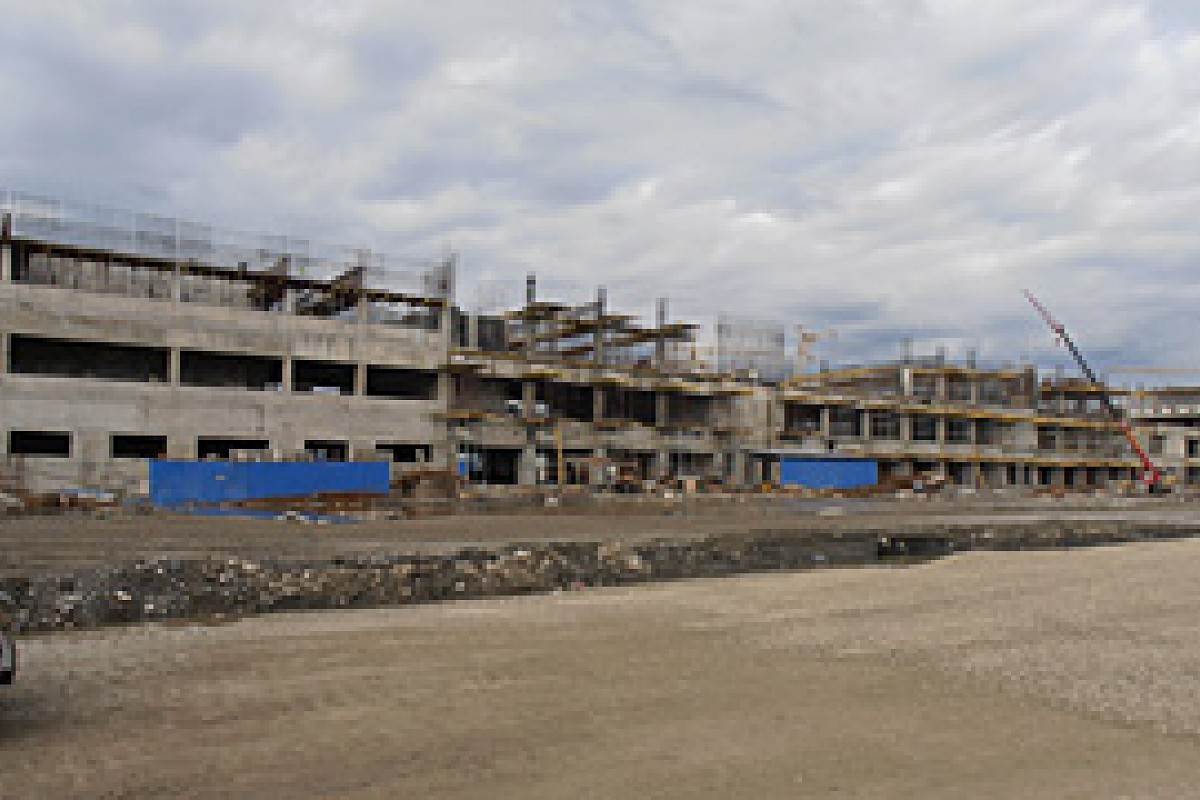 Organisers are sure everything will be ready in time for the race
Back to Maria, who's keen to continue where she left off: "A lot of media write about 'formula' ahead of other categories involving Russian drivers, like WTCC and GT, and I hope that Sochi will inspire a new generation of F1 fans in Russia. Even though Vitaly Petrov is not racing at the moment, the people are still fans of teams like Ferrari, Mercedes and Red Bull and I think the race will be popular."
And the cost of this project? "I wouldn't like to say how much this has all cost - but I know that it's cost a lot," she adds.
We hear that the cost of the Olympic site has run into tens of billions of dollars, while the figure being touted for the F1 track is put at £125 million. Every time F1 announces a new venue, cynics say it will never happen because of 'a lack of money'. On the evidence of F1 Racing's own visit, cash shortages seem unlikely to scupper Sochi, the way they have for previous putative Russian GPs.
Back in March 2002, F1 Racing visited Moscow, then slated to host a GP on Nagatino Island - until a last-minute additional television money fee was presented to the organisers. They rebuffed Bernie Ecclestone's new demand and the project was canned.
Since then Bernie has decided to deal directly with the Russian premier, Vladimir Putin, and their meetings have generated new impetus for the Russian GP project.
Putin and his ministers spend much of their year in Sochi, enjoying its sub-tropical summer climate (not evident on our visit). Their aim is to use the Winter Games and F1 to tempt the Moscow elite into flashing their cash here, rather than in the playgrounds of the Riviera. When the seven-year F1 deal for 2014-20 was announced, Putin asked four companies - Lukoil, MegaFon, Rostekhnologii and Bazovyi Element - to bankroll it, with additional regional and federal financing.
"This project is important for the whole country and we still need to bring people to these venues after the Games," says Buturlakin. "We are looking at ways of making this site viable in the long term. The ice rink will become an exhibition centre; we will have Formula 1 and this is why the government is dedicated to investing in this track. The post-Olympic legacy is important and we want all-season tourism for the region. This is not a cheap project but the effect of F1 on the country will be substantial."
Sochi proper, complete with palm trees, restaurants and nightspots, is actually 18 miles north of the Olympic site, with its accompanying 'village', airport, hotels and F1 track. This will disappoint many F1 personnel, such as David Coulthard, who fear the travelling circus will be discouraged from visiting the city by the long commute - as they have been in Istanbul, New Delhi and Shanghai. That's likely to render the Russian GP solely a paddock-circuit-hotel jaunt.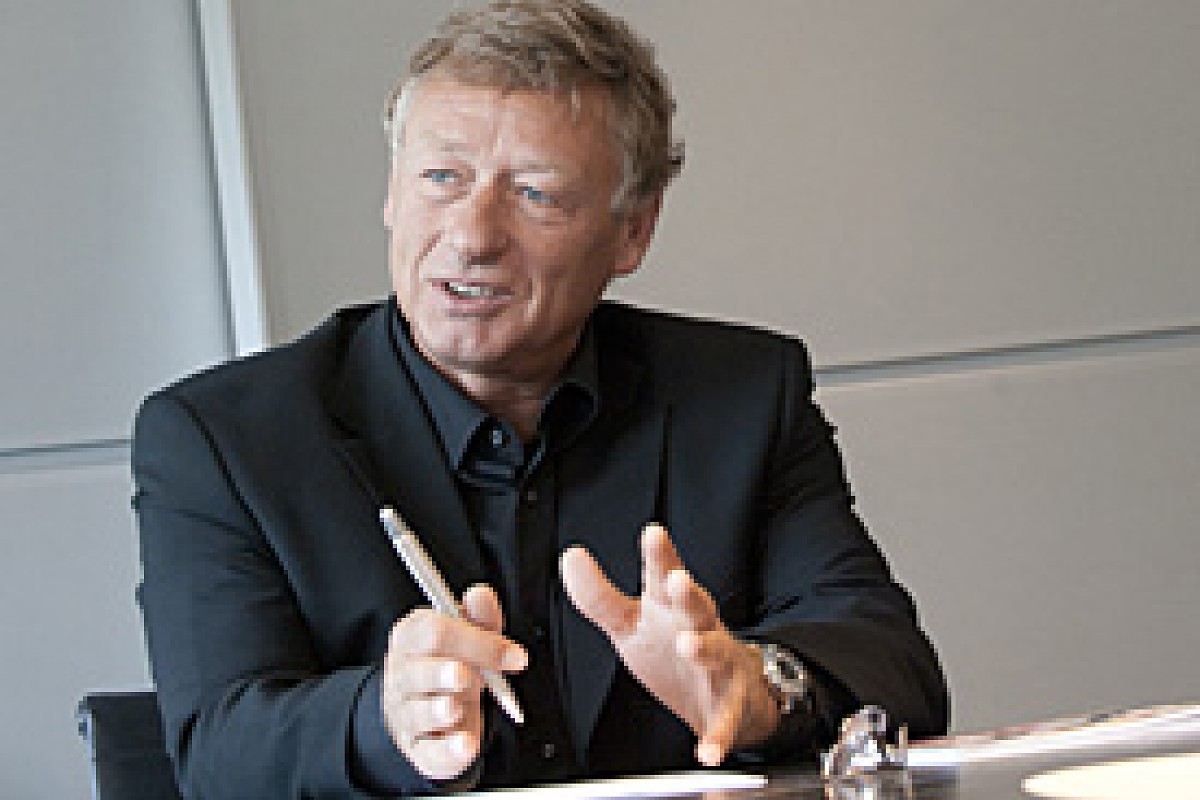 Hermann Tilke
Says Coulthard: "We dodge around so many countries doing this job and as soon as you arrive at the airport here you instantly know you're somewhere different. It's almost like a stereotypical scene from Spitting Image, but I quite like that.
"My one hope is that we don't all come here next year and just stay at the hotel near the track and see nothing that Sochi has to offer. Russia is a place of extremes, of wealth, poverty and size, and I hope that this place captures the imagination of F1 and the viewing public.
"Ultimately does Formula 1 need Russia or does Russia need Formula 1? Probably neither, but if you believe that Putin was down here last week and has endorsed the whole thing - then we're coming here and we'll have a grand prix here."
His optimism isn't universal, however. Journalist Dmitry Maslov, managing editor of Moscow-based Mediacra comments: "I think it's strange they are holding an F1 race here. There is no tradition of sport in Sochi - and they don't really know what will happen after the Olympics.
"Russia is not a Formula 1 country," he adds. "It has no good 'pilots' [a touch harsh on podium finisher Vitaly Petrov]. It's good that it's a new project, but I don't think the public at large will be interested enough. Maybe I'm mistaken..."
Another member of the trip suggests that the stillborn Nagatino Island project in Moscow would have been a better bet for a grand prix than this 'around-the-stadia' venue.
"I think the first race will be a success, but there will be a question mark over the second and third years. I think that people will be less interested as time goes on," remarks Vasily Kostin, a staff reporter for Autoreview.
"I hope I am wrong, but the problem with Sochi is that it's expensive to visit on trains and on aeroplanes. If they wanted to have more of an impact with the people of Russia then they should have held a race in Moscow, where 10 per cent of the population are, or St Petersburg, where five per cent of the population are based. That would be better from a demographic point of view."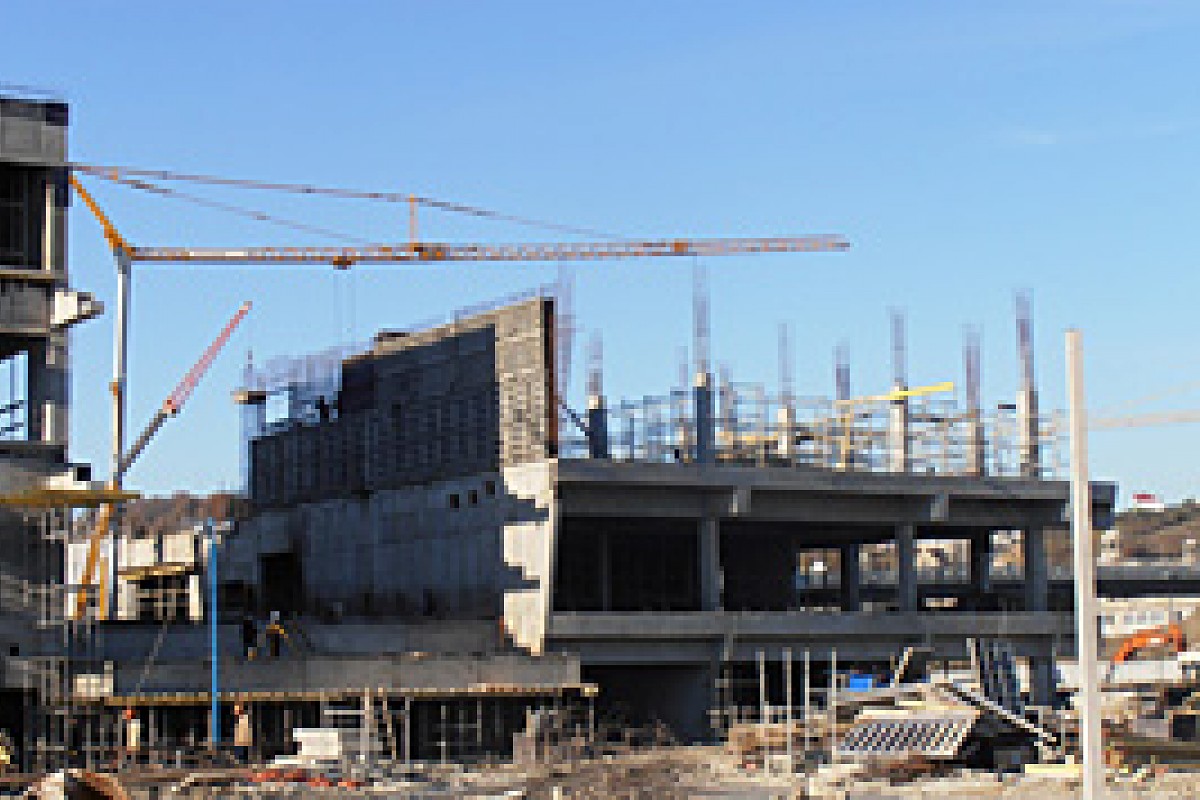 Local media doubt the race will be a huge success
As with the new races springing up elsewhere in the world, it will take time for the Russian public to show interest in the project. Hardcore F1 fans, meanwhile, may bemoan the fact that a 3.7-mile circuit layout has been dictated by the architecture of a sporting venue, rather than springing from a free hand. Its designer, Hermann Tilke, however, raves about one corner - Turn 3 - which winds in a parabolic curve around a centre monument.
"It's interesting," he says. "Entry is at 95mph, building flat-out through the gears to 185mph before the drivers have to brake for T4. It will be really hard on the drivers' necks and on the cars." Vettel is clearly loving it at the wheel of his FX Infiniti.
Tilke has around two dozen engineers on site, but they face a unique obstacle. Tilke explains: "We have to stop work at the beginning of November, then we will not be able to start again until the following March. This is because we have to hand everything over to the Olympics, including the pit buildings, which will be used as offices. After the Games have finished, the surface will be taken up off the perimeter roads and we will lay down the proper asphalt. It's a huge project and very complicated."
Which begs the question: if the race is earmarked to take place next October, will the construction work be finished in time? Viktor Abulgafarov, CEO of Center Omega, the company overseeing construction, has no doubts: "We'll be right on time," he asserts. "And right in time. We started with nothing but a swamp here, but we have hired in the best expertise in the world. We will be complete in June 2014 and I can promise all the dust and mud will be gone."
All very well, but if the Sochi rain doesn't ease off, he'd better take heed of the woman sitting in row 21 of that Aeroflot flight and start praying...