The three guys on the podium, with the cheering Melbourne crowd swarming the track beneath them, had each delivered classic performances, reflecting perfectly their respective characters.
Kimi Raikkonen, the victor, had clinically and unemotionally used the only car that seemed immune to the spectacular tyre graining that was the bane of everyone else's weekend.
Calm and collected off the start, just clearing a space for himself, he picked Lewis Hamilton's Mercedes off early, then simply waited for the others to peel into the pits as he kept going. That's all that was required of him, conserving and occasionally banging in a fast one, but mainly just letting it all flow.
Fernando Alonso, the fighting warrior at his best, was cunning, smart and ruthless all in one drive. His Ferrari couldn't hope to do the two stops of the Lotus. But he'd dealt with both a challenging team-mate and Sebastian Vettel by a decisive - though risky - tactical call all his own, then made it work, unblocking the stalemate he'd been in.
After calmly dealing with the brief fire and brimstone of Hamilton, he set to trying to take the challenge to Raikkonen in his final stint. But as his tyres surrendered so he was obliged to do the same.
Vettel, the mercurial world champion who'd been at his brilliant best in qualifying earlier that day, sprinted away just like normal. But as early as the second lap they were pegging him - and soon they would be coming back at him. The Red Bull was even harder on the tyres than the Ferraris, all that downforce just asking of the Pirellis more than they had to give in these conditions. Each time he'd get onto a new set he'd be briefly super-quick before the Pirellis pulled him back to their speed rather than his. But he was still standing on the podium, even after a bad day at the office.
Vettel flew at the start © LAT
The shape of the race, as two stops and three interwove to give six leaders in the first 20 laps, was to the casual onlooker bewildering or exciting. In reality it was readily explainable by an aggressive choice of Pirelli compounds - super-soft and medium.
The former was capable of just a handful of laps, overwhelmed by the demands of the parkland surface, the combination of the high lateral forces of sector two and the stop-start demands of the rest. The latter was more durable, albeit still very prone to graining.
So Adrian Sutil, by starting his Force India outside the top 10, was able to use the benefit of a new set of mediums for a good long-and-fast first stint that would catapult him to the front, so short were the super-soft stints of those who'd started ahead of him.
The driver who'd been best placed to do that, 11th fastest in qualifying and thereby the first man to have free choice of starting tyres, was Nico Hulkenberg. Here was a perfect opportunity to get his Sauber career off to a spectacular start: every single driver ahead of him was on the 'wrong' tyre and consigned to a very short stint.
It's easy to sympathise with his door-kicking fury when he was informed that there was a fuel-system problem with the car that could not be repaired in time for the race, making him a non-starter. So 12th fastest Sutil got the full benefit instead.
Hulk wasn't the only one with dramas before the race had even started. Mark Webber, still searching for the elusive home win at his 12th attempt, found his Red Bull lacking both telemetry and KERS on his out-lap to the front row of the grid, the result of an ECU glitch.
Fevered efforts were made to fix it, but to no avail. He sat there knowing he was going to be swamped at the start - and he was. As one Red Bull - Vettel's - sprinted into the lead, the other fell back to seventh by Turn 1.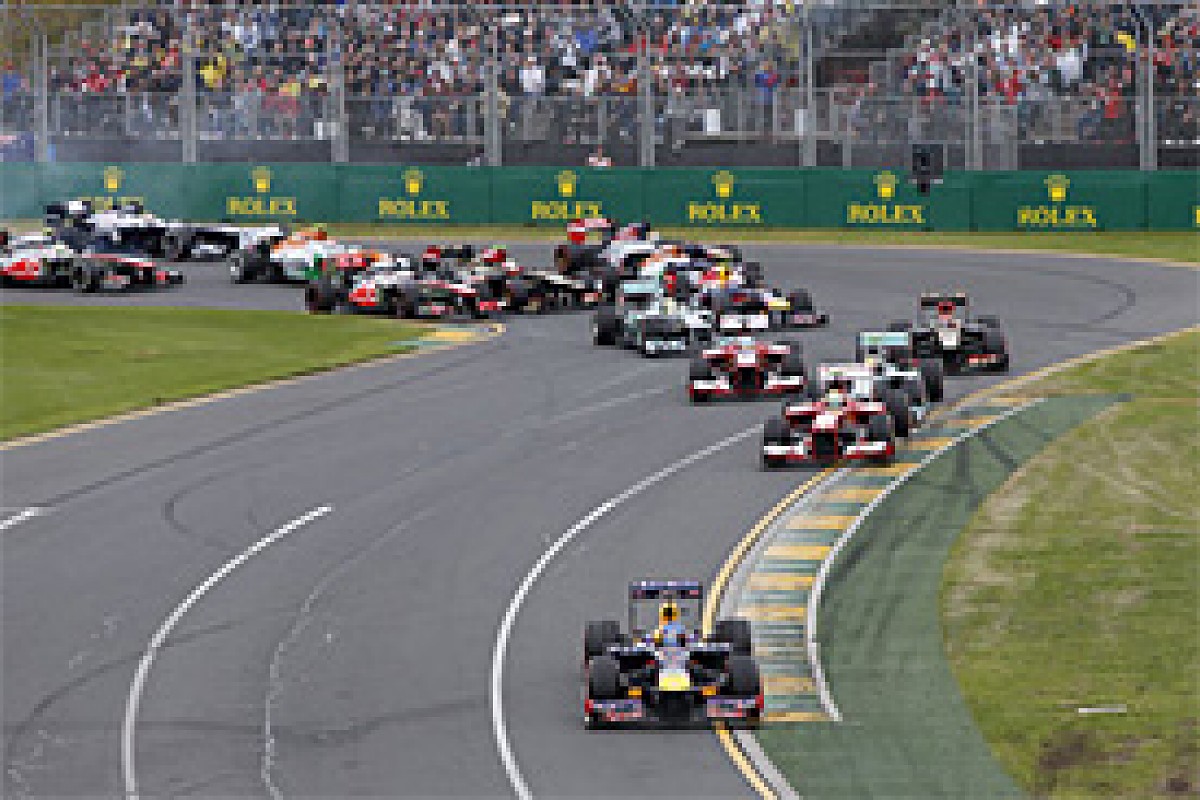 The Ferraris ran close together in the first part of the race © LAT
The Ferraris, as ever, were dynamite off the line, Alonso's in particular. Felipe Massa had got instantly alongside Hamilton's Mercedes, with Alonso looking set to go between them, but as they swerved towards each other so Fernando was forced to lift.
Massa was second, Hamilton got through Turn 1 third but, in blocking the inside of Turn 3 from Alonso, he put himself on the outside for the run up to Turn 4, where the other Ferrari sliced past him. Similarly, Raikkonen had lost out to an aggressive Nico Rosberg for fifth at Turn 1 but made his way past the Mercedes through T3-4.
Vettel was already over 2s clear of the Ferraris at the end of the opening lap, and it seemed all was normal. But by the second lap they were snapping at his heels. That big advantage of qualifying was not evident now. Part of Red Bull's strategy when its cars qualify at the front is to swerve everything towards all-out performance in the opening lap, in fuelling and tyre pressures.
Running higher tyre pressures gives more instant performance, but ensures that they are then overpressured as the temperatures come up in subsequent laps. This time the spectacular graining of Vettel's super-softs ensured the first-lap gap he'd built was quickly eaten up again, and now his tyres were overpressured as well. But even the enabling of DRS didn't allow Massa an opportunity to pass.
Raikkonen's Lotus was geared longer than Hamilton's Mercedes and he was all over it, hassling Lewis on the run up to Turn 4 on the second lap and then thrillingly close through the long curving flat-out link between the Clark chicane and the fast Turns 11-12 switchback.
Lewis was defending but couldn't hold back the inevitable as Kimi went around the outside into Ascari (Turn 13), thanks to a better exit from 12 that had resulted from Hamilton's compromised line. This put Kimi a few seconds behind Alonso and he quickly closed on him. If the Ferrari tyres were holding up better than the Red Bull's, the Lotus's were doing better than either.
The cool temperatures made the aggressive Pirelli compound selection of super-soft/ medium brittle, and the front tyres of everyone except Lotus were ripping up their surfaces. With understeer, especially into the slow corners, the tyres would finally grip mid-turn, but with lock applied that would then trigger oversteer.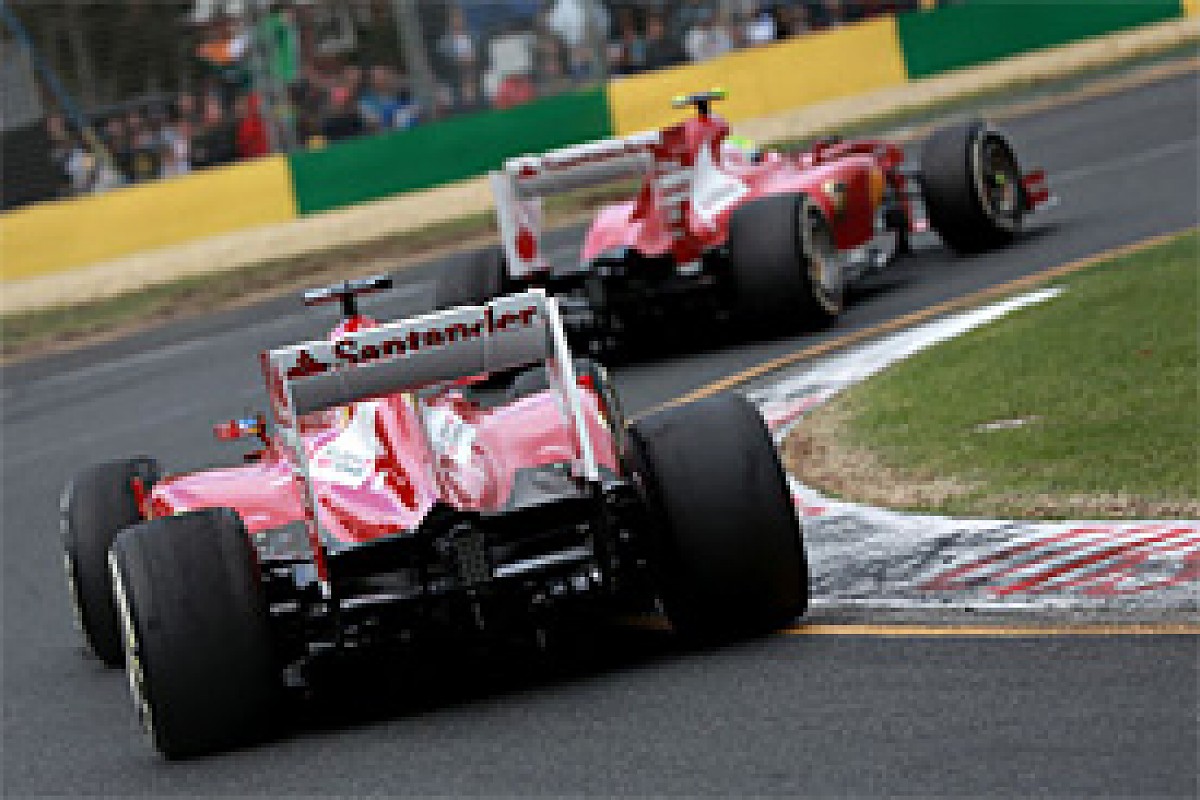 Raikkonen made his two-stop strategy work to perfection © LAT
A few laps of this would have the rears graining - and then you were on borrowed time. But the Lotus had balance and, with its supple suspension, it treated its tyres beautifully. In-car footage from other cars around the uneven Albert Park circuit showed them leaping from bump to bump, keeping their drivers busy, their tyres stressed. The Lotus looked like a limo.
"When tyre deg is high you can build a lot of pace," related Lotus tech director James Allison. "This year's tyres do seem to be more susceptible to that than before. The car is good on its tyres, the traits of its suspension help it, and Kimi has a great feel for them. He had a very, very confident air about him going into this race."
On super-softs that had already done four laps in qualifying, McLaren's Jenson Button knew he wasn't going to last long before pitting. He'd got away OK, up to ninth, aided by high tyre pressures, but it was soon time to come in.
"We thought I'd actually only be able to get two laps in," he said in smiling resignation of his current plight, "but actually I managed four. But by the time of my in-lap I could see the front tyres just throwing rubber off."
Webber by this time was despairing of being unable to pass the Mercedes ahead of him when he was still without KERS. He was brought in on lap five for a set of mediums, but at his stop the car fell off the front jack. This delayed him sufficiently that he exited now behind Button - making his situation even worse. Meanwhile he was following instructions on which buttons to press to reset the electronics in the hope of getting back his telemetry and KERS.
Lap seven was leader Vettel's in-lap and Massa was almost nudging the Red Bull aside, with Alonso in turn almost on his team-mate's gearbox - and Raikkonen closing down fast on them both. Earlier, Alonso had got himself alongside Massa, but Felipe had refused to yield. Now, as the leading car, Massa got pitstop priority and came in on the eighth lap, one before Alonso and Raikkonen.
This left the Mercedes of Hamilton and Rosberg first and second and, as they stayed there for the next four laps, it became clear they were going to try to get through on just two stops. Their tyres were holding up better than most thanks to a Lotus-like ride and balance.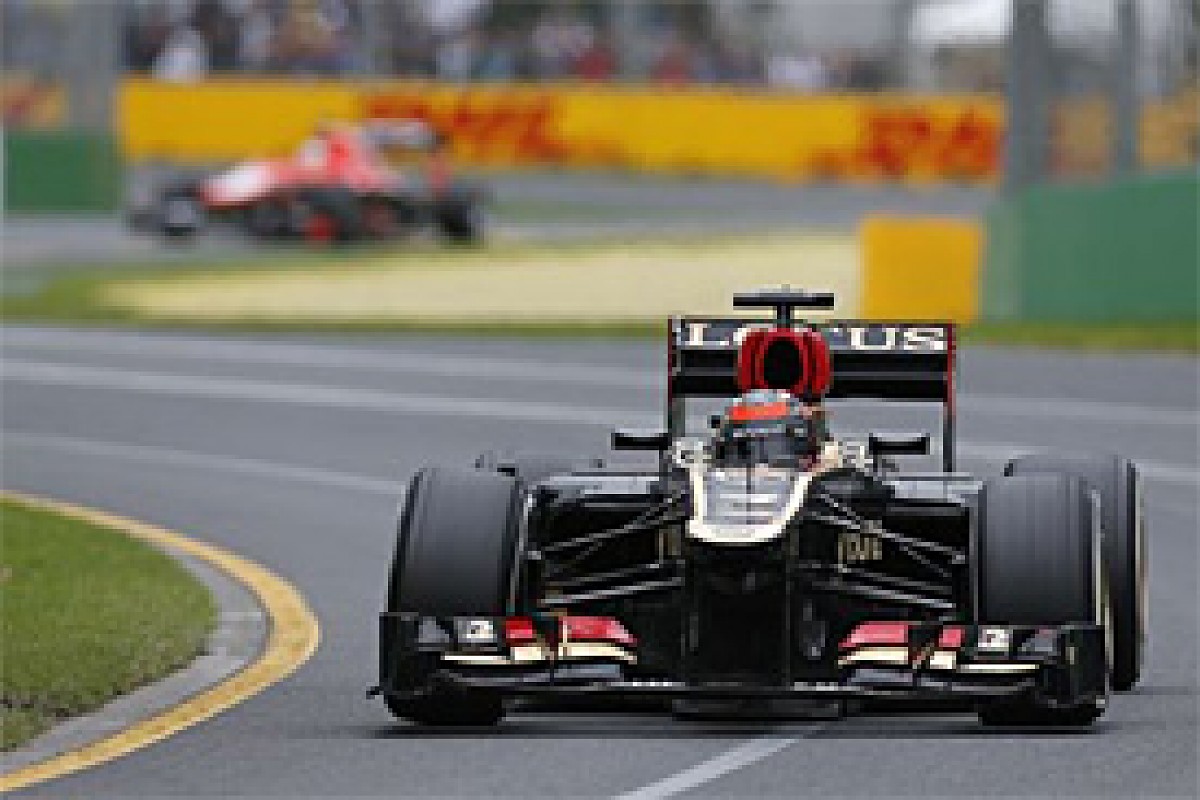 Webber's race was hindered by issues © LAT
Lotus's stopping of Raikkonen on the 10th lap was quite early for a two-stop but it left rivals uncertain. The reality was the Lotus's tyre deg was so good that it could afford the luxury of a relatively early stop and still do the remaining distance with just one more.
As the Mercedes finally pitted on laps 13 and 14, so Sutil assumed the lead. The slow pace forced upon the super-soft cars had allowed him to stay in touch; the Force India was looking after its medium tyres well enough that a two-stop looked perfectly feasible and Adrian was driving well on his return from sabbatical. But all along, he knew he was in for a troublesome final stint on the super-soft that would see him tumble down the order. Meantime, he led the field with Vettel, Massa, Alonso and Raikkonen snapping at his heels.
Into the race's second stint both Hamilton and Rosberg were finding their Mercedes' balance on the medium tyre was nowhere near what it had been earlier, and understeer was creeping in.
Those front tyres were not going to be able to do the stint length necessary for a two-stop and the call was made to switch to a three - which of course meant that they had stayed too long on those old super-softs for an optimum three-stop spacing. Lewis and Nico circulated 6s apart, some way behind the closely-bunched top six.
Alonso was getting frustrated sitting in that queue. It looked to him as though Massa wasn't able to do anything about passing Vettel, even though they were now being held up as the Red Bull understeered ever-more. By the same token, Massa had already shown that he wasn't about to let Fernando through to see if he could do anything. Meantime, Alonso had Raikkonen all over him.
At very short notice - just enough to get the tyres ready - Alonso came in on lap 20 to get himself out of his stalemate, thereby jumping him ahead not just of Vettel but of Massa too who, as the leading Ferrari, would normally have been expected to get first call.
"It was risky what Fernando chose to do in cutting short the planned length," Massa told the Brazilian media. "It meant that he risked having to even make a fourth stop later on. But in hindsight it worked for him."
Red Bull responded by bringing Vettel in next lap for his second stop, just as leader Sutil was making his first. The Force India left the pits still ahead of the reigning champion, but was passed by Alonso as it exited. Massa stayed out for a couple of laps more, briefly considering trying to beat Alonso by two-stopping, then realising there was no way the tyres were going to hold up.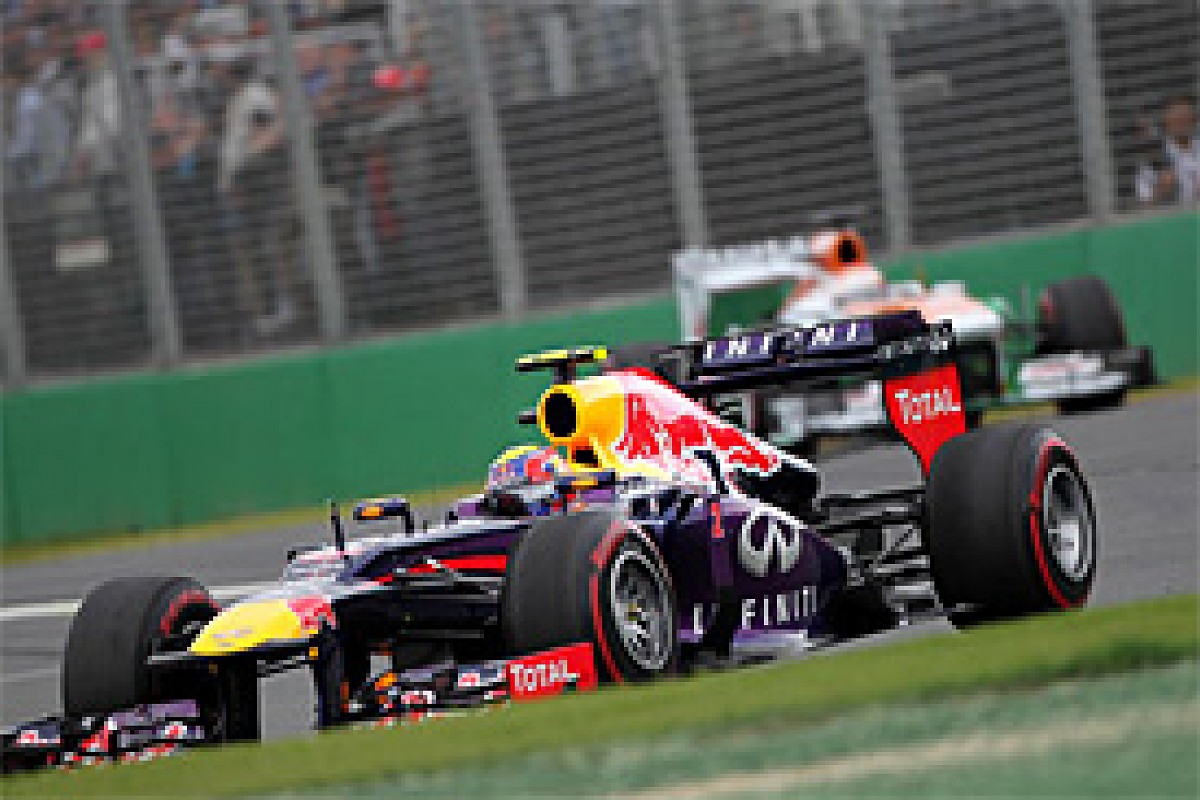 Hamilton enjoyed a strong debut with Mercedes © LAT
Alonso's was the right call - it got him ahead of Vettel - and he was as forceful as necessary in making it. But Massa can at least reflect that he matched him on pace all weekend, so continuing the resurgence of the latter part of last year. Shortly after their stops Vettel duly dispatched Sutil around the outside of Turn 4.
This would later turn out to be crucial because, in getting stuck behind the Force India, Massa lost touch with Vettel and was thereby unable to capitalise on his better tyre usage. At around this time a light drizzle began falling, mainly over Turns 6-10 and it was briefly trickily greasy, increasing lap times by a couple of seconds, before drying out once more.
So with the planned three-stoppers having made their middle stops, two-stopping Raikkonen led comfortably from the two Mercedes of Hamilton and Rosberg, both of whom - as well as now knowing they would have to make two more stops - were not far clear of the charging Alonso, who had already made his second stop. Just as the Ferrari was arriving on Rosberg's tail, Nico suddenly lost power: electrical failure. He pulled to the side, disappointed but far from disheartened at the prospect of the season ahead of him.
Hamilton was running out of grip as Alonso tracked him down. Although they weren't in reality fighting for overall position, given that Hamilton was effectively a pitstop behind, there is invariably a special edge when these two go wheel-to-wheel, and so it came to be again. Lewis wanted to hold him off for as long as possible but was on compromised lines as Alonso tracked him on lap 31.
The Ferrari got out of the quick Turn 12 faster than the Mercedes and made for the outside as they raced up to Ascari. Alonso was partially ahead but on the outside as Hamilton braked late. At this moment the Mercedes's outside-front tyre hit a bump and locked. Seeing at the last moment that Lewis was still there, Fernando opted not to turn in. Remarkably, Hamilton got it all under control and made the apex but, on his compromised inside line and flat-spotted tyres, he was easy prey for Alonso as they exited the turn. Hamilton immediately made for the pits and a fresh set of mediums. He rejoined about 20s behind Massa.
Raikkonen peeled in from the lead at the end of lap 34, having completed a 25-lap stint on his mediums. He now had 24 laps to do on his final set, exiting only 13s behind leader Alonso. Between them were Vettel, Sutil and Massa. They all had their final stops to come, so Kimi was effectively now in full control of the race.
Massa's tyre usage stuck behind Vettel had been higher than Alonso's and he came in on the 36th lap for his final stop. Red Bull responded by bringing Vettel in next lap, getting him out still ahead. Alonso made his way in from the lead on lap 39, while Sutil made his second and final stop on lap 46 and exited now behind Massa and on those delicate super-softs. Raikkonen assumed a 7s lead over Alonso.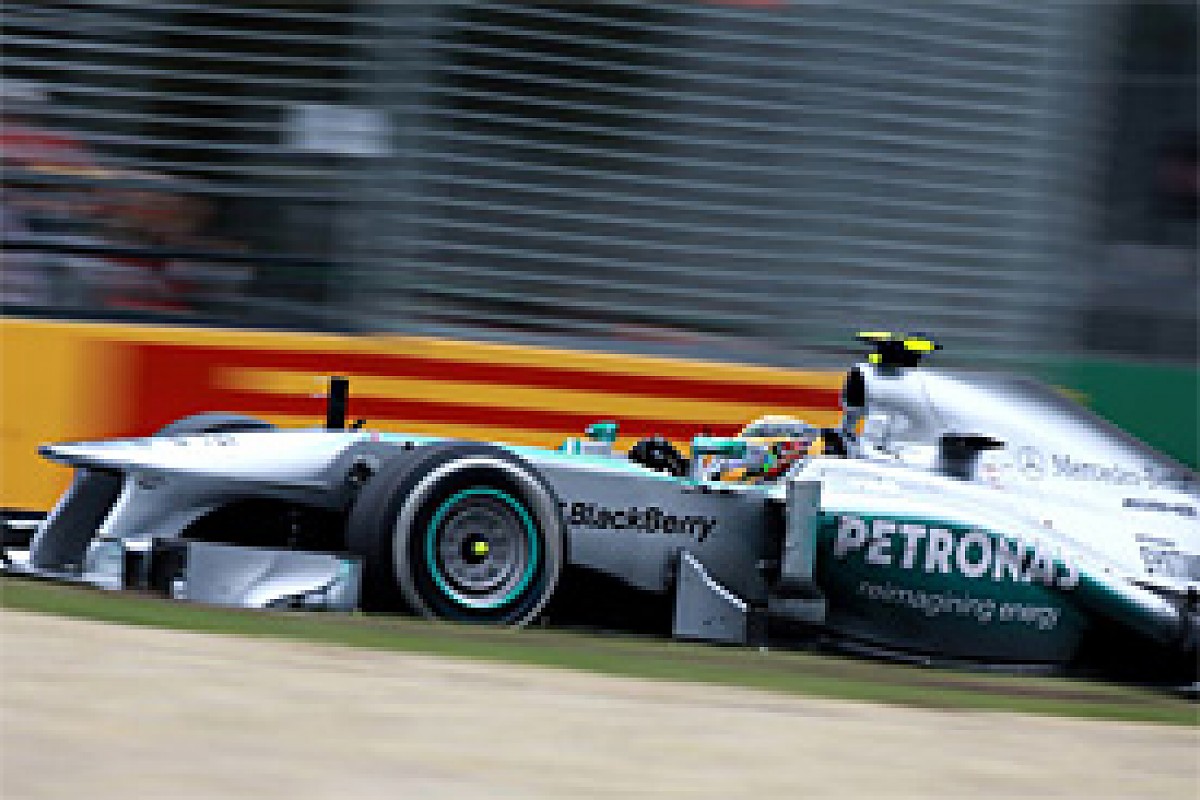 Alonso could not challenge Raikkonen in the end © LAT
For a couple of laps Alonso began to cut dramatically into that lead before realising he was again running out of rubber. A close squeak when lapping Charles Pic's Caterham also didn't help.
Raikkonen let rip with the race's fastest lap three from the end, his tyres in perfectly good shape despite being five laps older than Alonso's. He could probably have gone plenty faster than that if needed. "That was one of the easiest races I've ever had," Kimi reckoned.
Alonso, Vettel, Massa and Hamilton duly filed in with plenty of questions in their minds about just how typical this Lotus-Pirelli performance may turn out to be. Webber rescued something from his weekend after finally succeeding in restarting his KERS 20 laps in. Sutil, without any experience of these super-softs, probably took too much out of them after rejoining and he was a sitting duck for Webber, who took sixth place.
Sutil only just managed to hang on ahead of team-mate Paul di Resta, who had started on the super-softs, while Button was able to fend off Romain Grosjean's Lotus to the line. Grosjean had dropped into the pack after a poor start and had never re-emerged, complaining later that this Lotus did not feel right. The other one had felt just fine though.