Even when he hasn't been busy winning the world title, he's still the driver everyone wants to beat. Whether it's last-race title shoot-outs or controversial indiscretions that make national headlines, everybody around the world knows the name: Michael Schumacher.
Whatever your opinion of his period of dominance, the moments of madness or the wisdom of his comeback, the numbers are overwhelming: seven world titles, 68 pole positions and 91 grand prix victories. Those statistics overshadow the successes of every other great driver in the history of the sport.
We wondered how happy Michael would be to talk about 'Rascasse-gate', or to confront the theory that he was forced into retirement by Ferrari, or to recount his memories of Ayrton Senna. But he wasn't in the least bit fazed.
The steely, ruthless Michael of those all-conquering Ferrari days has mellowed. Now he's relaxed and happy to have a laugh - something that 300-plus grands prix and 21 years of crisscrossing the globe can definitely do for you.
We had more than 2000 questions from readers, asking Michael about subjects ranging from his days in karting to his time at Maranello. We presented him with the best, then listened carefully to his answers...
How do you feel when kids half your age pass you on the racetrack? (Frederick Gasoi, Canada)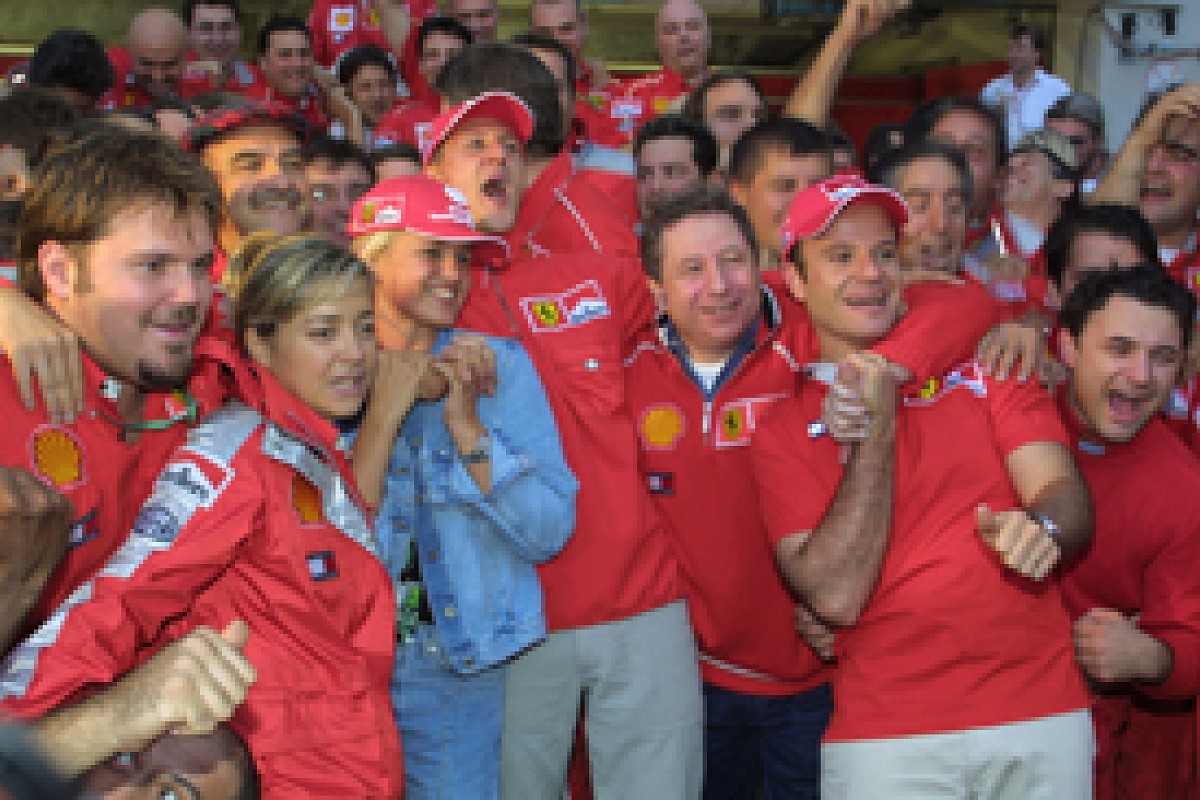 Celebrating at Suzuka in 2000 © LAT
I don't think about age. When I'm sitting in the car, I don't care how old somebody is. I just care that somebody is in front of me and I want to pass him - or that he's behind me and I don't want him to pass me. That's it.
Can you tell us what you really got up to at the Suzuka Circuit Hotel 'Log Cabin' bar the night you won the world championship in 2000? (Ashley Mason, UK)
I think you're confusing me with my brother...
Who was your racing hero when you were growing up? (Caroline Riley-Smith, UK)
To start with it was Vincenzo Sospiri in karting. Then it was Ayrton Senna. Those two guys inspired me big-time while I was karting.
What's the single biggest factor that would improve Mercedes' ability to become consistent frontrunners? (Pamela Lowth, UK)
At the end of the day, where we are right now there is no single factor. It's like a mosaic where you need all the little pieces and details to finish the work. We're not missing too many of the pieces, but we are still missing something that, step by step, we are slowly putting together.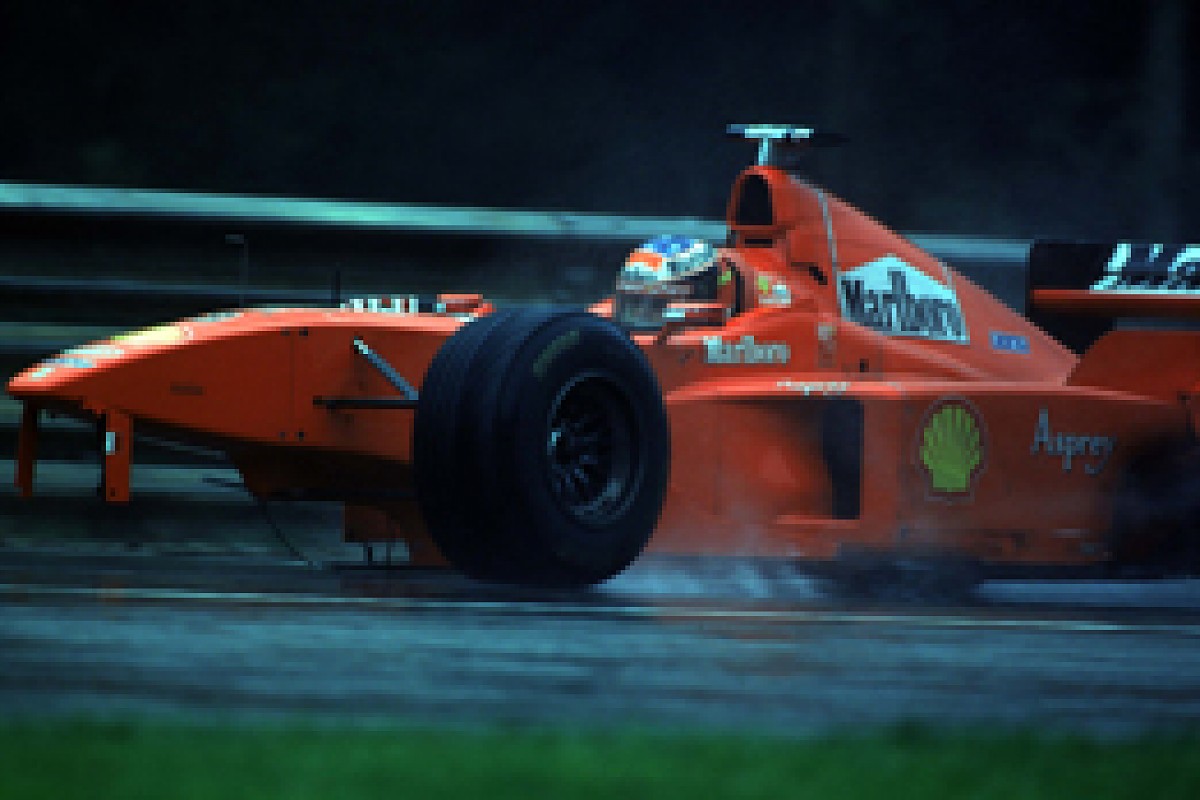 Schumacher's rage builds as he three-wheels back to the Spa pits after his clash with Coulthard in 1998 © LAT
Did you really want to punch David Coulthard after your collision at Spa 1998? (Karel Belohuby, Czech Republic)
Er... I've never been someone who throws punches - honestly. Actually, never in my life have I punched anybody, but I certainly wanted to make him understand the feelings I had.
What's the best piece of advice that you've ever been given and why? (Lee Frary, UK)
'To think before, about after.' A very important and close friend of mine, who is in his 80s now and very experienced, gave me this advice. You can use it in every aspect of life - basically, whatever you decide to do, think well ahead about the consequences it might have.
What's your best memory of Ayrton Senna? (Montero Moises, Spain)
This is very clear. It was Brazil 1994 when I beat him and he spun off while he was fighting with me. Actually, in a way, the fact that he spun off made me extra proud because he had this unbeatable nature about him.
Then there was the fact of where we came from in 1993 - in '94 this small Benetton team with the Ford engine was not supposed to be the best, but it was suddenly a very good package and we were able to run in front of the Williams. Then he spun off and I thought, 'Well, that was a good moment.'
Have you ever been stopped by the police for speeding on the roads and, if so, what was their reaction? (Gary Gillies, UK)
Yes I have been: the reaction was unfortunate because he still gave me a ticket...
What qualities do you most admire in a driver? (Jacob Cook, USA)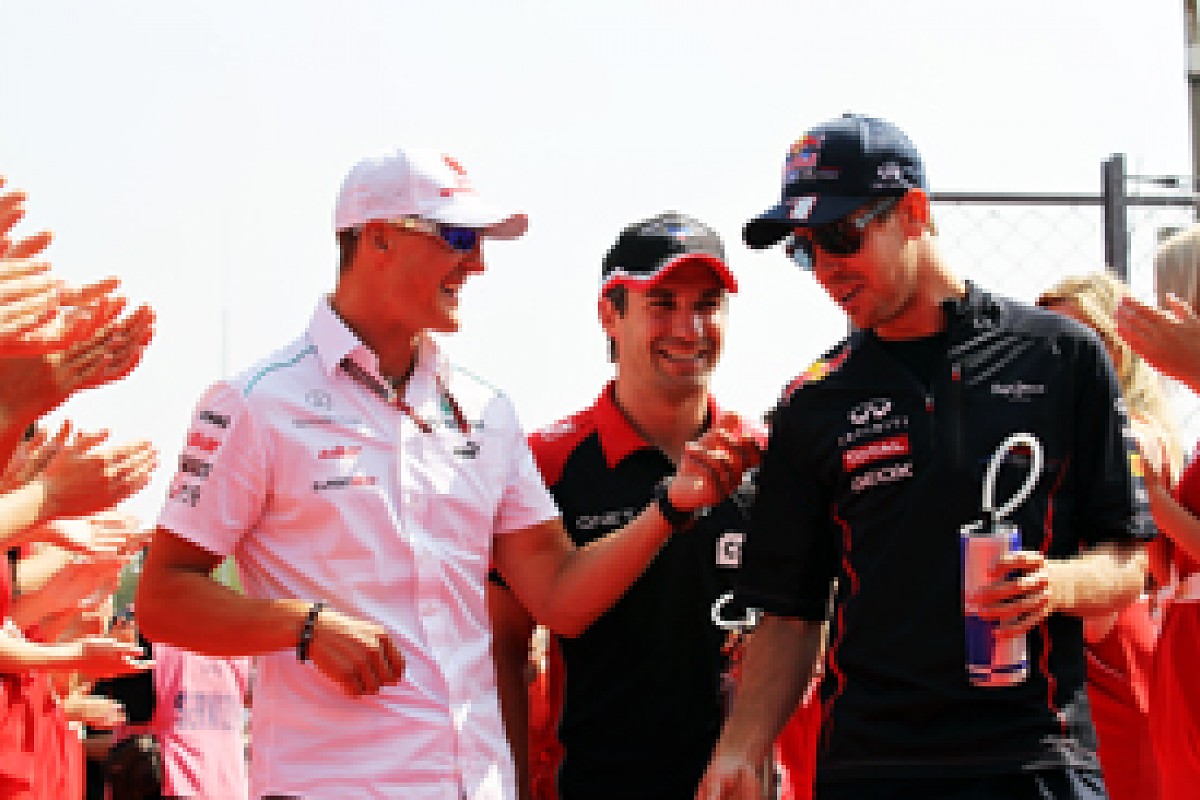 F1's German crowd: Schumacher, Timo Glock and Sebastian Vettel © XPB
Maybe if they are German...
Have you ever considered starting your own F1 team? (Clare Dobson, UK)
No. Never.
Considering all your years as a racing driver, from the old days of karting up until F1, who's been your fiercest rival? (Paulo Mariano, USA)
Fiercest? Do you mean toughest to beat? Without question it was Mika Hakkinen.
What music do you like to listen to? (Carina Grusevska, Latvia)
Paolo Nutini.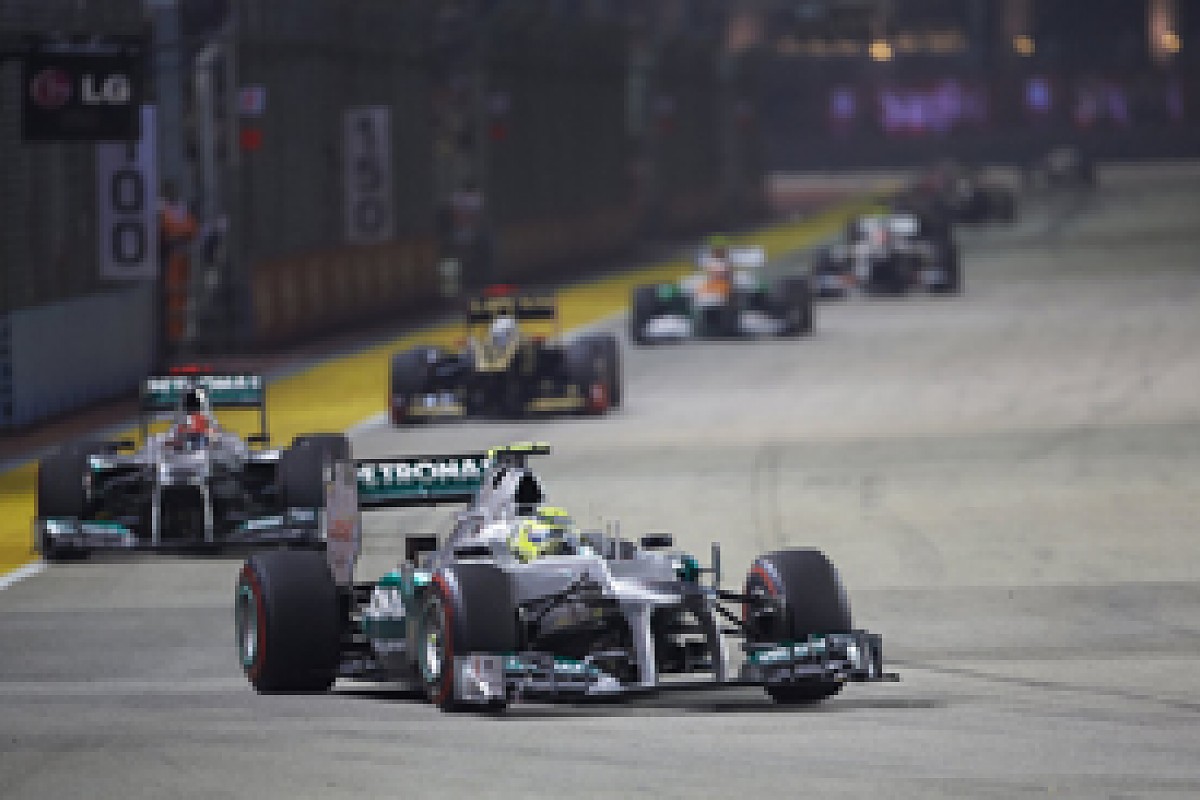 Rosberg is ahead in the points, but the Mercedes have often been well-matched on track this year © LAT
With so few points this year compared with your team-mate, how do you stay calm? (Kadir Gunes, Turkey)
I'm calm because I've got a few points... we've had so many mechanical failures that I honestly don't worry about things like that - they are part of the game. I trust the guys at the team and they trust me. That's more important than anything else.
I'm visiting Monaco during my holiday. Any idea of where is a good place to park? (Graham Scott, UK)
Well, there are plenty of underground parking garages in Monaco...
JR: Rascasse?
No, that's not a good place.
Looking back over your Formula 1 career to date, do you have any regrets? (Charles Russell, Ireland)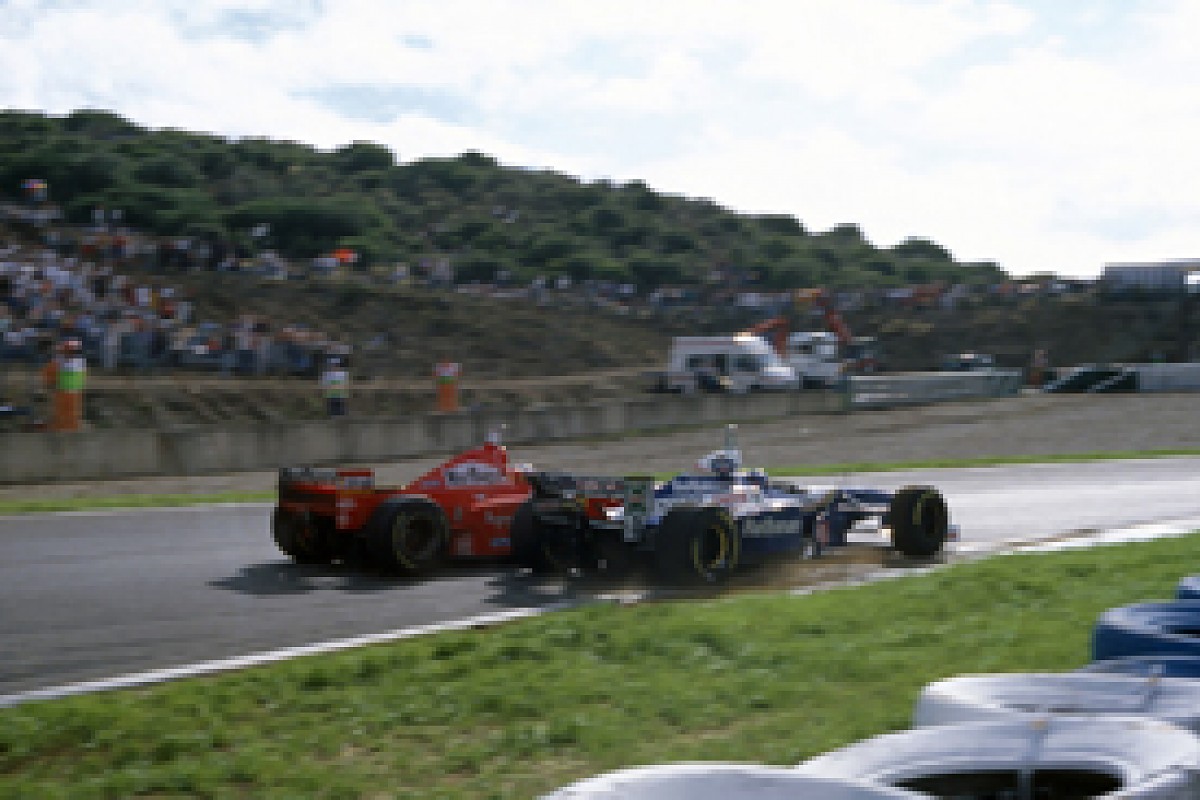 Colliding with Jacques Villeneuve in the 1997 title decider at Jerez - not Schumacher's finest hour © LAT
Jerez. In 1997.
If Ferrari wanted you back, would you go? (Mark Durepos, USA)
Why?
Do you have to train harder and longer to stay in Formula 1 shape now? (Don Molyneux, USA)
I do the same amount as always. I always liked to be fit and was sometimes fitter than required. F1 is slower now and less effort, so it's easy to be fit for these cars. I've adapted my regime and I'm always looking for new things to do. I'd tell you my whole routine, but your tape is too short.
Is there anything that irritates you about Formula 1 today? (Michael Bobrov, Russia)
Black gold.
JR: Er... could you elaborate?
Think about it.
Is it true that when you were young your dad modified a pedal kart by putting an old motorcycle engine on it? And is it also true that when you were four, you managed to crash it into a lamppost? (Rhys Hardstaff, New Zealand)
You're well-informed. That's how it all started.
How many cigars do you smoke over the course of a month? (Kaspar Kutt, Estonia)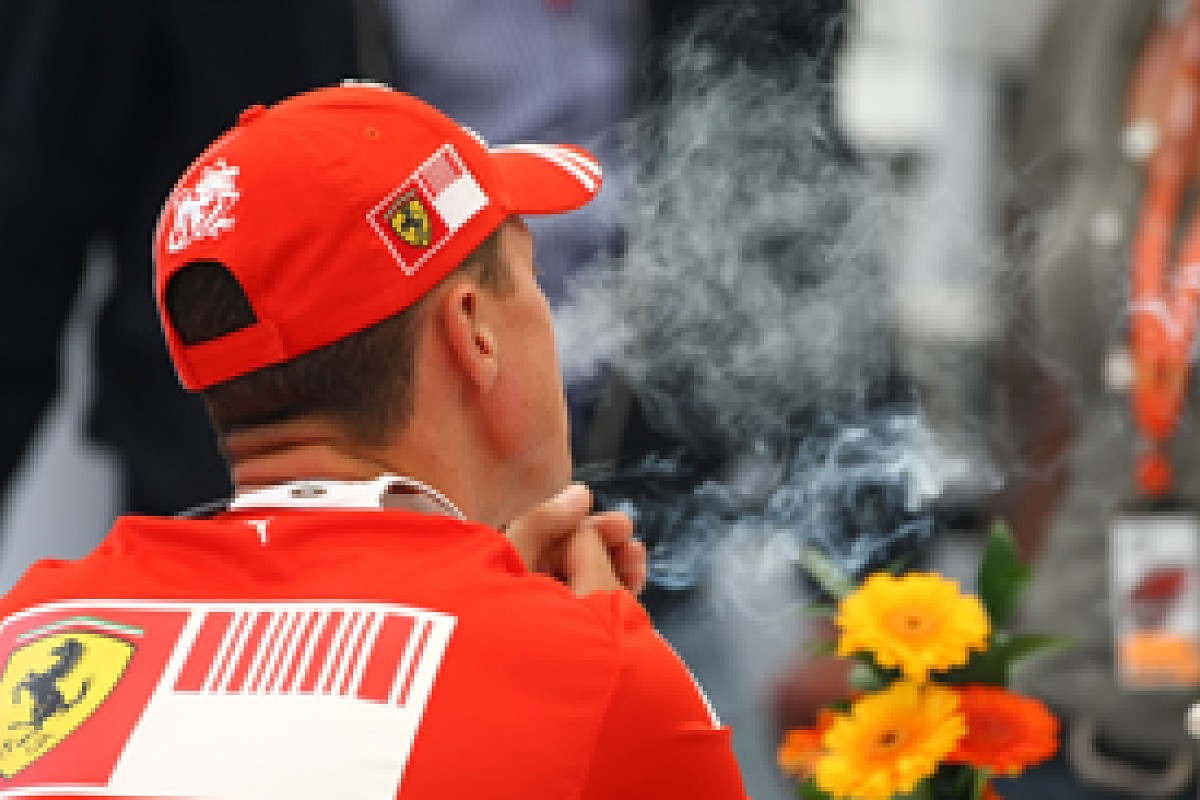 Schumacher has cut down on the cigars since his retirement days as a Ferrari advisor © XPB
I stopped counting... it could actually be much less than one.
During a race, would you say your brain is 100 per cent focused on the racing, or do your thoughts sometimes drift to 'what shall I cook for dinner?' (Juha Makarainen, Finland)
I do drift away occasionally. When you're travelling down the straight at Monza, you have plenty of time to think about other things, perhaps related to the car or sometimes something completely different. You might be thinking about the conversation you've just had with your engineer - it can happen. It doesn't happen in qualifying or during tense moments in a race, but it does happen when you know you have to drive steadily.
Does the joy of success last longer when you're younger? (Patricia Hussey, UK)
I don't think it's to do with age. It's simply to do with achievements and as soon as you've achieved something, you are then much more focused on the next subject. First that might be a race win, then after that a championship.
I feel that in 2006 Ferrari forced you out and that you didn't really want to retire at the time. Is that true? (Don Diklich, USA)
Two hundred per cent 'no'. One year Ferrari had their traditional Christmas party and up on stage I told Mr Di Montezemolo that I was retiring and he said, "Think about it again. Here is an offer - you can have a contract for the rest of your life. No matter what you want, you can have it, we want you to stay."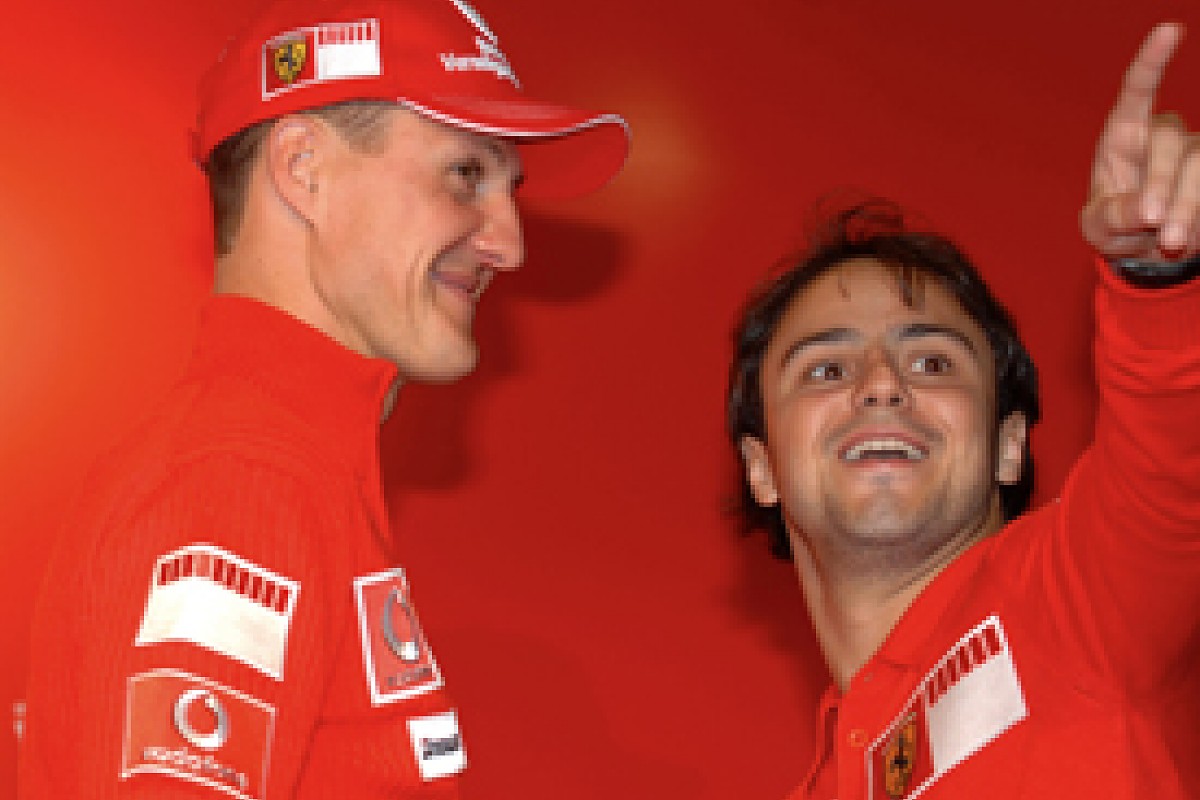 Schumacher was keen to support 'little brother' Massa's career © LAT
Now, it might be coincidence but Mr Di Montezemolo called me up yesterday for a chat and we still have a good relationship. It's what I decided then and it's what I wanted at the time. As I've said before, I was just empty. There was no energy and no destiny for me to go any further and I had my 'little brother' - that's Felipe Massa - and I was happy for him to take over the position from me.
What would you like to achieve next in your life? (David Herron, UK)
I don't think that I have any further achievements that I can talk about.
Do you miss Maranello? (Annie Hughes, UK)
I do. I go there occasionally to see Rossella who runs the Montana restaurant; funnily enough she spoke to me during the week, she called, and I still have regular contact - not as much as I used to, but it's part of my heart. Also Stefano Domenicali is a good friend of mine and so we are often together. The best meal Rossella cooks? Tagliatelle ragu.
What drink would you order if Kimi was buying? (Richard Andrews, New Zealand)
Apfelschorle, which is apple juice mixed with sparkling water.
How long are you planning on staying in Formula 1 and what are you going to do after you leave it? (Rustam Sagitov, Russia)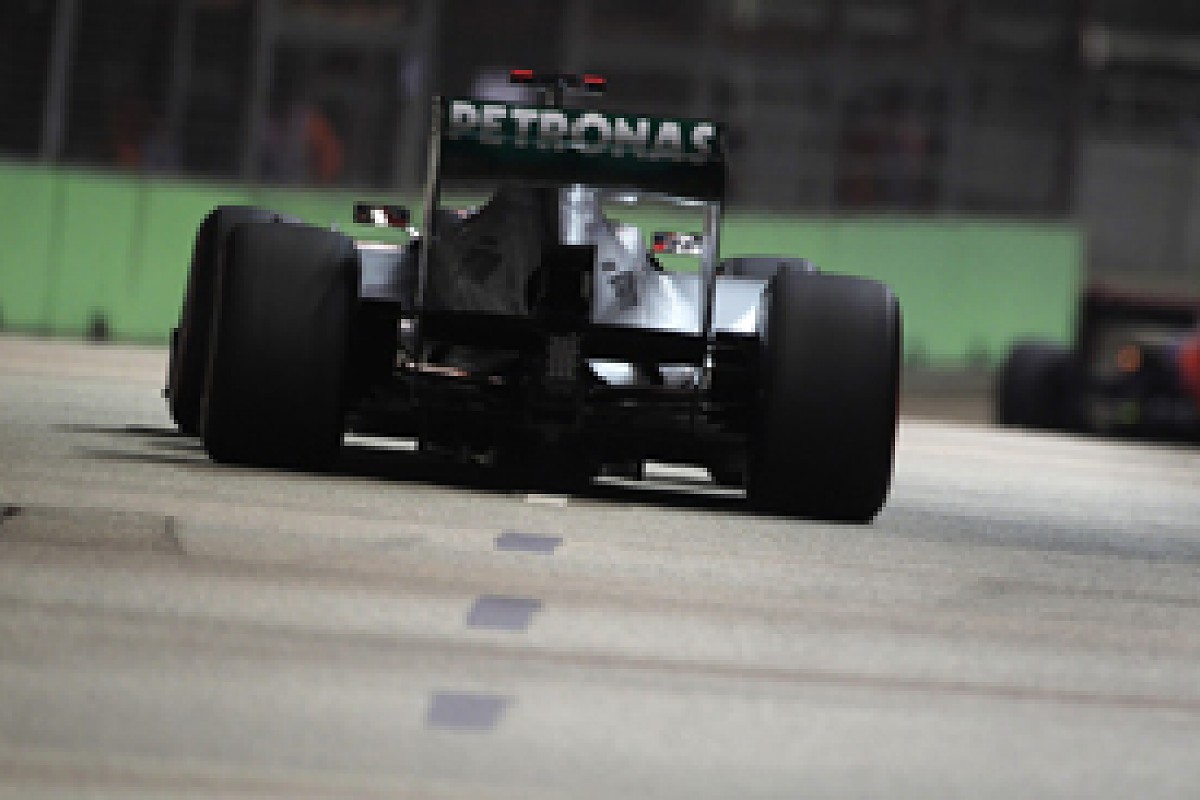 Is 2012 Schumacher's second F1 swansong? © LAT
Well, I'm afraid I don't have any news for you at this stage.
What has been your most memorable overtaking manoeuvre in F1? (Roger Clarke, UK)
There have been so many... I can't think of one right now. I had so many wheel-to-wheel moments. There was one incident that people might remember, and that was when Mika Hakkinen overtook me at Spa with Ricardo Zonta in the middle. But think about it: what could I have done? I had a lapped car in the middle of the track so I had to choose one side or the other. The other car naturally took the other side, came with a lot of speed and passed me. It looked great for Mika and I'm happy for him...
I had that with Felipe and Kamui at Montreal last year, when I passed them on the inside and took both of them at the same time. People think that it is very special, but it's actually an easy thing to do. Two are fighting and hindering each other and I am the third one past them. It looks great, but is nothing special if you think about it. There is some much more intense, real racing - stuff that you should consider to be better than these passes from my point of view.
How did you feel when Jacques Villeneuve overtook you around the outside of the final corner at Estoril in 1996? (Steve Bather, UK)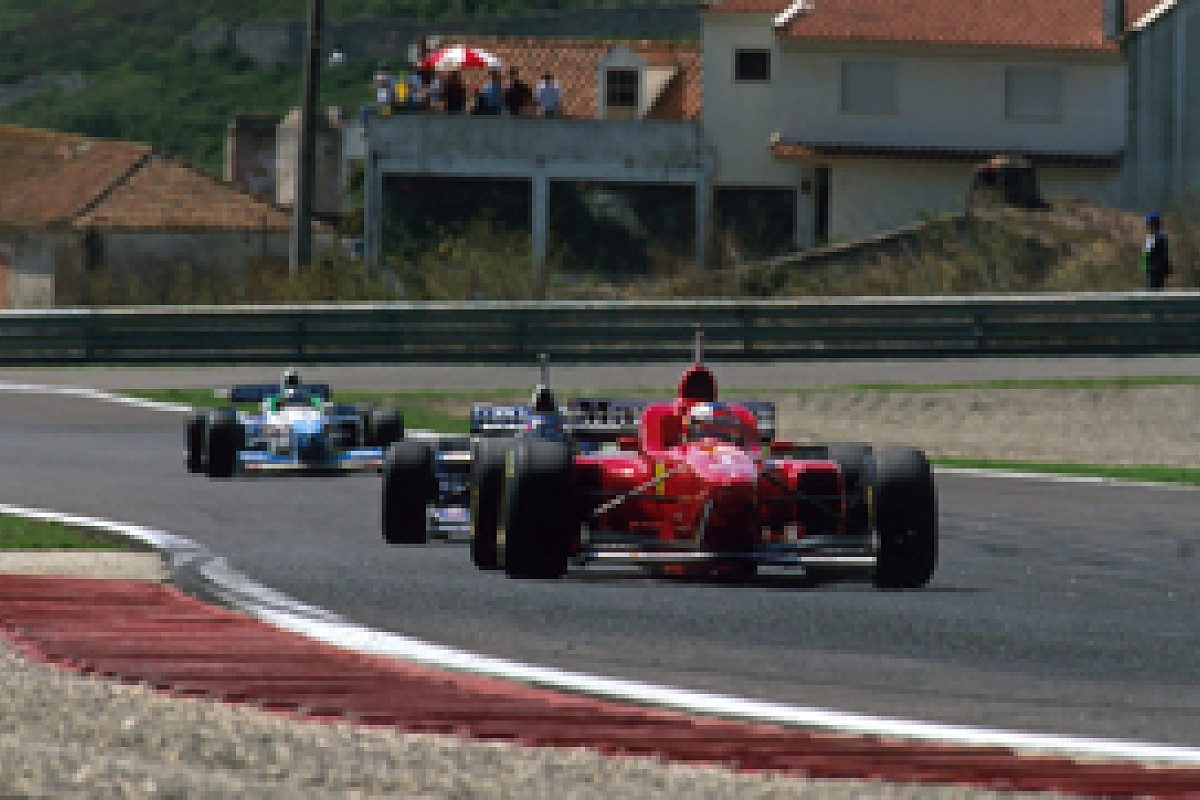 Villeneuve hunts down Schumacher at Estoril in 1996 © LAT
It was only because I was slowing down initially to make him stop behind me that I didn't get a good exit from the corner. He took the opportunity to go around the outside. Have a think about what car he was driving and whether he had slightly more grip to be able to do that...
Why do you keep complaining about the tyres - is it because you are accustomed to having bespoke tyres made especially to suit your driving style? (David Greenwell, UK)
May I just answer that question very simply? If you have one single tyre company then they should make a tyre that is good for the majority of the field. And this is what I have been trying to express. Here and now, we just don't have that. We have a tyre that works for individuals rather than for the majority, and it shouldn't be like this. Individuals should have the problem rather than the majority.
Michael, do you still suffer from simulator sickness? (Matt James, UK)
I haven't tried it lately, because we're not really in a position to try it.
One day Bernie Ecclestone grants you three wishes - what would they be? (Mertol Shahin, Bulgaria)
I can't think of anything that Bernie could offer me. Nothing. I have a beautiful family, I'm very happy, money is not an issue... I couldn't think of anything except perhaps occasionally giving me a few more paddock passes.
Which of your seven world championships felt the best to win? (Joshua Marchant, UK)
Very definitely the one I won in 2000. After 21 years of no success for Ferrari and five years for myself of not being able to win the title with the Scuderia, it was absolutely the biggest moment for me and for us all.