PRACTICE
Practice one - Friday am
Michael Schumacher led the opening session © LAT
You could have been forgiven for not noticing that the Italian Grand Prix weekend had begun in earnest, such was the din from the speculating paddock over the futures of Lewis Hamilton and Michael Schumacher. But at least the sun was shining, which was certainly not the case seven days previously at Spa.
On track there were no signs of an imminent Schumacher retirement as the great man used the straightline potential of the Mercedes to full effect at Formula 1's fastest layout. His 1m25.422s was 0.3s quicker than anything Jenson Button could manage. And as if to emphasise the Merc's early weekend pace, Nico Rosberg was third fastest.
In ominous manner, Fernando Alonso was forced to park his car at the Rettifilo chicane with an engine failure. Reliability would prove a running theme for the Ferrari driver - as too would the lack of Red Bull pace (Mark Webber ninth and Sebastian Vettel 11th).
Worthy of note too was Ma Qing Hua's appearance for HRT. The woefully inexperienced third driver became the first Chinese-born man to take part in a grand prix weekend, and did himself proud. No incidents and within 2s of team-mate Pedro de la Rosa (on his 100th GP weekend) was as much as should have reasonably expected.
Practice two - Friday pm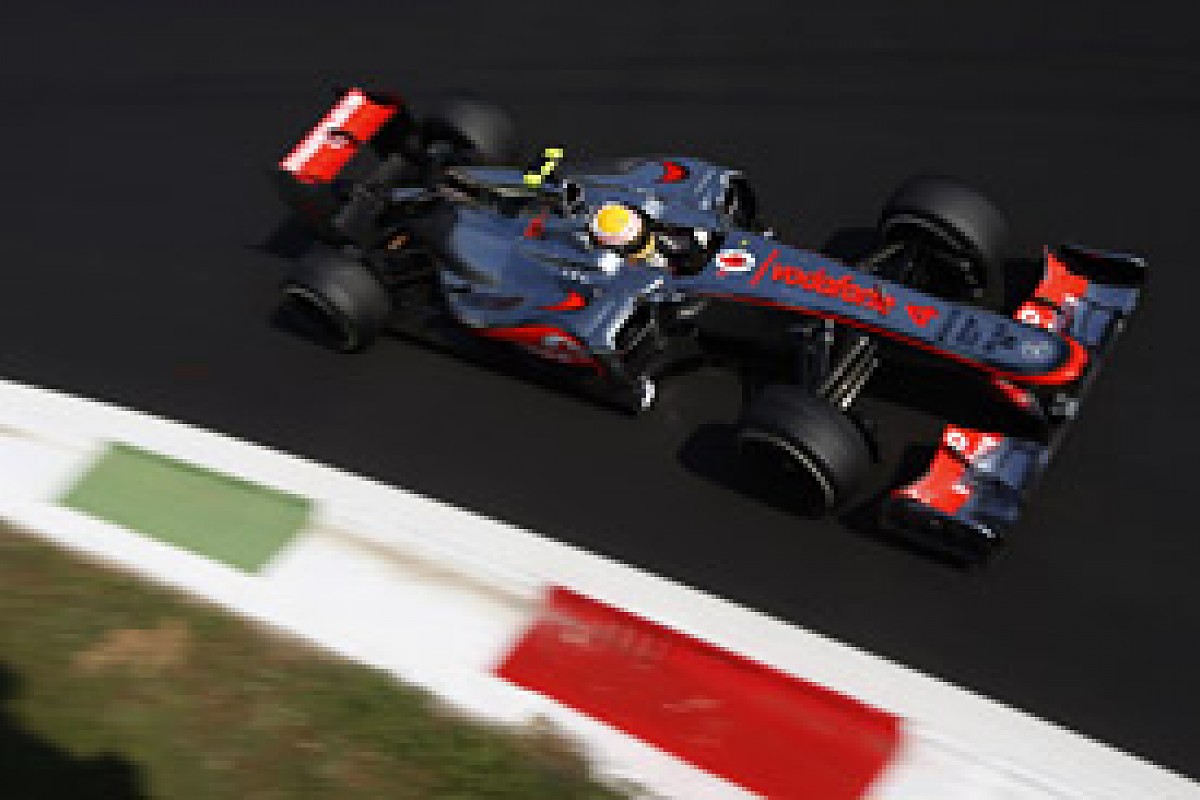 Lewis Hamilton put McLaren to the front © LAT
Friday afternoon saw the first signs of the McLaren dominance that would be the theme of the opening days.
Hamilton and Button would end the day first and second, pushing aside the Ferraris, which had led the way for a long spell.
Although Alonso finished the session in third, ahead of team-mate Felipe Massa, it was another troubled practice for the world championship leader. He lost time first with a brake issue, then was sidelined for the remainder of the afternoon by a gearbox problem.
Mercedes' promising day continued with Rosberg in fifth, and both drivers happy that the W03 seemed well-suited to Monza.
But Red Bull remained muted: Webber and Vettel only 11th and 13th.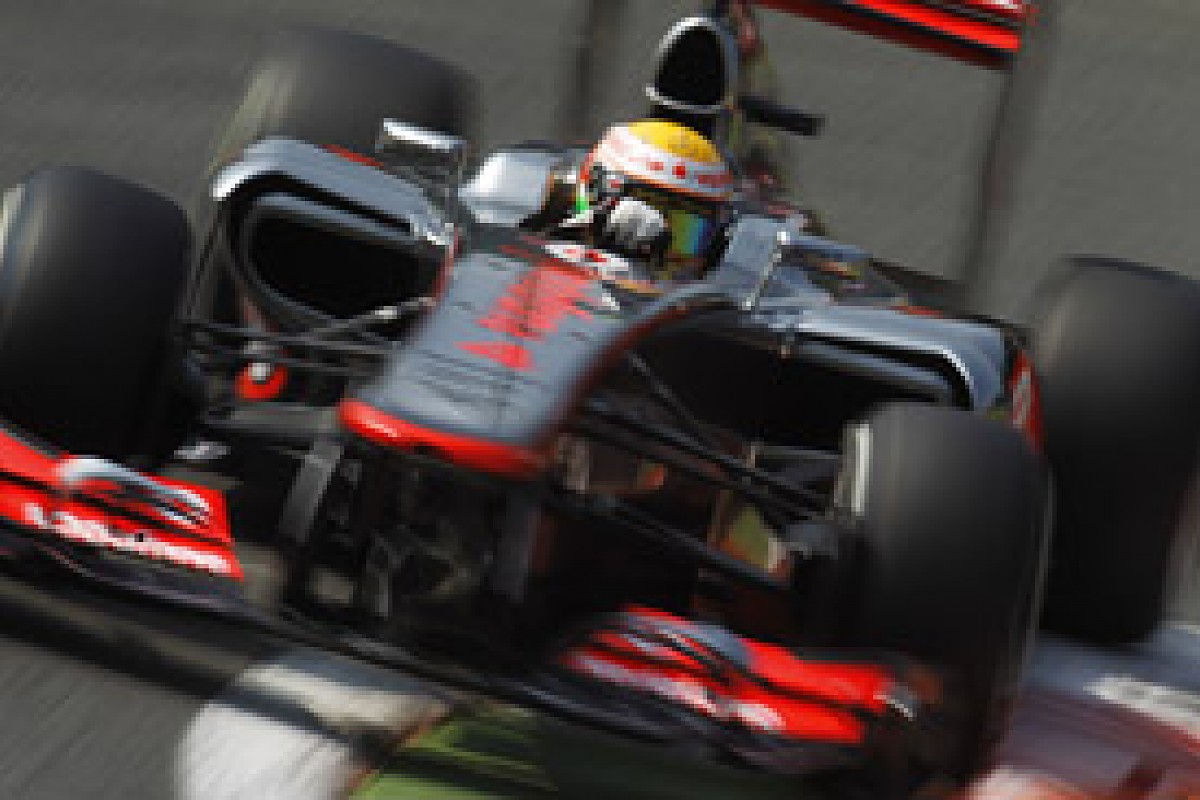 Lewis Hamilton was on top again in final practice © LAT
Practice three - Saturday am
The final practice session was a case of what have might been later on in the afternoon had Alonso not suffered a broken rear anti-roll bar in qualifying. In practice three Hamilton - who was fastest - and the Spaniard were split, incredibly, by a mere thousandth.
Also in the what might have been box was Paul di Resta, whose prodigious pace to go third fastest would also be repeated in the afternoon. But an unscheduled gearbox change prior to final practice would steal his thunder.
Massa was also impressively fast in fourth - indicating a turn of speed sadly lacking for, well, months - ahead of a lurking Button.
For Red Bull there was no such happiness as Vettel parked his car at the second chicane with battery problems, having been told to switch the car off. Again, neither of the Dietrich Mateschitz cars were in the top 10.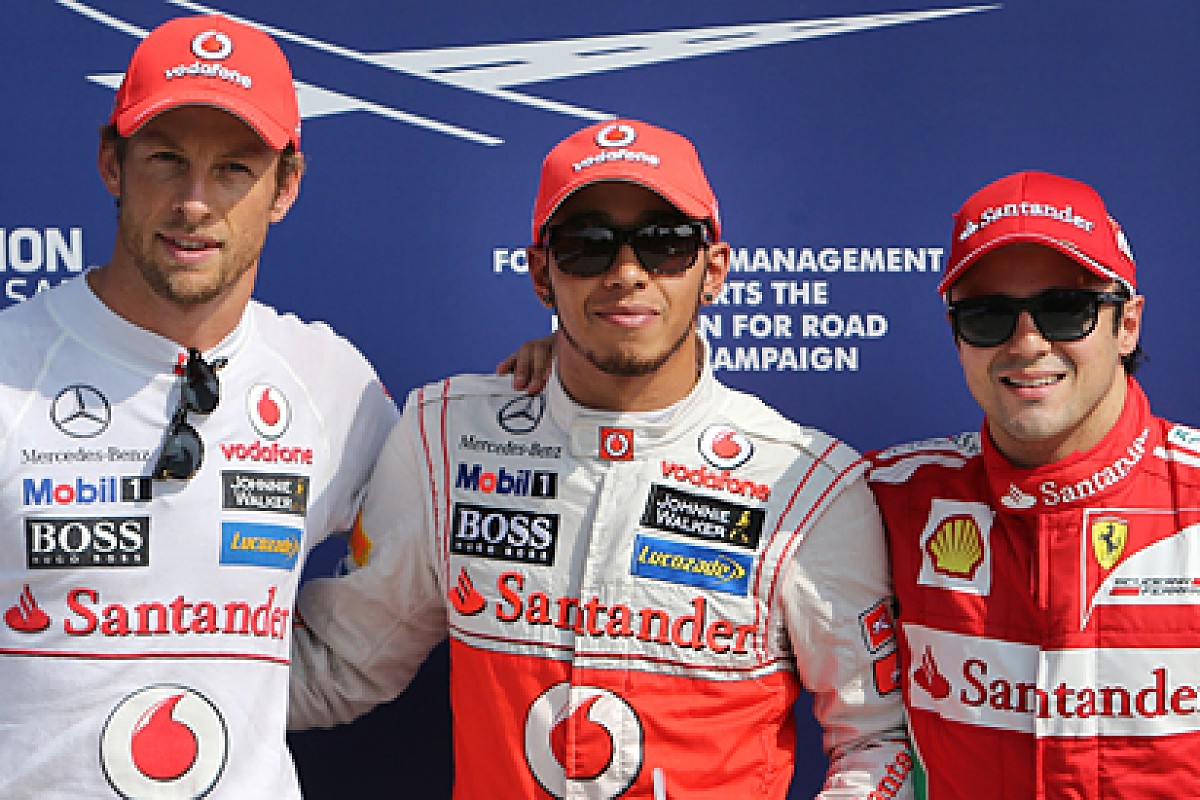 QUALIFYING
1. Lewis Hamilton
"I feel strong for tomorrow and we have a good set-up and a good car and we can definitely fight for a win. My only concern is the start because that is usually where I have problems but I am really hopeful that's behind us."
2. Jenson Button
"You never have your eyes on the championship, you take it race by race and when you have a good race you look at the championship and think 'that's lovely' but when you have a bad race you don't think it is all over. It is a slim chance but still a chance so I'm giving it my all."
3. Felipe Massa
"I am very happy with this qualifying, the best in a long time for me. I feel sorry for Fernando, as he had been very strong all weekend: we both have a good car and I'm sure that tomorrow we will be able to bring home a good points haul for the championship. We have a chance of beating McLaren, even if they are very strong. For me, getting back on the podium, here in front of our fans, would be wonderful!"
4. Michael Schumacher
"I think we can be satisfied with our qualifying performance as we have performed consistently all weekend. Our car clearly suits this circuit more than at the last races, but we've had a couple of hiccups along the way in practice. Solid points should be a realistic target for tomorrow. The fact that I will start from fourth is another small positive point, because here the even numbers on the grid are probably the better start positions."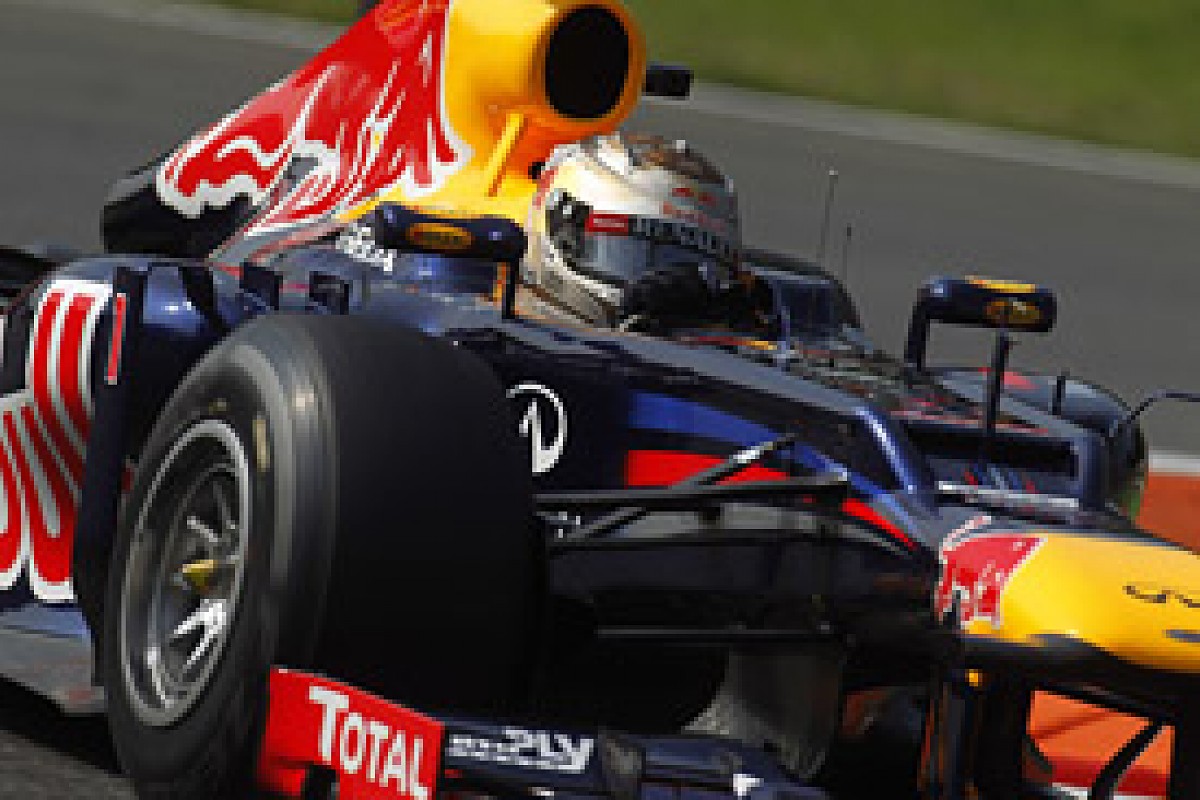 Sebastian Vettel felt a top-five place was the best Red Bull could hope for © LAT
5. Sebastian Vettel
"I'm pretty happy with the result; my last lap should have been a bit quicker, but whether it would have made a difference or not is hard to say. If you look from us to the front, the gaps are too big. All weekend we were not quick enough, so P6 is a very good place to be. Let's see what we can do in the race, I think the pace tomorrow should be better."
6. Nico Rosberg
"Starting from sixth place here in Monza is a decent result from a tricky qualifying session today. I wasn't happy with the balance of my car by Q3 and, although it started well, I then lost the right balance so I couldn't improve my time. I'm looking forward to the race tomorrow and I hope we can gain some positions."
7. Kimi Raikkonen
"We just don't have the speed here, at least in qualifying so the race will be different. It should be a bit closer but it is difficult to say. We knew it wouldn't be one of our strongest places but we are there more or less and tomorrow is a long race. It is not going to be easy."
8. Kamui Kobayashi
"Well we don't have the same pace here as we did last week in Spa, which made it a tough qualifying. Having said this, I am happy to have reached the first target which was to get through to Q3. Friday was pretty difficult because a mechanical problem prevented me from doing the mileage I would have wanted, and this is also why I cannot really make any predictions on how the race will go."
9. Paul di Resta - five-place gearbox change penalty
"I'm very happy with my Q3 lap, which was my quickest lap so far - so we maximised it when it mattered. I knew I was going to have a grid penalty for the gearbox change, which is frustrating, but at least I will start inside the top 10. The challenge now is to make sure we have the race pace and use the strategy to come away with points."
10. Fernando Alonso
"I think I could have got pole today, but instead I find myself 10th. A real shame, because the car was very strong, but these things happen. It's maybe fifteen years that something like this has happened, but it has and there's no point in crying over it. The problem will be fixed for tomorrow, but of course this result changes everything as far as the race is concerned: we had the chance to increase our lead over our closest rivals, but now, it's likely that at least some of them will make up ground on me."
11. Mark Webber
"It's pretty much what we expected today. Seb and I were on the bubble there; it was very close between us - there's only a tenth here and there and I'm out. No massive surprises. I'm 11th, so we can have a bit of a choice on what we can do tonight, but I'd rather be further up the grid. We've got a bit of a slog tomorrow; but it's Monza so never say never."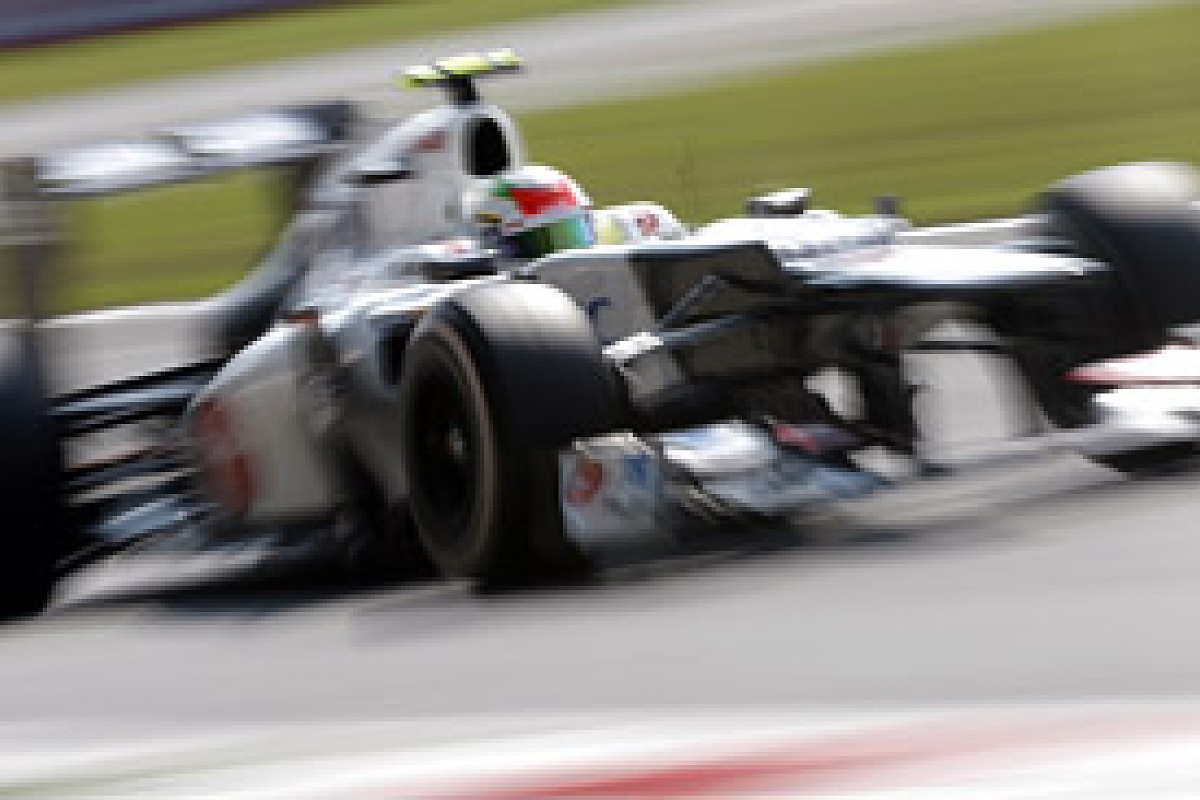 Sergio Perez couldn't match his team-mate Kamui Kobayashi's top-10 form © LAT
12. Sergio Perez
"We knew it would be tight to make it into the top 10 today, but I was fighting hard. We have improved the car quite a lot since Friday, but we are clearly not as quick here as we were in Belgium. On my last attempt in Q2 unfortunately I was driving too close behind Bruno Senna and could not improve my lap time. I lost two tenths of a second in the first sector."
13. Bruno Senna
"I think we are more competitive on the harder compound tyre because for some reason we didn't seem to pick up a lot of grip on the medium tyres, so we need to look into that further. We have the race pace and the track does allow for some overtaking so I think we could both have a chance of scoring points."
14. Daniel Ricciardo
"This was a so-so qualifying. When you are 15th, you always think you could do a bit better. However, realistically, I don't think we could have got to Q3 today, so we have to settle for this as Senna is around three tenths in front and even putting my best sector times together, I don't believe it would have been good enough to match that."
15. Jerome d'Ambrosio
"I think I haven't been able to put all the details together, but with the amount of time I've had in the car and the experience I have, I guess it's normal. But still you hope you're going to do a little bit better. If I could have been about four tenths from Kimi I'd be satisfied with that and I'd be further up. But still I think it's a good weekend. There are plenty of things for me to learn. It's not bad, but I was hoping for a little bit more."
16. Jean-Eric Vergne
"Honestly, I have not felt comfortable in the car most of the weekend as we never really found the best set-up. Actually, qualifying was the best of all the sessions so far. On top of that, I am to blame for a small mistake on my quick lap which cost me about two tenths, after I went over a bump just as I was changing gear."
17. Heikki Kovalainen
"A pretty straightforward qualifying for me today. The car's felt well balanced all day. I think the time today was probably as much as I could probably get out of it. Despite that the performance here is again much better than Spa and we're back to the sort of levels we expect."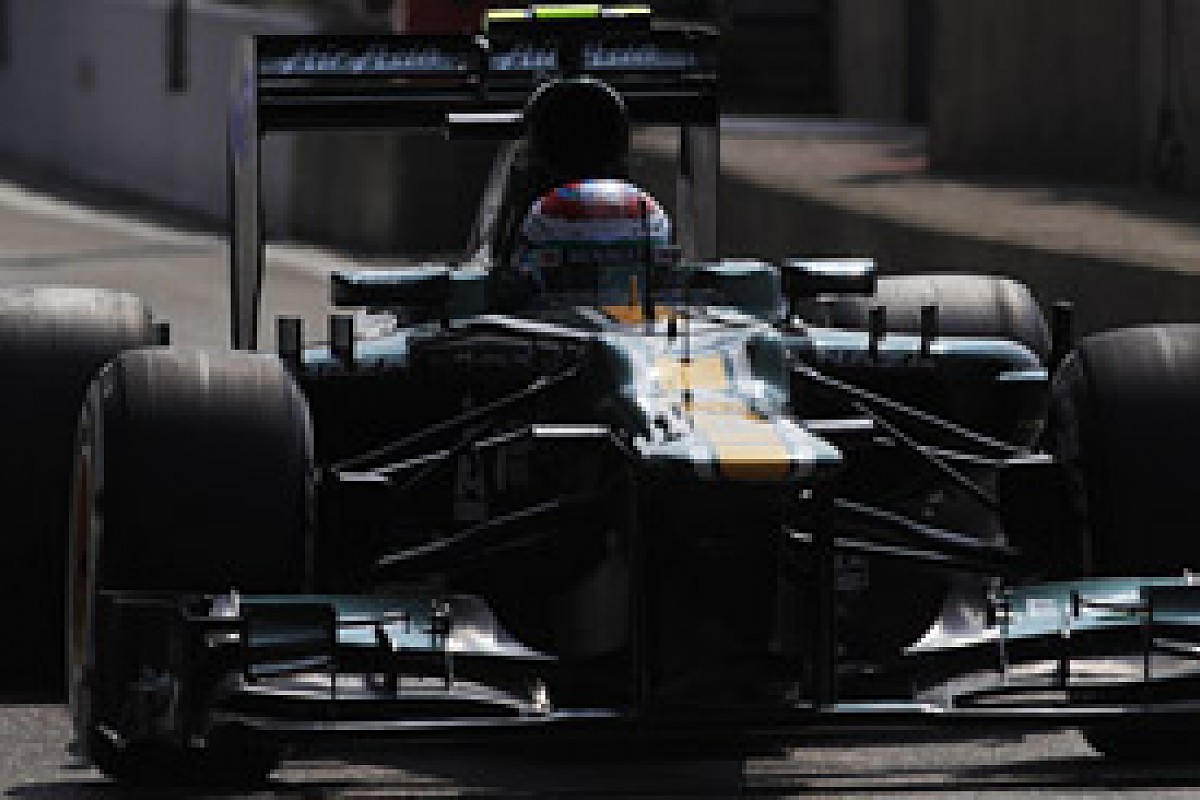 Vitaly Petrov found himself outqualified by Heikki Kovalainen again © LAT
18. Vitaly Petrov
"I've been very happy with the car today and we've made some clear improvements from FP1 to FP3. In qualifying I couldn't push as hard as I'd like. Still, tomorrow's another day and we'll do the best we can to have a good race after having got back some way to where we should be."
19. Timo Glock
"We were quite close to Petrov, so there is good reason to be positive, but the second set of tyres is normally quicker and the track is faster, so on that side it's a little frustrating. We need to analyse the data now and see what the problem is, so we can get the best out of the car tomorrow."
20. Charles Pic
"I think it was a good qualifying for me. I had some traffic on the first set of tyres, but things went better for me on the second set. We had to make a small change this morning which has perhaps cost us a little bit, but generally I'm happy with today and I think there is more to come tomorrow. We are closer to the cars ahead again, so another step - this time in qualifying, not just the race."
21. Narain Karthikeyan
"We've had very good sensations since yesterday and the car performed even better today with the set-up changes we made. The performance was better with the first set of tyres, as we faced some problems with the second set, but I'm happy with the result we achieved. We need to continue with this good standard tomorrow and try to beat our main rivals in the race".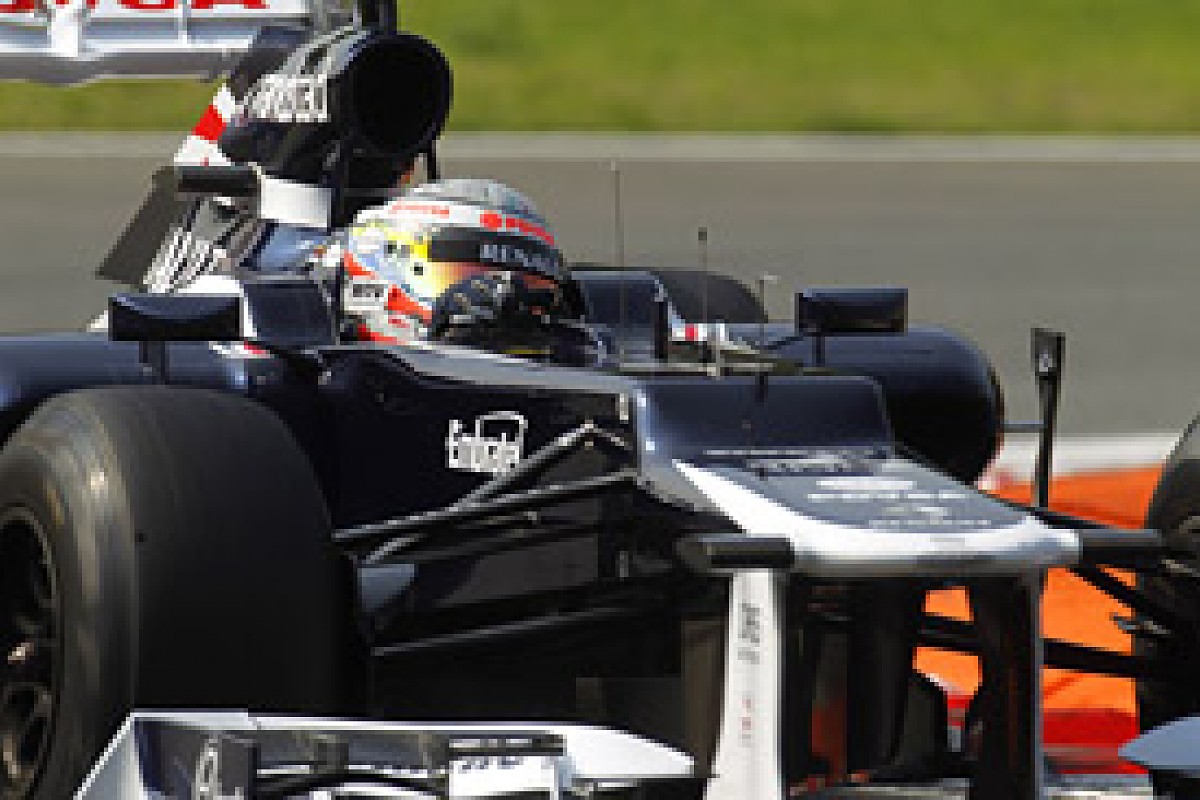 Pastor Maldonado faced up to yet another penalty © LAT
22. Pastor Maldonado - 10-place penalty carried over from Spa
"It wasn't the best day for our car today as we were struggling a bit for pace and then in the last Q2 lap I didn't quite put everything together. Everything is so close here though and it will be a tough race, but we've done a fair amount of testing on higher fuel so I'm looking forward to seeing what we can do."
23. Pedro de la Rosa
"In all honesty today's qualifying session was average but the best thing was that the car performed better than in the morning. We improved our times but didn't manage to complete the perfect lap which is required at this circuit."
24. Nico Hulkenberg
"A very short and disappointing session for me. I was about to start my first timed lap in Q1 when I suddenly lost drive. I pulled over at the first chicane and the team told me to switch off the car. It's a shame this happened on a day when the car looks so competitive, but that's racing. Starting so far back tomorrow will be tough, but I will try and push through so that we can hopefully come away with something from the race."
Starting grid:

Pos  Driver              Car
 1.  Lewis Hamilton      McLaren-Mercedes
 2.  Jenson Button       McLaren-Mercedes
 3.  Felipe Massa        Ferrari
 4.  Michael Schumacher  Mercedes
 5.  Sebastian Vettel    Red Bull-Renault
 6.  Nico Rosberg        Mercedes
 7.  Kimi Raikkonen      Lotus-Renault
 8.  Kamui Kobayashi     Sauber-Ferrari
 9.  Paul di Resta       Force India-Mercedes
10.  Fernando Alonso     Ferrari
11.  Mark Webber         Red Bull-Renault
12.  Sergio Perez        Sauber-Ferrari
13.  Bruno Senna         Williams-Renault
14.  Daniel Ricciardo    Toro Rosso-Ferrari
15.  Jerome d'Ambrosio   Lotus-Renault
16.  Jean-Eric Vergne    Toro Rosso-Ferrari
17.  Heikki Kovalainen   Caterham-Renault
18.  Vitaly Petrov       Caterham-Renault
19.  Timo Glock          Marussia-Cosworth
20.  Charles Pic         Marussia-Cosworth
21.  Narain Karthikeyan  HRT-Cosworth
22.  Pastor Maldonado    Williams-Renault
23.  Pedro de la Rosa    HRT-Cosworth
24.  Nico Hulkenberg     Force India-Mercedes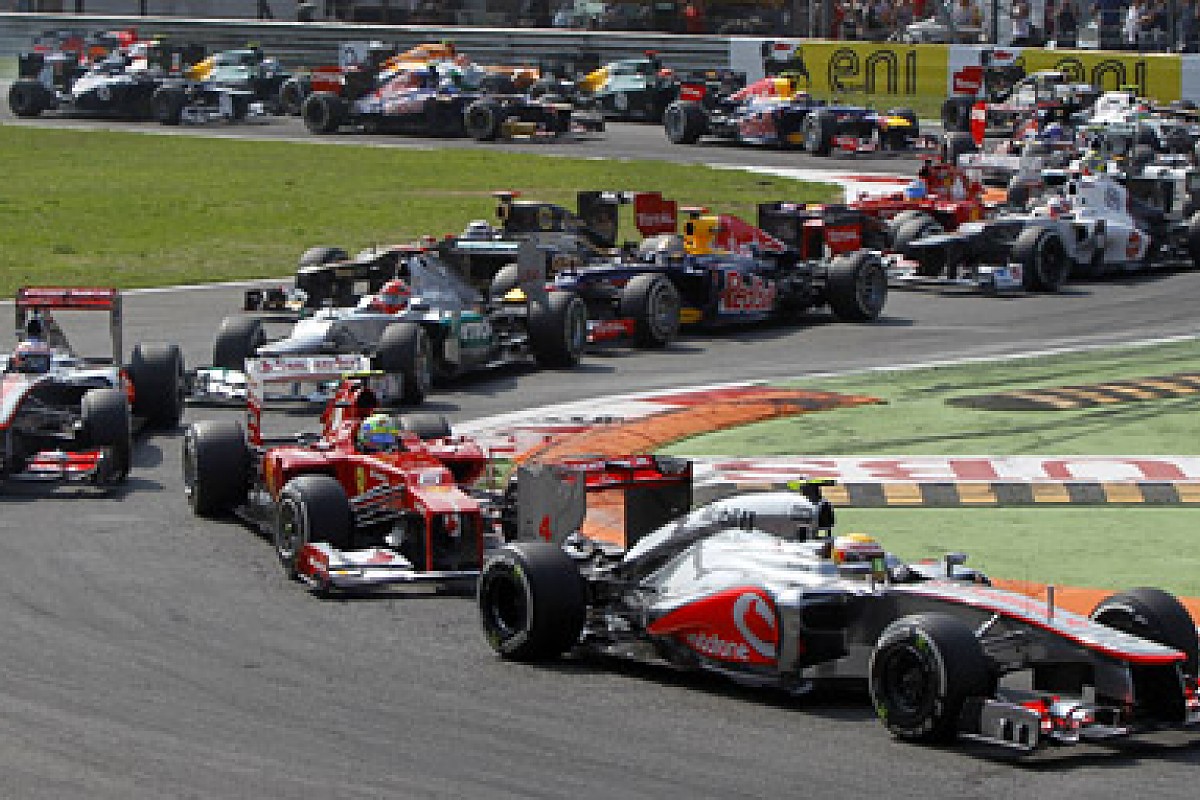 THE RACE
Lewis Hamilton may well feel like he had his thunder stolen at Monza.
Having started from pole and effectively led the entire race, Hamilton did everything right on his way to winning the Italian Grand Prix - only to have Sergio Perez steal the headlines with his stunning late charge to second place.
So, who was the real star of the day? Or perhaps the more pertinent question is had the race been, say, four laps longer, would Perez have snared his first win?
These are tough questions to answer. Yes, Perez was flying at the end of the race, and yes, his fastest lap was nearly a second faster than Hamilton's. But in saying that, Hamilton never really had to push. He did the hard yards in the opening laps of the race, stretching his advantage over the field to an extent where he could, effectively, cruise to the flag with a standard one-stop strategy, and ignore Perez's charge. And had the Sauber been a little closer in the closing laps, one would assume that Hamilton would have had enough in reserve to get the job done anyway.
After all, Hamilton was in the sort of form that makes him unbeatable. And with McLaren having won the last three races - something it last did in 2008, when Hamilton won his first world championship - there are some worrying signs for the rest of the field ahead of Singapore.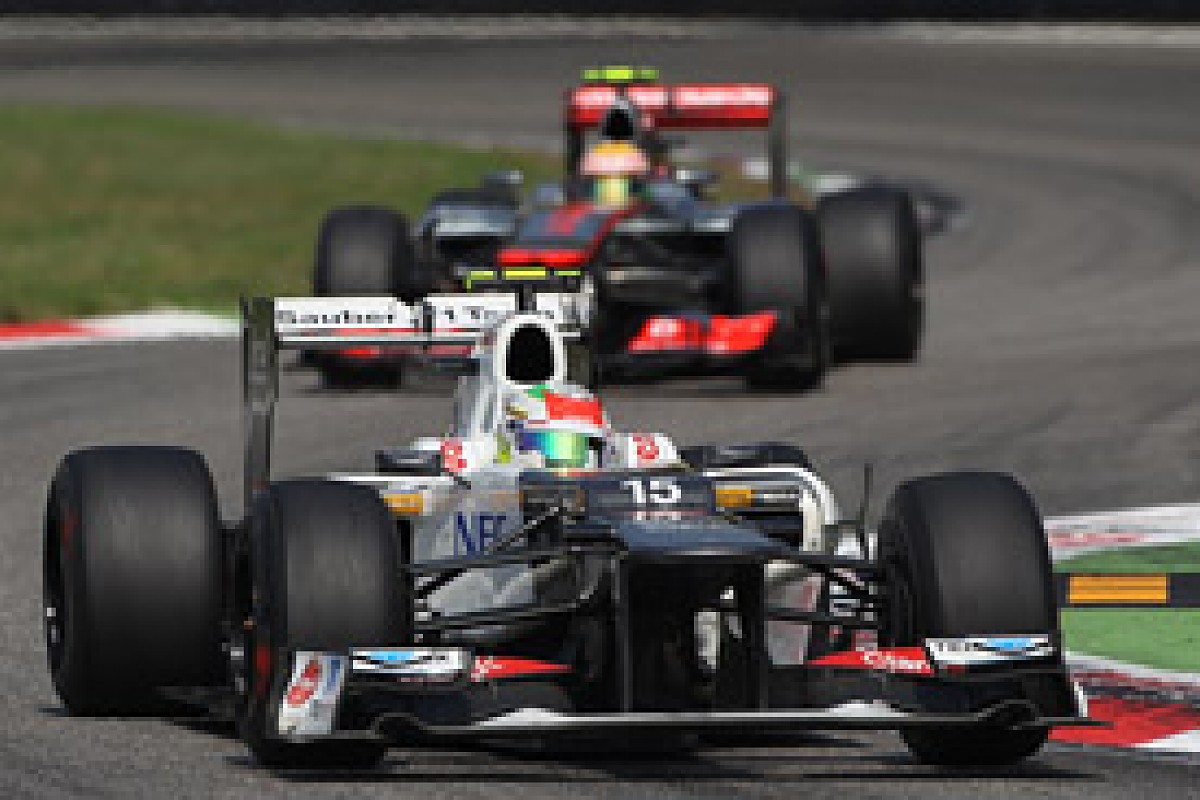 Perez was the hero of the afternoon © XPB
While Hamilton's drive was faultless and subtle, Perez's was about as subtle as a sledgehammer. And not only was it a very in-your-face performance, it genuinely seemed to come from nowhere.
The Mexican started the race 12th, and unlike those around him chose to run the hard compound Pirelli in the first stint. Having been quiet in the first part of the race, it quickly became clear that the Sauber was loving the harder tyre as Perez started working his way through the field. With the path cleared by the spate of pitstops around the 20-lap mark, Perez found himself leading the race, yet to make a stop.
Then, something strange happened. When the tyres eventually gave up, and Perez started to lose time to the chasing pack and their fresh tyres, he just stayed out, despite being well and truly in the window for a one-stop strategy. In the end, he didn't take on the medium tyre until lap 30, some six laps later than the eventual race winner. It looked for all the money like Sauber had made a hash of it, going too long on old tyres to make the strategy work.
How wrong that theory was.
Instead, the super late stop put Perez into a window where he could push 100 per cent on the medium tyres, which the tidy little Sauber loved even more than the hards. And with the long straights making passing a doddle, Perez was able to charge his way through the field.
One minute he was fighting over fifth place with Kimi Raikkonen, the next he was breezing past Fernando Alonso to move into second place. It was a great example of when clever strategy, raw speed and excellent overtaking come together on a Sunday afternoon.
"The second stint was then really maximum attack and I must say all of the drivers I overtook have been fair," said an elated Perez at the finish. "They didn't leave me more room than they had to, but it was always enough. This is the way it should be."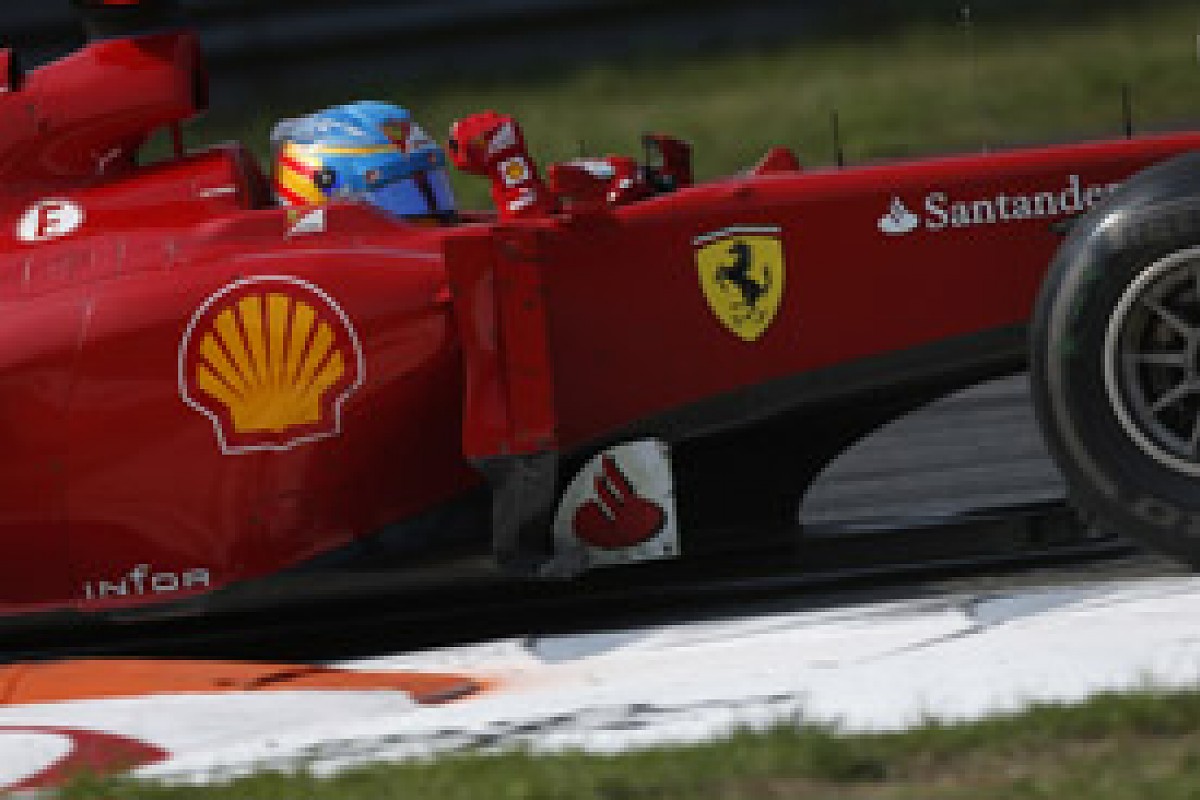 It looked bleak for Alonso after qualifying, but Sunday was a very different story © LAT
Alonso finished third, which, from 10th on the grid, was quite a good result. Running a pretty standard one-stop strategy, switching from mediums to hards on lap 21, he somehow found himself on the podium - and extending his championship lead. Much of the hard work was done on the first two laps, where the Spaniard made up five positions. From there, he worked his way into third place, which became second when Felipe Massa predictably shifted out of the way in the closing stages of the race. The second ultimately turned back into third thanks to Hurricane Perez, but it was still a great day out for Alonso.
Alonso's cause was helped greatly by some unusual retirements. The unluckiest was Jenson Button's. Having started on the front row, Button found himself behind Massa in the opening stint of the race. But it didn't last long; by the time the one-stoppers started to pit, Button had already snuck back into second, and despite a lengthy stop (thanks to a delay on the right-front wheel), a McLaren 1-2 looked like a certainty.
But on lap 34 it all changed. Button's McLaren rolled to a stop, a fuel pick-up problem taking him out of the race, making his slim title hopes even slimmer.
Sebastian Vettel was the next to go. While it wasn't a great day for Red Bull and the reigning world champion, at the mid-point of the race Vettel was squabbling with Alonso, and looking on for at least a handful of points.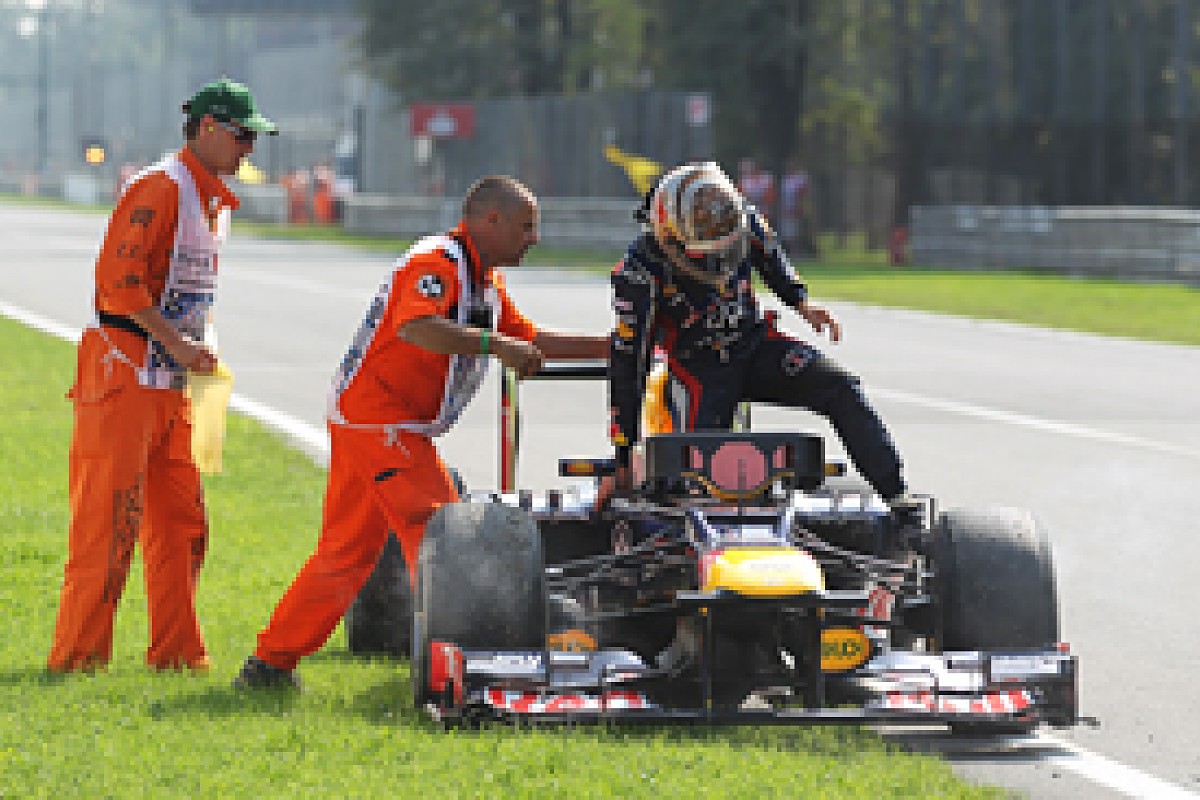 Vettel lacked both pace and fortune © XPB
And then it all went wrong. First, Vettel was forced to serve a drive-through penalty on lap 35, punishment for having run Alonso out of room at the Curva Grande. While it put him to the back of the top 10, points still beckoned... until just four laps from the end, when Vettel's alternator gave up and the German was forced to switch the car off, and make the lonely, points-less walk back to pit-lane.
Things weren't much better for his team-mate Mark Webber. The Australian's title hopes took a nasty belting when, while running seventh, he spun at Ascari with just a couple of laps left.
"Maybe I shouldn't have pushed as hard, but I was trying to stay on it," he later explained. "The rear tyres were completely finished, so I dropped it out of the Ascari chicane; I managed to keep it off the wall, but then the tyres were so heavily flat-spotted, I was worried about damaging the car. We do 330 km/h around here, [and] I couldn't see the track, so we decided to retire."
With badly flat-spotted tyres, he cruised his way back to pitlane to mark a disappointing double retirement for Red Bull, the first since Korea 2010.
While most of Alonso's title challengers had a tough day, his team-mate Massa had a much improved outing in the second Ferrari, taking fourth place. Buoyed by qualifying third, the Brazilian looked racy in the early stages, even making a decent challenge for the lead into the first turn on the first lap. As the race settled down he was never really in the ballpark to challenge the McLarens, and letting Alonso past was inevitable, but it was still a good day out for Massa, especially given his engineers spent the majority of the race not receiving any on-board data from the car.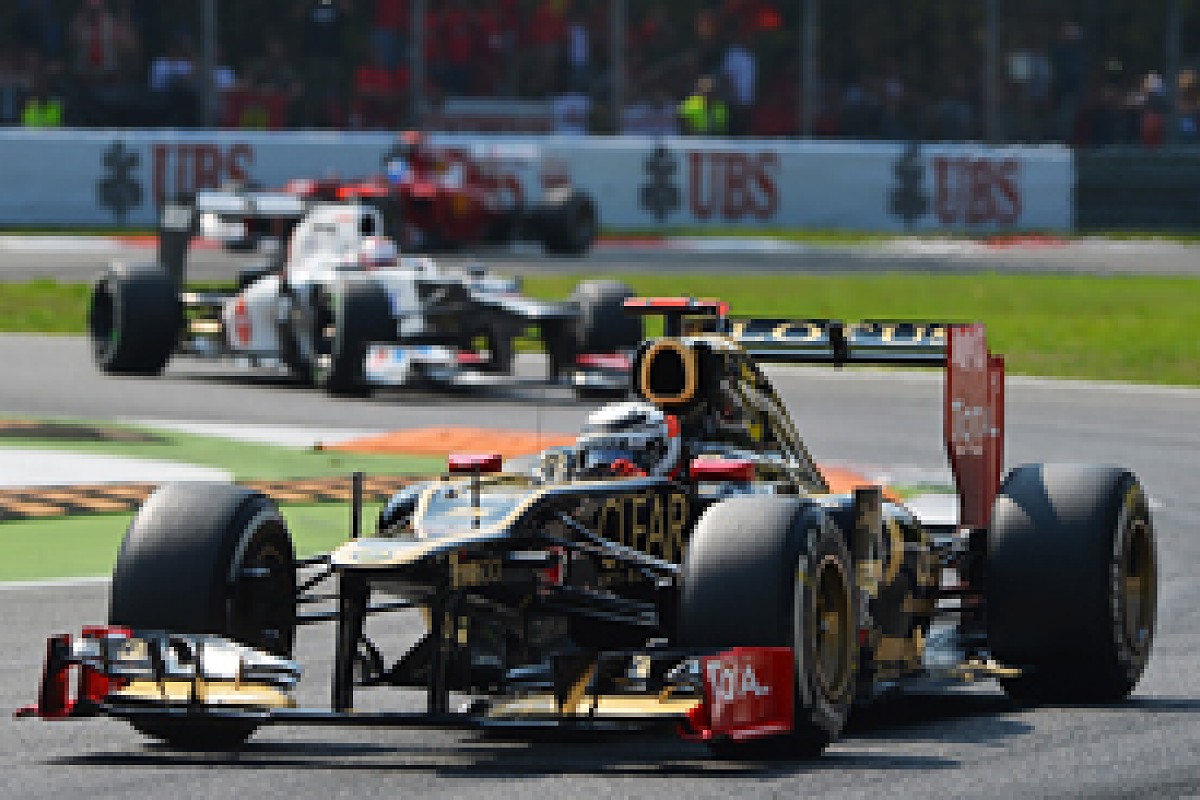 Raikkonen keeps racking up results © XPB
Kimi Raikkonen kept his own points tally ticking over with fifth place in the Lotus. After pitting on lap 17 to swap from mediums to hards, it was clear that the team was looking to two-stop. But a mid-race change of heart saw the Finn complete the rest of the race on that one set of tyres, a crucial move in holding off the Mercedes of Michael Schumacher.
Speaking of Schumacher, he was the best of the two-stoppers in sixth place, right on the heels of Raikkonen at the finish. Just like his Mercedes team-mate Nico Rosberg, who finished seventh on an almost identical strategy, a lack of pace on the option tyre in the first stint eliminated any chance of Schumacher fighting for a podium spot.
The back end of the top 10 was made up by usual suspects. As he himself predicted would happen, Paul di Resta failed to turn his stunning qualifying pace into stunning race pace, although eighth looked good compared to his team-mate Nico Hulkenberg's DNF thanks to a problem with the brakes.
Kamui Kobayashi was ninth, a slightly disappointing result on a day where even Peter Sauber said the C31 was the fastest car in the field. However, having qualified inside the top 10, Kobayashi didn't have the freedom of starting on the hard tyre like his team-mate, instead forced to use the common medium-hard one-stop strategy.
Bruno Senna, meanwhile, salvaged a point for Williams with 10th place, one spot ahead of his team-mate Pastor Maldonado, who two-stopped his way from 22nd on the grid to 11th.
But Senna's point was a lucky one. The 10th place should have gone to Toro Rosso's Daniel Ricciardo, who looked set the nab the last point before fuel pick-up problems left his crawling out of the Parabolica on the last lap of the race. He limped to the line to finish 12th, ahead of Lotus stand-in Jerome d'Ambrosio, who was the last driver to finish on the lead lap.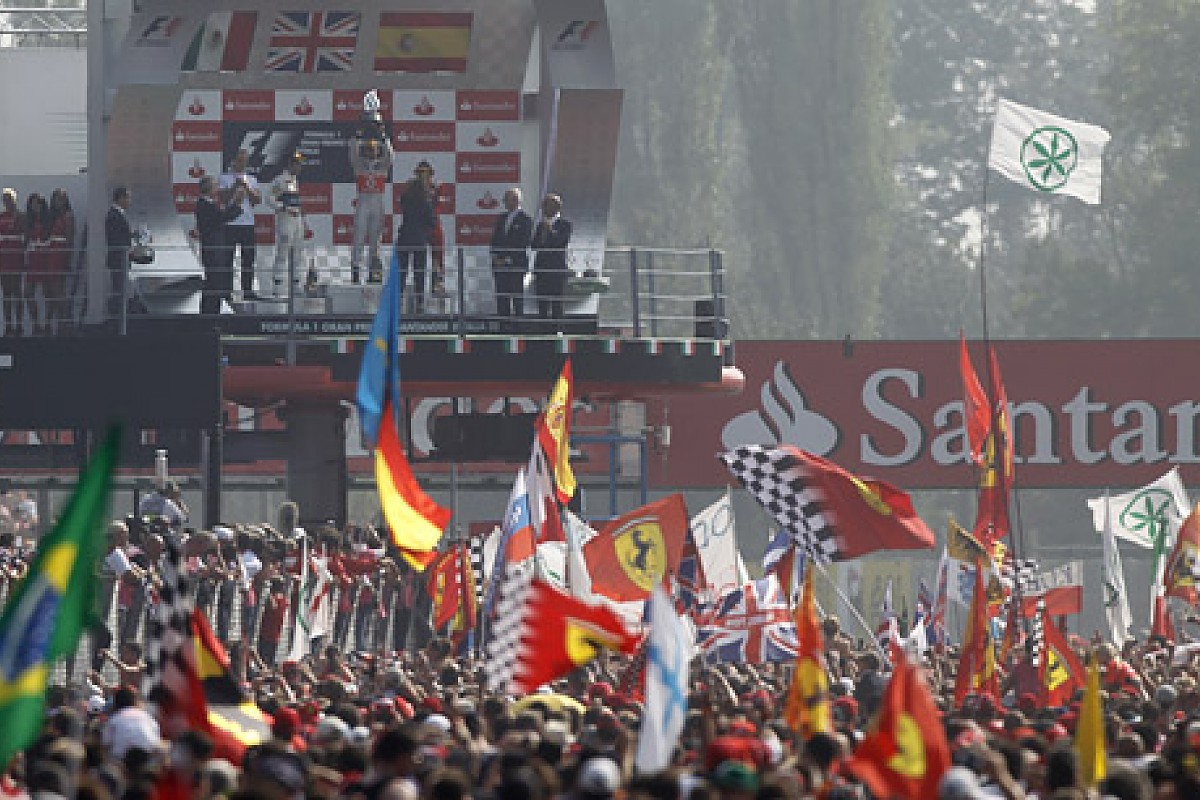 Lap-by-lap as it happened on AUTOSPORT Live
RACE RESULTS

The Italian Grand Prix
Monza, Italy;
53 laps; 306.720km;
Weather: Sunny.

Classified:

Pos  Driver        Team                       Time
 1.  Hamilton      McLaren-Mercedes           1h19:41.221
 2.  Perez         Sauber-Ferrari             +     4.356
 3.  Alonso        Ferrari                    +    20.594
 4.  Massa         Ferrari                    +    29.667
 5.  Raikkonen     Lotus-Renault              +    30.881
 6.  Schumacher    Mercedes                   +    31.259
 7.  Rosberg       Mercedes                   +    33.550
 8.  Di Resta      Force India-Mercedes       +    41.057
 9.  Kobayashi     Sauber-Ferrari             +    43.898
10.  Senna         Williams-Renault           +    48.144
11.  Maldonado     Williams-Renault           +    48.682
12.  Ricciardo     Toro Rosso-Ferrari         +    50.316
13.  d'Ambrosio    Lotus-Renault              +  1:15.861
14.  Kovalainen    Caterham-Renault           +     1 lap
15.  Petrov        Caterham-Renault           +     1 lap
16.  Pic           Marussia-Cosworth          +     1 lap
17.  Glock         Marussia-Cosworth          +     1 lap
18.  De la Rosa    HRT-Cosworth               +     1 lap
19.  Karthikeyan   HRT-Cosworth               +     1 lap
20.  Webber        Red Bull-Renault           +    2 laps
21.  Hulkenberg    Force India-Mercedes       +    3 laps
22.  Vettel        Red Bull-Renault           +    6 laps

Fastest lap: Rosberg, 1:27.239

Not classified/retirements:

Driver        Team                         On lap
Button        McLaren-Mercedes             32
Vergne        Toro Rosso-Ferrari           8


World Championship standings, round 13:

Drivers:                    Constructors:             
 1.  Alonso       179        1.  Red Bull-Renault          272
 2.  Hamilton     142        2.  McLaren-Mercedes          243
 3.  Raikkonen    141        3.  Ferrari                   226
 4.  Vettel       140        4.  Lotus-Renault             217
 5.  Webber       132        5.  Mercedes                  126
 6.  Button       101        6.  Sauber-Ferrari            100
 7.  Rosberg       83        7.  Force India-Mercedes       63
 8.  Grosjean      76        8.  Williams-Renault           54
 9.  Perez         65        9.  Toro Rosso-Ferrari         12
10.  Massa         47
11.  Schumacher    43
12.  Kobayashi     35
13.  Di Resta      32
14.  Hulkenberg    31
15.  Maldonado     29
16.  Senna         25
17.  Vergne         8
18.  Ricciardo      4


TEAM BY TEAM
Red Bull
What a terrible weekend for Red Bull Racing. Not since Korea 2010 has the team come away from a race weekend without a single point, but that's what happened in Italy.
Monza was never likely to suit the RB8, and qualifying proved there was a lack of raw speed. Sebastian Vettel was just sixth (fifth after penalties), while Mark Webber failed to make it into Q3.
But despite the qualifying performance, nobody within the team would have predicted such a poor showing on Sunday. Vettel's race was compromised by a drive-through penalty after he edged Fernando Alonso off the track at Curva Grande, and then ruined when his alternator failed, a problem that first reared its head during practice three.
Webber, meanwhile, was working so hard to hang on to seventh that he spun late in the race, retiring with severely flat-spotted tyres.
McLaren
The optimists at McLaren will remember the 2012 Italian Grand Prix weekend as a good one. The pessimists might just dwell on it as a missed opportunity.
Qualifying couldn't have gone better. Lewis Hamilton took pole, and Jenson Button joined him on the front row, the team equalling the record for front-row lock-outs in the process.
Hamilton's Sunday went just as perfectly as his Saturday. He made a perfect start, fended off a minor challenge from Felipe Massa, and then let the race play out on his terms. It was a stellar drive.
But Button wasn't so lucky. Just when it looked like a 1-2 was on the cards, his car developed a fuel pick-up problem and retired from the race.
Ferrari
Monza was another one of those weekends that makes it look more and more like Fernando Alonso is just having one of those championship-winning years.
While the Spaniard didn't win the race, he did manage to turn 10th on the grid into third place, and, quite amazingly, extend his championship lead. In fairness, he was only 10th on the grid because of a rear anti-roll bar failure in Q3, but it was still a very impressive Sunday performance. Again.
For Felipe Massa, it was a much improved weekend. He qualified third, his best Saturday result of the year, and finished fourth after, quite understandably, making way for Alonso late in the race.
Mercedes
Monza was always going to suit the Mercedes better than Spa, and right from Friday morning it was clear that was the case, Michael Schumacher topping practice one.
Things looked pretty good in qualifying as well, Schumacher and Nico Rosberg qualifying fourth and sixth respectively, and even making noises about how the McLarens might not be out of reach.
In the end, they were - as were the other frontrunners. Having opted for a two-stop strategy, speed in the first stint was critical. When the Mercedes didn't want to perform on the medium tyres, any chances of podium results disappeared.
Still, Schumacher and Rosberg finished sixth and seventh, the best of the two-stoppers.
Lotus
With Romain Grosjean sitting the Italian Grand Prix out thanks to his crash at Spa, getting two cars home in the points was always going to be a big ask for Lotus at Monza.
Kimi Raikkonen had a reasonable, if not a little quiet, weekend. He qualified seventh, and then started the race working on a two-stop strategy. He was even the first to pit, swapping his mediums for hards on lap 17. Then the team decided to switch to a one-stopper, meaning the Finn had to go all the way to the finish on a set of rubber. He got there, and he was fifth, which is quite impressive.
With third drivers having so little running in modern Formula 1, nothing much could be expected from stand in Jerome d'Ambrosio. But he made it into Q2, kept his nose clean in the race, and finished on the lead lap in 13th despite KERS failure - not too bad for a bloke not racing regularly.
Force India
The Force India was a real rocket in qualifying, but it didn't mean a thing to Nico Hulkenberg. Almost as soon as Q1 started he lost drive, failing to post a time and scoring himself a back-row start.
Paul di Resta, meanwhile, was right on the money throughout all three segments, ultimately going fourth fastest in Q3, before being pushed back to ninth thanks to a gearbox penalty.
But, not for the first time this year, a lack of pace on full tanks stopped di Resta from replicating that qualifying pace on Sunday. Still, he battled away and took eighth place, while Hulkenberg's weekend just got worse when he was forced to retire form the race with brake problems.
Sauber
After qualifying, it didn't look as if the Monza weekend was going to be a special one for Sauber. Kobayashi did manage to sneak his way into Q1 and nab eighth on the grid, but Perez seemed to be a little off the pace, settling for 12th.
But on Sunday, things changed big time. With the freedom to start on whatever tyres he wanted, Perez opted for a new set of hards. He then ran them all the way to the 30th lap of the race, before bolting on mediums for the sprint home. With all of the grip in the world, he charged his way through to second place, only missing out on catching Hamilton by just over four seconds.
For Kobayashi, it never really happened in the race. He started on the mediums, switched to the hards with the rest of the one-stoppers, and came home ninth, failing to replicate the breakneck speed of his team-mate at any stage of the race.
Toro Rosso
Thanks to some handy driving from Daniel Ricciardo, Toro Rosso went oh-so-close to scoring points for the second race in a row at Monza.
The Australian qualified a fairly inconspicuous 14th, but a one-stop strategy had him sitting in a comfortably 10th place on the final lap.
However, when he went to hit the throttle at the exit of the Parabolica on the last lap of the race, nothing happened, a fuel pick-up problem sapping the Ferrari engine's power.
He ended up finishing a heartbreaking 12th, while Jean-Eric Vergne was out early after his car suffered what looked like a suspension failure while hurtling down the long front straight.
Williams
It took a bit of good luck for Williams to even score a single point at Monza.
It was obvious that the front-running raw pace wasn't there in qualifying. Pastor Maldonado was 12th fastest, before being bumped to 22nd with his penalties from Spa. Bruno Senna didn't fair much better, starting 13th after Maldonado's penalty had been applied.
The team went for split strategies in the race, with Senna on a one-stop and Maldonado on a two-stop. In the end they finished 10th and 11th respectively, although Senna wouldn't have scored the point had Ricciardo's Toro Rosso not failed on the run to the flag. In saying that, his progress was hindered mid-race by a little run-in with di Resta, which caused the Williams driver to miss the chicane and lose some time.
Caterham
The two Caterham drivers raced each other hard at Monza, to the point where Heikki Kovalainen crossed the finish line less than two tenths of a second ahead of Vitaly Petrov.
Having started 17th, Kovalainen wasn't entirely impressed with his car's long run performance, particularly having been quite happy with it on Friday. Petrov, meanwhile, started 18th and was extremely happy with his car in race trim, hence why he was so close to Kovalainen at the finish, the Finn just nabbing 14th place from his team-mate.
HRT
For the first time in 2012, Narain Karthikeyan managed to outqualify his team-mate Pedro de la Rosa at Monza. There wasn't much in it (the two started 22nd and 23rd respectively), and de la Rosa did later complain of not being comfortable in the car, but it was still a nice little achievement for Karthikeyan.
But in the race, some early problems halted Karthikeyan's progress. Having jumped the Marussias at the start, his front wing was knocked out of place thanks to some contact. He struggled on to finish 19th, one place behind de la Rosa.
Marussia
The Marussias started a bit further up the grid than usual, with Maldonado's penalty and Hulkernberg's technical problem leaving Timo Glock and Charles Pic 19th and 20th respectively.
But it wasn't a lucky starting spot for Glock. The German lost his front wing endplate on the first lap, following a brush with Petrov on the run to the first corner. As a result he was forced to pit out of sequence, eventually finishing 17th, one place behind Pic.
RACE DATA