PRACTICE
Practice one - Friday am
Heavy rain at Spa on Friday morning meant part two of the 2012 season got off to a muted start.
Kobayashi pressed on in the wet while others preferred to stay dry © XPB
Only Sauber's Kamui Kobayashi was willing to try a flying lap in the first half of the session, and he would eventually end the morning fastest on a 2m11.589s lap.
Most of the field eventually came out to join the bold Japanese driver, with Pastor Maldonado taking second, half a second off.
The Toro Rossos were among the pacesetters and ended up third and fourth, with Daniel Ricciardo and Jean-Eric Vergne both very pleased with their car in the wet... and pessimistic about achieving anything in the dry weather forecast for the rest of the weekend.
Best of the title contenders was Mark Webber in fifth, while points leader Fernando Alonso was among those who barely took to the track before popping out for a slow lap at the very end so he could do a practice start.
His team-mate Felipe Massa did likewise and ran into trouble even on that brief outing. An engine failure would halt his car before he could get back around to the grid.
Practice two - Friday pm
If the morning had been quiet, it was positively frenetic compared to the afternoon.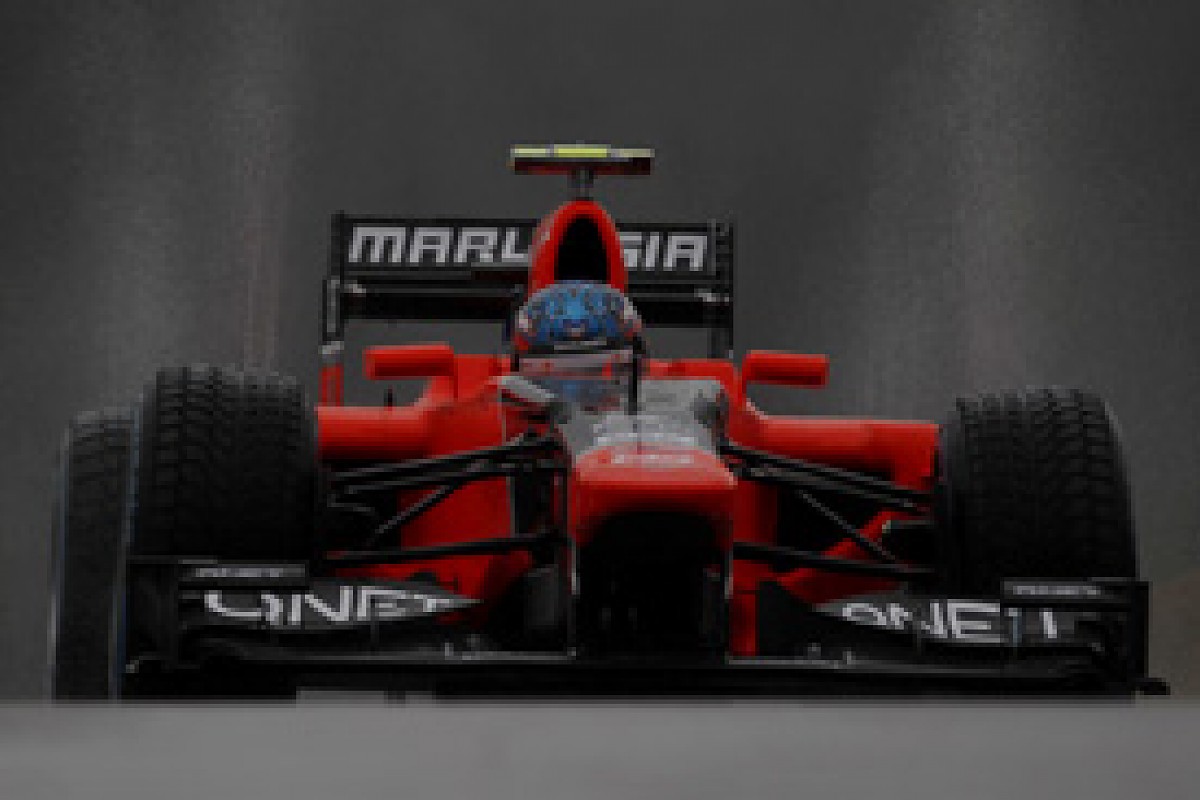 Pic was officially the practice two pacesetter © LAT
Conditions were even worse for session two, and many drivers reckoned there was little point running because if similarly heavy rain levels appeared for the race, they would be behind the safety car anyway. Others felt they had learned enough about rain in the morning, while some were confident enough in the improved weekend forecast to just keep themselves dry all day.
No one actually tried a flying lap at all, with the only 'times' being set when drivers went around to do practice starts at the end. That gave Marussia's Charles Pic the honour of being technically fastest in one of F1's quietest ever sessions.
Just to prove how treacherous the track was, Heikki Kovalainen had a spin at Les Combes on one of his exploratory laps, and Lewis Hamilton visited the run-off at the same spot.
Practice three - Saturday am
The sunshine arrived for Saturday morning and that meant a very busy hour, with teams trying to crack on through qualifying and race preparations in a very short timeframe.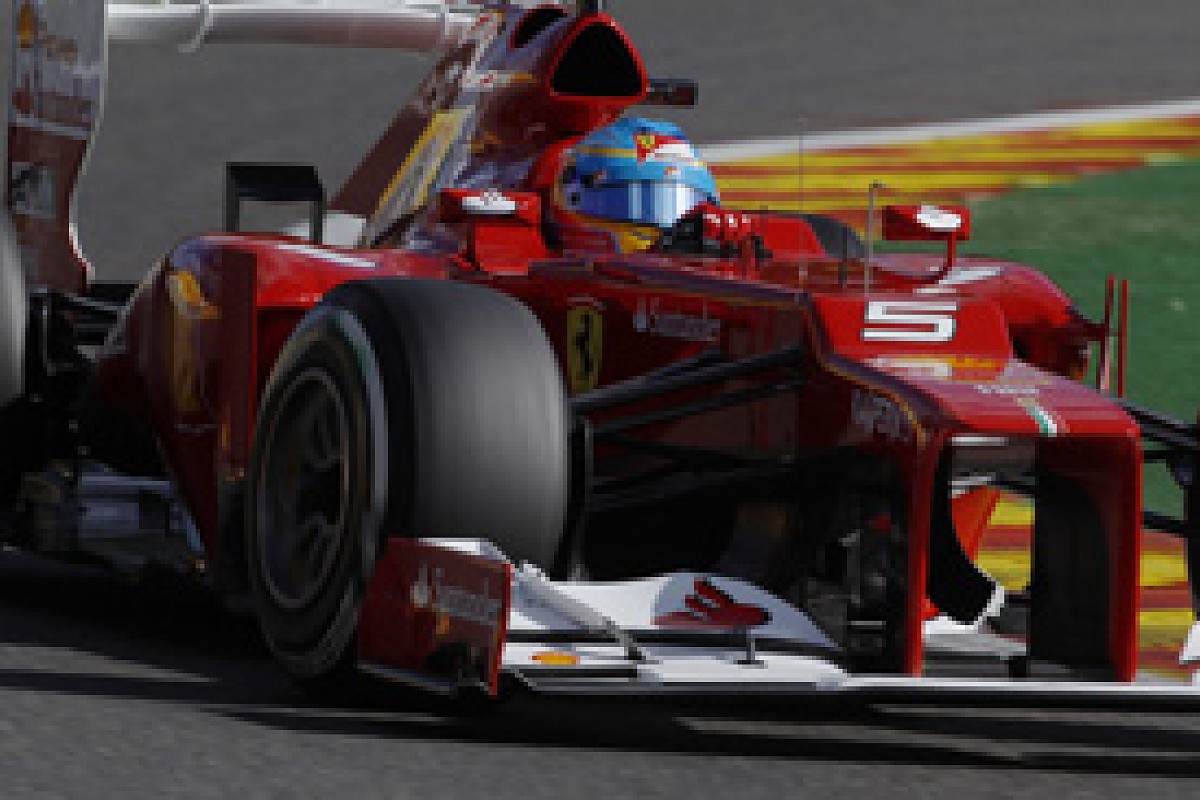 Alonso flew when it dried up © LAT
Ferrari seemed to be prioritising one-lap pace, with Alonso among the quickest from the outset and ultimately claiming the top spot.
Kimi Raikkonen was his nearest rival, while the Saubers were rapid all morning and ended up third and fourth.
Jenson Button was fifth, but neither McLaren man was happy with the car's pace. It was a low-key session for Red Bull too: Mark Webber seventh and Sebastian Vettel ninth.
No one had quite such a tough start to Saturday as Nico Rosberg. The Mercedes driver ground to a halt with gearbox failure five laps in and would get a grid penalty as a result.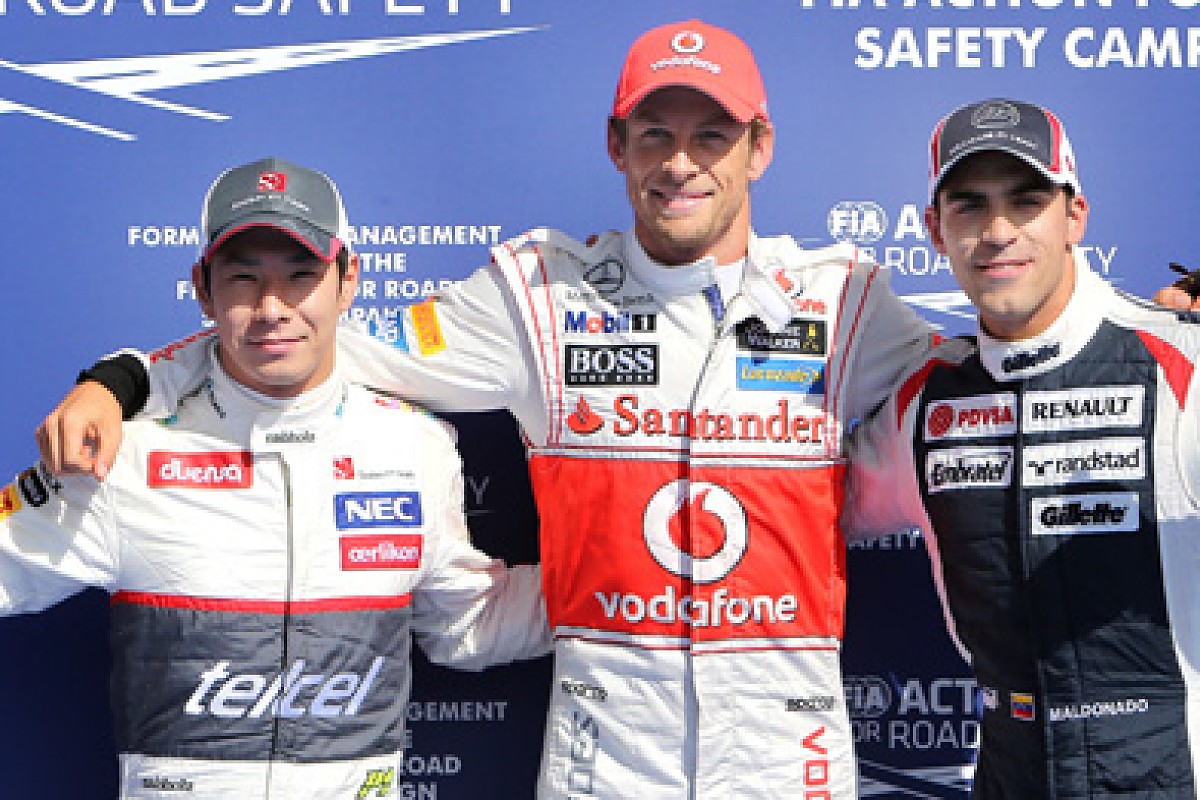 QUALIFYING
1. Jenson Button
"It's been so long since my last pole position that it almost feels like a win for me! In fact, it's my first pole since Monaco 2009 - which was a race that I won - and it demonstrates that I can qualify really well."
2. Kamui Kobayashi
"I am very happy for the team and myself. We had felt quite positive before we came here, but I think it is fair to say we didn't expect to be second and fifth in qualifying. We have had strong races this year, but qualifying has been a weakness."
3. Kimi Raikkonen
"It wasn't the easiest of qualifying sessions. The car is OK but it doesn't look like we have the speed that some others have and we were certainly not quick enough for pole today."
4. Sergio Perez
"Personally I'm not too happy because my last lap in Q3 wasn't perfect. I had the feeling the car was performing differently to this morning. In any case, the most important part comes tomorrow. It will be a very challenging race on a demanding circuit."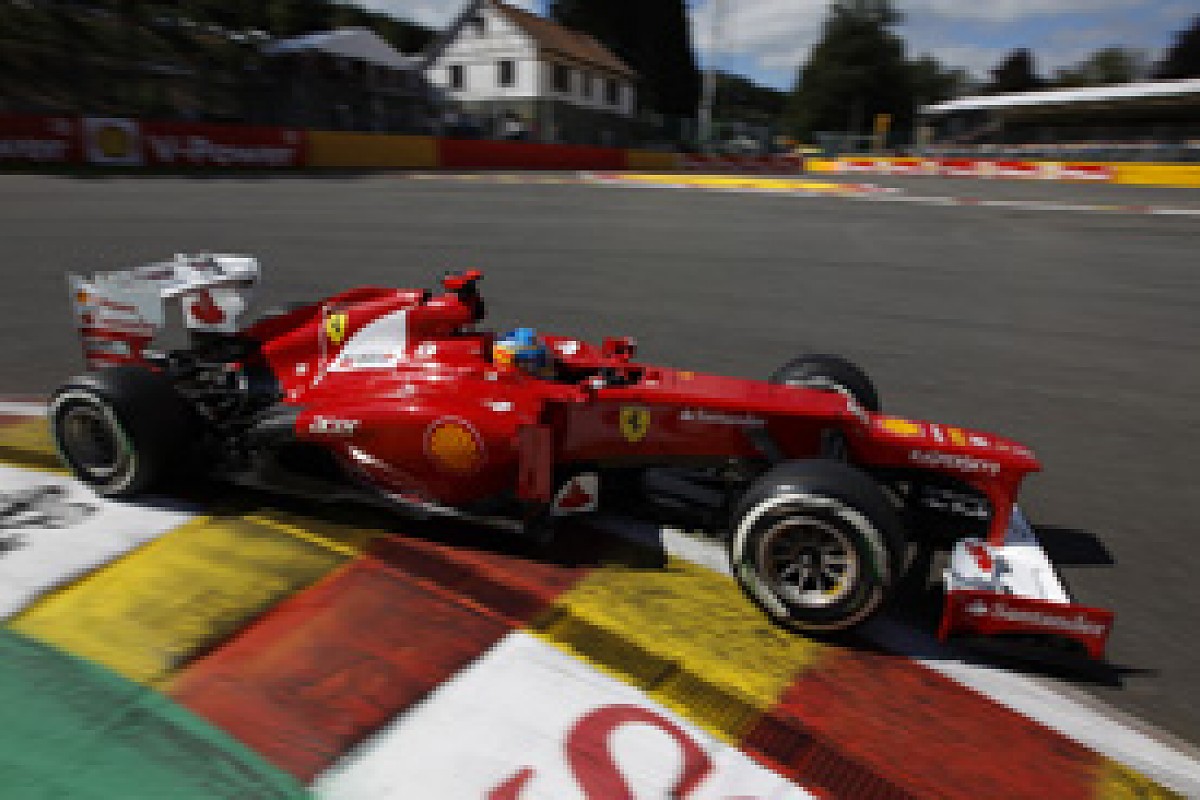 Alonso wasn't happy with the Ferrari's pace, but was at least ahead of his title rivals © LAT
5. Fernando Alonso
"I think realistically the podium is the maximum target for us. The victory is out of reach I think because we were not quick in qualifying and the distance to Jenson is a little bit too much so we need to be honest with ourselves."
6. Pastor Maldonado - three-place penalty for blocking
"We are happy we know the team can react. The races were up and down a bit but we are looking forward to recovering what we lost at the beginning of the season."
7. Lewis Hamilton
"It was a disaster for me, but we are still in the top 10 so it is damage limitation for me. It was literally all down to the [choice of] rear wing."
8. Romain Grosjean
"Not the best qualifying session of the year, that's true. It was difficult with the lack of running, especially when you're a rookie here. Spa is a very difficult track. We're not missing a lot at the end. The gap between the cars is very, very small. We have been struggling to get the car as we want it, the limit is hard to find, and this is why it's not easy to get the best laptime."
9. Paul di Resta
"I'm quite pleased with our performance today. The car had pace this morning during practice and was working well on this track where you need lots of downforce as well as efficiency."
10. Sebastian Vettel
"I felt pretty good this morning, the laps didn't come together but the car felt good. There was nothing obvious that was wrong this afternoon, I was pretty happy with my lap, it was clean, but it just wasn't quick enough."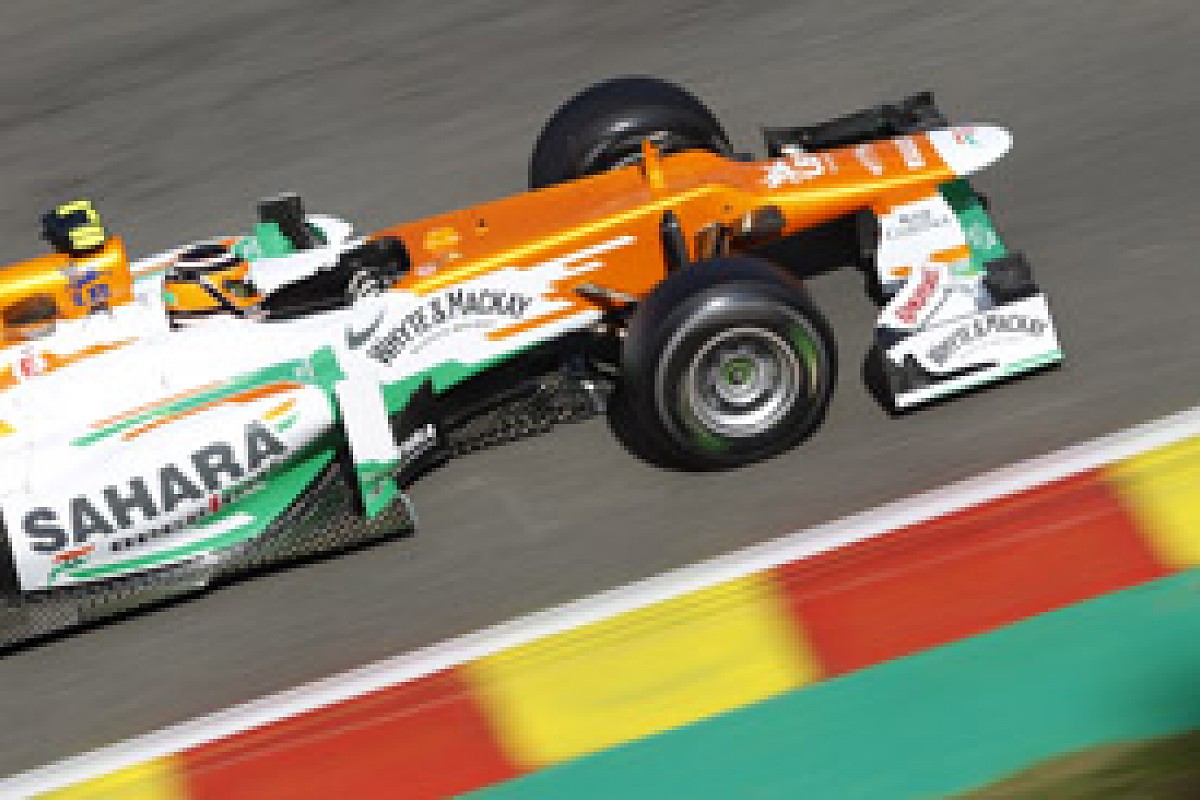 Nico Hulkenberg didn't quite make the top 10 © LAT
11. Nico Hulkenberg
"I'm a little bit disappointed with the result today because I felt it was possible to make the top 10. There wasn't as much preparation time in the dry as I would have liked, but we were in reasonable shape this morning and made some good progress with the set-up."
12. Mark Webber - five-place gearbox-change penalty
"I'm disappointed. We would like to have been higher up the grid to take the sting out of the penalty, but we'll have to see what we can do tomorrow. We weren't quick enough and couldn't challenge for the front row today; I was pretty happy with my lap but I think P5 would have been our maximum today."
13. Michael Schumacher
"Well, what a pity today. I am really sorry for my fans but I am afraid I have to say that I got pretty much everything that we could from today. The car was not quick enough, and especially in the mid-sector we were too slow."
14. Felipe Massa
"Already this morning, I was struggling a lot in the second sector and, after the third free practice session, we made some changes to the configuration of the car, which unfortunately, did not change the situation much. I can't manage to drive properly in that part of the track. I can feel the car sliding in the corners because of a lack of aerodynamic downforce."
15. Jean-Eric Vergne
"I think that was a solid performance for me and the team today. We know where we are compared to the others, therefore even after a long break, we didn't expect to suddenly find ourselves in Q3. I think, personally, I did a good job. I have struggled a bit with qualifying since the start of the year, but race by race I have made progress and today, to finish ahead of my team-mate, shows that I am getting better at it."
16. Daniel Ricciardo
"I don't think I got the best lap I could in Q2, because I'd done the same time in Q1. Normally you go quicker in Q2 and I was hoping to find more time but I did not manage it. Therefore I had hopes to be higher than 16th."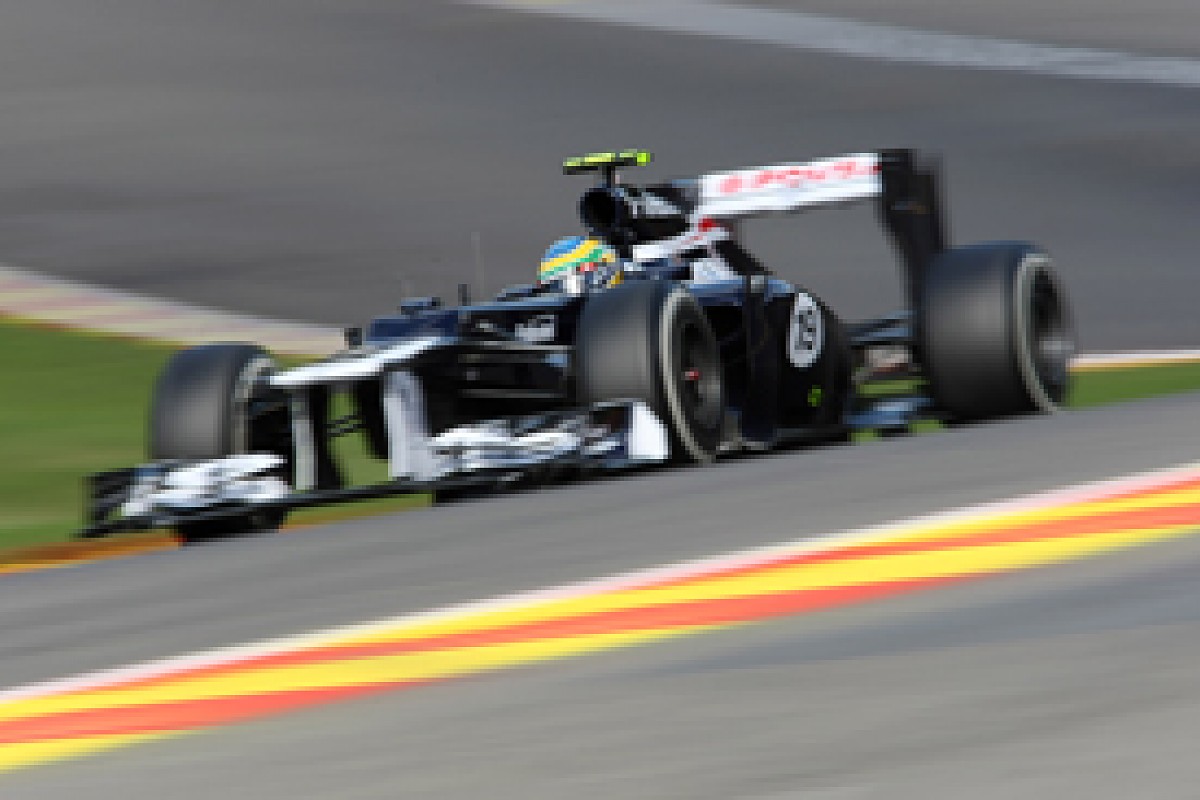 Another disappointing Saturday for Senna © XPB
17. Bruno Senna
"I'm slightly frustrated with qualifying as things just didn't seem to come together today. The spin was unfortunate and there seemed to be a bit of damage on the car from that."
18. Heikki Kovalainen
"It's been a bit of a tricky day. In FP3 the car had quite a lot of understeer early on but we managed to dial that out towards the end of the session. By the time FP3 finished the car felt OK but I was having issues with DRS and that was obviously costing me laptime. In qualifying I had traffic on the first run and couldn't lap as fast as I wanted to on the outlap."
19. Vitaly Petrov
"I had a pretty decent qualifying session and I'm pleased I could get that last clear lap in as the session ended. On my first run in quali there was quite a lot of traffic and that may have cost a bit of time, but I think I got as much out of the car as I could today, so for me that's OK."
20. Timo Glock
"Quali was OK; the first run was not great, but I could feel that I could maybe gain a bit more time because I made some mistakes in the first lap. In the second lap I lost quite a bit of time down the straight, due to the wind I guess. It's a real shame as we were looking good versus the next team today, but let's hope we can get it back in the race tomorrow."
21. Pedro de la Rosa
"I'm very happy with today's qualifying because we completed an impeccable lap. We went out with just enough time and did the three best sectors on the same lap; we risked it and it paid off. After the issues we had with the car this morning in P3, we made the appropriate changes and they worked well."
22. Charles Pic
"I think we have made a very good step forward with our latest updates, but I am disappointed with how things went for me in qualifying. The first run was OK, but we had some room for improvement, then on the second run we had only one flying lap to play with and we hit traffic in sector two, so I lost a lot of time there."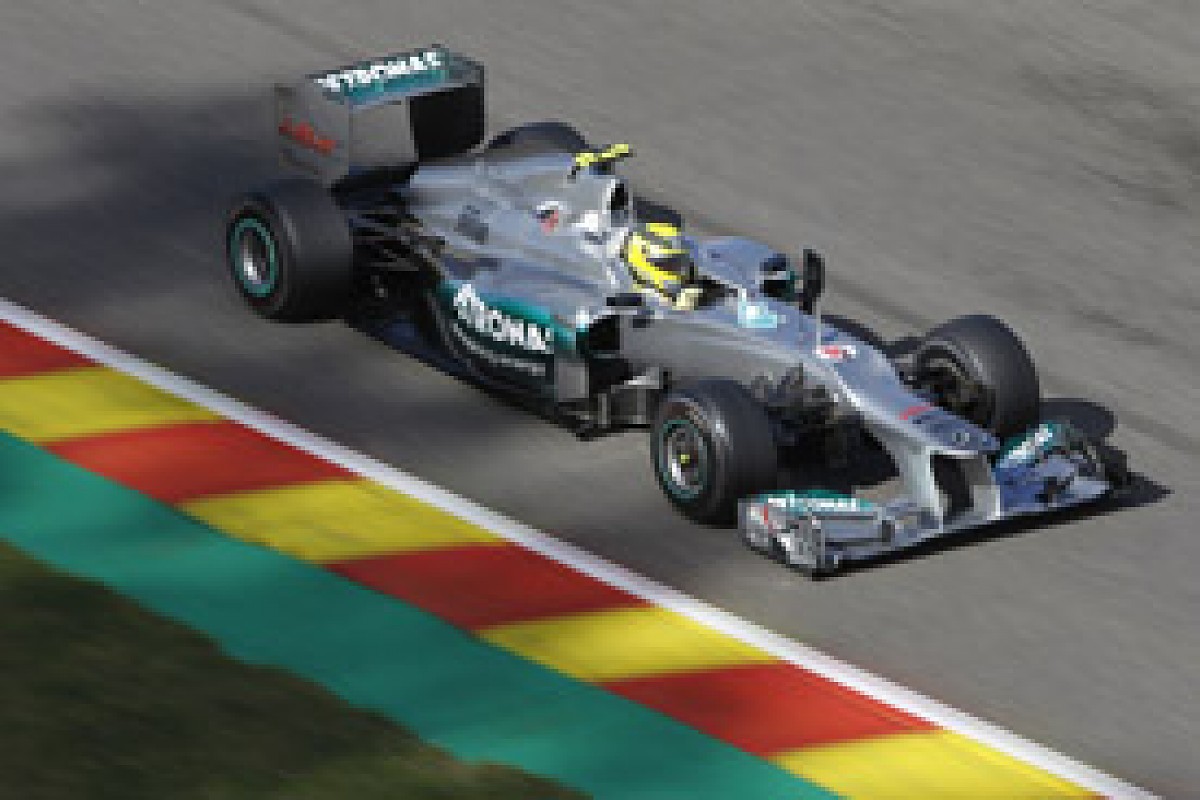 Rosberg's day featured a gearbox failure, a penalty, then a qualifying miscue © LAT
23. Nico Rosberg - five-place gearbox-change penalty
"This weekend isn't really running to plan so far. Starting from the back of the grid tomorrow is really disappointing, although I had no chance to prepare my car due to the gearbox problem this morning."
24. Narain Karthikeyan
"I made the most of the morning session but I didn't have a good qualifying session as I constantly ran into traffic. I was on my flying lap right at the end of the session but on Turn 15 another car hindered me and I was unable to finish it. But that's in the past now. We have to forget about today and think about tomorrow's race where we will fight, as always, to achieve the best result possible."
Starting grid:
Pos  Driver              Car
 1.  Jenson Button       McLaren-Mercedes
 2.  Kamui Kobayashi     Sauber-Ferrari
 3.  Kimi Raikkonen      Lotus-Renault
 4.  Sergio Perez        Sauber-Ferrari
 5.  Fernando Alonso     Ferrari
 6.  Pastor Maldonado    Williams-Renault
 7.  Lewis Hamilton      McLaren-Mercedes
 8.  Romain Grosjean     Lotus-Renault
 9.  Paul di Resta       Force India-Mercedes
10.  Sebastian Vettel    Red Bull-Renault
11.  Nico Hulkenberg     Force India-Mercedes
12.  Mark Webber         Red Bull-Renault
13.  Michael Schumacher  Mercedes
14.  Felipe Massa        Ferrari
15.  Jean-Eric Vergne    Toro Rosso-Ferrari
16.  Daniel Ricciardo    Toro Rosso-Ferrari
17.  Bruno Senna         Williams-Renault
18.  Heikki Kovalainen   Caterham-Renault
19.  Vitaly Petrov       Caterham-Renault
20.  Timo Glock          Marussia-Cosworth
21.  Pedro de la Rosa    HRT-Cosworth
22.  Charles Pic         Marussia-Cosworth
23.  Nico Rosberg        Mercedes
24.  Narain Karthikeyan  HRT-Cosworth

THE RACE
They say actions speak louder than words, and both Jenson Button and Romain Grosjean proved there is something in the old adage during the Belgian Grand Prix.
Having spent much of the build-up to the race dodging questions about helping Lewis Hamilton reel in Fernando Alonso's championship lead, Button made his position on the subject perfectly clear at Spa-Francorchamps.
By winning comfortably after taking an emphatic pole position, Button proved to the world he is far from a number two driver. And thanks to both Alonso and Hamilton being taken out of the race just a few metres after the red lights went out, Button also proved that there is still some life in his own title fight.
While the overall dominance of Button's win was somewhat exaggerated by the turn one shunt, it's unlikely that he would have been challenged by Alonso, Hamilton or either of the Saubers had they been in the race. The Briton was just in that rare kind of form where everything goes right and nothing goes wrong, right from the start of Q1 on Saturday afternoon to the chequered flag on Sunday.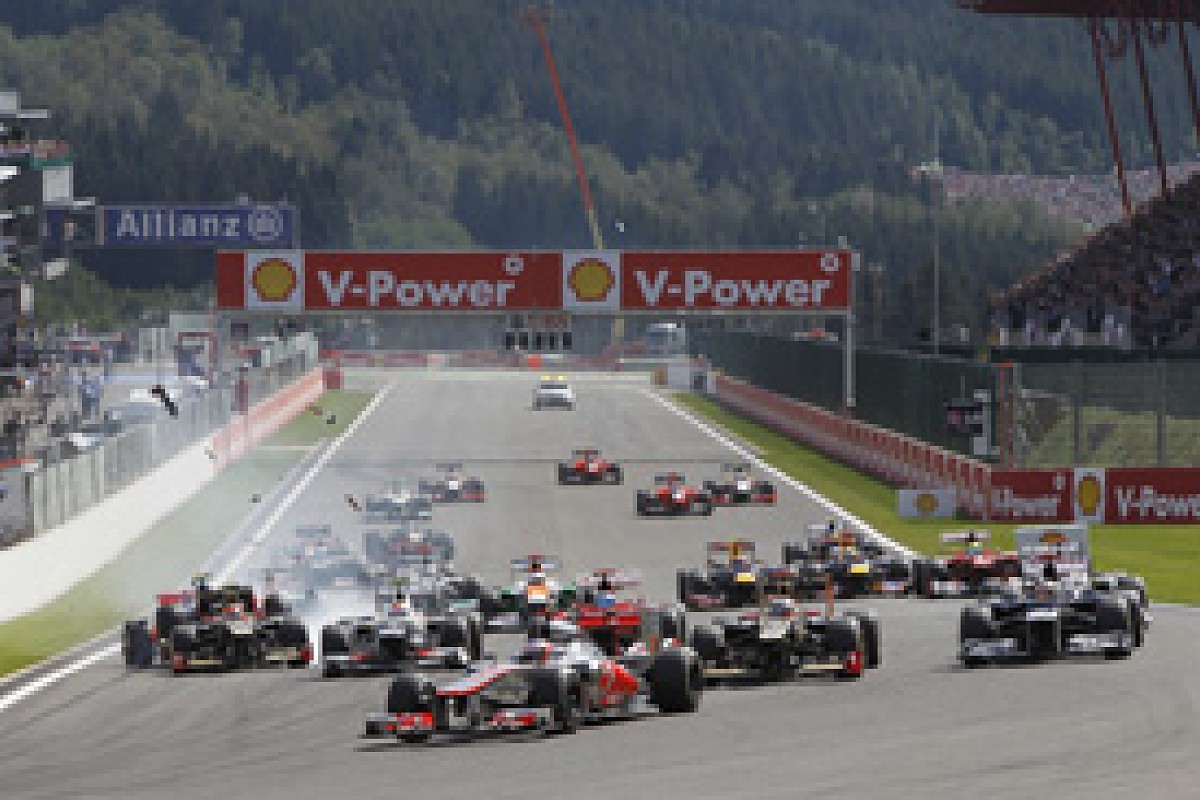 Button took the lead while the carnage unfolded behind © LAT
With all due respect to his qualifying performance - which resulted in his first pole position as a McLaren driver - it was the flawless race that really proved that Button has properly emerged from the slump that was hindering his performance prior to the German Grand Prix.
On a day where nobody was sure what the tyres would do, Button charged away from the field (he had gapped second place by almost three seconds after the first two racing laps), made his medium compound tyres last until 20 laps in, and then controlled proceedings to the end on the hard tyre.
Not long after his sole stop, Button received a radio message that said 'Plan A is good'. It was clear at that point that the one-stopper was going to work, and that, barring disaster (or a poorly-timed safety car), the rest of the field was fighting for second place.
"You think of everything, all the things that could go wrong and today they didn't," was Button's apt summary of the race. It really was a day where nothing went wrong for that side of the McLaren garage.
While Button used his race-winning actions as a way of hushing the critics, Grosjean's actions were much less productive. After qualifying ninth on Saturday, the Frenchman attempted to stem the tide of inevitable criticism following his unfortunate run of first-lap incidents in 2012 by telling the media that with the short run to La Source followed by the long run after Eau Rogue, there was no point being too gung ho off the line.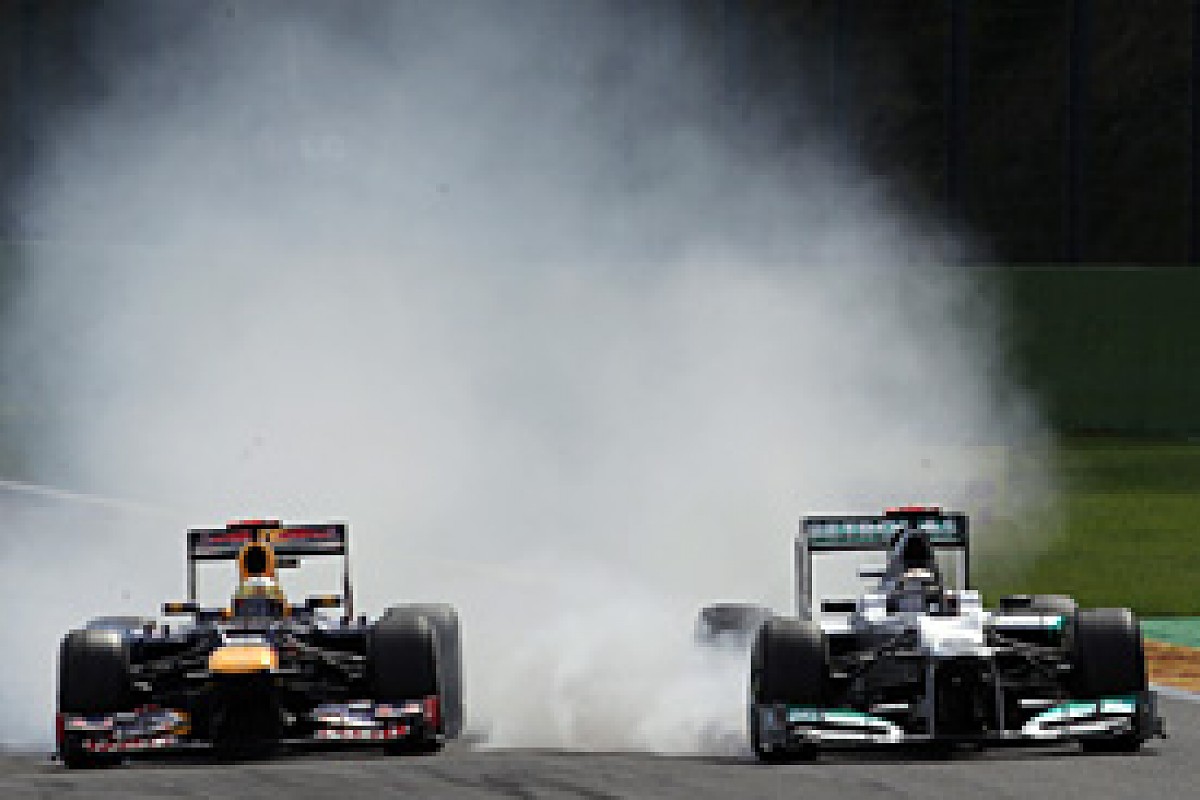 Vettel salvaged an unlikely second place © LAT
But when the race started, Grosjean's words were quickly silenced by his actions. In an attempt to cover Hamilton's fast approaching McLaren, the Lotus nudged the side of the McLaren, sending both drivers flying into the pack and causing the first-corner pile-up. It was exactly the sort of incident that Grosjean spoke of avoiding. To be honest, it was exactly the sort of incident Grosjean needed to avoid, the stewards agreeing to the tune of a one-race ban.
Alonso was lucky to escape injury, particularly as the out-of-control cars hurtled across the nose of his Ferrari. But his championship lead was not so lucky, the DNF doing serious damage to a points gap Alonso has worked hard to build in what is clearly not the fastest car in Formula 1.
But the unluckiest drivers to be affected by the crash were the Sauber duo. Kamui Kobayashi and Sergio Perez did a marvellous job on Saturday to qualify second and fourth respectively, but it all came to naught when both drivers were tangled up in the carnage.
For Perez it was terminal, the Mexican retiring on the spot along with Grosjean, Hamilton and Alonso. Kobayashi, who had made a slow getaway anyway, managed to get going again, but any chance of a decent result was long gone by the time he got back on track, and 13th place was his reward after completing the race with a gaping hole in his Sauber's sidepod.
While all eyes were on Button at the completion of the race, Sebastian Vettel's efforts were almost equally sublime. Having missed out on Q3 on Saturday, Vettel's weekend looked like it was going to get worse when he got trapped behind a lot of traffic after the crash. But from 12th place at the restart he drove a stunning race, combining a Button-like one-stop strategy and some brave overtaking moves to nab second place, and pull a handy 18 points out of Alonso's points lead.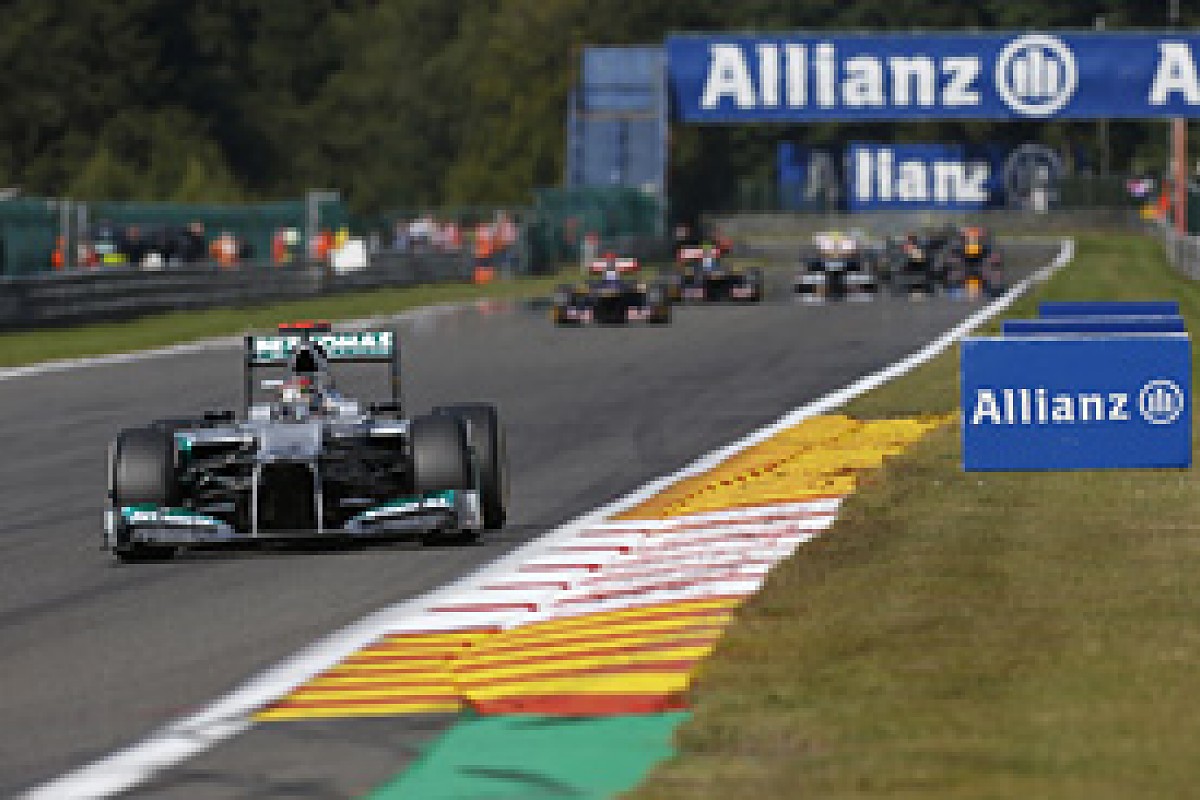 Schumacher looked like a podium threat but fell to seventh © LAT
Kimi Raikkonen finished third, failing once again to score that Lotus win that has for so long seemed right around the corner. While both driver and team seemed slightly puzzled as to why they were never really in the fight for victory, it was a decent drive from the Finn. Pitting earlier than most after struggling for grip in the first stint, Raikkonen took control of the situation by clearing traffic quickly and establishing himself as the best of the two-stoppers.
Behind the top three there was a tight battle for the minor points. Nico Hulkenberg, Felipe Massa and Mark Webber all ran fairly similar two-stop strategies (apart from Hulkenberg starting on hards instead of mediums), and finished fourth-to-sixth respectively. Michael Schumacher (seventh) was in the thick of that battle too, although he tried to do so on a one-stopper, having benefited greatly from the first corner crash in what was his 300th grand prix. In the event, a second late stop was required.
Bruno Senna looked for a while like he was going to be part of the group as well, but dropped to 12th late in the race when he abandoned his one-stop strategy and pitted for new tyres. His only reward was setting the fastest lap on the penultimate tour of the race.
Having been out of the points since the Malaysian Grand Prix back in March, Toro Rosso made the most of the lap one retirements to get both cars home in the top 10. In the first part of the race it was Daniel Ricciardo who looked the goods, the Australian emerging from the carnage right at the front of the field and showing excellent pace on the softer of the two tyres. But once the hard compound tyres went on the cars it was Jean-Eric Vergne who had the advantage, the Frenchman ultimately leading home the team's eight-nine finish, ahead of Force India's Paul di Resta, who snatched the final point despite lacking DRS.
Jean-Eric Vergne and Toro Rosso finally got back in the points © LAT
Like Senna, Nico Rosberg tried to run a one-stop strategy - a worthwhile risk from his last-row starting spot. For a while he looked in the mix to steal a point, but eventually was forced to make a second stop and finished 11th.
Behind Kobayashi, there was a host of usual subjects. Vitaly Petrov and Timo Glock finished 14th and 15th, while Charles Pic found himself ahead of Heikki Kovalainen after the Caterham driver was forced to take on a new wing after a pitlane scuffle with HRT's Narain Karthikeyan.
Pedro de la Rosa finished 18th and last of the runners, after Karthikeyan spun out of the race after his second stop due to a loose wheel.
The other driver on the DNF list was Pastor Maldonado, the Williams driver having an action packed start to the race. It all started to go wrong for Maldonado right before the lights went out, the Barcelona winner finding himself moving well before the rest of the cars.
The jump-start helped him run with the leaders into turn one, but then resulted in him being turned around during the crash. He got going again, only to tangle with Glock straight after the restart, ending his race.
He was later handed a 10-spot grid penalty for Monza - five for the jump start, and five for the crash with Glock.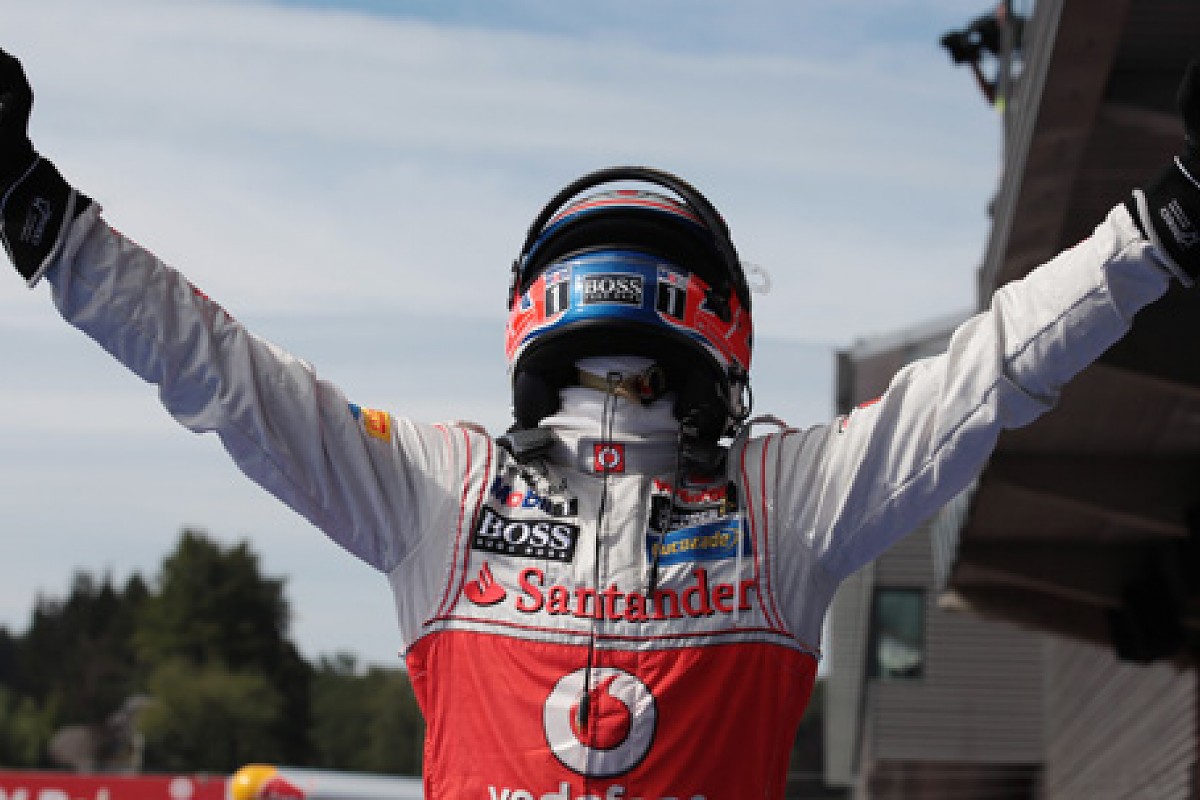 Lap-by-lap as it happened on AUTOSPORT Live
RACE RESULTS

The Belgian Grand Prix
Spa-Francorchamps, Belgium;
44 laps; 308.052km;
Weather: Sunny.

Classified:

Pos  Driver        Team                       Time
 1.  Button        McLaren-Mercedes           1h29:08.530
 2.  Vettel        Red Bull-Renault           +    13.624
 3.  Raikkonen     Lotus-Renault              +    25.334
 4.  Hulkenberg    Force India-Mercedes       +    27.843
 5.  Massa         Ferrari                    +    29.845
 6.  Webber        Red Bull-Renault           +    31.244
 7.  Schumacher    Mercedes                   +    53.374
 8.  Vergne        Toro Rosso-Ferrari         +    58.865
 9.  Ricciardo     Toro Rosso-Ferrari         +  1:02.982
10.  Di Resta      Force India-Mercedes       +  1:03.783
11.  Rosberg       Mercedes                   +  1:05.111
12.  Senna         Williams-Renault           +  1:11.529
13.  Kobayashi     Sauber-Ferrari             +  1:56.119
14.  Petrov        Caterham-Renault           +     1 lap
15.  Glock         Marussia-Cosworth          +     1 lap
16.  Pic           Marussia-Cosworth          +     1 lap
17.  Kovalainen    Caterham-Renault           +     1 lap
18.  De la Rosa    HRT-Cosworth               +     1 lap

Fastest lap: Senna, 1:52.822

Not classified/retirements:

Driver        Team                         On lap
Karthikeyan   HRT-Cosworth                 30
Maldonado     Williams-Renault             5
Perez         Sauber-Ferrari               1
Alonso        Ferrari                      1
Hamilton      McLaren-Mercedes             1
Grosjean      Lotus-Renault                1

World Championship standings, round 12:

Drivers:                    Constructors:             
 1.  Alonso       164        1.  Red Bull-Renault          272
 2.  Vettel       140        2.  McLaren-Mercedes          218
 3.  Webber       132        3.  Lotus-Renault             207
 4.  Raikkonen    131        4.  Ferrari                   199
 5.  Hamilton     117        5.  Mercedes                  112
 6.  Button       101        6.  Sauber-Ferrari             80
 7.  Rosberg       77        7.  Force India-Mercedes       59
 8.  Grosjean      76        8.  Williams-Renault           53
 9.  Perez         47        9.  Toro Rosso-Ferrari         12
10.  Schumacher    35
11.  Massa         35
12.  Kobayashi     33
13.  Hulkenberg    31
14.  Maldonado     29
15.  Di Resta      28
16.  Senna         24
17.  Vergne         8
18.  Ricciardo      4


TEAM BY TEAM
Red Bull
On Saturday evening, things didn't look all that flash for Red Bull Racing. Vettel had failed to make Q1, and Webber had ended up 12th on the grid after copping a gearbox penalty. It seemed like it just might be one of those weekends.
But Vettel turned things around big time on the Sunday. He made the one-stop strategy work a treat, drove a measured yet aggressive race, and took a worthy second place.
Webber went with a pretty standard soft-hard-hard two-stopper, and managed to nab a few points with sixth place. It wasn't a perfect day for the British Grand Prix winner, but he did make (a little bit of) ground up on Alonso.
McLaren
It's quite bizarre to think that Button had never qualified a McLaren on pole before the 2012 Belgian Grand Prix, but it's true. He rectified the situation in stunning style at Spa, his Q1 lap in another league to the rest of the field.
Button was just as good on the Sunday, leading every single lap of the race. He said he had a bit too much oversteer early in the first stint, but when Hulkenberg nipped into second at the restart it gave Button a chance to let the tyres come on and then drive away from the field.
Not much to report on Hamilton. He was disappointed to be only seventh in qualifying after choosing an older-spec rear wing compared to Button, and his race was over at the first corner. He'll be thinking about Monza already.
Ferrari
Spa was never going to be another Germany for Alonso and Ferrari, but starting fifth he and the team would have been confident of scoring some points and keeping the title lead ticking over.
But it wasn't to be. Alonso was a completely innocent bystander in the turn one fiasco, and was lucky to escape injury from the brutal impact that caught him by surprise.
Massa struggled in qualifying, but managed to haul his way into fifth place with a pretty standard two-stopper in the race.
Mercedes
Apart from Schumacher scoring a few points, it was a weekend to forget for Mercedes.
Let's start with Rosberg; between a five-place gearbox penalty, and mistiming his final run in Q1, the Chinese GP winner found himself starting 23rd. Despite the lowly starting spot, a point looked possible mid-race while Rosberg was working towards a one-stop strategy. When it didn't work and he was forced to put for a second time, the chances of a top 10 disappeared, Rosberg instead finishing 11th.
Schumacher emerged from the carnage fifth at the start, and despite losing sixth gear late in the race he managed to two-stop his way to seventh, a planned one-stopper spoilt by high tyre wear.
Lotus
As with many of the recent races, Lotus was expected to be fighting for a win in Spa. But, while Raikkonen drove a great race to finish third, he never really looked to be in the frame for victory. The Finn was the best of the two-stoppers and took another podium, yet both team and driver seemed a little surprised that the ultimate pace wasn't there on Sunday.
After qualifying eighth, Grosjean made noises about not wanting to get involved in another first-lap incident. But in the end it was the Frenchman who sparked the epic turn one smash, and he will miss the Italian Grand Prix as a result.
Force India
Force India didn't star in qualifying, but ninth for di Resta and 11th for Hulkenberg pointed to some potential in terms of outright speed.
On Sunday, that potential was essentially realised, particularly in the case of Hulkenberg. The German found himself second after the restart, quite unbelievable given that he'd chosen to start on the hard compound tyres. He eventually lost out to Raikkonen during the first round of stops, and Vettel during the world champion's charge through the field, but fourth was a solid result for a solid drive.
Di Resta, meanwhile, struggled for pace thanks to a KERS failure right before the race, and came home 10th.
Sauber
The Belgian Grand Prix will be remembered as a case of what might have been for Sauber.
Both Kobayashi and Perez did a stunning job in qualifying, with the Japanese driver scoring his first ever front row start, and Perez slotting in on the second row. Everything looked great.
But both drivers were caught up in the first corner carnage, Perez retiring on the spot. Kobayashi managed to keep going, but lost a lot of time, and finished 13th with a gaping hole in his car's sidepod.
Toro Rosso
Not a bad weekend at all for Toro Rosso and its two rookie drivers.
Quallifying was nothing special, with Vergne 15th and Ricciardo 16th.
But the race was a beauty for the Red Bull juniors. Having survived the first corner, Ricciardo found himself near the front and absolutely flying on the medium rubber. When he switched to the harder tyres he lost some pace, but still finished ninth, scoring his first points since the season-opener in Melbourne.
While Ricciardo struggled on the harder tyres, Vergne found them quite speedy, and took eighth, replicating his only other points finish, the Malaysian GP back in March.
Williams
It was a weekend of opposites for the two Williams drivers. In qualifying, Maldonado was fast, qualifying third fastest before losing three spots for blocking Hulkenberg. Senna, meanwhile, was left down in 17th.
In the race, Maldonado managed to jump the start, be spun in the first-lap crash, and then shunt himself out of the race after tangling with Glock. Between the first and third incident, he has earnt himself a 10-place grid penalty for Monza.
Despite the lowly starting spot, Senna actually looked on for a point or two while attempting a one-stopper. When it didn't work, the extra spot left him 12th - although he did set the fastest lap.
Caterham
After starting 18th, Kovalainen found himself running 10th when the safety car was deployed on the first lap. But it didn't last, the Finn dropping down the order before eventually falling back to 18th after clashing with Karthikeyan in pitlane.
Petrov looked comfortable all afternoon, and turned his 19th grid spot into a 14th place finish.
HRT
Starting 21st, de la Rosa was one of the few backmarkers to get caught up in the first lap crash. As a result he needed to pit early for a new wing, before fighting his way to 18th and last of the runners.
Karthikeyan didn't quite get that far. After being hit by Kovalainen in pitlane, he spun off the track and into the barriers several laps later, which he blamed on a loose wheel.
Marussia
There were no great surprises for Marussia in qualifying, except for de la Rosa slotting in between Glock (20th) and Pic (22nd).
In the race, Glock survived the early incident with Maldonado to come home 15th, while Pic one-stopped his way to 16th, despite being stuck behind de la Rosa in the first part of the race.
RACE DATA