The first sequence of our trip to Jerez read much like the flight scene in Snatch: drive, airport, flight, drive, hotel, breathe. The pace didn't slacken significantly over the next few days, but there was little complaint. Testing was underway; Formula 1 was back on track.
It was hard to know what to expect, both on the circuit and off. F1 can be a notoriously closed and exclusive world, especially in the realm of the fan in which I have most of my experience. During testing - and away from the strain of a race weekend - it was surprisingly accessible.
The drivers too were open and affable, even if the truism that it is 'only testing' came to be the stock phrase of the four days.
However much of a cliche, it was true. Pouring over the timesheets from all four days, it was still difficult to deduce too much. Romain Grosjean's stint on Thursday - in which he set the fastest time of the entire test in a 2012 car - produced four short runs with a sub-1m20s average, better than anyone else managed. Later on, however, two longer runs produced much slower averages, more in line with what McLaren, Red Bull and others were achieving.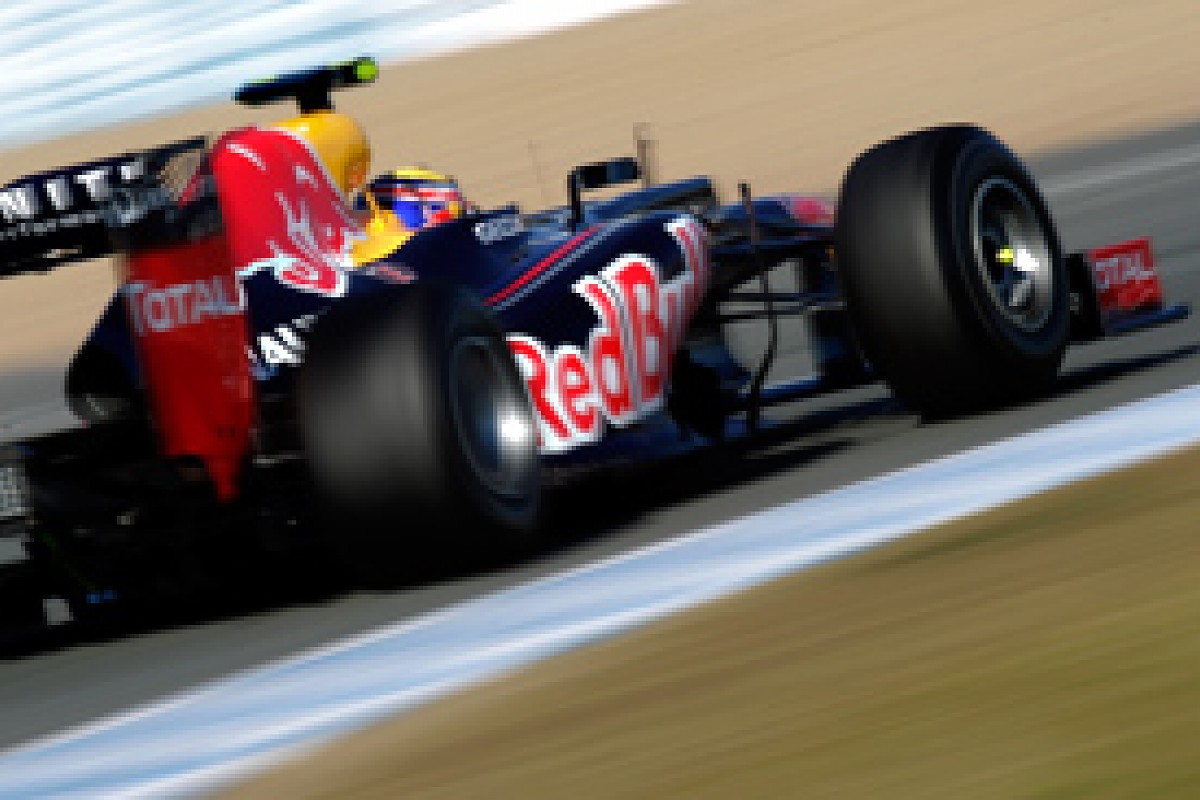 Mark Webber took control of the RB8 on the first two days © LAT
Sector times too were difficult to read. Primarily the pattern seemed to be that no car had a particular advantage in any one sector - or at least no one chose to show it.
Mark Webber, for example, seemed to find a lot of time in sector three - a mix of flowing and low speed corners and one long straight - on the second day, but his times were easily comparable to Grosjean and others on day three. Whoever was fastest overall tended to have the fastest time in all three sectors, and the field was too spread out for the more subtle differences to show.
Because of such difficulties, real insight can often come more by watching the behaviour of each car out on circuit and paying heed to the subtext of quotes and pitlane speculation than by watching the timesheets.
Being no expert in the former, it was fascinating to read Edd Straw's trackside view, in which he utilised the expert knowledge and insight of Lotus's third driver Jerome d'Ambrosio. It is early days, of course - teams will have plenty of opportunity to exact tweaks and fine tune set-ups between here and Australia - but it is also incredibly important to hit the ground running, particularly as the trip down under is little more than one month away.
As for the latter, the picture of where every team lies is the equivalent of a painting - a blank canvas upon which each team's performance, and their understanding of the others, is slowly drawn.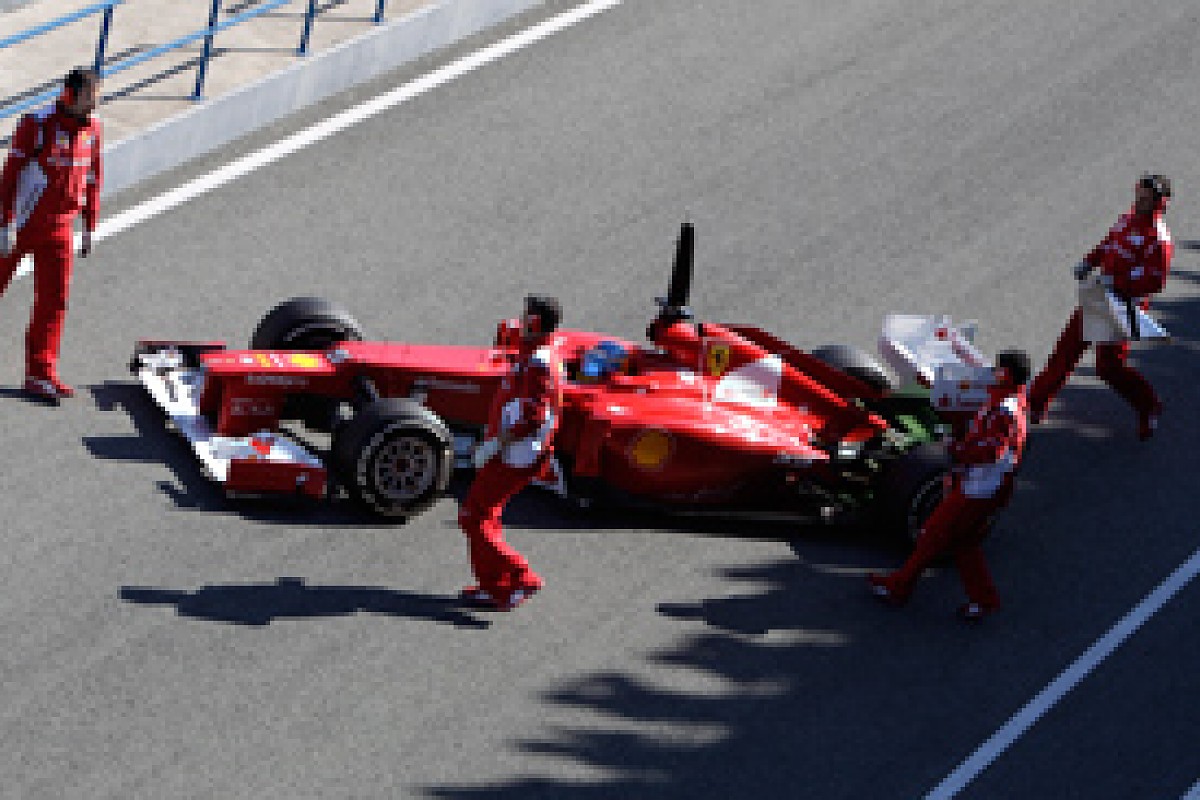 Ferrari faced difficulties getting the F2012 dialled in © LAT
The same philosophy dictates the overall understanding of the test. By the close of the first day there was little to read into, and teams and drivers were generally positive because the sole aim was to get their respective programmes underway. Besides, as Jarno Trulli attested, drivers can feel instantly when they have a good car; working out just how good, however, is far more difficult.
By day three there was still little to go on, but there were suggestions that Ferrari was struggling to dial in its radical F2012. Of course Ferrari pays the price for its totemic status in the level of interest it receives, but that deal works both ways.
The same applies to McLaren and Red Bull, but while they remained upbeat about their testing form, Ferrari's Pat Fry admitted he was 'not happy with where we are at the moment'. It was a surprising admission in some ways, but there was no implicit panic and in many ways it was indicative of the targets Ferrari sets itself. Win or be damned.
Ferrari was not the only subject of scrutiny in the press room. All week the media buzzed about Kimi Raikkonen's new enthusiasm, his seeming openness and willingness to respond to questions. 'Affable' was a word F1 stopped ascribing to the Finn a long time ago.
Of course, it helped when he backed up this sense of new purpose out on track. Not only was he quickest on day one, but he was on it from outset. Controlled oversteer from the third lap onward was an emphatic way to express his joy at being back.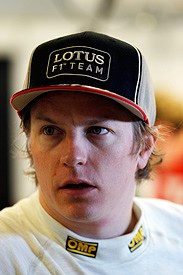 An upbeat Kimi Raikkonen topped the timesheets after day one © LAT
If that buoyed Lotus, its optimism was further extended by Grosjean's two-day spell in the car. After a half-season in 2009, the reigning GP2 champion showed no signs of rust or self-doubt by storming to the top of the timesheets on day three. Lotus, it seemed, had plenty of reasons to be pleased.
Similar noises extended from Toro Rosso, where both rookie drivers acquitted themselves with aplomb. Caterham too seemed happy with their week's work, which included running with KERS for the very first time - which could be a very influential weapon in its bid to break into Q2 on a more regular basis, and into the points for the very first time.
With Force India a pleased camp - even after Jules Bianchi's crash ruled out most of day three - there was therefore little negativity to speak of. That in some ways made Ferrari's reticence all the more striking, but it also served to emphasise that well-pedalled line, 'this is only testing'.
While that is true, testing also remains one of F1's unique qualities. Much like the grid walk, which offers fans the chance to see and hear the sport's protagonists moments before the race, testing brings together months of secretive hard-work in one grand flurry. Few other sports operate such a window, when the fortunes of its teams and drivers, shaped in relative silence over the winter, are unveiled en masse.
If there is one moment that perhaps defined the test for me it was when the sun set on day three. As the sky turned a resonate crimson, we were still hard at work in the media centre. We didn't leave until around 11, by which time a cheeky Burger King and bed seemed the best option in preparation for another early start. Sure the hours were long, but this was F1 testing, and there was nowhere else I would have rather been...