Vettel's domination
Sebastian Vettel's heavy Friday morning crash at the exit of Turn 8 didn't derail him in qualifying despite costing him the bulk of the available track time on day one. He was immediately back on the pace and never looked like missing out on his 19th pole position.
So what can stop him making it three wins out of four on Sunday afternoon? KERS is perhaps the biggest concern, with cooling problems continuing to afflict the team. If Vettel doesn't have the power boost to help repulse attacks during the race, he could prove to be a sitting duck. Fortunately, he has team-mate Mark Webber behind him, who could end up with similar problems despite a smoother weekend so far than he endured in China three weeks ago - and he might not have KERS either!
The other question is whether the first genuine Vettel versus Webber scrap of the year could get in the way of a quiet afternoon's work for Red Bull. Remember what happened last year, with the pair's mutual annihilation act? Well, the DRS zone is located in that area this year meaning that the chances of seeing a couple of bulls charging towards Turn 12 side-by-side are reasonable. It couldn't happen again, could it...?
Mercedes ready for revival
Nico Rosberg's third place on the grid was genuinely impressive. Having pored over the data from the first three races, Mercedes has made some strides in understanding how to get the best out of its car and the German was a scant 0.120s away from splitting the Red Bulls on the front row.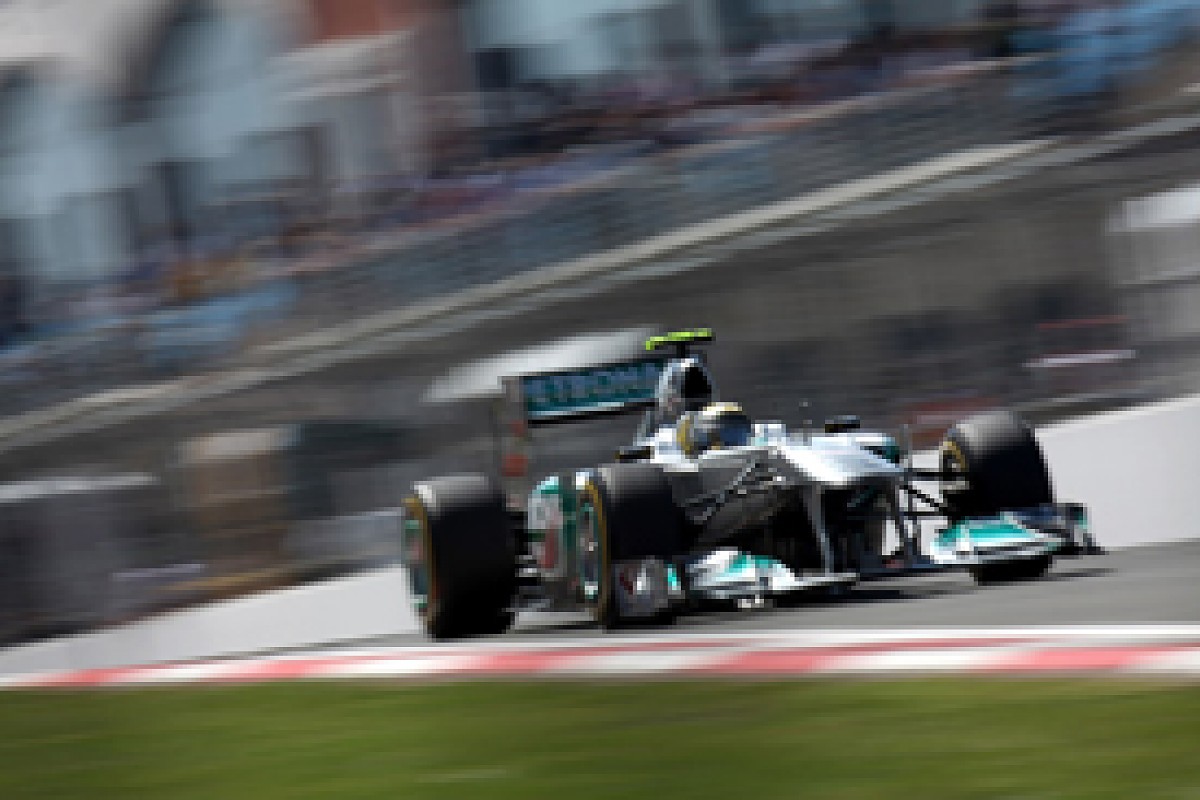 Mercedes has looked strong all weekend © LAT
With Red Bull unlikely to have quite the same speed advantage in race trim, Rosberg can head into the race with a realistic chance of dicing for his first victory after leading last time out in China before losing a podium because he had to back off to conserve fuel. A win is a long shot, but Mercedes will surely settle for a first podium finish since last year's British Grand Prix in July.
As for Michael Schumacher, despite qualifying down in eighth and blaming a lack of grip, his practice pace suggests that he too might be able to move up into a McLaren-bothering position at a track where he had one of his best races last year. Don't completely rule out a first podium in 25 starts for the seven-times world champion either.
How many stops?
Predicting pitstop strategies remains a mug's game, but it seems that most teams will start the race on a likely three-stopper, albeit with the flexibility of being able to switch to a two-stopper if the tyres hold up better than expected.
Despite the much-talked about stresses and strains of the everlasting Turn 8, tyre degradation hasn't been too bad over the course of the weekend. The wildcard in the pack is that, between the end of Q3 and the start of the race, there will have been two GP2 and two GP3 races, both using Pirelli rubber from the same family and further rubbering-in the track. What that means for track evolution is unclear, save for the fact that it will accelerate the process and could nose more cars into the two-stop window.
Turn 8
While watching the race, you are bound to see a plethora of on-board cameras through the Turn 8 left-hander. This will be worth paying very close attention to for two reasons. Firstly, it's a challenging corner with a few tricky bumps and, particularly as the tyres wear, there could be some spectacular moments as drivers work the throttle and steering wheel hard to get out of trouble.
Secondly, it's a great corner for assessing the fast-corner performance difference from car to car. Ride onboard with one of the Red Bulls and it seems like a mere kink in the road, but as you work your way down the order there are some cars that require a lot more input from the driver (or, of course, drivers that generate a lot more input independent of the car). Plus,with the DRS measurement zone not far away, there is an extra incentive for a driver closing in on his prey to carry that little bit of extra speed through this modern classic of a corner.
Williams's points hunt
Barrichello starts on the cusp of some much-needed points © LAT
Williams's early-season travails are well-documented, with the recent announcement that technical director Sam Michael and aero chief Jon Tomlinson are to leave at the end of the year. Amid all the talk about continued restructuring and over whether the problems at Williams need to be tackled with root and branch changes, the team did a tidy job during qualifying.
Another twenty-five thousandths of a second would have been enough to hand Rubens Barrichello a seasonal Q3 debut, while Pastor Maldonado's lap was pretty good considering he has effectively had no KERS so far this weekend. While the Venezuelan will hope to have his 80bhp power boost working - something Sam Michael admits the team will only really know when the car leaves the pits before the race - Barrichello is in good shape in terms of tyres having scraped through Q1 without resorting to option rubber, giving him one fresh set for the race.
It's not a foregone conclusion that he will be in the mix for points, but even a 10th place would be a morale boost for an outfit that has finished no better than 13th so far this year.