Force India ended months of speculation last Wednesday by finally confirming that it will promote its 2010 test driver Paul di Resta to a race seat alongside Adrian Sutil.
It brought an end to an anxious winter for the DTM champion. Despite positive signs - AUTOSPORT first reported in September that internally the team had decided to give him the drive - di Resta was understandably cautious when it came to talking about his future until he knew for certain that a deal was in place.
But that has all changed now. When AUTOSPORT interviewed di Resta for a feature at the end of last year, the one subject that couldn't be discussed was what the 24-year-old would be doing in 2011.
He could only talk about how participating in grand prix weekends in 2010 had been a realisation of a dream in itself, and how he hoped he would be on the grid for 2011.
Following Wednesday's announcement, the Scot can finally open up and reveal his feelings on achieving his dream, and his expectations ahead of his rookie campaign in Formula 1.
Q. Paul di Resta - fully fledged Formula 1 race driver. How does that sound?
Paul di Resta: Obviously I'm very excited about it. It's a great opportunity with Force India, and it's nice that we've carried our relationship from me being the test and reserve driver and building up from that to a full race drive. When we sat down a year and a half ago they had a good plan ahead, everything remained on target, and it's nice that they delivered what they said they would do. So naturally I'm very excited about the year ahead, but I understand that it's going to be a difficult challenge.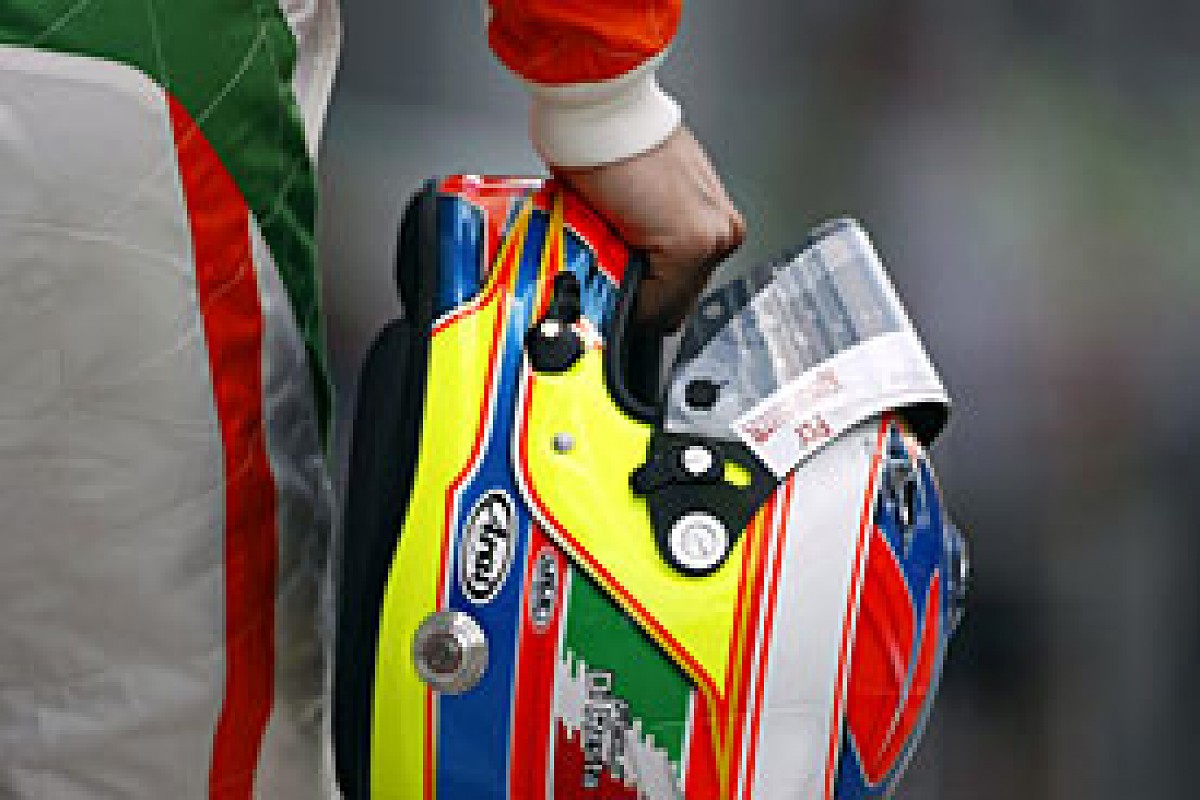 Paul di Resta tested for Force India frequently in 2010 © LAT
Q. Is there a sense of relief for you that the waiting is over and you're finally confirmed for 2011?
PdR: It has been a relief. Although there were strong indications of the way it was going, there was a lot of speculation about other drivers that were about. There's a lot of good drivers out there that haven't got drives, so it's nice to get it done. I put a lot of effort into this last year, and when I finished my F1 and DTM campaigns I went straight into training to prepare myself as much as possible in case this came up. Thankfully the hard work I've put in has not been wasted so we can put that to good use.
Q. Was it nerve-racking for you waiting to hear something?
PdR: It was always on my mind. The biggest thing was that people kept asking what direction things were heading in. I had a bit of an indication but at the same time it was still unknown. But at the end of the day I couldn't influence the decision. It was up to the senior management at the team to decide on what they wanted. Thankfully we had a good year, everything has worked out, and hopefully we can build a strong future together.
Q. Since you had the confirmation from the team, have you had a chance to sit down and reflect on becoming a full-time F1 driver?
PdR: It's still a bit of a strange feeling. When you work so hard, and you've dreamed for so many years of getting there, it's quite surreal. I suppose it sinks in. Sometimes you forget, almost, because now that it's happened you almost take it for granted. But at the same time I think the true feeling will come when I arrive in Bahrain for the first grand prix, and I get to take part in a whole weekend. That's when I'll really know, and can think back to what I've achieved and all the work that's gone in. I'll enjoy the experience, but at the same time, hopefully get the results to build a long future in something I love doing.
Q. Do you envisage it taking very long to get fully up to speed?
PdR: I certainly hope not, I'd hope to be up to speed very quickly. I've never gone into any championship thinking that I need to give myself time. I want to be there or thereabouts straight away, and you always hope that you're natural talent brings that. But if I'm not then I just need to be confident that I can do it, and then make sure that I keep making progress and build myself up. You don't want to start working too hard and end up taking one step forward and then two steps back.
Q. Is it good for you to have a solid driver like Adrian Sutil as your benchmark in the team?
PdR: It is. Adrian's got a lot of experience, and he had a good season last year. He knows his level, and it's a baseline for me to work from. We get on, and I'm sure we will work well together because it is a team effort. But at the same time I do want to beat him. We just need to be realistic about it, and only time will tell where my true performance level is. If it's down on him at the beginning, then hopefully I can just work extra hard to achieve more.
Q. From what you've seen of Adrian in your time at the team, do you feel you can get on terms with him in your rookie season?
PdR: I'm confident, but I'm not going to judge myself too much. I'll be where I'll be, and it's difficult to predict. Myself and Adrian have raced against each other in the past [in Formula 3], we've had some good battles, and I would hope that it can be the same again.
Q. How much of an advantage is it to have had your preparation with Force India last year?
PdR: A huge advantage. I've been around, I know the team very well, I've participated in a lot of meetings, and spent a lot of time at the track bonding with everyone. I've also done eight Friday sessions, so I know a lot about all the little things that go on in the background that most people don't see. It's going to be a bit different for me on the Saturday and Sunday of race weekends because I've not had an active role on those days. But I've been more involved in the Thursday and Friday stuff so I've got a good idea, and I know the team will help me to the best of their ability.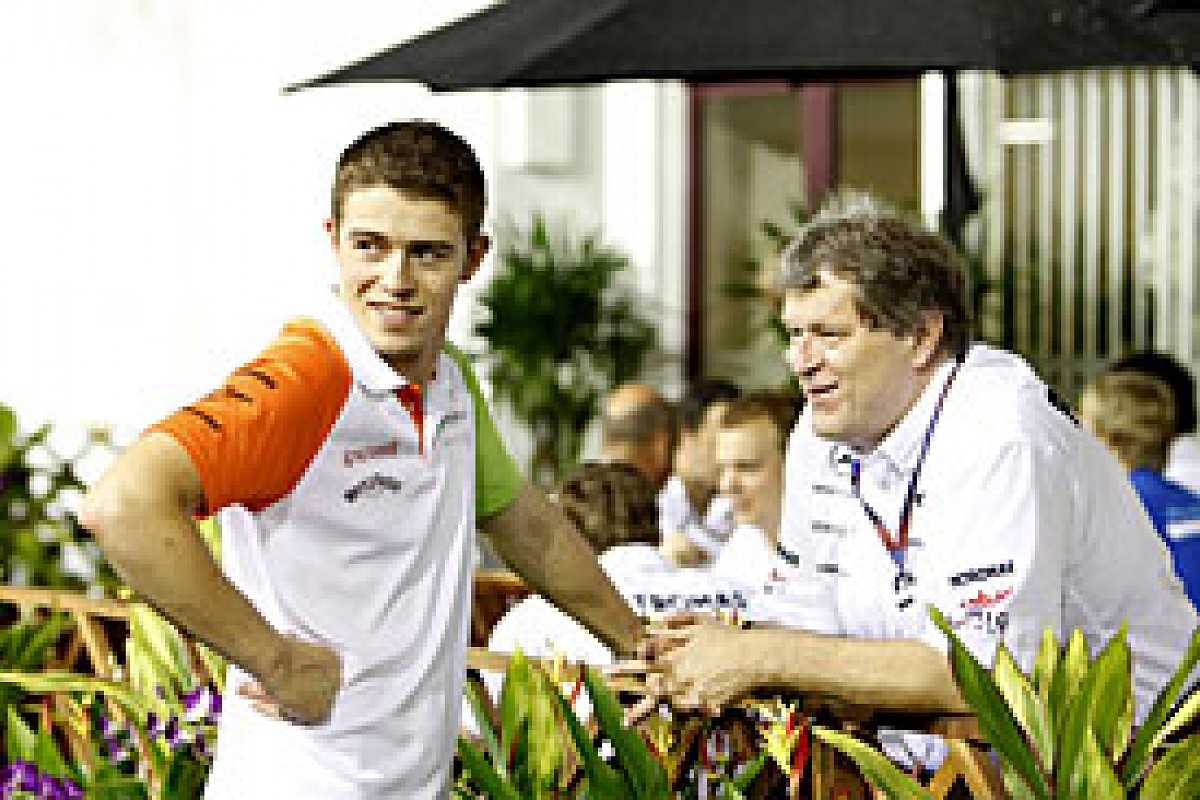 Paul di Resta has a strong relationship with Mercedes Benz © LAT
Q. Nico Hulkenberg has a similar role to what you had last year. Do you expect him to put pressure on the race drivers like you did?
PdR: I'm sure he will. Naturally, any driver that is good is going to do that. We're all fighting for race seats. But at the same time I don't feel any pressure. Force India have given me the seat so I'm confident that they are 100 per cent behind me. And I'll just do my best, like I have in my whole career, to achieve as much as possible.
Q. You say that you started preparing for a season in F1 when your 2010 campaign finished. Does that mean that you simply continue those preparations rather than starting from the moment the drive was confirmed?
PdR: Definitely. The winter is over now, we're heading into testing, there's a test every week and then we're straight into Bahrain. Any foundations from your training have to be done before now, and hopefully I've done enough over the period I've had. Over time I'm sure I'll become more race fit - I'm sure I'm not going to be 100 per cent from the start. There's going to be areas where I need to work, but time will tell when I drive the car. Now I just need to get up to speed with how it all comes together.
COMMENT - Why Di Resta deserves his shot it F1
By Glenn Freeman, AUTOSPORT'S DTM correspondant 2007-2010
In the interview above, when Paul di Resta says that he's never gone into a championship expecting to take a while to get up to speed, that's not just fighting talk. He said exactly the same thing when I interviewed him ahead of the 2007 DTM season.
The then-reigning F3 Euro Series champion had been placed in a two-year-old car by Mercedes for his rookie campaign in German tin-tops. The two-year-old machines had not even managed a points finish in 2006, yet Paul was adamant that he would be on the pace. He displayed an outrageous self-belief pre-season, but he backed it up emphatically when the racing started.
He qualified third for the season opener, and led the race for a long time. A podium finish seemed assured until he stalled at his final pitstop, so he had to settle for fifth. He took podiums at the next two races, meaning that remarkably he went to his home round at Brands Hatch leading the championship.
The Scot finished the year fifth in the standings with four podiums, but he could have won races were it not for team tactics at Mercedes.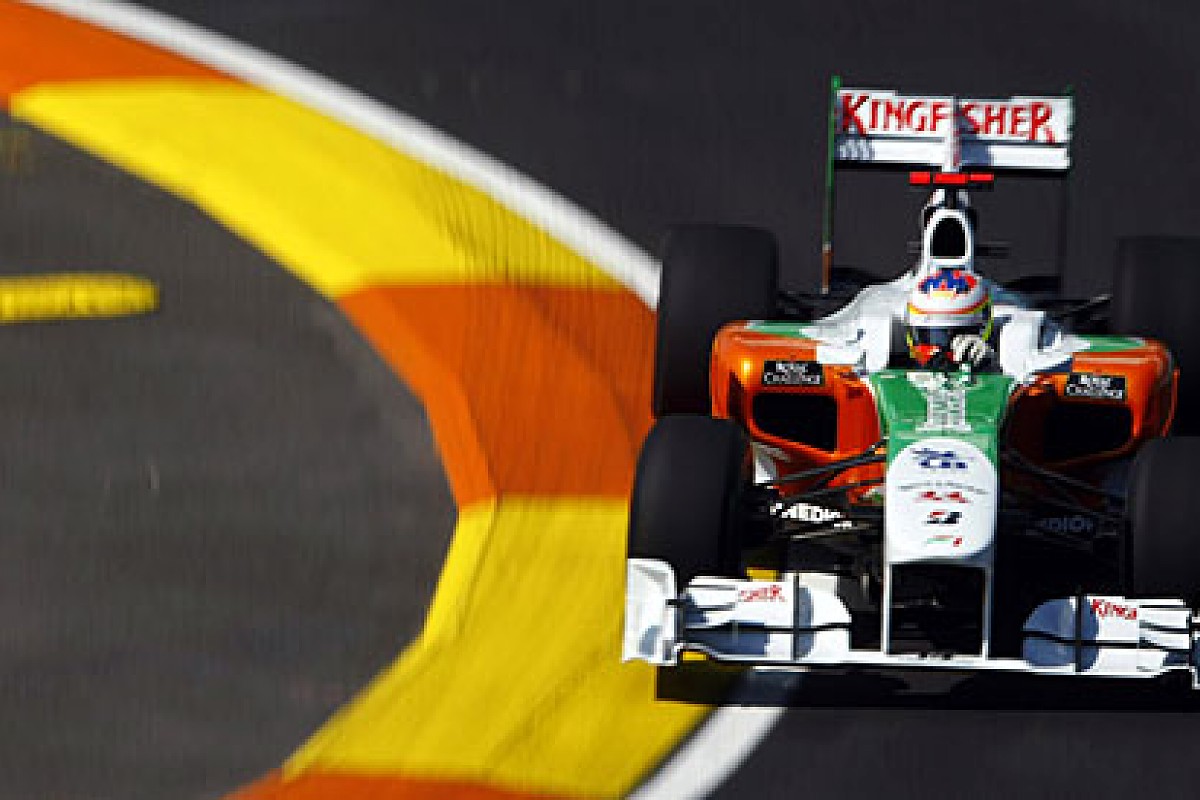 Promotion to a top car followed, and so did the wins. Di Resta narrowly missed out on the title in 2008, which led to a Formula 1 test with McLaren. Things didn't quite come together in the DTM in 2009, but he was at his absolute best in 2010.
Finding the sweet spot of the Mercedes C-class was not an easy task last year, but di Resta worked at it with his engineer and had it sorted by mid-season. He then rattled off three wins in succession. As well as setting the car up, he demonstrated another key skill that will be required in Formula 1: getting in to a zone on a long stint and just nailing it lap after lap.
Brands Hatch was the most impressive example of this. In the opening stint, di Resta was at times more than half a second per lap faster than Mercedes team-mate Bruno Spengler, who was leading the championship at the time. Consider that this was on the Brands Indy circuit (laptimes were only 41-42 seconds), and you can see why it was a performance that got inside Spengler's head going into the title run-in.
It was a similar story in the F3 Euro Series in 2006, when di Resta's pace often spooked Sebastian Vettel. Team insiders at ASM (now ART) say that overall there was little to choose between the pair, but when it came to crunch time it was the Scot that did the winning, and the German that started throwing it off the road trying to keep up.
McLaren test driver Gary Paffett and Mercedes motorsport boss Norbert Haug are in no doubt that di Resta has what it takes to make the grade in Formula 1. Paffett speaks in particular of the Scot's natural ability which allows him to be quick as soon as he gets into a new car, leaving him free to work on the minor details straight away.
Having covered his four seasons in the DTM and seen the relentless speed he possesses, I have no doubts that he's deserving of his opportunity in Formula 1.