After 18 races and eight changes of championship lead, split between five drivers, what could be Formula 1's greatest-ever world title contest comes down to a four-way shoot-out in Abu Dhabi, with 24 points covering Fernando Alonso, Mark Webber, Sebastian Vettel and Lewis Hamilton.
For those still coming to grips with the 2010 points system, that translates to a seven-point spread in old money (see graphic below). But it's worth noting that the new system's aim of giving winners greater reward by spreading the gap between first and second-place scores hurts Hamilton - last year second place would've given him a chance, this year it's a win or nothing for the 2008 champion.
What doesn't change is that if Webber is to overcome Alonso, he needs a car between them, and Vettel needs the Ferrari to be several places behind if he is to have a shot.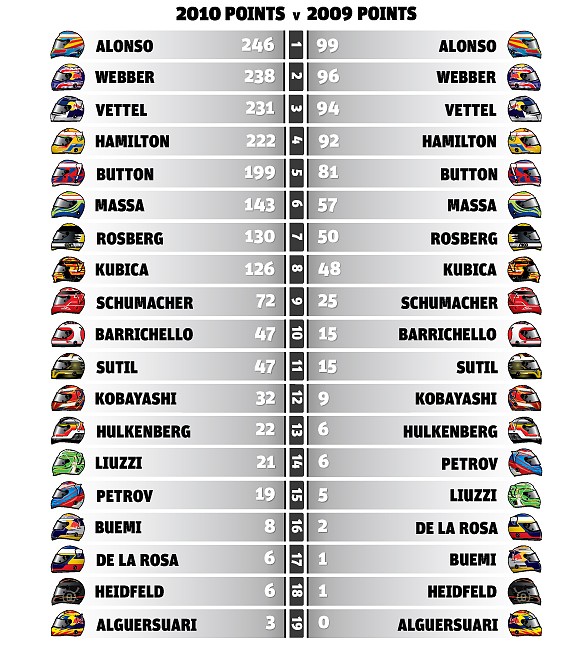 The contenders
Fernando Alonso
After a dream start with victory in Bahrain, a few scrappy months of bad luck and uncharacteristic errors almost dropped him out of the hunt, but he surged from a distant fifth to the championship lead with four wins in the second half of the year. When Red Bull has been just too quick, Alonso has ensured he is 'best of the rest'.
Advantages: Very tenacious competitor, has title-winning experience.
Disadvantages: Ferrari isn't as quick as Red Bull and is short of good engines.
To win the title: Has to finish ahead of the Red Bulls, be second if Webber wins, or at least fifth if Vettel wins. If Hamilton wins, Alonso just needs one point.
Mark Webber
Got off to a shaky start but then hit a superb run of form, including four wins. Didn't let intra-team angst caused by the Red Bull duo's Istanbul collision and Silverstone wing row cost him momentum, but has been very slightly off Vettel's pace in recent races, making it harder to argue that the German should be number two.
Advantages: Very tough and determined racer whose wins have proved he's up there with the best.
Disadvantages: Hasn't finished ahead of Vettel since Spa and might need his team-mate's help in Abu Dhabi.
To win the title: Needs to win with Alonso third or lower, or second with Alonso out of the top five.
Sebastian Vettel
Swept to pole after pole, but lost several clear wins to mechanical failures and also threw away chances with misjudgements. Charged back into firm title contention with some commanding recent wins.
Advantages: Is the man in form heading to Abu Dhabi.
Disadvantages: Has had some abysmal luck and might be obliged to support Webber if Alonso is high up.
To win the title: Needs to win with Alonso fourth or lower.
Lewis Hamilton
Led the championship for much of the middle of the season, but rarely had the fastest car and has drifted back to become a long shot. Collisions in Italy and Singapore didn't help.
Advantages: Was very quick in Abu Dhabi last year and has nothing to lose.
Disadvantages: McLaren hasn't shown Red Bull or Alonso-beating pace for several races and Hamilton has a huge points deficit.
To win the title: Needs to win with Alonso not scoring, Webber sixth or lower and Vettel third or lower.
The likely scenarios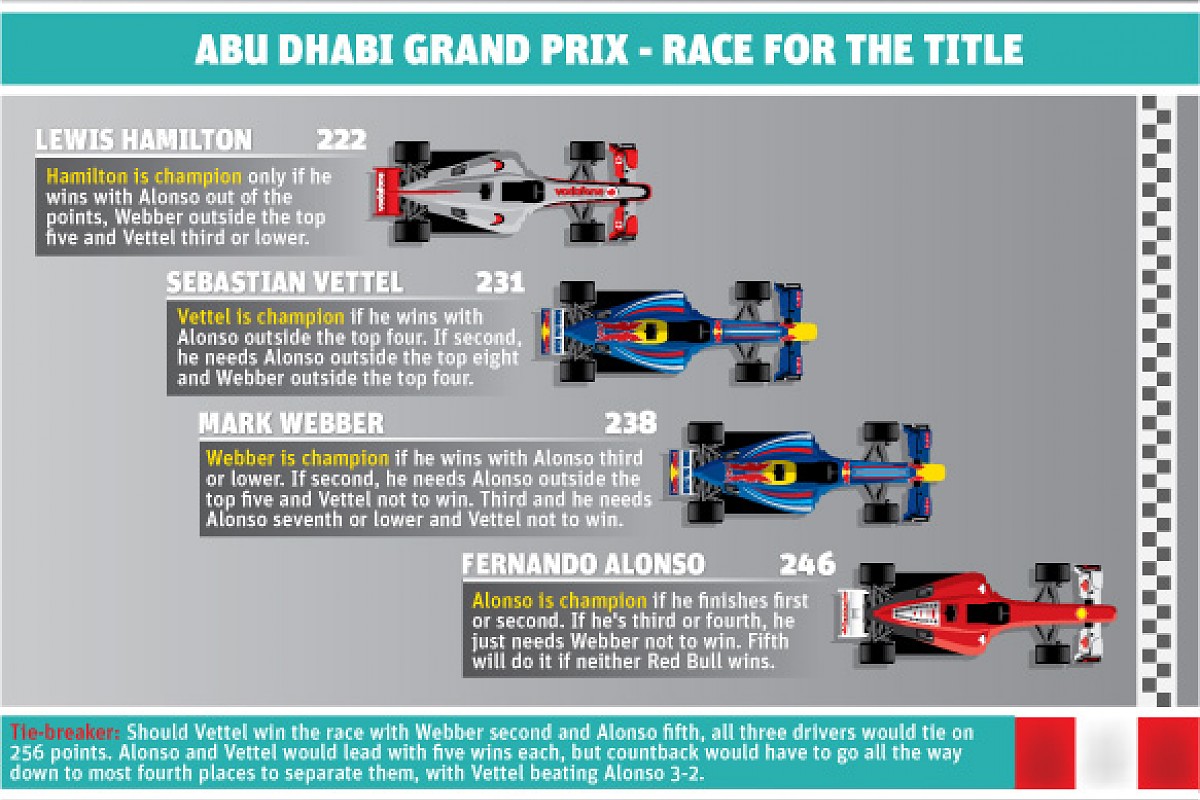 Regardless of circuit characteristics, the recent form has Red Bull up front with Vettel slightly faster than Webber, and Alonso giving chase. It would be a surprise to see anything else at Yas Marina, Red Bull is simply too quick on pure pace, especially in qualifying.
Alonso therefore needs to try to pull off something heroic, like his against-the-odds Singapore pole or a superb start, rely on Red Bull having a failure or two, or hope that they finish the 'wrong' way around.
With Red Bull boss Christian Horner insisting there will be no team orders and it will be down to the drivers to "do the right thing", if Vettel's quicker than Webber again and Alonso is third, the German will - the team hopes - feel morally obliged to let his team-mate through, and doing that might hurt. And he can't make the switch too early. If Alonso then retires, suddenly Vettel can become champion by beating Webber to victory - that could create fireworks. So if there is a Red Bull position swap, it might have to wait until the very last corner to be safe, and that's potentially messy.
© LAT
That could be good news for Hamilton, who needs varying degrees of disaster to strike his four rivals. Though he took a dominant pole in Abu Dhabi last year, he sees no reason why McLaren should be on Red Bull and Ferrari's pace at Yas Marina this time around, given that it has been a few tenths shy everywhere recently. His hopes therefore rely on picking up the pieces from trouble ahead.
Red Bull has most to lose this weekend. Given the superiority of its car, emphasised by those 14 poles, it ought to secure both titles. If Alonso and Ferrari are defeated, they can take satisfaction from a gallant fightback having been written off. Hamilton knows he is a long-shot anyway.
Red Bull will end up kicking itself if it lets this one slip away. It may be behind in the standings, but its car's speed should see it through. Webber is therefore the most likely champion - if both Red Bulls finish, and they finish in the 'right' order. Given that Red Bull has had the quickest car almost everywhere but won less than half the races, it can't feel too comfortable.