Second youngest front row
Nico Hulkenberg and Sebastian Vettel combined to make up the second youngest front row in Formula 1 history. The pairs average age was 23 years, three months and 11 days.
The absolute record was set in the 2008 Australian Grand Prix when Lewis Hamilton and Robert Kubica averaged 23 years, two months and 24 days.
Gap
Hulkenberg took pole position by 1.049 seconds over Vettel. It's the third largest gap since 2000, behind the 1.366s which separated David Coulthard from Michael Schumacher in the 2000 German Grand Prix and the 1.346s which separated Mark Webber from Nico Rosberg in Malaysia this year.
Cosworth (and Ford)
Sebastian Vettel congratulates Nico Hulkenberg © LAT
This was the first pole for an engine badged "Cosworth". Previously the Cosworth name was associated with Ford and the combination Ford-Cosworth scored a total of 139 poles. That run began with the debut race of the legendary Lotus 49/Cosworth DFV in the 1967 Dutch Grand Prix (Graham Hill) and ending in the 1999 French Grand Prix, when Rubens Barrichello took pole for Stewart-Ford.
Leaders
A Red Bull led from-start-to-finish on Sunday. Again. That has happened seven times this year. While in Belgium, Lewis Hamilton led the whole race for McLaren and Alonso did the same in Singapore for Ferrari.
Red Bull has led 59.3% of the total distance run in 2010. In the last decade only Ferrari has been able to achieve a better statistic, in 2002 (81.3%) and 2004 (71.1%). The absolute record belongs to McLaren, with an astonishing 97.3% in 1988.
A more detailed look at the lap leaders shows that Alonso - the championship leader - is only fourth in kilometres led (666), while Vettel counts the most with 1,811 km, followed by Webber at 1,445 km. Third is Jenson Button at 713 km. Button dropped out of the title race after Interlagos.
Finally, Webber has led only three laps since his last win in Hungary, while his team-mate Vettel led most of the distance in the last three events.
Qualifying notes
• Maiden pole for Nico Hulkenberg. He is the sixth youngest driver in history to post a pole behind Vettel (Monza 2008), Alonso, Rubens Barrichello, Hamilton and Andrea de Cesaris.
• 126th pole for Williams, which had to wait 100 races to score another pole after Nick Heidfeld started from first at the 2005 European Grand Prix.
• With an average starting position of 3.5 (Hulkenberg on pole and Barrichello sixth), this was Williams's best performance since the 2006 Malaysian Grand Prix, when Rosberg and Webber were third and fourth and averaged the same.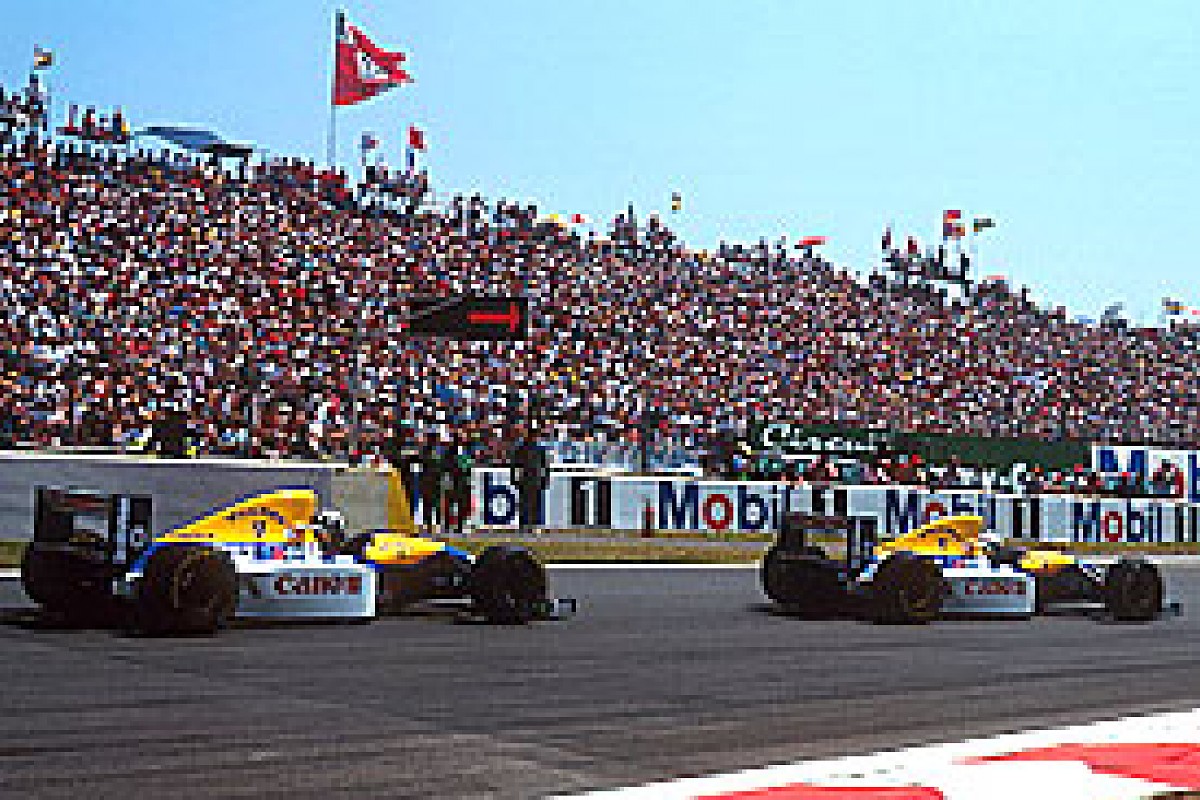 Williams took 28 front row starts in 1993 © LAT
• Mark Webber was outqualified by his team-mate for the first time at Interlagos in his career, his score here now is 8-1.
• 25th front row of the season for Red Bull with Vettel. With only one race to go Red Bull won't be able to equal the all-time season record of front rows, recorded by Williams in 1993 - 28.
• Tenth straight race without a pole for Hamilton, 30th straight for Button, who didn't reach Q3 for the fourth time this year after Malaysia, Great Britain and Hungary.
• Rubens Barrichello equalled his best performance of 2010, sixth, obtained in Singapore.
• For the fourth time this year Robert Kubica was seventh in qualifying. He has started from the fourth row nine times this year.
• Michael Schumacher was able to obtain a better grid spot than his team-mate for the first time in ten races. He was actually able to outqualify Rosberg in Belgium, but a grid penalty pushed him back behind his team-mate.
• Vitaly Petrov was back in the top 10 after a five-race wait.
• For the third time this season Nico Rosberg wasn't able to reach Q3 after the European and Belgian Grands Prix.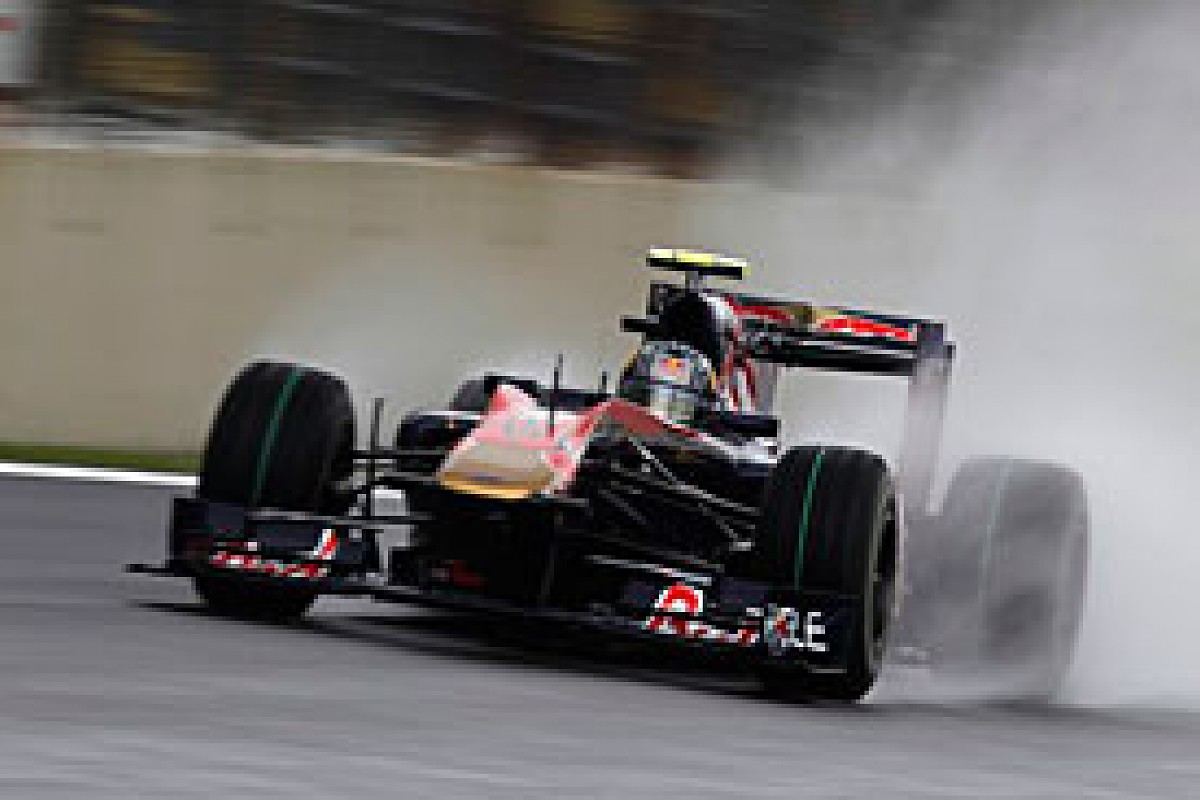 Jaime Alguersuari outqualified his team-mate for the fifth time in six races © LAT
• Jaime Alguersuari outqualified Sebastien Buemi for the fifth time in the last six races. In the first 12 races of the year he managed to do it only twice.
• Vitantonio Liuzzi was able to beat his team-mate in qualifying after a wait of nine races.
• Sebastian Buemi, victim of a five-place grid penalty, recorded his worst grid spot of the season - 19th.
• Adrian Sutil also had to serve a five-place penalty, and the 22nd grid spot equals the worst of his career, also obtained in Brazil in 2007 as well as the 2008 Australian Grand Prix.
Race notes
• Red Bull clinched the constructors' championship in Brazil. It is the 14th team in history to win the title and it comes after Brawn, which won it last year in its only season in F1. Red Bull became champions in its sixth season, after 106 races run.
• Ninth win for Sebastian Vettel, who goes level with Button at the 31st all-time spot. It was the 14th win for Red Bull, the fourth 1-2 this season, the same number of 2009. Red Bull is now fourth all-time with Brabham, Tyrrell and Lotus for 1-2 wins. Ferrari leads with 81.
• 20th career podium for Mark Webber, who ties Nino Farina and John Watson at the 43rd all-time place.
• Fifth straight podium for Fernando Alonso: the only driver able to record such a streak this year. Furthermore, Alonso hasn't recorded five straight podiums since the China 2006-Malaysia 2007 timeframe.
• Jenson Button finished fifth, like last year. Curiously in 2009 he clinched the title with that place. One year later he falls off the championship title trail.
• Third straight race in the points for Michael Schumacher. It's the first time since his return that he has been able to record such a streak.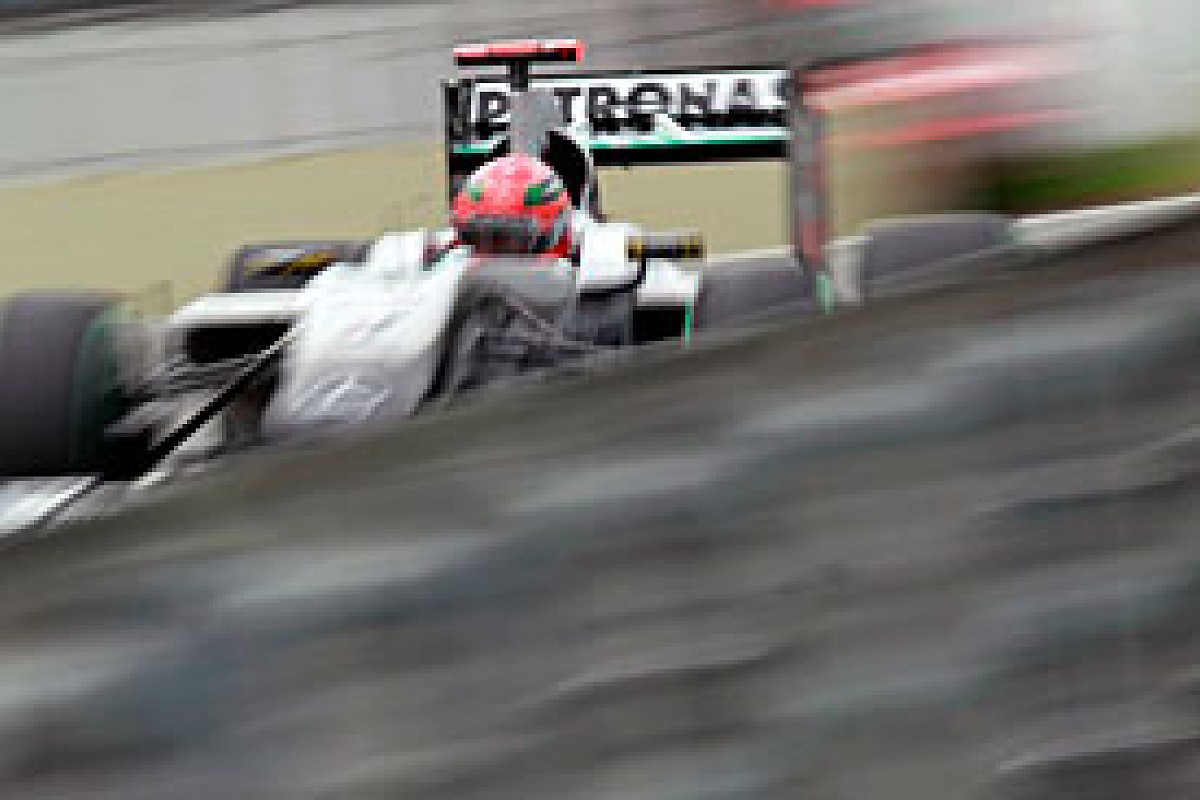 Michael Schumacher finished in the points for the third consecutive race © LAT
• Nico Hulkenberg confirmed that pole doesn't guarantee a win in Interlagos: only twice has victory come from pole in the last 11 years.
• Kamui Kobayashi was able to finish in the points for the third consecutive time. It's the best sequence of his short career.
• For the first time this year Adrian Sutil recorded a streak of three races outside the points;
• Again, Rubens Barrichello endured a disappointing race in Brazil: a puncture relegated him to 14th. In his last four races here he scored only one point, despite starting from pole last year.
• For the first time in his short career Bruno Senna was able to finish three straight races.
• Third accident in the last four races for Vitantonio Liuzzi.