Going for the record
Red Bull and Sebastian Vettel are set to reach some important milestones if they are able to start from pole in Interlagos:
Red Bull will reach the season record for poles, 15, set by McLaren in 1988 and 1989 and by Williams in 1992 and 1993.
Sebastian Vettel is going for his 10th season pole. Only six drivers were able to reach a double-digit number of season poles, and they are:
Nigel Mansell, which holds the absolute record of 14 poles, established eighteen years ago, in 1992;
Ayrton Senna, king of poles © LAT
Ayrton Senna, the king of poles was able to record twice a value of 13(1988-1989) and once "only" 10 (1990);
Alain Prost, 13 in 1993;
Mika Hakkinen, 11 in 1999;
Michael Schumacher, 11 in 2001;
Jacques Villeneuve, 10 in 1997.
All the aforementioned drivers were world champions at the end of the season, except for Ayrton Senna in 1989, beaten by his team-mate Prost in the year of the infamous collision at the Casio chicane in Suzuka.
Late changes
Fernando Alonso took the lead of the championship with three races to go and the situation is far from being decided with two rounds to go. This is a list of the most dramatic changes of leadership in the closing stages of the F1 world championship.
1950: in the first championship season Nino Farina won the championship taking the lead in the final race, the Italian Grand Prix. Farina won the race while Fangio retired early with a gearbox failure. There were six changes of leadership in the championship table that season.
1956: Fangio took the lead of the championship at the penultimate race, the German Grand Prix. Again it was a case of win (Fangio) vs. failure (Collins, fuel feed system) to overturn the tables.
1961: a sad occurrence to remember, as Wolfgang von Trips - championship leader - lost his life in Monza, penultimate round, in a tragic accident. Phil Hill went on to win the race and the championship in a very sad day for the Ferrari team.
1974: both Niki Lauda and Clay Regazzoni led the championship standings for Ferrari in 1974, but, taking points off each other, they handed the title to Emerson Fittipaldi. The Brazilian took the lead on the penultimate round (Canadian GP) from Regazzoni winning in front of the Swiss.
1976: Niki Lauda led the whole season, but lost his points advantage when he was recovering from his Nurburgring crash. James Hunt took the title in the final race, the Japanese Grand Prix at Fuji, finishing third while Lauda retired three laps into the race.
1980: again a case of win vs. failure for a late championship lead change: in the penultimate round, the Canadian Grand Prix, Nelson Piquet (he had taken the lead only in the previous race) retired for a broken engine, Alan Jones went on to win and took the lead, which maintained in the final race, winning again as Piquet spun off.
1981: one of the most dramatic finishes ever: going into the last race Carlos Reutemann had only one point over Nelson Piquet. Reutemann experienced gearbox problems throughout the race, while Nelson struggled in the heat in a slow-motion challenge for the title between the two. Ultimately Piquet came out in fifth, with Reutemann only eighth.
The Brazilian won the title, but was so exhausted that had to be taken off his car.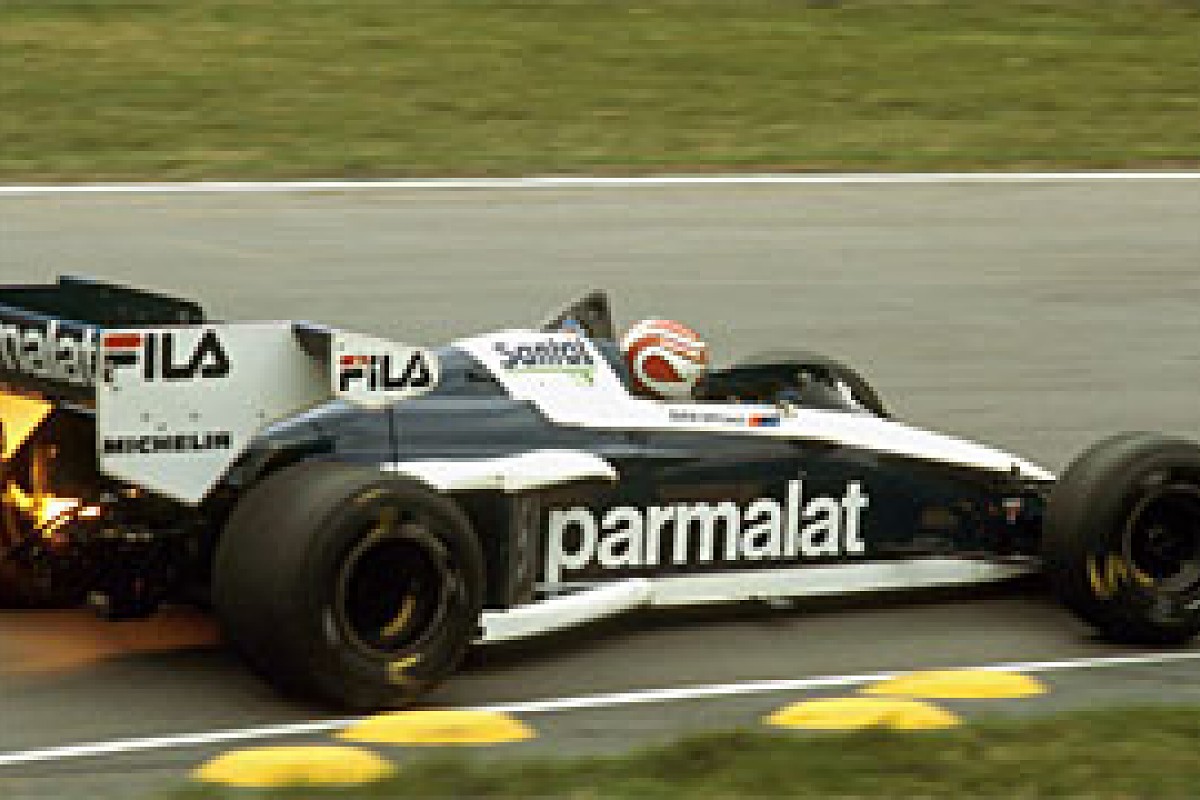 Nelson Piquet during the 1983 season © LAT
1983: Nelson Piquet confirmed himself as a late charger, winning the title again in the last race: Alain Prost had to retire in Kyalami due to a loss of turbo pressure, and Piquet only had to nurse his Brabham to a third place to claim his second crown.
1986: in a season which saw a record ten championship lead changes out of 16 races, Alain Prost secured the title only in the last race, winning as championship leader Nigel Mansell retired after a spectacular puncture.
1997: Michael Schumacher took the lead of the standings after the Japanese Grand Prix, the penultimate race, but on the final round he lost the title to Jacques Villeneuve after crashing out in the attempt to take off the race the Canadian in the infamous Dry Sack incident.
1999: a powerless Eddie Irvine lost to Mika Hakkinen in the last race, after taking the lead in the controversial Malaysian Grand Prix, when the Ferraris were first disqualified and then reinstated.
2006: with two races to go, Michael Schumacher and Fernando Alonso were tied for points, with the German in the lead thanks to a higher number of wins. An engine failure in the penultimate round, the Japanese Grand Prix, handed Alonso (race winner) the lead and practically the title.
2007: Kimi Raikkonen recorded a memorable comeback in the second part of the season and took the title at the last race, beating Hamilton by one point.
Brazil personal scoreboard
• Jenson Button scored only one podium in Interlagos, in 2006 in third, but last year with an aggressive race he claimed his first world title by finishing fifth from the 14th grid spot. This fifth place was his only race in the points in his last three attempts here. The downside comes also from a couple of engine failures, in 2004 and 2007. His speed in qualifying was always a cause of concern on the Brazilian track, as he made it to the top 10 only four times out of ten, the last one five years ago;
• Lewis Hamilton will start his 70th race in Brazil. He never ran a single lap in the lead there (like other two championship contenders, Button and Vettel), but won his first championship in Interlagos in 2008 with a last-lap pass on Glock on the last corner. Last year he endured a great comeback through the field, finishing third from the 17th grid spot;
• Michael Schumacher is the most successful driver on the Brazilian track, with four wins. No other driver has won more than twice here. He was on pole in 2001 and has the distinction of having qualified always in the top 10 in his 15 races here. He also finished all his races in the points except the 2003 edition, when he spun off. His last podium here though dates back 2002 (win). His score against his team-mates in qualifying in Interlagos is 12-3;
• Nico Rosberg didn't enjoy the same success of his illustrious team-mate in Interlagos, as he scored points only once out of four races, with a fourth in 2007; he retired in his first and last visits here;
• Sebastian Vettel was almost a deciding factor in the 2008 title race when he overtook Hamilton on the final stages. He finished fourth in his last two visits here, he qualified on the top 10 only in 2008 with Toro Rosso (seventh);
• Mark Webber took the win in Brazil last year, taking advantage of his rivals' poor starting grid positions. Before this win he hadn't been able to score points in Interlagos, retiring four times out of seven for race accidents.
• Felipe Massa scored his last pole and win to date in Brazil two years ago, ultimately losing the title to Lewis Hamilton. Massa was the polesitter for three straight years here, from 2006 to 2008. Since 2004 he qualified always in the top 10 and has a 5-1 score against his team-mates, he was beaten only by Heidfeld in 2002;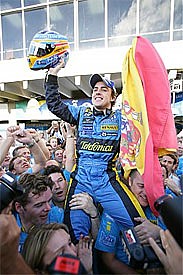 Alonso celebrates his second title © LAT
• Fernando Alonso never won the Brazilian Grand Prix, but conquered here his two world titles in 2005 and 2006. His performances were always relevant: five podiums out of eight races and a pole in 2005;
• Rubens Barrichello holds the record for the fastest lap of this track: 1m09:822s, recorded in the first qualifying session of the 2004 weekend. Barrichello scored his last two poles to date here in 2004 and 2009. He climbed on the podium only once in his home race, in 2004 in third and in the last three races run here he scored only one point with an eighth last year. The Brazilian has an appalling reliability record here, with 11 retirements;
• Robert Kubica finished second last year from the eighth grid spot. He scored points twice out of four races run, but has a 1-3 score in qualifying against his team-mate, who was always Heidfeld;
• Like Lewis Hamilton, Adrian Sutil celebrates his 70th race in Brazil. He retired two times out of three races run here and last year he wasn't able to complete a single lap due to contact with Trulli;
• Vitantonio Liuzzi was never able to reach the top 10 in qualifying or in the races out of three Brazilian GPs run;
• Sebastien Buemi obtained here last year his best career qualifying and race result: sixth in grid and seventh in the race;
• Jarno Trulli has obtained two eighth places and two retirements in his last four Brazilian Grands Prix. He qualifies in the top-10 since 2006 (and eight times in the last nine visits in Interlagos), he started from the front row in 2008. His best race result here is a fourth in 2000;
• Heikki Kovalainen has scored only two points out of three races run here, despite recording the sixth fastest lap in 2008 and the fifth last year. He qualified in the top 10 only in 2008 in fifth;
• Nick Heidfeld scored his maiden podium in Interlagos in 2001, but after that he endured very little luck: five mechanical failures out of seven races and only three points scored with a sixth in 2007;
• Kamui Kobayashi made his debut here last year with a ninth place, just outside the points;
• Timo Glock was sixth with the second fastest race lap in 2008.
Team notes
• McLaren is the most successful team in Brazil with 11 wins to Ferrari's 10, but it doesn't win here since 2005 (a double by Juan Pablo Montoya and Kimi Raikkonen). Since then it has climbed on the podium only twice with Alonso in 2007 and in 2009 with Hamilton;
• From 2005 to 2008 Red Bull didn't score a single point in Interlagos, last year it came back winning the race with Mark Webber;
• Ferrari's best period here was from 2006 to 2008 when it scored three straight wins from pole;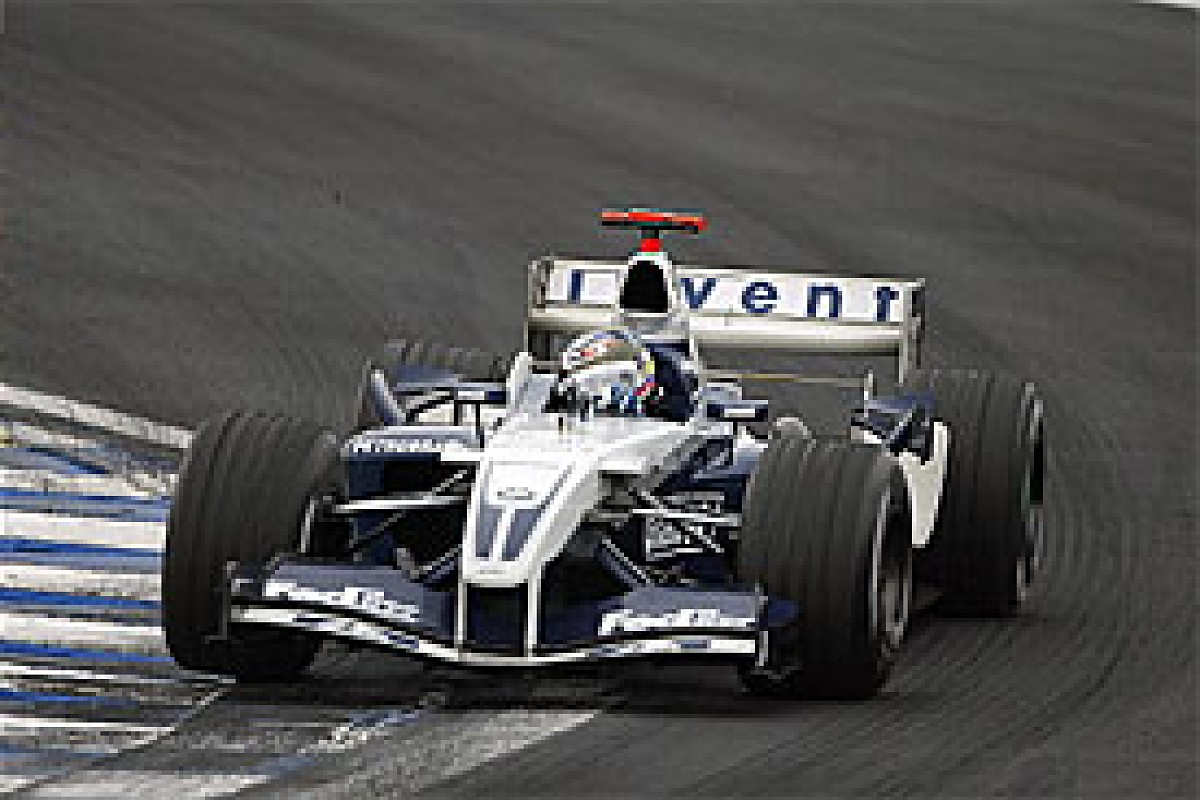 Juan Pablo Montona won for Williams in 2004 © LAT
• Williams scored its last with in Brazil with Juan Pablo Montoya six years ago, but last year was a disappointing race with a double retirement. The team scored points in Brazil for the last time in 2007;
• Renault was able to finish second with Alonso in 2006 and 2008, while in 2007 it posted a double retirement and last year it finished outside the points;
• Toro Rosso enjoyed a top 10 qualifying spot and a points finish in the last two editions; in 2008 it was fourth with Sebastian Vettel;
• Lotus won the first ever Brazilian Grand Prix, back in 1973 with Emerson Fittipaldi;
• BMW Sauber scored its last podium to date last year in Brazil with Robert Kubica.
Other notes
• In the last ten years only twice the win came from pole, in 2006 and 2008;
• The 7th of November is the 17th anniversary of Ayrton Senna's last win (1993 Australian Grand Prix).