Jaime Alguersuari became the youngest driver in the history of the Formula 1 World Championship last August. At just 19 years and 125 days, the reigning British Formula 3 champion was thrust onto the grandest racing stage with no more than a day of straightline running and some demo runs in out-of-date machinery. Britain's Daily Mail was among the publications to seize on Alguersuari's inexperience and ask if the young Spaniard was "F1's most dangerous man".
In the end, Alguersuari wasn't even the most dangerous man in a Scuderia Toro Rosso that weekend, as team-mate Sebastian Buemi finished behind him after what was, by his own admission, an error-strewn race. Meanwhile, F1's youngest-ever driver did as good a job as could be expected in the circumstances, qualifying 1.2 seconds off Buemi, keeping out of trouble in the race and coming home 15th.
He had only eight races to prove himself last year, and to the credit of Toro Rosso and Red Bull it was confirmed in January that the Spaniard, who was still only 19, would continue this year. But at the time, there was a real risk that, like Romain Grosjean, Alguersuari might have ended up on the F1 scrap heap after being given an impossible challenge. What's more, he had it even worse than the Franco-Swiss in terms of mileage.
"You cannot compare my example to Grosjean, or to Kamui Kobayashi or Sebastian Buemi," says Alguersuari. "My example is unique, not because I think I am someone special but because I never went into a series without testing the car first. You don't do that, and you certainly don't do that when you step up to Formula 1. But this is what happened to me."
"I had so many questions when Dr Marko [Helmut Marko, head of Red Bull's young driver programme] called me to drive here in the race last year. I didn't know what my future would be, what would happen and if I was going to finish my career at the age of 18!
"I said yes because if someone offers you the chance to do F1 you say 'yes, yes yes'. But when I put the phone down I thought 'what am I doing?'. I was so nervous because I had never tested and I didn't know anything about the car."
A fair response, you'd say. And a credit to Alguersuari that he has no compunction about admitting it. One of the things that strikes you about the 20-year-old Spaniard is his honesty, and his willingness to analyse his own performance. That will stand him in good stead as he works to make his way as an F1 driver. His intelligent approach certainly helped when it came to putting those headlines - and questions - about being "F1's most dangerous man" out of his mind and concentrate on the mission impossible with which he had been presented.
Your mission, should you choose to accept it, is to be a grand prix driver without anything like the necessary preparation and with sections of the world's media branding you a menace. Good luck Jaime...
"I heard about those, but I had no time to think about them," says Alguersuari of the more lurid headlines. "If I was thinking about what other people were saying, I'd be making a big mistake because I already had loads of problems on my side. I couldn't carry another problem with me! They could say whatever they wanted, as long as they let me have some time. Then they can criticise me however they like.
"I have to say that [team principal] Franz Tost and [technical director] Giorgio Ascanelli were very helpful. They said to me 'don't worry, bring the car back home, nothing else'. That was good for me because I didn't have to push it and risk crashing. It was all about staying calm, doing some laps and getting the feeling of F1."
In those first eight races at the back end of 2009, Alguersuari gradually came to terms with F1. After a 16th place at Valencia, he endured a run of four DNFs, one after being wiped out in a Les Combes crash on the opening lap at Spa, two after mechanical problems and one after crashing heavily exiting 130R at Suzuka. A season's best 14th, from 12th on the grid in Brazil was followed by a gearbox-induced retirement in Abu Dhabi. F1's youngest driver's first half-season had come to an end.
He had to wait until January 22 for Toro Rosso to confirm that he would be driving in 2010 - by contrast, he has already been promised his drive for next season - but he always had faith that Red Bull would not throw him in at the deep end and then drop him for struggling to swim.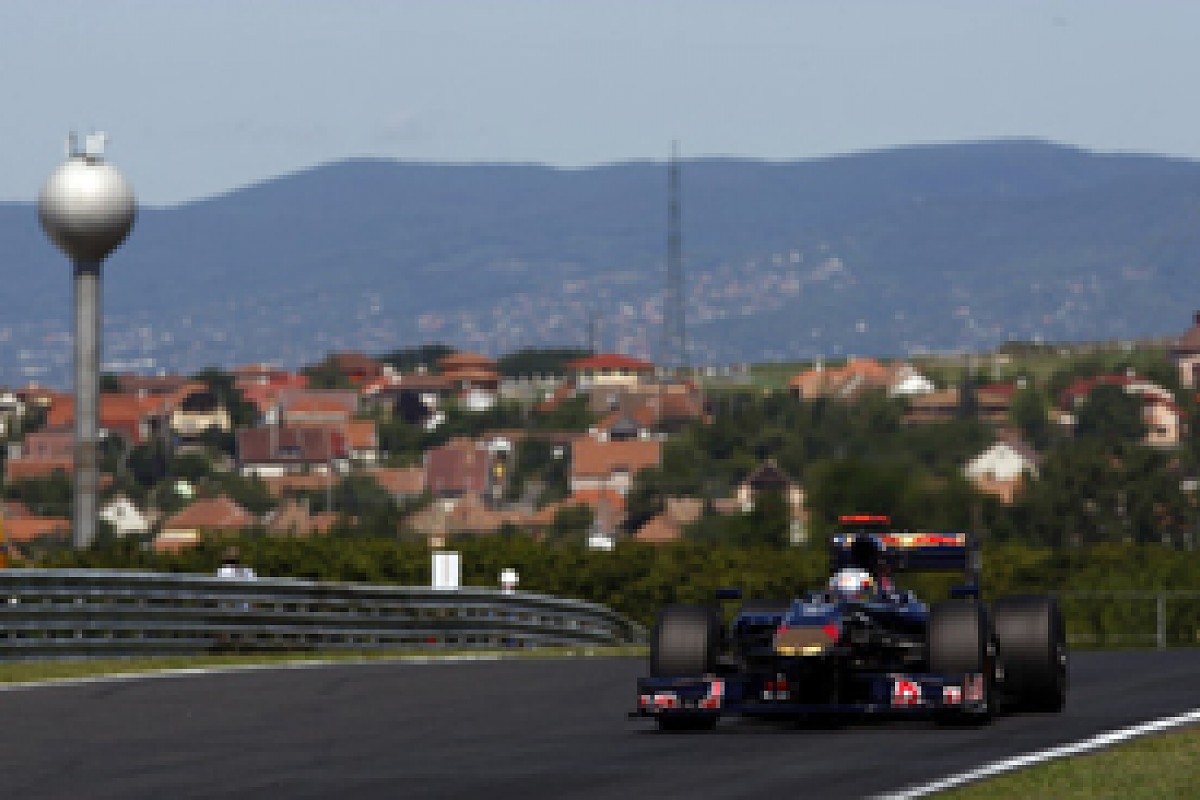 Alguersuari on his Formula 1 debut in Hungary, 2009 © LAT
"In a way I was worried because I wanted to show what my potential was," says Alguersuari of his 2009 campaign. "But Franz told me what I could and could not reach. He wasn't asking me to be on the podium or in the points. He knows what it took with Sebastian Vettel when he came into F1 with mileage, and Franz was the first one to tell me to forget about the points because it's impossible.
"Obviously, you still want to do it, but it is such a big step up to F1. There are so many things going on on the physical side and technical side that it takes time."
Alguersuari proceeds to demonstrate that the leap to F1 utilising a glass and couple of bottles, closely grouped, to represent F3, Renault World Series and GP2. On the far side of the table he places a small pot plant. This, almost out of reach, is F1.
Which begs the question, just when did Alguersuari feel completely comfortable behind the wheel? When was he finally at one with the machinery?
"To be honest, this year," he admits. "At Jerez at the beginning of winter testing I had a different feeling in the car. I could reach for the limit more easily and faster. Everything came more easily this winter.
"The physical side helped me a lot, and I knew the tracks as well. Obviously when you go to a new track, you feel kind of strange, but from now onwards I expect a lot."
Alguersuari has now come full circle. With 19 races under his belt, he has already experienced seven of the remaining eight grand prix venues as a grand prix driver. Although you cannot in any way describe him as an experienced hand, Alguersuari can at least draw on his own data bank as he heads towards the closing stages of the season.
"It's a bit like that," he says of whether all of his F1 career up to now should be regarded as 'testing'. "I wanted to arrive at this point and then say, 'let's go' on Friday as if it was qualifying."
That highlights what has arguably prevented Alguersuari from shining so far in F1. As well as driving midfield car, in which it is always difficult to grab the attention of anyone other than those who are looking very closely, he has often taken the whole weekend to get fully up to speed. That means that promising race performances are held back by mediocre qualifying positions.
Both Alguersuari and Buemi seem to struggle to pull a perfect qualifying lap out of the bag, something that frustrates the team, which can see the potential that is there from both of them. Alguersuari often shows flashes of superb form on the average grand prix weekend, but struggles to piece it all together into a consistently top drawer performance.
But, encouragingly, that level of driving is there to be unlocked. Perhaps, too, he remains locked into the 'bring the car home' mentality of his 2009 outings - the team would certainly tolerate a few more incidents and the odd shunt if it accelerated his progression. Provided, of course, he doesn't repeat his German Grand Prix error and slam into the back of team-mate Buemi again!
Alguersuari likens his battle to get on terms with his inexperience with stringing together a perfect lap of green sectors - referring to the way that the F1 timing screens show a driver is setting personal bests.
"My best qualifying and best race performances are at different times," he says. "To get the very best lap in qualifying, in all three sectors, you need experience and knowledge of the car. It's the same with everything. I had a good qualifying in China and Hockenheim; I had a good race in Barcelona, Malaysia and Melbourne. But there are so many things you have to get right that you cannot turn everything green all of the time."
The qualifying analogy is particularly pertinent, as this is the weakest part of Alguersuari's armoury. Getting that last few tenths out of the car, seizing it by the scruff of the neck and turning in a balls-out lap, combined with "switching on" the tyres to be at their peak for that 90-odd second maelstrom of perfection is arguably F1's blackest art. It's undoubtedly the most important one, as starting, say, 15th or 16th rather than 12th or 13th can easily make the difference between a top 10 and nil points. The 9-2 margin by which he lags behind Buemi in qualifying tells its own story.
But if Alguersuari can crack qualifying, then his prodigious potential could finally be unleashed. He's already shown that he can cut it in the races, with fast consistent lap times and some spectacular overtaking manoeuvres. What's more, his wheelbanging routine with one Michael Schumacher in Australia, by his own admission, helped him on the psychological side.
With a slot at Toro Rosso confirmed for 2011, Alguersuari will have the chance to have completed his F1 education. In the first half of this season, he has proved that he is progressing along his learning curve, picking up points finishes in both China and Spain. His first 19 races have hardly been Lewis Hamilton-esque, but with no testing before his debut and precious little since then, that's a skewed comparison. But the time is coming when he must deliver.
The ingredients are all there for a race-winning grand prix driver to be the result...if he can just string together those green sectors.