This week's announcement that Robert Kubica will stay at Renault until 2012 did not come as a huge surprise. The Pole has had a brilliant season so far, and having really got his feet under the table at Enstone, clearly feels happy there.
Equally the team is delighted with the way things have turned out this year, with Kubica very effectively benchmarking the potential of the yellow car in both qualifying and races.
But what the news really does is signal Renault's intent to be a contender next year, and return to the sort of form that saw it winning the World Championship with Fernando Alonso just four years ago.
"First of all it was welcome by the team," says team principal Eric Boullier of the news. "When we announced it internally on Wednesday everybody was pleased. It's clearly a good sign. You have the first step when Genii and Renault decided to join forces, and this is the second step, one of the big blocks.
"One of the young kids who everybody is after deciding to stick with us for two years is a clear sign inside the team and outside the team that everything we're trying to build up from the inside seems to be good enough to attract him and keep him on board.
"Something which I guess he learned from his first experience of F1, if you fit well with the team, you learn more, and you deliver more, even if maybe you can dream one day to be in a top team or winning team. If he feels that this team has the means or is putting the means in place to be one of the big teams, that can help as well for his decision. And actually this is what is happening. He knows what we are doing and what we want to achieve, and what we are putting in place."
What Kubica can do now is something he couldn't quite manage at BMW Sauber, which is build a team around him and help to give it the momentum to challenge for a title. Two of the best examples occurred at the very same team, initially with Michael Schumacher, and then almost a decade later with Alonso. Does Boullier see a parallel?
"Let's say yes. He's committed now to us for a couple of years, which means he trusts in us, and obviously the team trusts him as well. And if we can build up something successful with him, we will do everything to do it. But I don't want this to be also against the interest of let's say the second car, or the 'B car,' or whatever you want to call it. If we can have two drivers fighting and challenging each other for the title, this is what I'm dreaming about, to be honest."
With the four teams at the top of the table already spoken for, the identity of Renault's second driver is the next piece of the puzzle that has to fall into place. The name of Kimi Raikkonen has been mentioned, and with the Finn's plans to resume his career with Red Bull Racing long ago scuppered, it makes a lot of sense.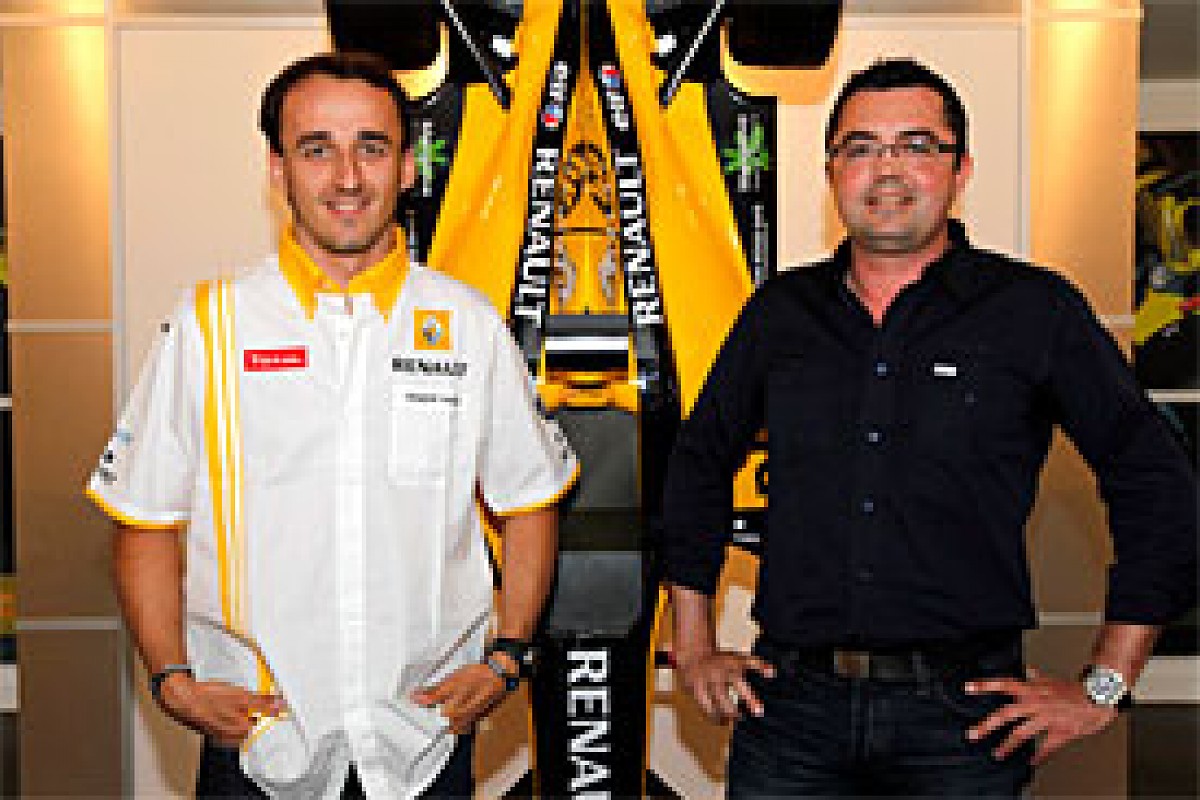 Robert Kubica with Eric Boullier © LAT
For it to happen Renault would need to know that it's getting a fully motivated and committed driver, while Raikkonen would clearly want to have an environment in which he feels comfortable. He's a mate of Kubica, so that's no issue, but most importantly Renault is unlikely to saddle him with 20 plus days of PR commitments, something that he found very unappealing when talking to McLaren late last year. But it's not just Raikkonen - the seat is attractive to drivers up and down the pitlane.
"We have the chance now to be chased! It's not by arrogance I'm saying this. It sounds like the second race seat is very interesting for many other drivers. We have Vitaly there with us, and we are very happy with Vitaly. We obviously need Vitaly to do one step further in terms of development, I think a complete race weekend without any mistakes, and then we see what we do. In our position we want the best for our team, that's it."
He concedes that while Petrov is still in the frame, a more experienced second driver would provide a better balance.
"Today we are called and we are asked, and we are also looking on our side to have the best package for the coming years. If it is with Vitaly, we will be very pleased to keep him of course. If it's not, it's not."
Having got its star driver in place, the team's next task is to come up with a car. At this time of year every team has the difficult task of managing its resources between its current car, and the following year's project. This is the first time that Boullier has been part of that decision.
"It's not that difficult, to be fair. We still have in production today some good upgrades for this car. We have decided as well to increase the resources for this year's car to make the right developments. But we also have taken the right decision to start very early on next year's car. So far we could handle all the projects in parallel, so it makes decisions easier.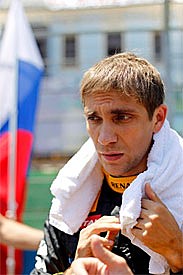 Vitaly Petrov © LAT
"More than pure resources, there are some techniques and some processes that we have to improve on for the following year, that we are now actually testing on this R30 car. Let's say it's part of the 2011 resources which are already training for next year. Obviously there will be next year some parts of the car which can be extrapolated from the R30 to the R31. So we are already working for next year's car, with some significant progress, without sacrificing this year. But sooner or later we will have to switch to next year full time."
Renault has made its life difficult in that Mercedes is not far away in the Constructors' Championship, and fourth place is very much up for grabs. It makes it harder to slow down on the 2010 car.
"True, now it's very tempting! It's very tempting to say let's push and grab one position in the championship if we can. But we definitely keep both our feet on the ground, and it's also part of a two, three years' plan. We need to do it properly, and not start with too much delay on next year's car."
Last winter the team wasn't in a position to think about much more than survival, but now it has to start looking at a title campaign. Is that a realistic target for next year?
"We are working very hard to say we are able to fight for the championship. It's a bit too early to say in July, I can't tell you now. By the end of the year I will know more about our development. Personally I'm new to F1, but now I've got some reference as well, I know the targets. I understand as well now because we are developing the car, we are getting some performance levels where we know we are not so far from the top teams, which makes our objective a little bit clearer about where we want to go."
One significant ace up the team's sleeve is its wind tunnel, which underwent an overdue upgrade last winter. It meant that the team had to do without for a while, but the sacrifice was worth making.
"It was more than a year's project, but it coincided with Genii's arrival," says technical director James Allison. "It's an investment that was made in our facility that is seeing us now in very good stead. Although we took some pain during the pre-season period, which is a rather difficult time to take your tunnel offline, we've been rewarded for that investment."
The revised facility is much more efficient: "Under the current rules you're not allowed to run the tunnel above a certain speed, and nor are you allowed to go above a certain model scale. Well, we couldn't run at that speed and we couldn't use that model scale!
"Now it allows us to do that and much more. You're only allowed to run the wind tunnel fan for a fixed period each week. It's the amount of time from when you press the go button to when you are at the stabilised speed of the test. If it takes you a long time to accelerate up to that speed it's useless time that you're pissing away to no good benefit.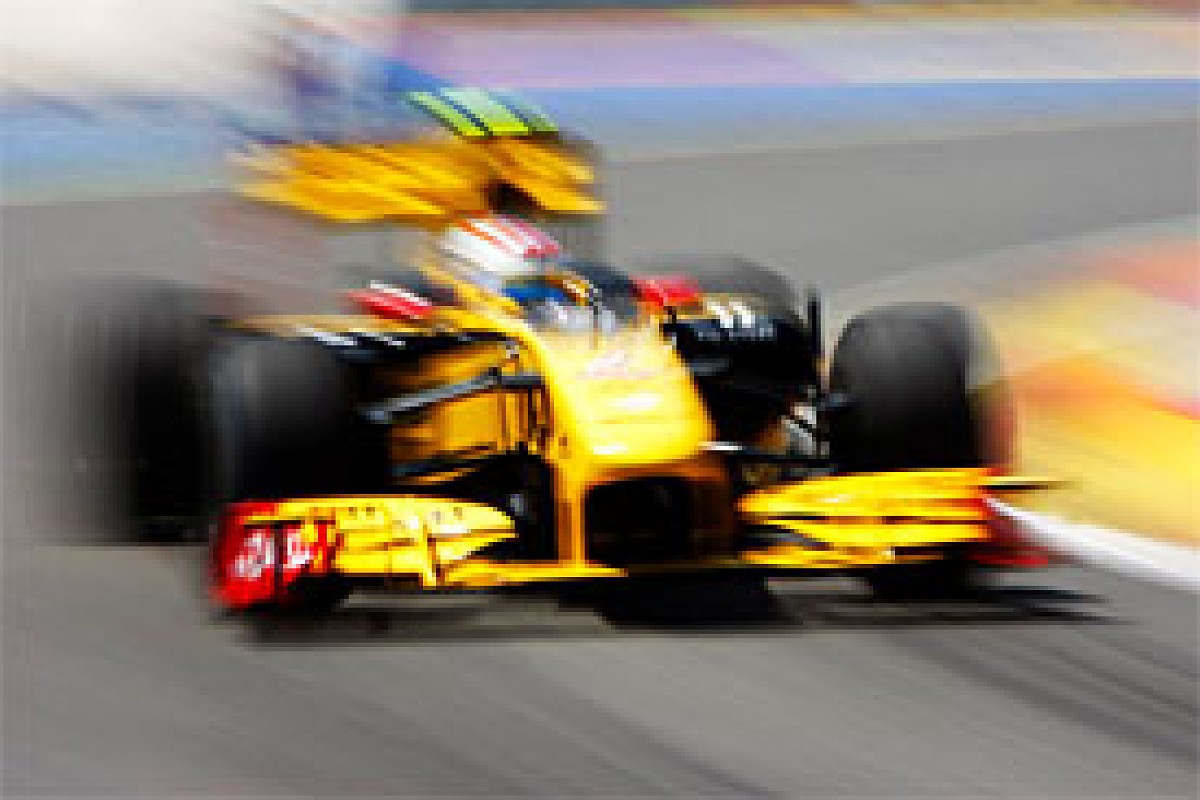 Vitaly Petrov during the European GP © LAT
"The new road accelerates and stops much more effectively than the old one did, allowing us quite considerable efficiency saving. Also everybody needs to test the cars not just in a straight line but also in yaw, and the old rolling road was very slow at transitioning in and out of yaw. This allows us much better productivity."
The tunnel has clearly paid dividends, and it goes some way to explaining why the team has been able to throw things at the car and have them work straight away. In Valencia the team had a significant package that revolved around the blown diffuser.
Boullier agrees that the stop-start track wasn't the sort of circuit to show it at its best: "When you have a big upgrade on the car, especially this floor which makes everything different from the driver in terms of balance, obviously we need some time to fine tune the set-up. On the top of this maybe Valencia was not the best one for this.
"I expect this weekend to get the best of it. It's a little bit like a loop - it's complicated because you need to change the driving style, but you need to adjust the car to make sure the driver is getting the best out of the car. And in the end if you miss one, it affects the other one."
"I think we learned that it works how we expected it to work," says engineering chief Alan Permane of Valencia. "It's not as simple as bolting on a normal bit of downforce, because it interacts with the way the engine works and so on. There's a lot more to come from set-up and driving style.
"In Valencia they could see a little bit in braking and stuff like that, and they did report that they could feel it working under traction. But Silverstone should suit it more. It's got more corners where you're on the throttle. Now it's about maximising the potential of it."
Will we see the results this weekend?