Believe it or not, but there was a little piece of Formula 1 history made in Malaysia on Sunday.
When Nico Rosberg crossed the finish line to bag Mercedes GP its first podium finish, he achieved something in three races that Felipe Massa, Rubens Barrichello, Eddie Irvine, Johnny Herbert, Riccardo Patrese, Jos Verstappen, JJ Lehto, Martin Brundle and Nelson Piquet never managed to do in their entire careers.
That feat? A hat-trick of out-qualifying and out-racing Michael Schumacher in the same team.
Rubens Barrichello leads Michael Schumacher, Monza, 2004 © LAT
Schumacher has been beaten before - but only twice in his career has he been out-qualified and out-raced by team-mate in back-to-back races. That was at the hands of Rubens Barrichello in the 2004 Italian and Chinese Grands Prix, and with Felipe Massa at the 2006 Hungarian and Turkish Grands Prix.
Now though Rosberg has gone one better: beating his team-mate in Bahrain, Australia and Malaysia.
That run has not only forced a reappraisal for many of Rosberg's abilities, but has provided further ammunition to Schumacher's critics who claim that the seven-time champion has bitten off more than he can chew in making an F1 comeback at 41. They say he is not the racing driver he used to be. So are such criticisms fair?
Schumacher was always going to have a difficult time living up to the immense hype surrounding his return. With his kind of CV, and joining a team that had just captured the world championship, there was an inevitable call to arms for many of his fans who reckoned that he would return to F1, clean up a few more titles, and then head off into the sunset.
In reality, it was never going to be like that. F1 is a very hard and very cruel business - and every element of a drivers' armoury needs to be at its best if he is going to deliver to his full capabilities.
When any of us return to an old sport we haven't played for months, or try out a computer game that has been stuck on the shelf for a while, there is always that period of getting to know each other again. What once was totally natural needs some effort and thought to get up to speed again.
And so it is with Schumacher. The understanding of what is required, the huge experience of his years in the sport, are all still there in his databanks - but going out there and delivering to the level that is needed is taking time.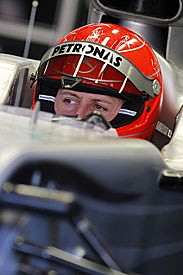 Michael Schumacher, 2010 © LAT
Mercedes GP CEO Nick Fry reflected last weekend that although Schumacher's on track performance had not yet reminded us of his old magic, inside the team's confines there was some impressive stuff going on.
"Michael is, for me, quite remarkable," explains Fry. "Even this weekend, the level of feedback that he gives is something that I have never seen before - and that is just not in the debriefs. When you have the headphones on you hear amazing things - and in qualifying he was driving around almost giving a commentary. The FIA who also listen we also very impressed that a driver can do that."
Let's not forget too that part of Schumacher's success in the past was in ensuring that he had every element of the team and car package working for him. Ferrari revolved around him - he ensured the car worked best for him, and that even F1's tyres were producing what he wanted.
As well as having to shake off his race-rustiness, Schumacher has had to cope with a new generation of F1 cars that do not give him the strong front end that he so loves to have. Observers out on track noticed from the off in Bahrain that Schumacher was struggling hugely to get the front end of the W01 into the apex of the tight bends in the new section of track - which was forcing him to hold off getting back on to the throttle until much later than he would have liked.
This understeer characteristic is not only a product of the W01 car - last year's Brawn GP car had such a trait - but has been exacerbated by the narrower front tyres this year. So it's been a double whammy for Schumacher.
Hirohide Hamashima, Bridgestone's director of motorsport tyre development, is a man in no doubts about what has been going on in the first three races of the season.
"Michael has struggled with the front tyre size because, as you know, we used to develop our tyres with him until 2006," he explained. "His preference is for a bigger front - a strong front - as he likes for his driving style to load the front very well and then use to get through the corner.
"If he does that with the current types, the front tyres squash over the contact patch and they can't produce the grip that he is expecting. He is having to change his driving style a little bit, to put less load on the front tyre. He has made the slip angle more gentle - and I think he has learned already because the gap between Nico and Michael is getting closer and closer."
Other factors have not helped Schumacher either. The Mercedes GP car is a shadow of competitiveness compared to what last year's Brawn was like - and had he and Rosberg been battling it out clear at the front there would not be such questions floating around about his potential.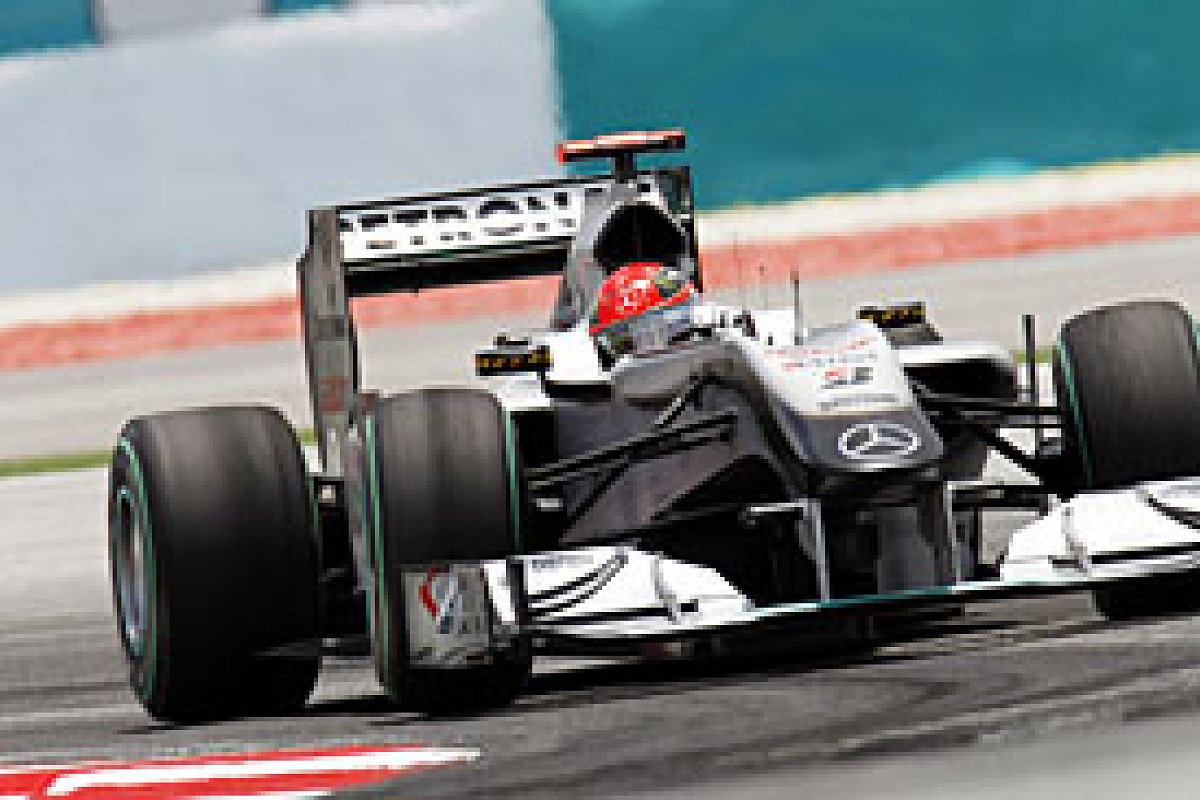 Michael Schumacher in the Mercedes during Malaysian GP practice © LAT
Let's not forget too that small elements of misfortune have tilted the competitive window against him. What could he have done in the Australian Grand Prix if he had not been tipped into a spin at the first corner? Would he have qualified further up - and therefore out of the trouble zone - if a tear-off visor had not got lodged into his front wing during qualifying?
We all know that F1 is all about ifs, and Schumacher is going to have to dig deep if he is not going to see Rosberg extend that record against him.
So let's enjoy watching him turn this situation around. Schumacher won't be able to erase Rosberg's hat-trick against him from the record books, but history also shows that those who write the seven-time champion off do so at their peril.