Thrilling over 120,000 spectators and millions of television viewers, Stirling Moss in Rob Walker's Lotus-Climax fought off three Ferraris and the Porsche team to win the 19th Grand Prix of Monaco at the record-breaking speed of 70.77mph. His was a miracle drive; Richie Ginther, Phil Hill, Jo Bonnier and Wolfgang von Trips did their lot trying to catch the wiry, white-helmeted figure in the dark blue 1960-type Lotus, who firmly believed it hadn't a hope of winning the first of the season's grandes epreuves. How wrong he was.
There is nothing quite like the Monte Carlo race. As the hour of the depart drew near, thousands of spectators crowded from windows and from every possible vantage point. The harbour was gay with craft dressed for the occasion, and, from the decks of an American frigate, scores of white-clad sailors had their own grandstand.
It can be said that Michael Parkes was mainly responsible for the new anti-crash metal barriers that had replaced the unpopular straw bales and wooden poles. It may be recalled that he escaped unhurt when a wheel came off his Rapier in the Monte Carlo Rally eliminating test, and he bounced off the experimental barrier at Ste Devote. The organisers were so impressed that they arranged to erect the barriers all round the circuit.
Jack Brabham © LAT
Jack Brabham arrived from the USA, looking rather tired (and small wonder), after qualifying his Cooper-Climax at 145.14mph at Indianapolis. He was mobbed by newsmen eager to find out the details. Colin Chapman's men had done a fine job in repairing Jim Clark's wrecked Lotus, but all were glum following the news of Innes Ireland's accident.
Director of the race Louis Chiron closed the circuit in a blue DS19 Citroen, and the 16 starters lined up on the Quai d'Albert. The countdown could be heard clearly over the PA system, despite the racket kicked up by Eurovision's turbojet helicopter. Engines were revved up, down came the flag and the 19th Grand Prix of Monaco was on.
Ginther made a magnificent start, and rounded the Gasometer turn first, followed by the usual traffic jam. Everyone managed to sort themselves out without undue bumping and boring, and as the field howled past the tribunes it was Ginther, Clark, Moss and Tony Brooks. The passage up from Ste Devote to the Casino was a thrilling sight. Round the square opposite to the Hotel de Paris, down the hill past the Tip-Top and the crowded terraces of the Hotel Metropole screamed the 16. Tyres squealed under vicious braking for the nasty right-hander at Mirabeau, then down to the Station hairpin, out onto the promenade and under the notorious tunnel streamed the field with the red Ferrari in front.
Next came the tricky chicane as the cars regained the seafront, followed by the swerve at the tobacconist's kiosk and the run down Quai d'Albert to start all over again.
Ginther still led, followed three seconds later by Clark, Moss, Brooks, Dan Gurney, Bonnier, Phil Hill, Bruce McLaren, Graham Hill, von Trips, John Surtees, Brabham, Hans Herrmann, Maurice Trintignant, Cliff Allison and Michael May in that order. All present and correct. What a relief.
As the field reappeared for the second time, Ginther was four seconds clear of Moss; Gurney and Bonnier had overtaken Graham Hill, and there was no sign of Clark. Then as the rest swept by, the low green Lotus went slowly into its pits and mechanics lifted the engine cover.
Behind the leading quartet a dog-fight had developed. Brooks, showing his old fire, led McLaren, the two Hills, von Trips and Surtees, each trying desperately to pass one another. Ginther was driving superbly but Moss was relentlessly putting on the pressure. Phil Hill moved up over Brooks to attack the two Porsches as Surtees stormed past von Trips. Clark eventually re-started, but was forced to call in again.
Both Moss and Bonnier were breathing down Ginther's neck, with Phil Hill taking Gurney's measure and just biding his time. At the tail end, May had overtaken Allison and Brabham had moved up over Hermann.
Moss was now obviously going to take the initiative. The master was making motor racing look absurdly simple and now indicated his intention to go in front. Graham Hill's engine spluttered and banged, and after 12 laps he drew into the pits to become the first retiree.
On lap 14 Moss took the lead and Bonnier followed him through into second place as Ginther gave way. Phil Hill had now taken Gurney, who was also being threatened by von Trips; Surtees was giving McLaren no peace. After 15 laps, Moss led Bonnier by two seconds, and had already lapped Allison. Two laps later, the three red Ferraris were in line ahead in pursuit of Moss and Bonnier, who had lapped May in the Seidel Lotus.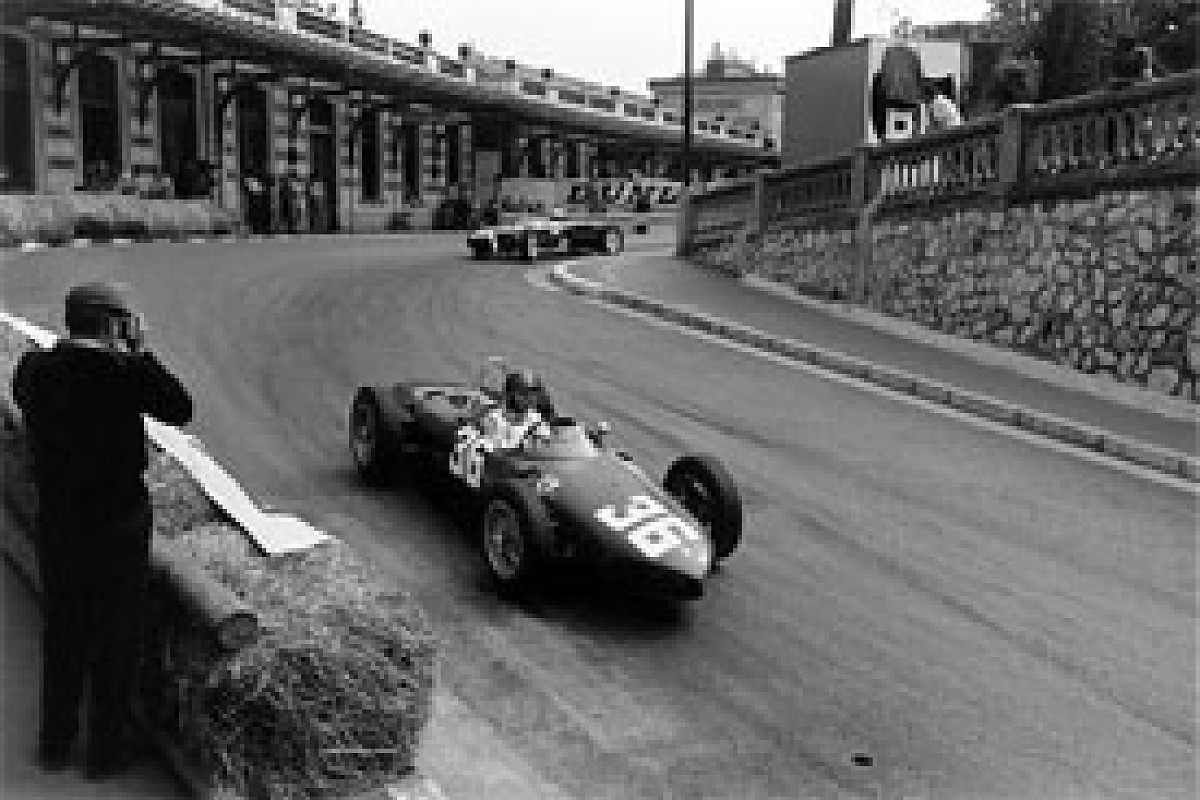 Richie Ginther (Ferrari 156) leads Stirling Moss (Lotus 18 Climax) © LAT
After 20 laps, Moss led Bonnier by eight seconds, Ginther by 9.2 and the remaining Hill by 12.2. The race average had gone up to 111.08kph and Ginther had already recorded 1m39.2 (114.143kph). Five laps later, Trintignant had been lapped and the unfortunate Clark once again stopped for attention. Ferrari now gave Hill the sign to take Ginther, for Moss was gradually getting too far away for comfort. Ginther gave way to his team-mate, who thereupon closed right up on Bonnier, whom he overtook on the 27th lap, with Stirling 11.5 seconds ahead.
At 30 laps, Allison had been lapped for the second time, and Herrmann stopped to sort out gearbox problems. Moss led Hill by 9.9 seconds with Bonnier less than a second behind the American and 2.5 seconds in front of von Trips. Surtees was obviously going to take McLaren for sixth place and Brooks was duelling with Gurney's Porsche.
Just as Moss was about to lap Brabham on the 35th tour, the world champion drew into the pits and remained there. May, who had been driving really well in his first Formula One race, stopped with gearbox troubles, was announced as retired, then later re-emerged only to abandon for good later on.
Ginther covered his 32nd and 35th laps in 1m38.7 and 1m38.4 respectively. Brabham restarted, did three slow laps and then packed up for good. Moss continued to hold about a ten-second advantage while Surtees had taken McLaren's sixth place and began his pursuit of von Trips. On lap 41, Ginther replaced Bonnier in third place to close up again on Phil Hill. The race average had shot up to over 69.6mph. McLaren, trying to regain some of the ground lost to Surtees, recorded a lap in 1m38.3 (71.57mph).
At half-distance Ferrari pressure had never relaxed for a moment, but the tantalising Moss still went on his way. An occasional puff of smoke from the rear end worried his supporters a trifle, but was apparently nothing about which to be concerned.
On lap 54 Brooks, attempting to overtake Gurney, somehow became tangled up with the Porsche's exhaust system. Possibly he knocked the BRM out of gear, but anyway he must have over-revved momentarily, and the second Owen car was out of the race. Next time round, Moss had lapped Gurney and Hill had cut the Lotus's lead down to four seconds. Surtees produced a lap in 1m37s (116.721 kph) and was now out to take fourth from von Trips.
Just as the 60th lap was chalked up, Porsche hopes were blasted as Bonnier stopped at the station and started to walk back to the pits. Gurney had, of course, been lapped while Herrmann was circulating way back behind Trintignant and Allison.
Phil Hill made a desperate attempt to get to grips with moss, getting to within 3.8 seconds of the blue Lotus on the 60th tour. Ginther came up almost level with his team-mate, then dropped behind a few yards - presumably on instructions from Romolo Tavoni. It was quite amusing to watch the Ferrari mechanics let Moss go by before quickly flashing the board to their drivers. They were also worried about Surtees, who was continually a threat to von Trips.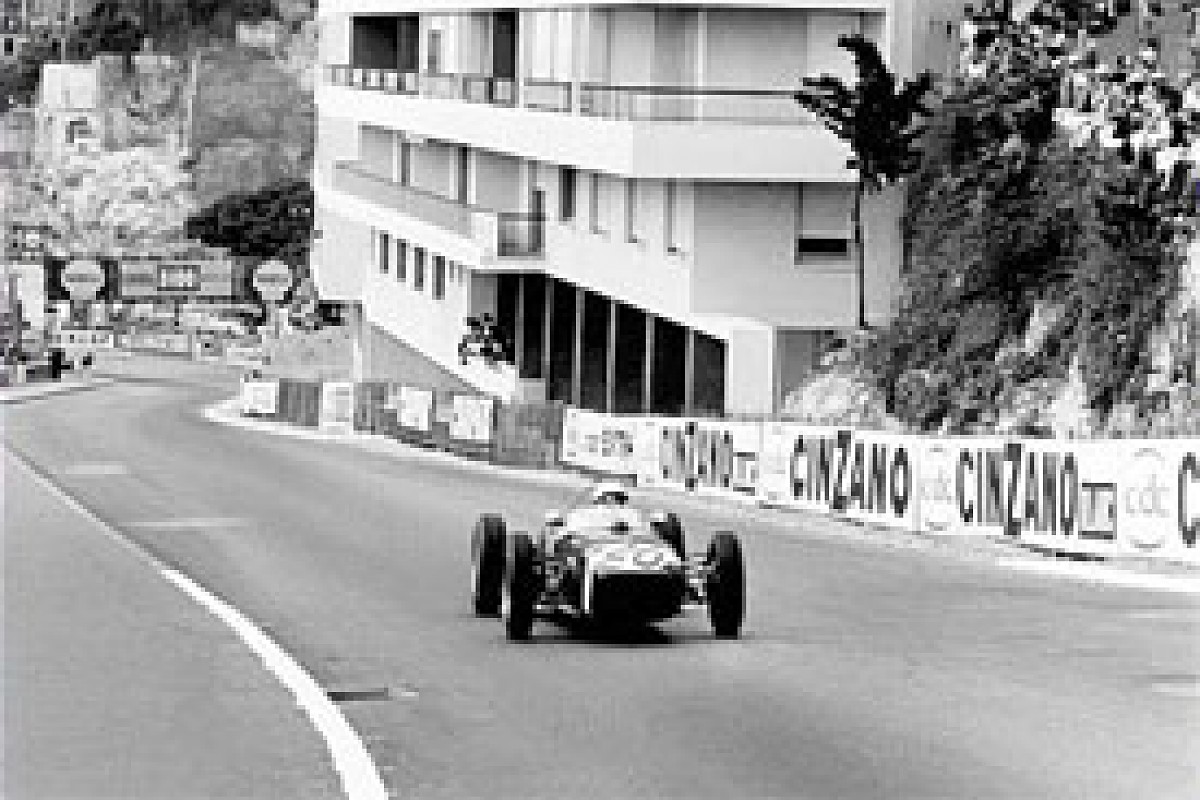 Stirling Moss (Lotus 18 Climax) © LAT
The Moss v Ferrari duel continued. On the 70th lap, the gap was 4.9 seconds and the race average the astonishing one of 70.2mph. Came a blow to Yeoman Credit when Surtees slowed and finally packed up near the station with steam issuing from his exhaust pipe. His had been a fine drive, considering that the engine was more or less a 1960 'cooker.'
Moss lapped McLaren on the 73rd tour and, a couple of laps later the New Zealander had also been overtaken by the two Ferraris.
Around this time, Ginther was given the sign to mount the assault, and Hill moved over to let him through. Hill's car was doing more than its fair share of weaving, so it looked as though the steering department was not altogether 100 per cent.
With 20 laps to complete, something went wrong with the petrol supply on McLaren's Cooper, and he stopped at the Gasometer hairpin. He pushed the car to the pits, and more fuel was taken aboard. Herrmann stopped also, and mechanics fiddled about with the engine before he re-started. His must have been a peculiar sort of Porsche, for the official hand-out stated "Arret de la voiture no 6 Herrmann - Il repart après s'etre ravitaille en eau." Whether the car or the driver required water was not quite clear!
As the race went on, tension mounted. "Faster, faster" signalled Ferrari until finally Ginther had the message: "Give it the lot." The young Californian responded magnificently and returned a lap in 1m36.9. However, even that wasn't good enough, so he brought it down to a 1m36.3 on lap 84 to close to within three seconds of Moss. The master replied in typical fashion - he equalled Ginther's new time.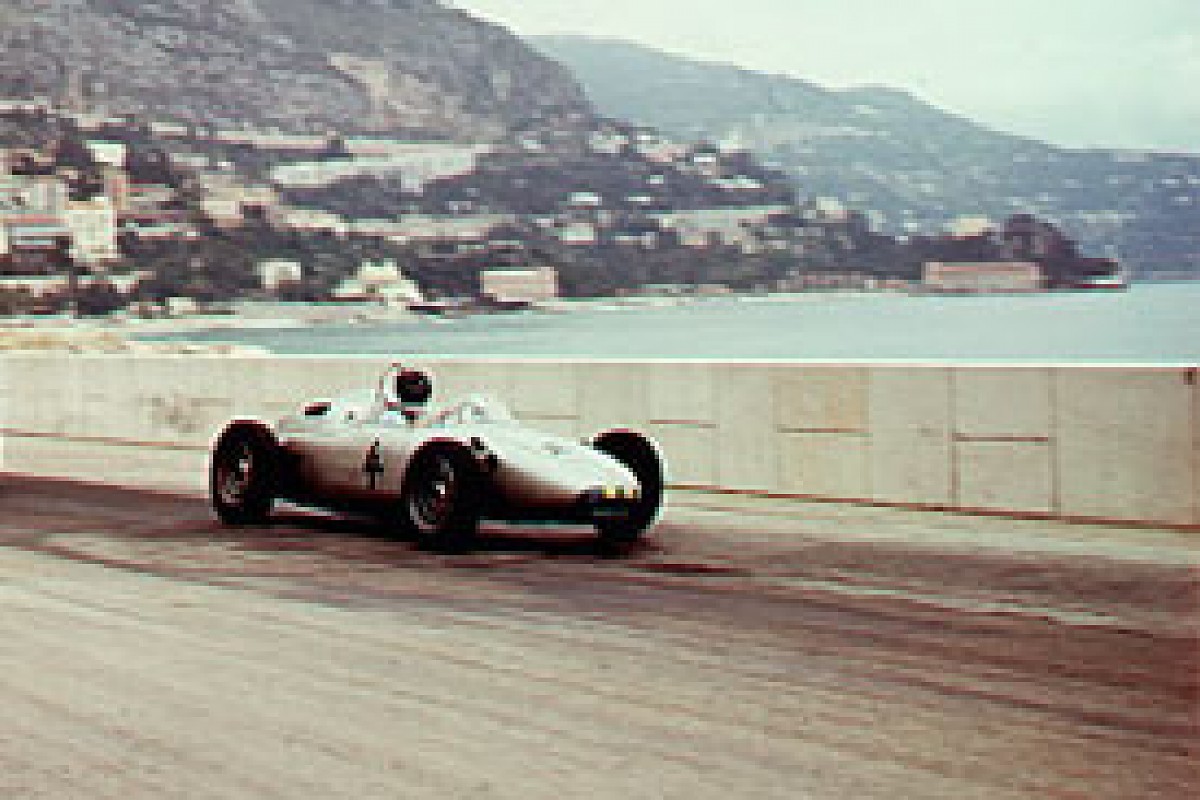 Dan Gurney (Porsche 718) © LAT
Von Trips had been in trouble somewhere, for only the three leaders were now on the same lap. McLaren's pit-stop had dropped him behind Gurney while Allison was circulating slowly with a smokescreen set up by a defective scavenge pump. Trintignant still raced round non-stop in the Cooper-Maserati, outpaced but not disheartened.
People could scarcely contain themselves during the Moss v Ferrari battle. Ginther tried everything, but Moss's racecraft matched the superior speed of the red car. The American could quite easily have thrown caution to the winds and bet everything on Moss committing an error. However, Mr motor racing just doesn't oblige his rivals in that manner, and even if Ginther had managed to get in front, it was doubtful whether or not he could have stayed there.
With Ferrari almost going beserk in their pits, Moss carried on what had seemed a few days before to be an impossible task. The vast British contingent willed him to win. Lap 99 and the excitement was so intense that one could almost hear the ticking of the countless stop-watches.
From the tribunes all eyes were on the exit from the tunnel. Then, a tremendous burst of cheering rent the air, as the squat little blue car carrying the number 20 whistled through the chicane for the last time, swerved past the tobacconist's kiosk, and with Moss's arm upraised in a victory salute, took the chequered flag just 3.7 seconds in front of the gallant Ginther in the new Ferrari.
Stirling was mobbed at the end, and Mrs Moss fell foul of the police trying to get near her son. It was Stirling Moss's night in Monte Carlo, the celebrations were going on till daylight.
To continue reading this feature, subscribe to Autosport Plus today.
Expert opinion. Technical insight. Unbeatable analysis. Subscribe today for unlimited access to the world's best motorsport journalism.
Get unlimited access now
No more monthly limits. Get complete access to all our news and Autosport Plus features.
Subscribe to Autosport Plus
Completely ad-free environment.
Access Autosport Plus - the best motorsport analysis, insight and opinion.
No monthly news limit.
Explore Forix, the world's most comprehensive motorsport stats database.