As each new season arrives, many bemoan the fact that Formula 1 cars look the same, only distinguishable by their liveries. Is it because of the extremely prescriptive regulations, or is there more to it? The former has clearly been responsible for a general coalescence of aerodynamic trends but I believe the real reasons go deeper. In my opinion, F1 has an added dimension - risk management.
When I started in F1, sponsorship was dominated by tobacco advertising and the value of that increased as other avenues of exposure were removed one by one. Teams were awash with cash and it was ploughed into product.
In the late 1990s, McLaren would make up to eight chassis per year. The race team had three complete cars and a chassis in a box; there were two cars for the test team, and one in paint. That's a lot of money just tied up in chassis.
Now they are down to three. If you had a good idea and could justify it in terms of increased vehicle performance, it got made, no matter how extravagant the idea was. The test cars did more than double the race-car mileage.
Now there are only two in-season tests and the race cars have to be used for those.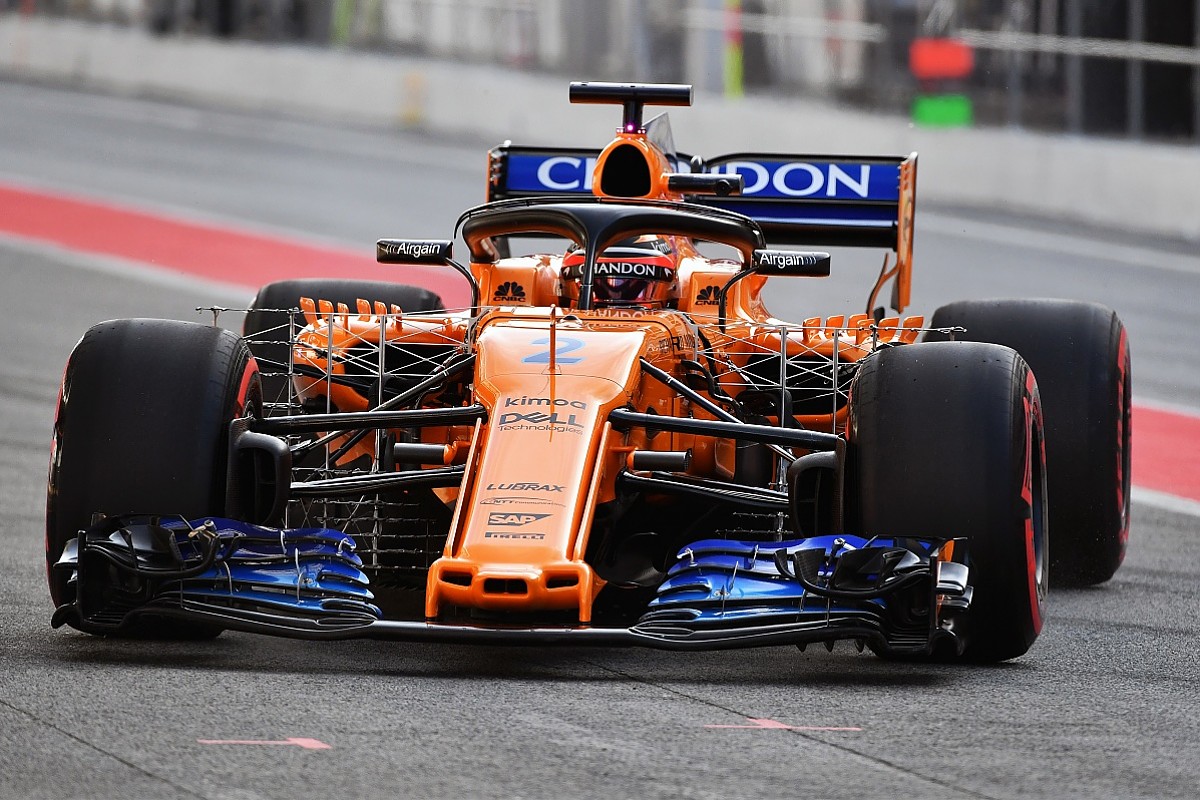 If you ever found yourself falling behind in terms of aerodynamic performance, you simply hired another windtunnel and a whole team to run it. We typically ran three shifts in our tunnel, simply to get through the volume of ideas we could generate.
F1 was an arms race and your budget would dictate your pace.
When tobacco advertising was banned at the end of 2006, budgets had to get realistic. Then in 2010 came the cost cap, Max Mosley's proposal to entice new squads and clip the spending of the grandee teams.
The most far-reaching change to come out of this, and, in my opinion, have a significant effect on the way Formula 1 cars are designed, was the windtunnel cap. It limited the amount of time you could spend in the windtunnel and thereby the number of runs you could do in a day.
On the basis that Computational Fluid Dynamics is used to filter parts before they go to the windtunnel, this was also capped. Teams could trade windtunnel hours against CFD usage.
Now evolution rather than revolution became the way forward. Quite simply, if you got it wrong and slipped back in performance terms you couldn't catch back up again. Let me explain why.
Let us assume a typical average aero-development rate of two points per week during the season. Some will be slightly better and others worse. But let's say your closest competitors are doing this, so they track up the development line shown (see graph below).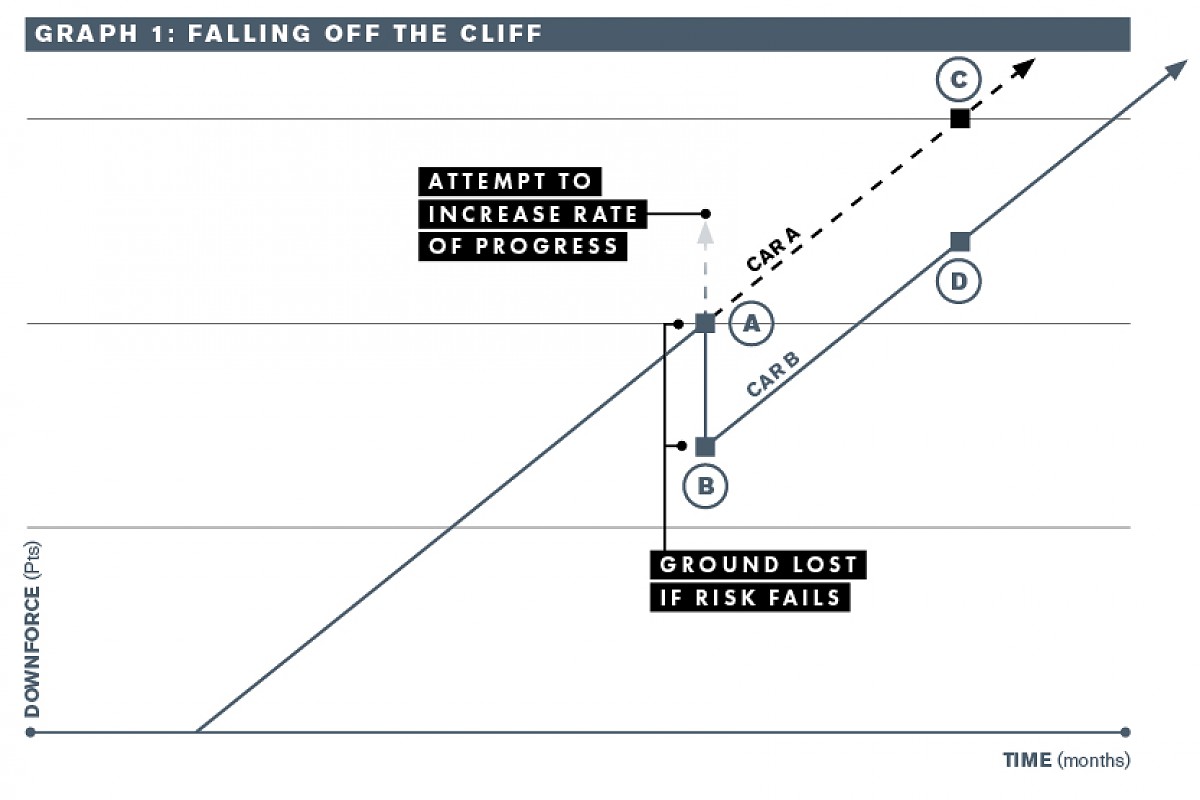 While aero development averages two points per week, there will be fluctuations based on how well you generate new ideas. You can only dip into your new parts bin every few races, so aero performance will vary between the teams at each event - hence performance changes race by race - and this makes the racing interesting for the viewers. I've shown it as a straight line for simplicity.
So one day, while trawling through your post-GP 'spy photos', you decide you like the look of another team's aero-development direction and test a few of these ideas in CFD, a few parts in the windtunnel, and they look promising. So now you start to develop a whole new car concept.
But what if that new concept fails to deliver when you finally put all the bits together? What if your new car has significantly less downforce than your old car?
Well, you drop from point A to point B. Horrors of horrors! Now, do you carry on developing this awful car, hoping to find the error of your ways, or do you cut your losses and run the old car?
A similar dilemma was faced by McLaren in 2013.
If you don't find the problem, you track from B to D - instead of C - and remain underperforming all season. You can't increase your aero return beyond two points per week, as your resource has limited you to that rate of development. Ouch.
So the moral of the story is evolution rather than revolution. It's akin to playing 'Snakes and Ladders' without any ladders. Just make sure you avoid the snakes.
The only other way out of such a nightmare is a rule change.
Graph 2 (below) shows a hypothetical circuit safety limit set in terms of a downforce cap. There are other factors you can tune to limit performance - power and tyres - but for the moment let's just consider downforce.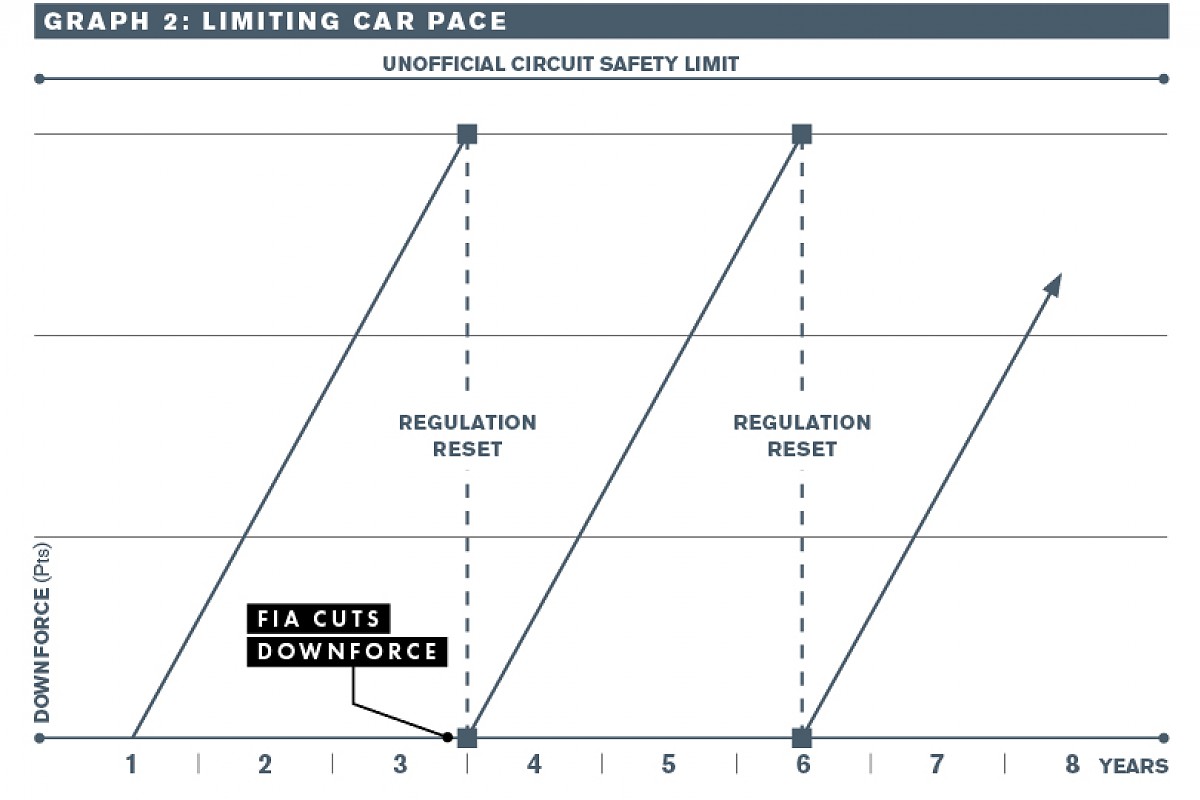 Capping absolute downforce is one way to prevent the cars exceeding the safety limit of the circuits and a lot easier than redesigning tracks or moving the spectators further away. That's why every few years the aero rules are normally rewritten to reduce aero performance.
This is when evolution is rarely an option and a new concept is called for. It's also a great opportunity to stop developing the current car and focus on the new one, which can give you a head start on your rivals and perhaps help you close any deficit.
But the people most likely to do this are those with current performance in hand - they can still race competitively and get ahead on the new car. The team that fell off the cliff, desperate to get better results in the current championship, often can't bring itself to switch development to the new car, so falls further behind for the new season.
To avoid falling off the cliff, it is better to concentrate on making sure you always get those two points per week, never 1.8.
Don't try and make that big jump - unless you find a loophole in the rules, such as the double diffuser in 2009. But it's not going to happen now - the rules and knowledge of F1 teams mean that there are fewer loopholes than before. When nobody had optimised their development - and it was more hit and miss - you could afford to take a chance, and the rewards were bigger when you could come up with something such as ground-effect.
What you may be able to do is to make the progress slightly steeper - perhaps 2.1 points per week - by being efficient and improving your ideas generation. Adrian Newey realises this. He is very good at making sure the in-season development is always to target, always striving for a little more. That's how Red Bull made such progress last season.
If you pull enough ahead of the opposition, that can buy you a little time to try something different. But that is rare and is a luxury that only a top team can afford.
It's now got to the point where it's the same in-season development rate whatever the regulations, although a rule change gives greater scope for improvement during the off-season.
But again, the bigger/leading teams tend to benefit, so the best thing to do to get the field to close up is to leave the aero regulations the same for as long as possible. Until the cars get too fast, of course. One thing you can guarantee is that aerodynamic development, while regulated, continues relentlessly and always will.