One-time Formula 1 champion Jenson Button says patience is needed during the early phases of the DTM and SUPER GT's tie-up.
Button will race in the DTM finale at Hockenheim on October 4-6 driving for Honda as it and fellow SUPER GT brands Nissan and Lexus come to Germany to showcase Class One ambitions and set the initial Balance of Performance for the Fuji joint-event on November 22-24.
While SUPER GT and DTM took a step closer to unified regulations this year with the 2019-spec DTM package, it will take the debut of the '20 SUPER GT machines to help bring the two more in line.
BoP, the use of the DTM's single-supplier Hankook tyre, the restriction of DTM's DRS and removal of driver changes as used in SUPER GT are some of the measures needed for the first phase of joint-racing.
Button, the defending SUPER GT champion, says it is important to urge caution considering the size of the task ahead for both series.
"I think the idea of bringing Super GT together with DTM is brilliant," said Button in an interview with the official DTM website.
"These sorts of things aren't easy to arrange, and they're even harder to fine-tune, so I'd just remind people that we might not get it right immediately, so be patient as we try and make it work.
"Obviously, for us, it's really exciting to be going to a new continent - back to Europe - and to a new circuit [at Hockenheim].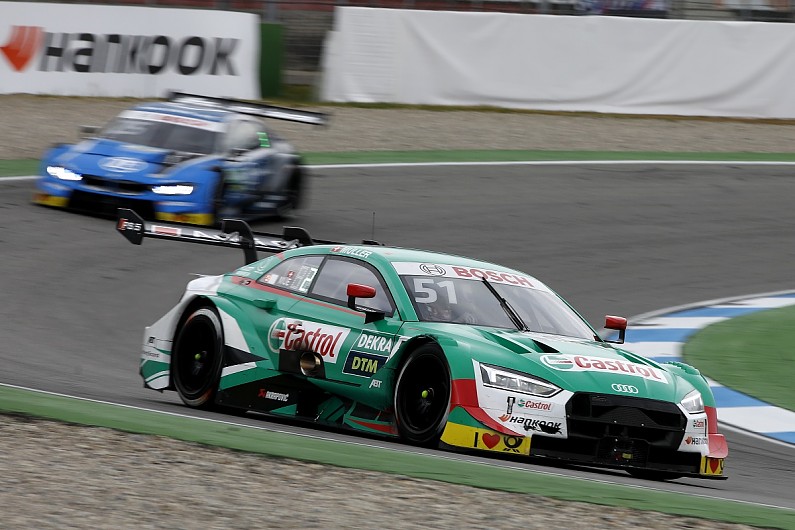 "And I think it's a massive opportunity to be racing against Audi and BMW and the might of the DTM. That's a huge thing for Super GT, and it's going to be fascinating.
"Also, the fact that we have no idea how it's going to go - will the Super GT cars be faster? Will we struggle with the Hankook tyres? It's fascinating. I can't wait."
Button added he will not go to Hockenheim "hell-bent" on winning.
Both SUPER GT and DTM intend for the cars to have parity at Hockenheim and Fuji, with measures such as two one-hour SUPER GT-specific test sessions ahead of the Hockenheim weekend designed to shortcut the learning curve.
"Hockenheim will be DTM's backyard, so Idon't think we go there with too many expectations, and there's still a lot we have to discover about how the cars can run together on track," said Button.
"Then, hopefully, we can come away from Hockenheim having had some fun and gathered some useful data, then we can really have some fun when the DTM comes to our backyard at Fuji in November.
"I know this whole process [of bringing the two series together] has been a huge amount of effort and a lot of work, so it will be fantastic to see it work."
Button will run with the #1 on his Honda NSX and said: "it puts a bigger target on your back - I know that much! But, I've been there before, and it's always a privilege to have that number."