The DTM will take a total of seven cars to Fuji for its joint-race with SUPER GT, with Audi bringing four cars to BMW's three entries.
While Audi and BMW make up 14 of the 18-car grid in 2019, with Audi's six factory RS5 DTMs bolstered by the arrival of two-car customer squad WRT in 2019, logistical costs meant the DTM maintained it would not take more than 10 cars to Fuji.
Ahead of the DTM's Nurburgring round last month, the R-Motorsport Aston Martin squad elected to announce its withdrawal from the Fuji event to focus on the 2020 development of its underpowered Aston Martin Vantage DTM.
The GTA - organisers of SUPER GT - today confirmed four Audis and three BMWs for the "SUPER GT x DTM Dream Race" and one of the Audis will be entered as a WRT-run car.
No further driver or team line-up decisions have been made by Audi or BMW, but Autosport understands both manufacturers will make a call in the coming weeks.
For Audi, DTM champion Rene Rast has signalled his interest in taking part in the race, while the Formula E season opener rules out Nico Muller and Robin Frijns from competing.
Loic Duval's association with SUPER GT, driving in the series between 2006-12, led Audi motorsport boss Dieter Gass to admit the driver is a candidate.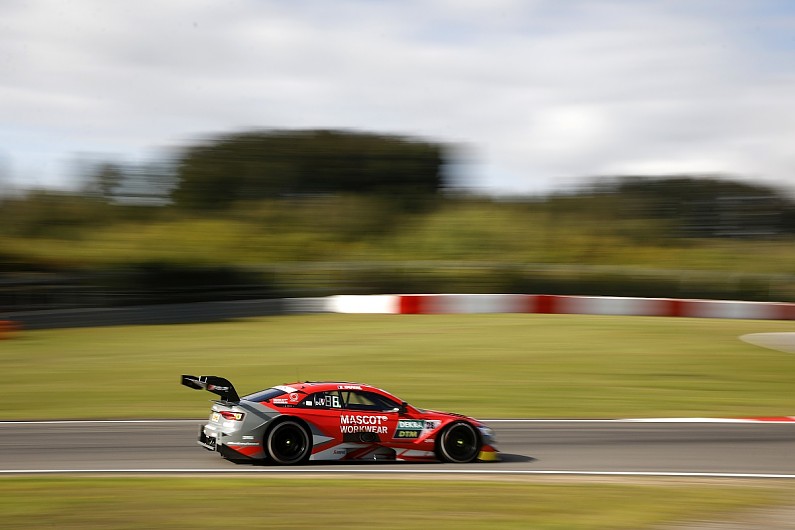 Autosport understands that the event promoter is keen for Audi to run a local driver, and the manufacturer is represented by Hitotsuyama Racing in SUPER GT's GT300 category.
For BMW, its main contender Marco Wittmann would be a natural fit, and has expressed interesting in racing there, as would the high-profile Timo Glock.
Autosport has contacted BMW for the latest on its Fuji driver situation, but BMW motorsport boss Jens Marquardt has repeatedly said the manufacturer would not decide before the end of the season.
The confirmation of the DTM Fuji contingent means that there will be a total of 22 cars across the two series, with the full 15-car GT500 field taking part in the joint-race.
Nissan, Lexus and Honda will first appear at the DTM's Hockenheim season finale, headlined by 2009 Formula 1 world champion Jenson Button (pictured below).
That Hockenheim event will help set the Balance of Performance for the Fuji race and the SUPER GT manufacturers will get two hours of practice on Thursday ahead of the event.
It is hoped that SUPER GT's 2020 regulations, which move it closer to full Class One alignment with the DTM, would mean BoP would not be needed for joint-events next season onwards.
The DTM's yet-to-be-announced 2020 race's date clashing with SUPER GT's Suzuka round on May 29-31 had led to speculation that it would be the venue for a new joint-race, but Autosport understands this is not the case.