BMW's Philipp Eng set the fastest time in Friday practice for Zolder's return to the DTM.
Eng set his best lap inside the first 10 minutes of the second session, beating Rene Rast's best effort from the opening practice as he completed his first flying lap in 1m22.930s.
On his next attempt, Eng lowered the bar again to a 1m22.476s and underlined BMW's one-lap pace it demonstrated in the Hockenheim season opener.
WRT's newcomer Jonathan Aberdein was an impressive second fastest, lapping 0.132 seconds off Eng, and placing his customer Audi ahead of the factory-run machine of Rast.
Rast's morning benchmark of 1m22.941s came in changeable conditions as a shower of rain pre-session dampened the track before a dry line emerged late on.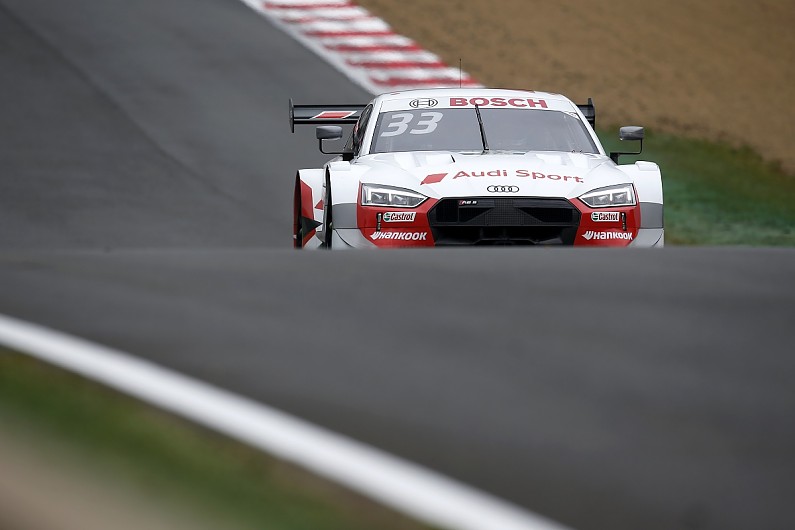 The Audi driver's best time in the second session was a 1m22.581s lap and it put him ahead of Robin Frijns - who lives near the track - and the BMW of Timo Glock.
Glock's team-mate Marco Wittmann, the winner of the Hockenheim opener in wet conditions, was sixth.
Bruno Spengler, Nico Muller, Sheldon Van der Linde and Joel Eriksson rounded out the top 10.
Van der Linde perfectly demonstrated the effect of increased power from the DTM's new engines by briefly going sideways on the exit of the Jacky Ickx chicane in the first session, while Audi's Jamie Green put in an early on-the-limit lap in the second session.
The increased power and torque has placed increased demands on the Hankook tyre.
Green would eventually place 12th behind Audi team-mate Loic Duval and ahead of the second WRT Audi of Pietro Fittipaldi after the Brazilian impressed by taking sixth in the first session.
The R-Motorsport Aston Martins performed well in the mixed conditions of the first session with Jake Dennis posting the eighth best time.
In the second practice, the best Aston time came through Daniel Juncadella for 15th, leading Dennis, Paul di Resta and Ferdinand Habsburg.
The damp running may prove crucial with rain currently forecast for the finale on Sunday.
Practice one times
| Pos | Driver | Team | Car | Time | Gap | Laps |
| --- | --- | --- | --- | --- | --- | --- |
| 1 | Rene Rast | Rosberg | Audi | 1m22.941s | - | 25 |
| 2 | Marco Wittmann | RMG | BMW | 1m23.731s | 0.790s | 28 |
| 3 | Robin Frijns | Abt | Audi | 1m23.754s | 0.813s | 26 |
| 4 | Philipp Eng | RMR | BMW | 1m23.828s | 0.887s | 28 |
| 5 | Jonathan Aberdein | WRT | Audi | 1m23.858s | 0.917s | 25 |
| 6 | Pietro Fittipaldi | WRT | Audi | 1m23.881s | 0.940s | 25 |
| 7 | Nico Muller | Abt | Audi | 1m23.902s | 0.961s | 26 |
| 8 | Jake Dennis | R-Motorsport | Aston Martin | 1m23.974s | 1.033s | 21 |
| 9 | Daniel Juncadella | R-Motorsport | Aston Martin | 1m24.014s | 1.073s | 24 |
| 10 | Loic Duval | Phoenix | Audi | 1m24.160s | 1.219s | 23 |
| 11 | Sheldon van der Linde | RBM | BMW | 1m24.174s | 1.233s | 28 |
| 12 | Jamie Green | Rosberg | Audi | 1m24.191s | 1.250s | 23 |
| 13 | Bruno Spengler | RMG | BMW | 1m24.245s | 1.304s | 28 |
| 14 | Mike Rockenfeller | Phoenix | Audi | 1m24.351s | 1.410s | 24 |
| 15 | Paul Di Resta | R-Motorsport | Aston Martin | 1m24.447s | 1.506s | 25 |
| 16 | Timo Glock | RMR | BMW | 1m24.570s | 1.629s | 28 |
| 17 | Joel Eriksson | RBM | BMW | 1m24.575s | 1.634s | 25 |
| 18 | Ferdinand Habsburg | R-Motorsport | Aston Martin | 1m25.233s | 2.292s | 19 |
Practice two times
| Pos | Driver | Team | Car | Time | Gap | Laps |
| --- | --- | --- | --- | --- | --- | --- |
| 1 | Philipp Eng | RMR | BMW | 1m22.476s | - | 16 |
| 2 | Jonathan Aberdein | WRT | Audi | 1m22.515s | 0.039s | 18 |
| 3 | Rene Rast | Rosberg | Audi | 1m22.581s | 0.105s | 19 |
| 4 | Robin Frijns | Abt | Audi | 1m22.641s | 0.165s | 16 |
| 5 | Timo Glock | RMR | BMW | 1m22.729s | 0.253s | 14 |
| 6 | Marco Wittmann | RMG | BMW | 1m22.758s | 0.282s | 13 |
| 7 | Bruno Spengler | RMG | BMW | 1m22.817s | 0.341s | 16 |
| 8 | Nico Muller | Abt | Audi | 1m22.893s | 0.417s | 17 |
| 9 | Sheldon van der Linde | RBM | BMW | 1m22.981s | 0.505s | 15 |
| 10 | Joel Eriksson | RBM | BMW | 1m23.084s | 0.608s | 17 |
| 11 | Loic Duval | Phoenix | Audi | 1m23.290s | 0.814s | 22 |
| 12 | Jamie Green | Rosberg | Audi | 1m23.355s | 0.879s | 16 |
| 13 | Pietro Fittipaldi | WRT | Audi | 1m23.363s | 0.887s | 20 |
| 14 | Mike Rockenfeller | Phoenix | Audi | 1m23.643s | 1.167s | 21 |
| 15 | Daniel Juncadella | R-Motorsport | Aston Martin | 1m23.723s | 1.247s | 17 |
| 16 | Jake Dennis | R-Motorsport | Aston Martin | 1m23.739s | 1.263s | 16 |
| 17 | Paul Di Resta | R-Motorsport | Aston Martin | 1m23.939s | 1.463s | 19 |
| 18 | Ferdinand Habsburg | R-Motorsport | Aston Martin | 1m25.830s | 3.354s | 13 |