BMW will have to analyse its lack of DTM race pace if it is to mount a challenge to Audi for the rest of the season, according to Philipp Eng.
Eng faded to fourth in Sunday's second race of the opening round at Hockenheim after setting a stunning pole position lap.
BMW struggled far worse than Audi to keep its tyres alive over a race stint at Hockenheim, which was the first race weekend for the new, more powerful turbocharged cars.
As well as Eng, Saturday race winner Marco Wittmann - whose victory came in wet conditions - could not keep pace with the Audis in the dry, although his eighth place preserved his championship lead.
"Yes [it was a struggle], especially in the last five or six laps of the race and also the first stint," Eng told Autosport.
"I think our friends from Ingolstadt [Audi] are still a little bit stronger than us, but I have a lot of trust in our guys - they can fix this for the next event.
"I think it was clear to see even from the outside that they had a pace advantage over us in the last phase of the race, so we need to analyse exactly what happened.
"But it's a one-make tyre, so you have to make the most out of it."
Team RMR driver Eng added that tyre degradation is something he personally struggled with in 2018 with the older V8 machinery - the phenomenon is now even more important with the torquey turbo cars, especially as Hankook has not beefed up its control rubber.
"We did a lot of work over the winter on degradation, especially on my crew because with my personal group I was struggling with this last year," said Eng.
"And we made very good progress - I just need to trust my guys to tell me what I need to do and we can find a way to get around this problem."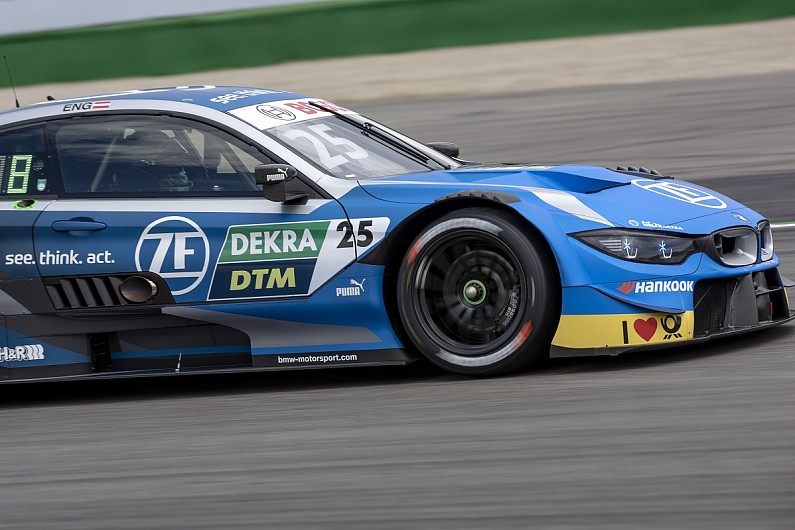 Eng was happy with his pole position lap, which obliterated fellow front-row starter Wittmann's time by 0.416 seconds, and was 0.740s quicker than the best Audi.
"Especially in this field, with this not only quantity but also quality of drivers, you can never expect to be on pole," said the Austrian.
"When I went over the line today I said, 'OK, this is a good lap.'
"It just all came together - I had the tyre there in the right moment, I had the pressures there in the right moment, and off you go.
"I was really happy with the performance there.
"But if I've learned one thing in DTM, I've learned that it's unpredictable, so you're only as good as your last race and your last qualifying, and I think you also have to carry this mindset over into the next events and execute the job like we did today."