Audi expects newcomers Loic Duval and Rene Rast to slot into the DTM seamlessly from sportscar racing in 2017.
Duval and Rast have switched programmes within Audi, Duval finding a new home after the firm's LMP1 programme was shut down and Rast moving into touring cars having focused on GT competition but also raced prototypes.
The DTM's end-of-year test at Jerez was Duval's first taste of Audi's DTM racer, while Rast made three starts in the second half of the 2016 season, deputising for Adrien Tambay at Zandvoort and then Mattias Ekstrom in the Hockenheim finale.
His sixth place in the Saturday race at the latter event was among the performances that impressed Audi DTM boss Dieter Gass, who has since taken overall charge of the manufacturer's motorsport division.
"Not only by delivering a strong race in the finale at Hockenheim, Rene has shown that he's also going to be in contention at the very front in the DTM," Gass said.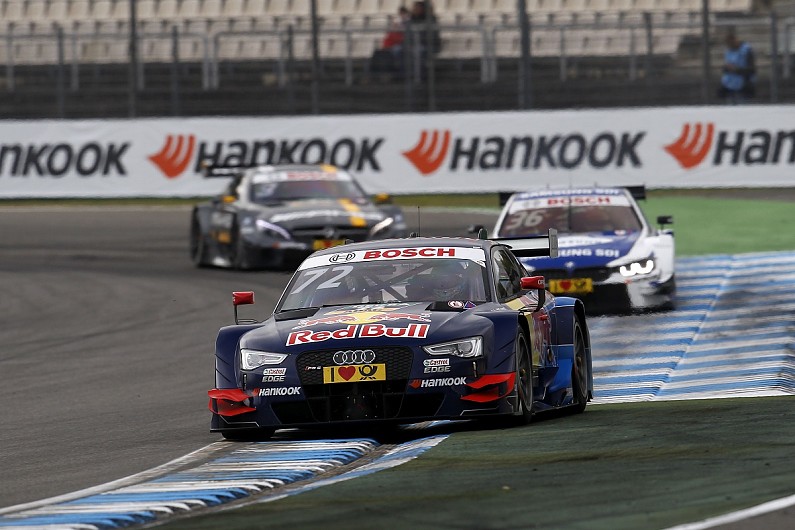 "And in Loic, we've integrated one of our best drivers from the Le Mans programme into our DTM squad.
"I'm convinced that we're in a top position with our driver line-up for the 2017 season and have six strong characters in our team.
With each DTM manufacturer cutting back from fielding eight cars to six in 2017, Duval and Rast have effectively replaced Tambay and 2016 race winner Miguel Molina in the Audi ranks, with Edoardo Mortara heading to Mercedes and Timo Scheider retiring.
Past DTM champions Ekstrom and Mike Rockenfeller are staying on with Audi, along with regular frontrunner Jamie Green and Nico Muller, who won his first race in 2016 at the Norisring.
Audi believes the experience of Ekstrom, Rockenfeller and Green - who have 432 DTM starts between them - will help with the move to all-new cars in 2017.
"In Mattias and Mike, we have two DTM champions on board who in my book will be among the favourites, not least due to the new rules and tyres," Gass said.
"Jamie, no doubt, is one of the strongest campaigners in the DTM.
"Nico convinced us with consistently good performances and his first DTM victory last season."