Finally, BMW's Timo Glock had done enough. Having eventually seen off the seemingly never-ending and thrilling battle with Mercedes driver Gary Paffett in the Hockenheim finale, Glock had 17 corners of the near three-mile track to compose himself and decide how to mark his fifth DTM victory.
He chose: "The best fucking racing. Fucking hell, Mercedes, this is why you should not leave this championship, you fucking idiots."
Much to the chagrin of the DTM officials watching, that message was broadcast on every circuit TV and across the world.
And that sentiment didn't dissipate afterwards, with Glock making a point of telling Autosport that he "needed" to get that message out to Formula E-bound Mercedes.
"This is DTM and this is what it is all about," he said. "This is the racing we wanted to show and finally we managed it, and it's the wrong time to pull out. That's my personal view and I can say this on the radio any way I want."
As the DTM paddock was disassembled on Sunday, one line was repeated in virtually every interview: "DTM was the real winner of that race." A nauseating phrase, and anyway Glock's outburst had underlined that it wasn't really the case.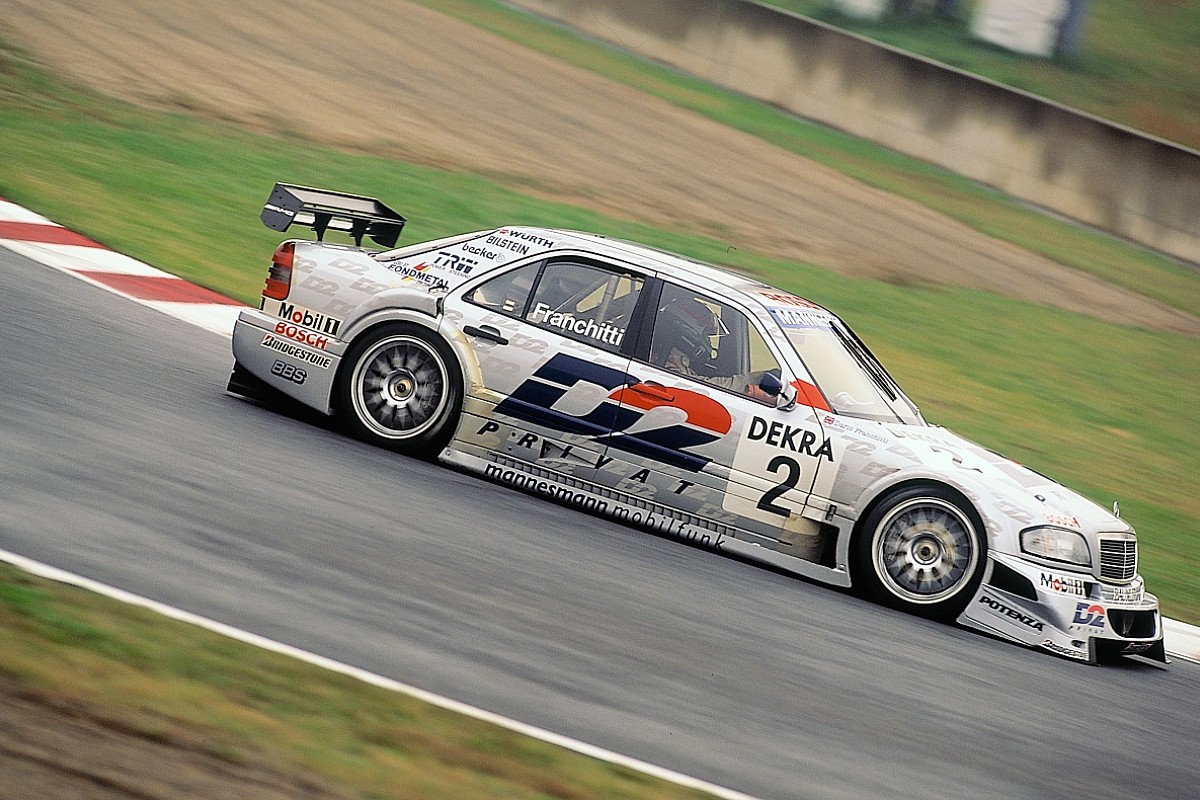 Back in 1996, the first DTM era ended with a bang: a wild wet/dry Interlagos weekend and Dario Franchitti's ninth-to-first charge at Suzuka were a thrilling way for Class 1's first incarnation - by then the International Touring Car Championship - to bow out.
But those epic races didn't save the ITC/DTM. Alfa Romeo and Opel's simultanenous exits left Mercedes as last-man-standing and unable to prop up the series on its own. All last-gasp rescue hopes failed, and Super Touring swept into the hole left in German motorsport - briefly, until the current 'DTM mark two' was born for 2000.
"It's the wrong time to pull out. That's my personal view and I can say this on the radio any way I want" Timo Glock
Glock joked that he hoped his appeal would win over Mercedes' Stuttgart hierarchy and reverse its decision to exit the DTM for FE at the end of 2018. Mercedes DTM boss Ulrich Fritz was quick to stress how unlikely that was.
That's devastating for the DTM as, under the guidance of Gerhard Berger, now chairman of organising body ITR, it has started to correct its recently wayward course. That was proven at Hockenheim, to the point that Mattias Ekstrom wondered out loud how much better the series' health would have been had Berger arrived earlier than 2017.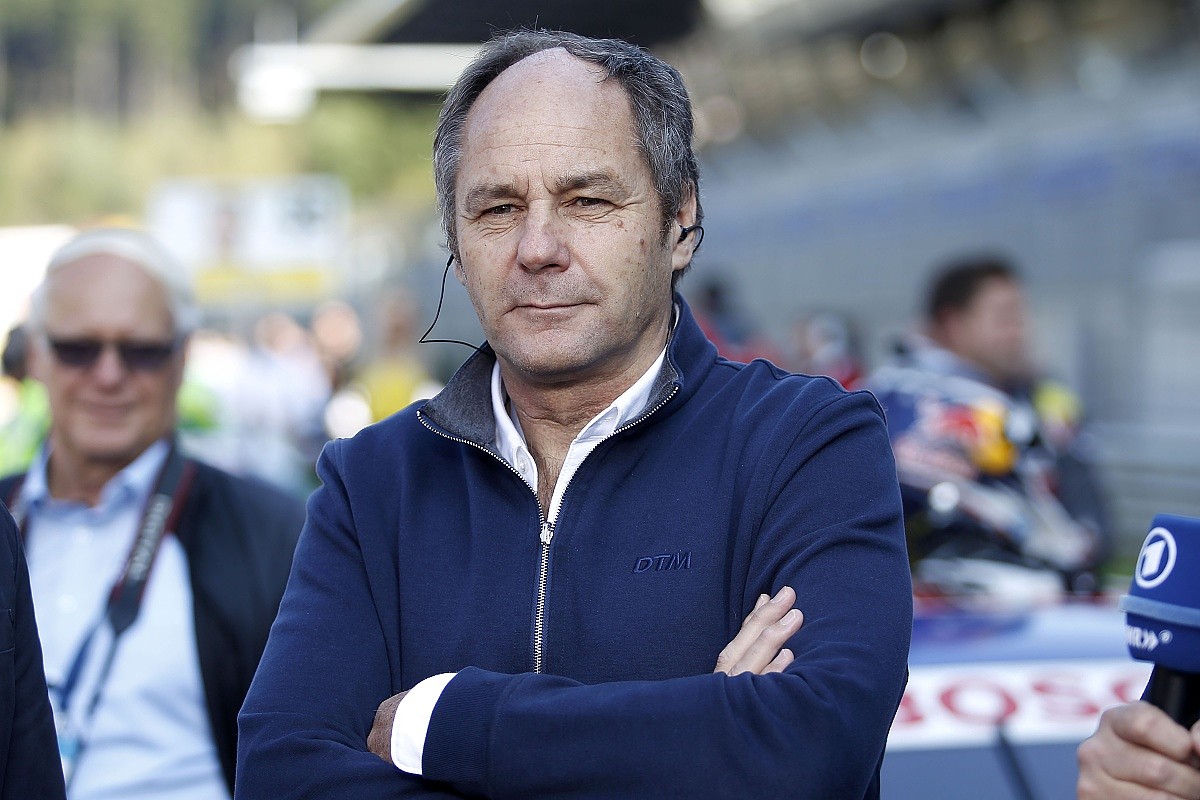 The DTM made big steps over the off-season, signing a television deal with SAT.1 that put it partially behind a paywall, but professionalised its output with the broadcaster giving an hour of pre and post-race analysis. It was clearly a hit - the DTM is understood to be delighted with what it recorded as a 10% market share, the percentage of the audience that was watching TV at the time in Germany that weekend.
It was disappointed slightly by the at-track attendance, but justified it as the impact of Formula 1's return to Germany making fans decide where to spend their money. The DTM isn't resting there either - Autosport understands that the series is planning fan initiatives at Brands Hatch and Misano this year to boost attendance there.
The off-track work means that all the success of Hockenheim was still drowned out by the question of how to replace Mercedes, even though the German Grand Prix circuit provided what will be remembered as one of the DTM's greatest-ever races.
Aided by new regulations that introduced a common aerodynamic package, which has reduced 30% of the total downforce, the racing instantly improved. The knock-on effect of less downforce made tyre management all the more essential and meant the end of the tedious first-lap pitstops and tyre-nursing in hopes of a good result.
Visually, it is more dramatic, with sensitivity increased the cars clearly require more steering input as the Audis, Mercedes and BMWs slid across Hockenheim's most challenging corners as they searched for maximum grip.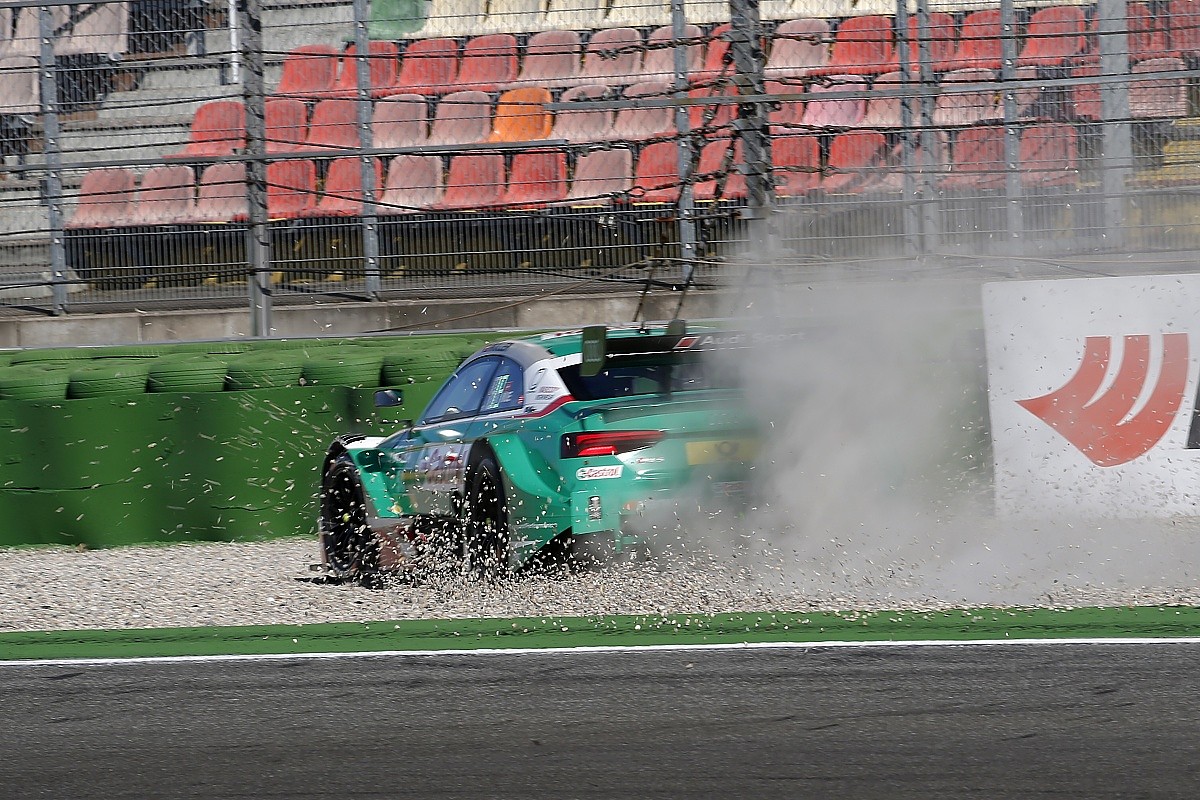 Even the competitive order has changed. Audi's sizeable expenditure on creating a DTM-leading aerodynamic package that visually rivalled some of F1's most intricate designs was forced out by the new rules.
Off-season rumblings from Ingolstadt suggested Audi was concerned it would be on the back foot, and those fears were confirmed when its defending champion Rene Rast had a wild run to ninth, including a small airborne jump after clattering the kerbs, in the first race.
He may have qualified second on Sunday, but that came at the expense of new tyres and Audi had to use Jamie Green's fuel rig after Rast's own failed.
With that disadvantage, it was no surprise to see Rast fall down the order to seventh. While the reasons were clear, Audi was at a total loss to explain how Mike Rockenfeller took second and Loic Duval ended the weekend in fifth.
What was more clear was that the overall battle was close, with Mercedes and BMW going head-to-head through Glock and Paffett.
But it was tinged with politics. Paffett stormed clear in a dominant win from pole in the opening race, leading Mercedes boss Fritz to declare it a "statement" of his marque's commitment to the DTM in its last year that was good enough to stop "messages" from outside suggesting otherwise.
Glock's radio rant after winning the final race further compounded the currently inescapable fact of the DTM: the future is uncertain.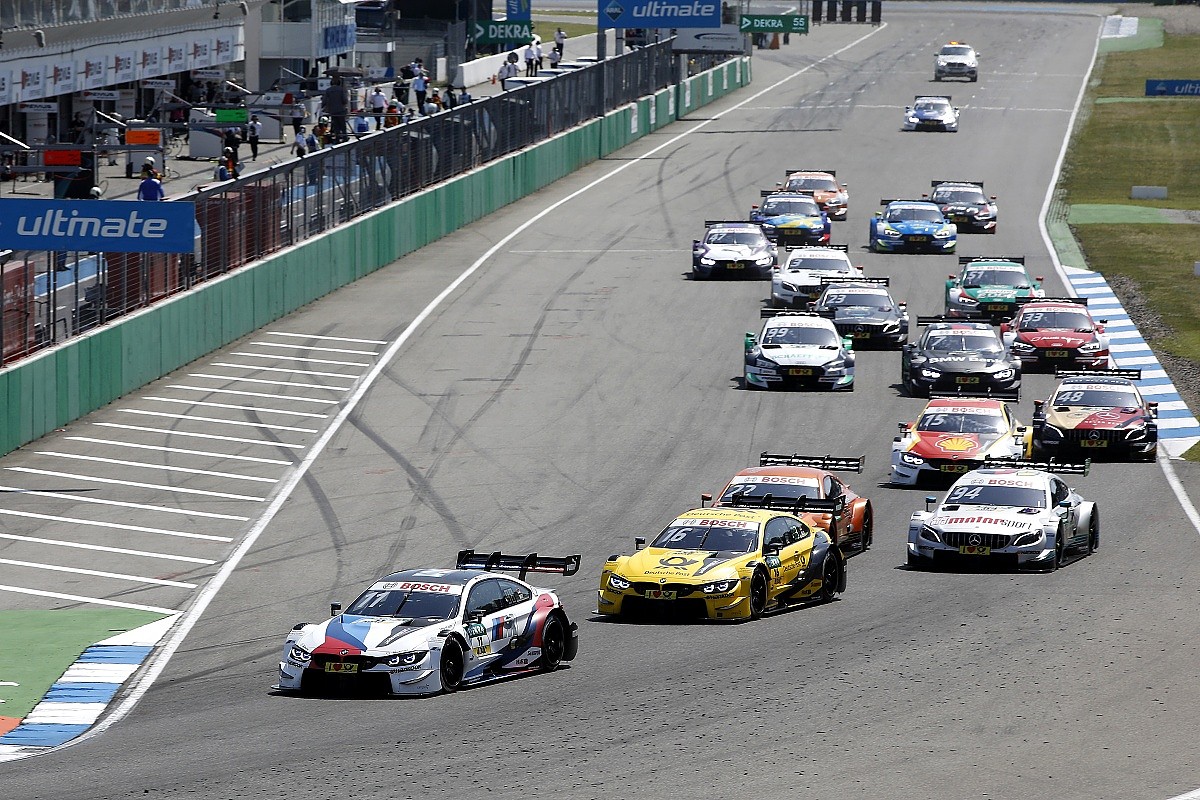 So while the racing is now on the up, as is the supporting TV coverage and proper infrastructure led by Berger, it does not solve the problem of the elusive future third manufacturer.
Berger cannot believe that a Mercedes replacement has proved to be so difficult to secure. His belief in the series' strength is not delusion either - BMW is adamant that since it returned to the DTM in 2012, costs have been slashed. It estimates there was a 40% reduction that helped facilitate its return and that costs have since been slashed by another 30-40%. Paddock sources reckon that the series now costs marginally more than a GT3 programme. Considering the sportscar category's popularity, that is deeply impressive.
But it has still left the DTM with what Berger admits is a nervy two months ahead, as it seeks a Mercedes replacement for 2019. A bridging two-marque year has not been ruled out by Audi or BMW, but that would invite further worrying over future viability.
"It's the next eight weeks where things have to become a bit more clear, but again, we have a very strong TV number for the first time in a while," says Berger. "I really cannot believe, it cannot be that the Mercedes decision stops this platform from working."
Audi has said it would happily prove the costs to a new third manufacturer and Berger admitted he has held deep conversations with Volkswagen Group but that it will not bring a new name to the series. Talk of an approach to Kia is understood to be wide of the mark, but Berger added that he has spoken to just about every other internationally recognised OEM.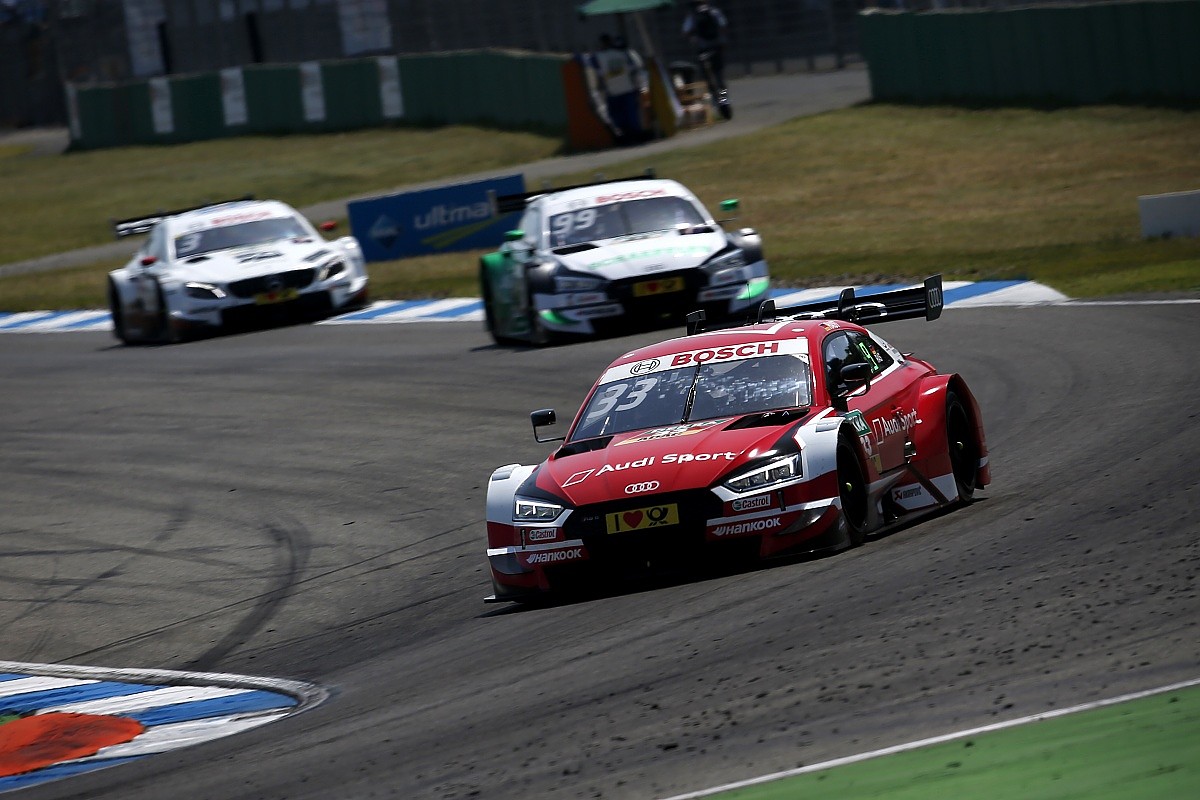 But the DTM cannot take its eye too far off its own paddock either, as Autosport now understands that Audi has set a deadline of mid-June to assess where it stands with the series.
BMW would not be drawn on deadlines but says it needs to know the direction as soon as possible. It let slip that that the future direction was increasingly likely to be the much-mooted 'Class One' regulations to tie the DTM together with Japan's Super GT. But it's no surprise that many reckon that the DTM will struggle to attract any manufacturers while the regulations are yet to be defined.
"I cannot believe this great platform is not attracting other manufacturers" Gerhard Berger
"I think at the moment the focus needs to be to get everything properly established so that potential newcomers really know what they get themselves into," says BMW DTM boss Jens Marquardt.
"Number one in that direction is the regulations, to really finalise them and communicate them with Super GT. I think we are that close towards that.
"That's the next step and then push on together to get a set-up for next year on the road. Somewhere during the year, decisions need to be made."
That brings us to a potential plan B, a phrase Berger does not like. He refuses to allow a GTE-style platform to be the back-up. Instead, he says the "must" for the DTM is the return of the privateers.
While Mercedes dashed hopes that its HWA team could remain as a privateer, both Audi and BMW have indicated a willingness to back such a scheme. Audi caveated that it would not be in support of customer racing, but that the system now exists where a privateer can be successful.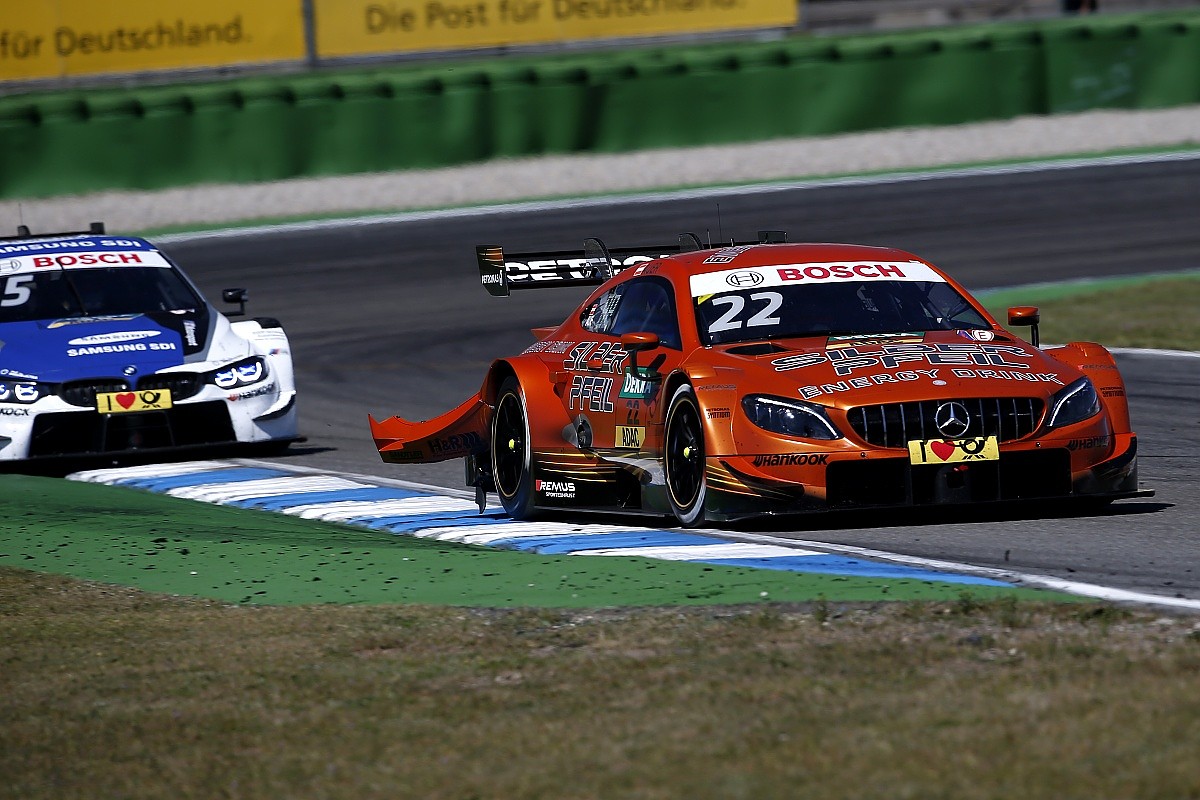 "If you are just three big manufacturers, you need independent teams," says Berger. "You need this 'David versus Goliath', that is what fans like to see. I think we have the technical base for professional private teams to succeed and make a good result."
It's clear this has been considered given that Berger, Audi motorsport boss Dieter Gass and Marquardt all used the phrase "David versus Goliath" in interviews over the weekend at Hockenheim.
"I think it would need to be looked into for next year," says Gass. "There are only two manufacturers so we need to improve the grid and it could be privateers. If you look at the cost concept, it has become increasingly interesting over the past years - we have really significantly reduced the costs. Running a private team with up-to-date material is achievable these days and it could be interesting."
But star appeal such as Mercedes offers is still an important aspect. That's led the DTM to consider the way it presents itself. Berger took note of the criticism that the DTM is "too German" and reacted with a night race at Misano in Italy, a return to racing in Britain at Brands Hatch and a calendar that is half-German, half-European.
"I cannot believe with this great platform it is not attracting the other manufacturers," Berger says. "It is very difficult to say. For some it is political and for some it is too German. There are different issues, but I still believe somebody would have a great platform [if it joined].
"We want to be more international. OK, we respect the German fans, there is a big fan community. We respect them and 50% of the races we do in Germany and we do 50% outside. What are the most important? Europe, Britain and Italy. OK, we have Austria and Hungary but neither is important for us as a motorsport country and we are there. Now we need to make it work there.
"Another big help would be to have a European manufacturer, it would be fantastic if it was German but it would be at least as fantastic to have a European [manufacturer] as a sign of a good direction."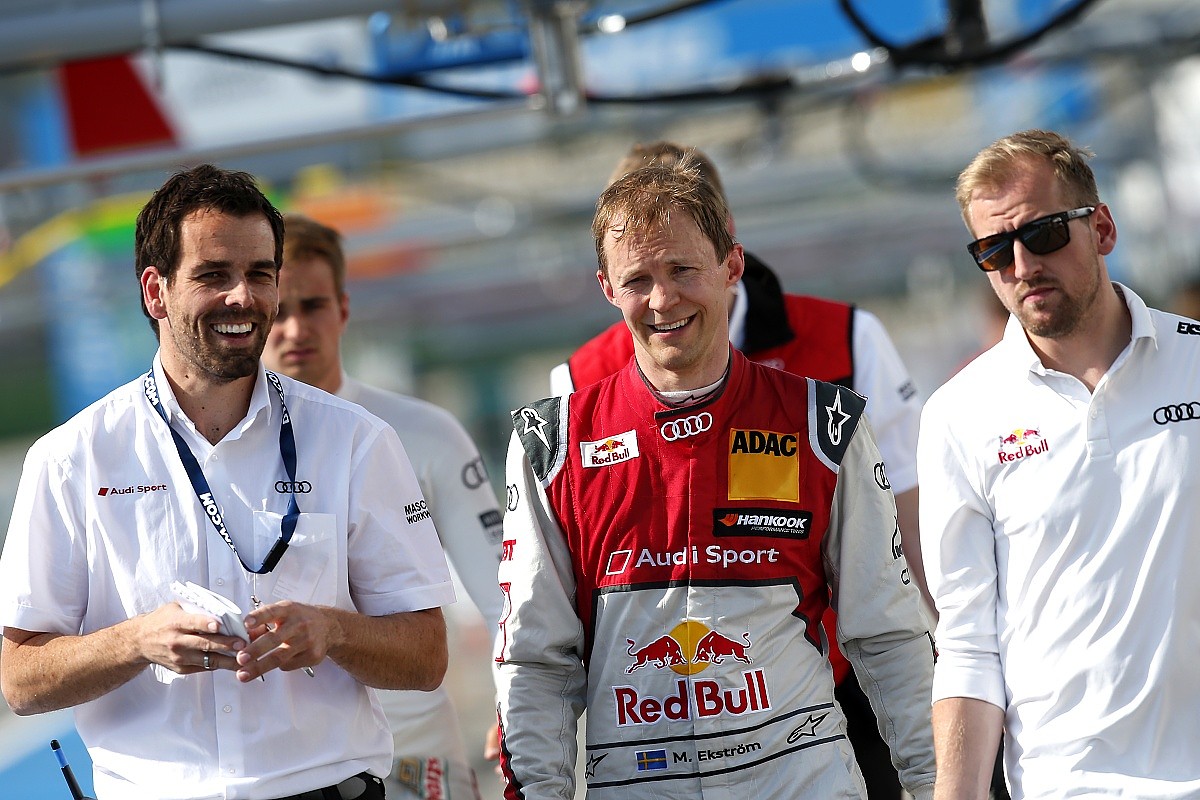 But for 2018 it will make do with just the three current manufacturers. The DTM era is changing and it took a big step in that new direction with Audi's farewell for its double champion Ekstrom.
Audi's most successful driver in the series has now left to concentrate on his own Audi-backed World Rallycross programme. Sitting in Audi's hospitality at Hockenheim, he took the time to consider the current state of the DTM.
"I think it is difficult to see in my world, Mattias Ekstrom's world, how DTM can go so far without Mercedes. In my opinion, DTM in the beginning, it was Mercedes. I struggle to see a DTM, without Mercedes, getting to the same standing."
Central to the DTM's relaunch in 2000 (pictured below) having been core to its previous incarnation, Mercedes ensured its presence will not be forgotten with "30 years of DTM" branding emblazoned at Hockenheim.
But the "struggle", as Ekstrom puts it, continues for the ITR and Berger.
In a year that looks as though it could be one of the most thrilling in recent memory on track, it is a true shame that concerns over the series' whole future linger over the DTM. Glock's outburst is a reminder of just what's at stake.