As far as dramatic thrillers set in Teutonic Europe with a strong element of 'noir' are concerned, the DTM this year was a case not of The Third Man, but instead The Third Manufacturer.
When the sinister black BMW of Bruno Spengler crossed the line to win the Hockenheim season finale and clinch an improbable title success, it completed a thrilling turnaround that even Orson Welles would have been hard pressed to match.
BMW's return to the DTM, joining Mercedes and Audi after a two-decade absence, was pure box office as Spengler pulled back a 40-point deficit to Gary Paffett to become champion, the Canadian finding form as his rival regularly saw points go south through no fault of his own.
HOW IT WAS WON
The writing was on the wall when Dirk Werner qualified third at Hockenheim in April. BMW had arrived (well, returned after 20 years away) and was bang on the pace.
Forget the fact that Werner and his Schnitzer team-mate Spengler were taken out of the race in one hit - two actually - by Ralf Schumacher. The pace was there, with only a bad start (Werner) and a Q2 suspension failure (Spengler) making the pair vulnerable in the midfield.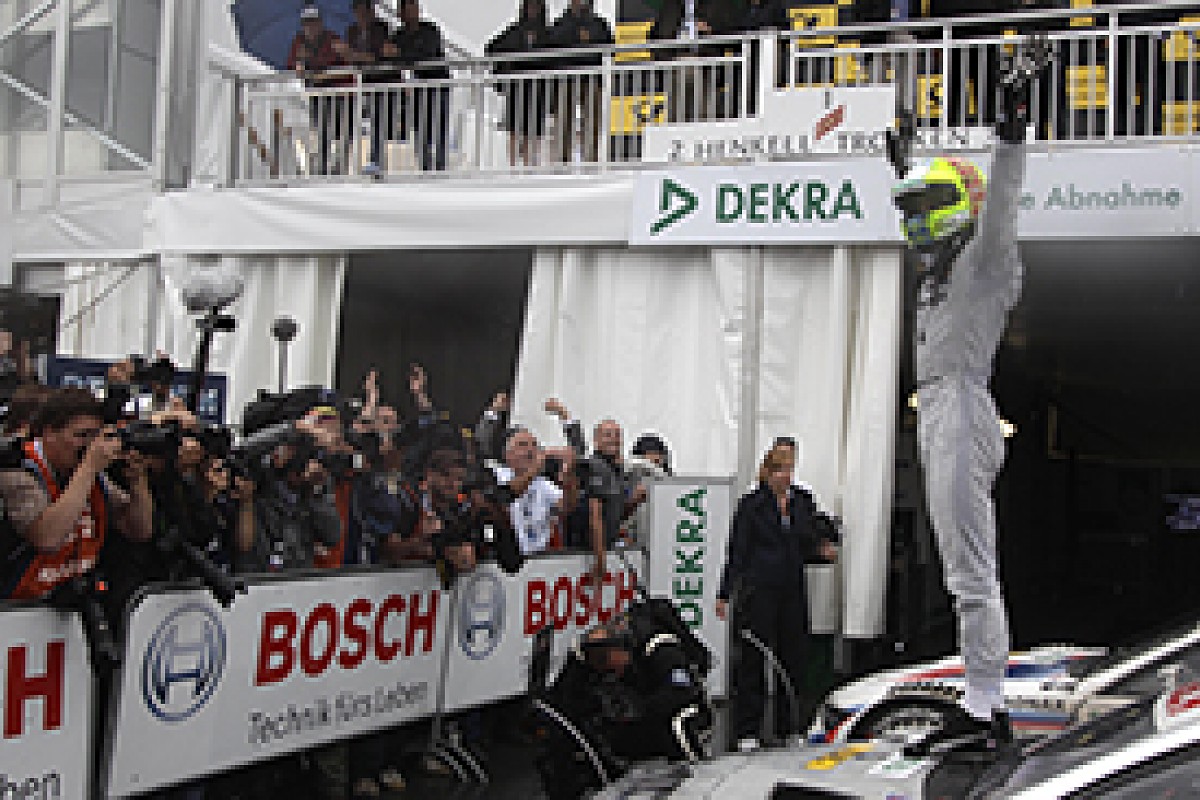 Green took a dramatic last-gasp victory at the Norisring © LAT
Six days later Spengler was on pole at Lausitz, with Augusto Farfus's RBM BMW directly behind him. Yes, Paffett virtually pushed him over the line on raceday, but the deed was done; in only its second race back BMW had won - and recorded its 50th DTM win in the process.
The closeness in competition between Spengler and Paffett that day set the tone for the season as a similar scenario unfolded at Oschersleben and the Hockenheim finale. With Spengler's car set up for performance during the early laps of a stint, allowing its driver to open up a few seconds' advantage early on, the Canadian was more or less protected when it came to pitstop time during those three races.
Paffett's final stints often brought him onto the tail of the M3, by which time he usually encountered a firm, yet fair, defence.
Paffett could easily have been champion. Two wins and two other podiums from the first four races giving the Mercedes man a huge lead in the points.
But then things started to go wrong. Non-performances by the C-coupes at the Nurburgring and Valencia cost him big points, as did the fact that in the Spanish event Spengler's probable ninth place became sixth after unreliability (and a bit of argy-bargy) moved three Audis out of his way.
Add in a probable Norisring win and Zandvoort podium turning into fourth and seventh places, and a swing of 30-plus points towards Spengler emerges.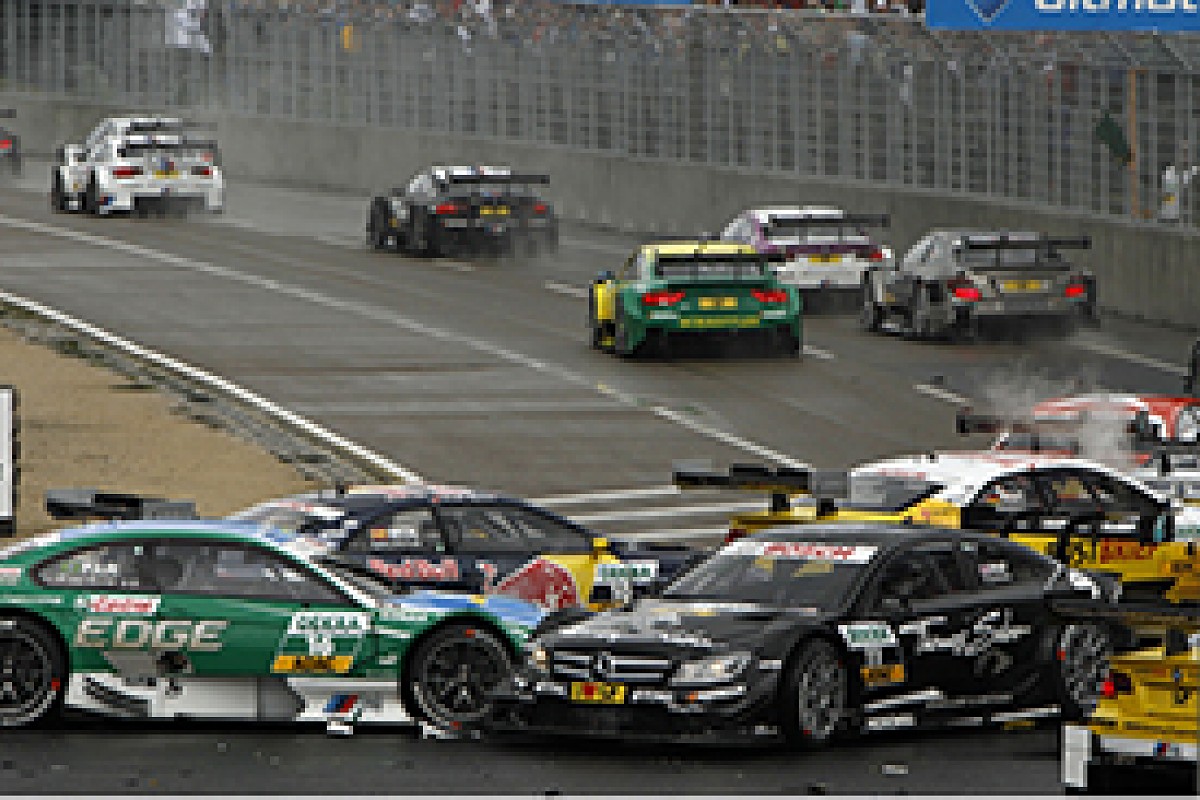 Paffett was spun out of the lead at the start of the Norisring race, but recovered
STANDOUT PERFORMERS
Edoardo Mortara stopped making the rookie errors of 2011 and was easily Audi's top performer (albeit not its top points scorer thanks to a couple of mechanical problems), as Team Rosberg made the most of having equal machinery to the marque's powerhouse squad Abt Sportsline to perform strongly.
Augusto Farfus and Robert Wickens were the outstanding rookies, the Brazilian capitalising on the constantly-improving BMW to end the year with back-to-back poles and a win at Valencia. Wickens, trapped in that hole of no return that can be life in one of Mercedes' second-string teams, delivered three points finishes mid-season and would have added another had he not suffered a total loss of drive with a handful of laps left at Lausitz in May.
SOMETHING TO REMEMBER
Mortara was magnificent at Zandvoort, which vied with the Norisring as the standout race. Taking seconds a lap out of leader Mike Rockenfeller when brief mid-race rain came, he stole a victory that was simply remarkable.
Paffett's sterling fightback at the Norisring, after a first-corner chain reaction sent him spinning to the back, was outstanding, and his team-mate Jamie Green was pretty good himself late on, passing Spengler and Martin Tomcyzk in the last lap and a half to win.
The Englishman was even better in race trim at Zandvoort and made a couple of ballsy passes early on. But he was denied a chance to win by a pair of botched HWA tyre changes.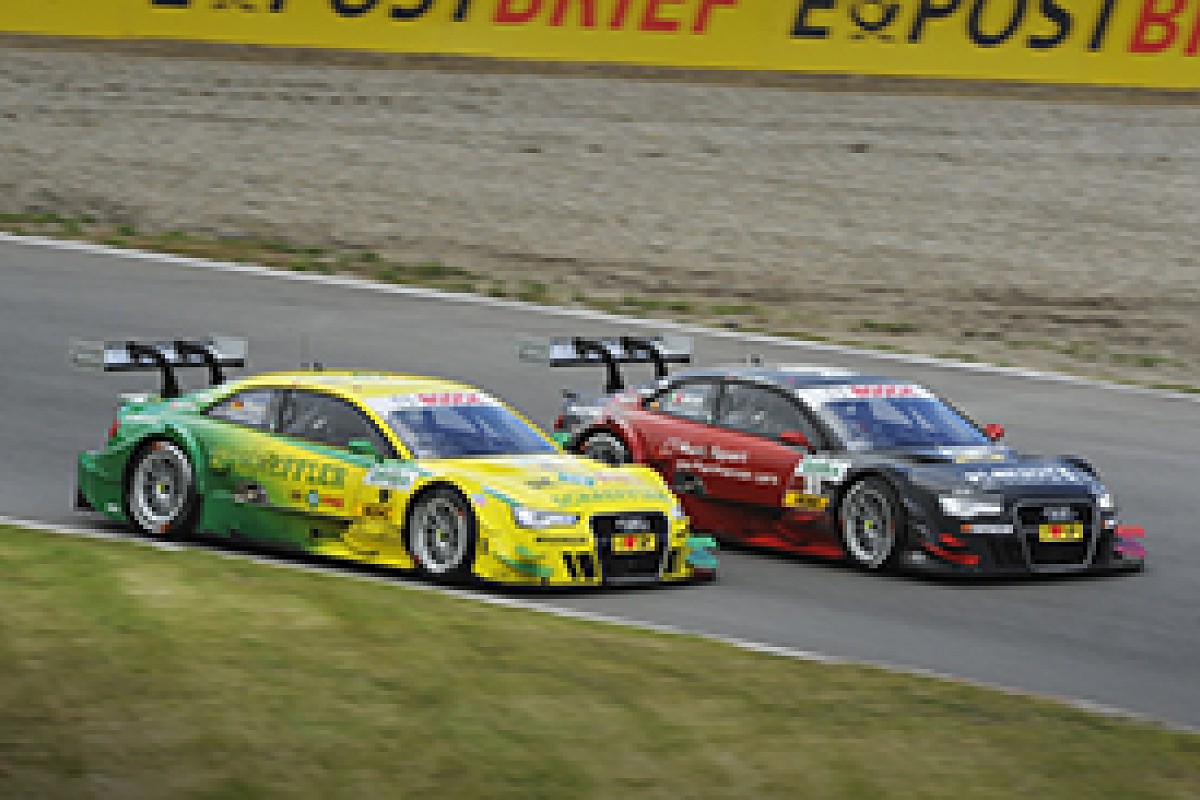 Mortara dices with Rockenfeller for the lead at Zandvoort. He won, too © LAT
SOMETHING TO FORGET
Mercedes' poor performance at Valencia hurt its drivers', teams' and manufacturers' title hopes, and was devoid of an explanation too. Worse was Ralf Schumacher's horrible practice pitlane incident at Zandvoort, in which four of Paffett's crew members received injuries of varying levels.
At Audi, Timo Scheider had an awful season, his first four qualifying sessions beset by problems that left him going nowhere and his one highpoint - pole at Zandvoort - turning sour when a leaky valve caused his handbrake to stay on as the lights went out.
ANY OTHER BUSINESS
The switch to 'new-generation' machinery, revolving around more than 50 spec components (including the carbonfibre tub) produced better racing than that seen over the past couple of seasons (the borefests at Nurburgring and Oschersleben excepted). Long may it continue.
WHERE NEXT?
Moscow Raceway, as the series expands outside its regular horizons in favour of new marketing opportunities. Two more BMWs, run by Ernest Knoors' new MTEK squad, will join the grid, while David Coulthard and Susie Wolff have left the DTM. Not before time, the non-points stadium event in Munich has been canned.