WSR BMW British Touring Car Championship team principal Dick Bennetts says his driver Andrew Jordan broke team rules when battling with Colin Turkington at Silverstone.
Points leader Turkington was drawn 10th for the partially reversed race three grid, six places down on the BMW 330i M Sport of Jordan - but caught his team-mate in the rainy conditions.
The duo spent three laps battling for position, twice making contact and with Turkington taking to the grass at Luffield after the two drivers ran off circuit together.
Bennetts said his drivers had a clear expectation to always let a faster team-mate overtake without challenging - irrespective of both fighting for the drivers' championship. Bennetts told Autosport: "I need to have a word to one of the drivers [Jordan].
"The way I look at it was Col caught AJ pretty quickly.
"The rule is when someone catches you quickly, you don't hold them up. They know the rules.
"The pressure is on: AJ wants to beat Col, Col wants to beat AJ. But if one team member catches the other quickly, you don't hold them up.
"If that car doesn't finish or if they both don't finish then it looks bad for BMW. If they fight with each other, others will take advantage."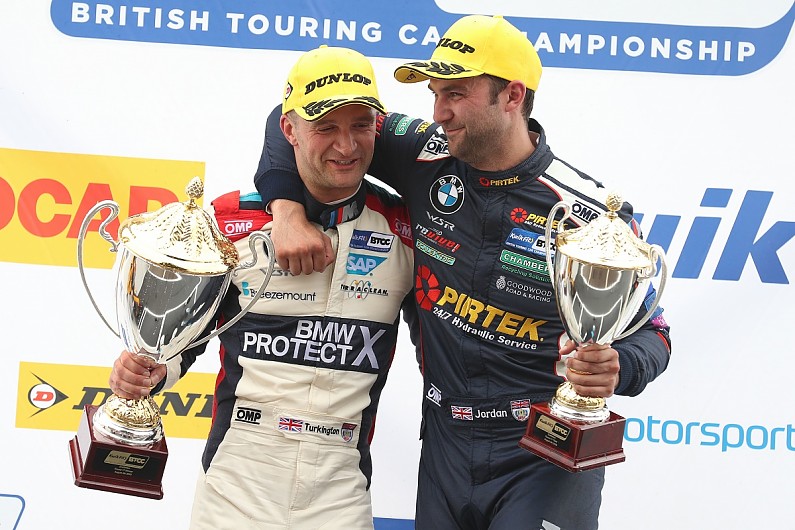 Jordan blamed his set-up being too stiff for his lack of wet-weather pace, and he finished eighth - one place below Turkington.
Jordan lost second place in the standings to Dan Cammish over the weekend, and the two had clashed under a safety car, which Cammish called a "farce".
"It was too close [between me and Jordan] at times," Turkington said.
"You would think he was dead cert on not letting me past and we were both off the road a few times.
"There's a lot at stake, the pressure is on."
But Jordan, who is unlikely to remain in the BTCC in 2020 after the withdrawal of title sponsor Pirtek, defended the fight.
The 2013 series champion told Autosport that he had to fight Turkington for both the championship and for pride.
"I didn't take him out, we were racing hard," he said.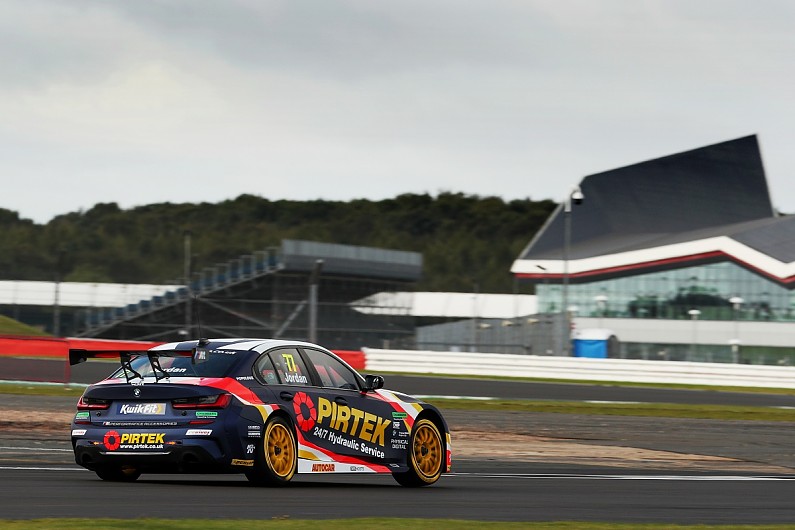 "We were both had a bit of contact, rubs, but we're professionals and we sorted it out.
"It's always going to get a bit niggly - we're fighting for a championship. That's the nature of it.
"I respect Colin and he respects me, but we both want to beat each other."
Jordan's title challenge took an early blow after a shunt at Donington Park, which left him hospitalised and forced to sit out the final two races of the meeting.
"I have been on catch up all year, I'm not just going to roll over and let [Turkington] have points willy nilly.
"I couldn't get out of that car after race three [at Silverstone] and hold my head high if I had just let him past.
"With 2020 [BTCC return] looking very unlikely, I can be and have to be a bit more selfish with my approach to the finale."