Last year wasn't a great one for rallycross - with one series collapsing and the flagship world championship under pressure after manufacturer walkouts. The discipline faces challenges everywhere, but one driver believes he has a solution, as DOMINIK WILDE explains
In early 2018 the US's premier RX series, Global Rallycross, shut down and was later effectively replaced by Americas Rallycross, while the World Rallycross Championship season ended with a mass exodus of manufacturer entrants. The 2018 season was undoubtedly a tumultuous one for rallycross.
But away from those series, Nitro Rallycross - devised by sometime GRC driver Travis Pastrana - made its debut in September. The one-off event was part of the wider Nitro World Games action-sports competition, and attracted drivers from both the US and World championships. It was inspired by the old X Games rally-car racing and rallycross events that ultimately led to the creation of GRC.
"Being friends with Ken Block and Tanner Foust, we all love rallying. We all love going out in the woods but US rallying is not a way to make a living, it's what you do to basically go and have fun," says Pastrana.
"Unfortunately, when we go to race it's always parking-lot races - or even Circuit of the Americas [Austin], where they have this amazing facility and then the rallycross is a complete afterthought.
"When we were hearing rumours [of GRC's demise], I said, 'Let's try and get something out'. We had planned on doing it [Nitro RX] next year [in 2019] to give us a bit of time to figure out what was going on, and a lot of the manufacturers said, 'If you do it this year...'"
The first Nitro RX event - which was won by works Peugeot World RX driver Timmy Hansen - took place on a new, purpose-built course at the Utah Motorsports Campus (formerly Miller Motorsports Park), and attracted big names from the world of rallycross, including Hansen, double DTM champion Mattias Ekstrom and former World Rally star Chris Atkinson. The track was designed by Pastrana just for the event, and featured multiple layouts - allowing drivers to pick their own ideal route each lap.
"What was neat was the mile and a half course, where you can see where each car kind of shines on its different spot," adds Pastrana.
"The Volkswagens are taking the insides which are literally 100 yards from the outside berms; the Subarus, because they're bigger cars, take berms; Timmy didn't even take the jump in the qualifying lap so he took three extra turns, a different table top, a different berm, and there was four of us within a tenth of a second.
"The course we built wasn't great for racing, but every driver said it was the most fun they've had in their car - you're talking about Mattias Ekstrom and Scott Speed who've driven everything saying, 'This is the most fun I've had in my car in my entire life'. For me, that's huge."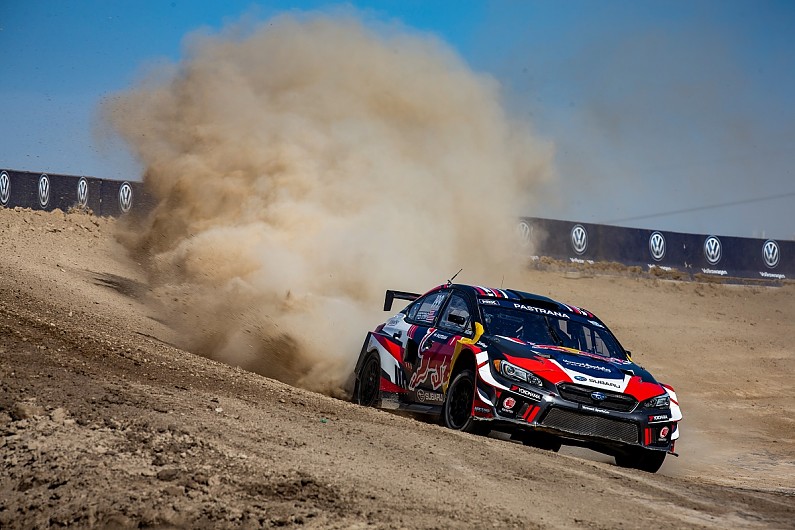 Key to any potential Nitro RX expansion will therefore, perhaps unsurprisingly, be track design. Pastrana believes that although modern rallycross tracks can produce good racing, they don't necessarily provide drivers much satisfaction.
"At the moment I still think [rallycross] tracks can be a lot... I'm not saying better, but different. I feel like this can be its own sport," he says.
"Even with attendance [issues] in NASCAR, you see all these big courses and all these big things and you say, 'What's the next NASCAR, what's the next big sport?' When GRC started, a lot of the NASCAR teams, a lot of the NASCAR tracks, everybody was like, 'This could be it' and it never really materialised.
"As we've found with Nitro Circus, if the riders are passionate, if the riders are excited and they want to be there... when you go out and race COTA, and I'm not trying to come down on COTA, at the end of the first lap I'm not excited as a driver. I'm excited to race, I can't wait for competition and I think it's great they have the race but it's not exciting on its own."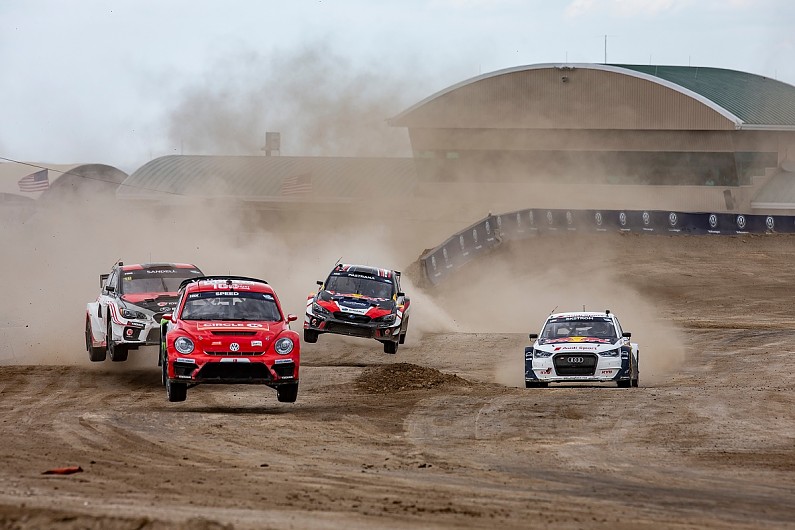 As for the expansion of Nitro RX, Pastrana is looking at the possibility of turning it into a series in the coming years, following the success of the maiden standalone event.
"[2019] is kind of a building year on a couple of fronts," says Pastrana. "You won't see a lot of me but I'll be doing a lot of stuff to hopefully build Nitro Rallycross for 2020 going forward.
"There's definitely going to be Nitro rallycross [in 2019]. It will be at world games 100%.
"I honestly believe that this could be huge, especially as a US platform - not that it couldn't go over to Europe, but Europe is more about the racing whereas the US is a lot more about the show, and I think that we can get it off the ground more as a show and as it succeeds then hopefully the racers will want to be a part of it."
Autosport has produced a standalone special magazine to celebrate our 70th birthday. All current print subscribers will receive a copy for free. To order your copy of the 196-page Autosport 70th Anniversary issue, please go to: autosport.com/autosport70th