PSRX Volkswagen's Johan Kristoffersson recovered from a pair of less-than-perfect starts to score victory in France, as he continues the defence of his World Rallycross Championship crown.
The Swede battled back from a poor start in Q2 on Saturday afternoon to claim the top spot in the intermediate classification but he was beaten to the semi-final victory by a fast-starting Mattias Ekstrom.
Starting from the second row of the grid for the final, Kristoffersson ran third on the opening lap but dropped to fifth when he took his compulsory joker on the second tour.
He climbed to fourth when fellow second-row starter Sebastien Loeb, who had qualified in 12th, completed his joker on lap three.
Kristofferson then closed the gap to the leading trio of Audi's Andreas Bakkerud and Ekstrom, as well as Peugeot driver Timmy Hansen.
The Volkswagen Polo driver leapfrogged into the lead on the final lap as the leaders took their joker together, to claim his third Loheac victory in succession.
Just days after Audi confirmed to Autosport that it will pull out of World RX at the end of the season, the Audi-supported EKS pairing of Bakkerud and Ekstrom locked out the front row for the final.
Running one-two for all of the final but the last third of the final lap, Bakkerud slotted into second at the joker merge as Ekstrom dropped to fourth behind PSRX driver-owner Petter Solberg.
Solberg had taken his joker at the first opportunity from fifth, having passed Loeb in the opening corners and consequently made the podium.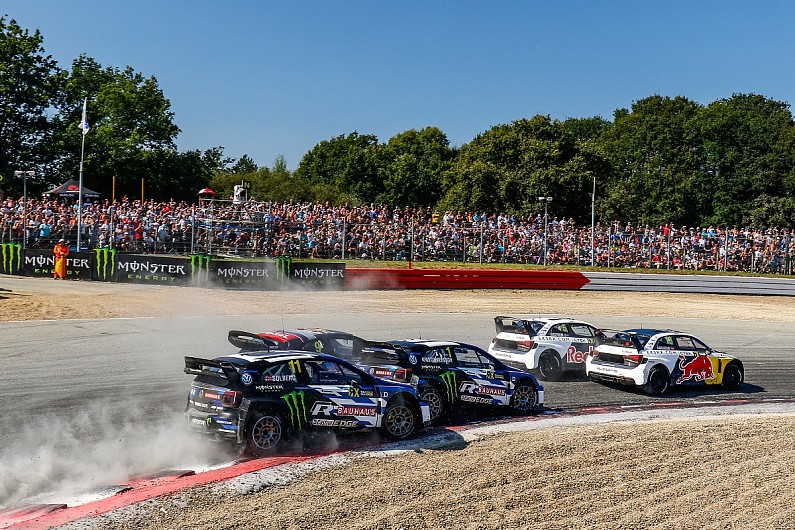 Loeb's Peugeot team-mate Hansen replicated a move made by his colleague in the semi-finals by cutting inside for the first corner from the outside of the last row, before running around the outside of Loeb and Solberg in turn two to climb the order.
Hansen's late joker meant he dropped to fifth, emerging just ahead of Loeb at Peugeot's home event, with the six finalists covered by just 1.5 seconds as they crossed the finish line.
British driver Liam Doran starred on his comeback to the series by setting the second fastest time to Kristoffersson in Q3 on Sunday morning in damp and slippery conditions to qualify sixth.
But he would miss out in the sem-finals, meaning Doran wasn't able to make a dream final start on his debut for Guerlain Chicherit's GCK squad.
Final result
| Pos | Driver | Team | Car | Time | Gap |
| --- | --- | --- | --- | --- | --- |
| 1 | Johan Kristoffersson | PSRX Volkswagen Sweden | Volkswagen | 3m44.787s | - |
| 2 | Andreas Bakkerud | EKS Audi Sport | Audi | 3m45.127s | 0.340s |
| 3 | Petter Solberg | PSRX Volkswagen Sweden | Volkswagen | 3m45.571s | 0.784s |
| 4 | Mattias Ekstrom | EKS Audi Sport | Audi | 3m45.945s | 1.158s |
| 5 | Timmy Hansen | Team Peugeot Total | Peugeot | 3m46.210s | 1.423s |
| 6 | Sebastien Loeb | Team Peugeot Total | Peugeot | 3m46.362s | 1.575s |
Drivers championship
| Pos | Driver | Points |
| --- | --- | --- |
| 1 | Johan Kristoffersson | 224 |
| 2 | Andreas Bakkerud | 165 |
| 3 | Petter Solberg | 160 |
| 4 | Timmy Hansen | 158 |
| 5 | Mattias Ekstrom | 157 |
| 6 | Sebastien Loeb | 151 |
| 7 | Kevin Hansen | 98 |
| 8 | Niclas Gronholm | 95 |
| 9 | Janis Baumanis | 68 |
| 10 | Timur Timerzyanov | 66 |
| 11 | Jerome Grosset-Janin | 47 |
| 12 | Guerlain Chicherit | 44 |
| 13 | Robin Larsson | 22 |
| 14 | Kevin Eriksson | 16 |
| 15 | Tommy Rustad | 14 |
| 16 | Liam Doran | 12 |
| 17 | Gregoire Demoustier | 9 |
| 18 | Anton Marklund | 7 |
| 19 | Oliver Bennett | 5 |
| 20 | Francois Duval | 4 |
| 21 | Toomas Heikkinen | 3 |
| 22 | Andrew Jordan | 2 |
| 23 | Joni-Pekka Rajala | 1 |
| 23 | Mark Higgins | 1 |
Teams championship
| Pos | Team | Points |
| --- | --- | --- |
| 1 | PSRX Volkswagen Sweden | 384 |
| 2 | EKS Audi Sport | 322 |
| 3 | Team Peugeot Total | 309 |
| 4 | GRX Taneco Team | 161 |
| 5 | GC Kompetition | 103 |
| 6 | Olsbergs MSE | 38 |