A new Americas Rallycross championship has been announced by World and European Rallycross championship organiser IMG.
The series' launch follows news that Global Rallycross will ditch its Supercar class in favour of a modified Lites category - dubbed 'Gold' - this season, following the exit of the majority of Supercars teams.
The Americas series, which will comprise four events in 2018, will begin in Britain as part of the World Rallycross package at Silverstone in May and will also take in the WRX rounds at Trois-Rivieres in Canada on August 4-5, and the Circuit of the Americas in Austin, Texas, on September 29-30.
A fourth event is yet to be announced.
The ARX series will feature both a headline Supercar class and an ARX2 class for Olsbergs' Supercar Lites platform.
Cooper Tyres has been confirmed as the official tyre supplier for the series, and will suupply the same rubber currently used in the world championship.
"Rallycross is a perfect match for the way we digest entertainment today: short, sharp wheel-to-wheel races that are packed with action," said Paul Bellamy, SVP and managing director of motorsports for IMG.
"ARX is a very exciting opportunity to use our experience from World RX to grow the sport in the Americas.
"We see huge potential in ARX and will work closely with all key stakeholders and possible new venues to develop ARX into a major championship over the next few years."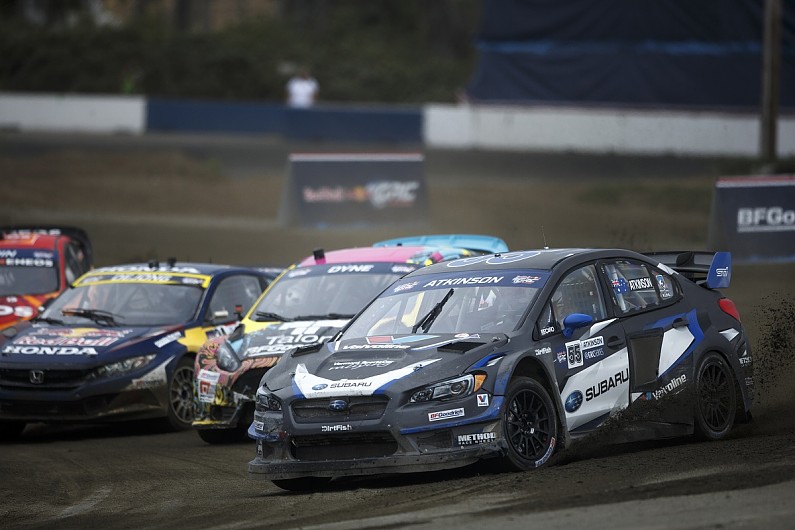 An entry list is yet to be revealed, but former GRC teams Volkswagen Andretti Rallycross and Subaru Rally Team USA have already announced plans to contest the series, with drivers Tanner Foust, Scott Speed, Patrik Sandell, and Chris Atkinson all moving across as well.
"Volkswagen of America, in conjunction with our technical partner Andretti Autosport, intends to enter ARX in 2018 with a factory-supported supercar rallycross team," said Greg Lucia, director of experiential marketing for Volkswagen.
"We are very excited about the future of rallycross in North America and look forward to finalising all details with IMG and working closely with them to help make ARX a success."
Subaru's motorsports marketing manager Rob Weir added: "IMG has done a fantastic job with the World RX platform, so we're keen to integrate the Subaru Rally Team USA program in the upcoming ARX series under its guidance."