The Global Rallycross Championship has announced it will replace its headline Supercar category with a new 'Gold' class based on upgraded Lites cars for 2018.
GRC organisers said the move was designed to close up the field, which has been dominated by Volkswagen Andretti Rallycross and its drivers Scott Speed and Tanner Foust for the last three seasons.
The one-make Lites class (pictured below) uses the same mid-engined spaceframe cars, designed to look similar to Ford Fiestas, that feature in the World Rallycross Championship's RX2 class.
Modifications to the existing Olsbergs-derived platform to turn it into the 'Gold' class will include aggressive bodywork and so-called strategic mechanical updates, according to a GRC statement.
"We are giving the sport of rallycross back to the drivers with the Gold class," said Global Rallycross CEO Colin Dyne.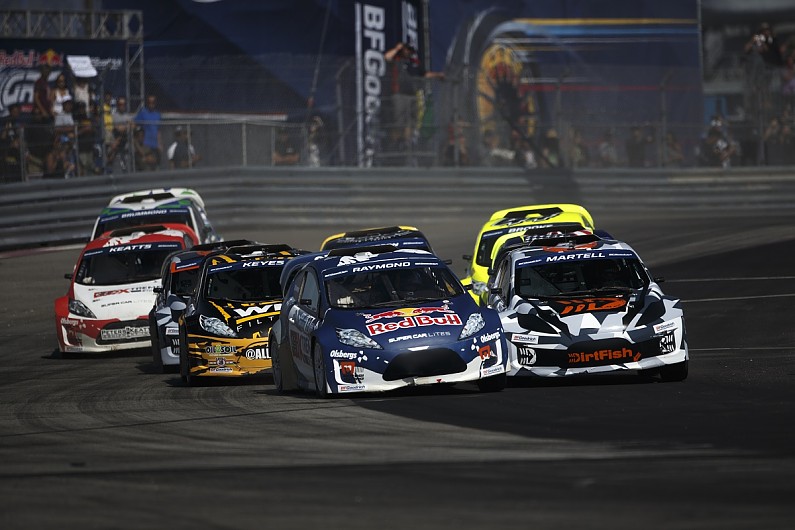 "By creating a more closely matched generation of top-tier rallycross vehicles, the Gold class will provide a platform where our drivers can highlight their driving skills and create even more dynamic racing for the fans."
The GRC has previously announced an intention to introduce an electric category for 2019, and confirmed that plans for a further 'Platinum' class next year will be revealed later this week.
Earlier this month the series also announced it would be holding its 2018 season finale at Lydden Hill, in the first European GRC event in five years.
Lydden has lost its World RX round to Silverstone this year.
The 2018 GRC season will begin on June 9-10 in Buffalo, New York.