Toyota World Rally Championship driver Sebastien Ogier leads M-Sport's Teemu Suninen by 12 seconds after Friday's Rally Mexico stages.
Having assumed the lead on the second stage of the morning loop, Ogier quietly got on with the job of building a cushion while rest of the front-runners struggled.
The Frenchman's Toyota team-mate, championship leader Elfyn Evans, was hobbled by running first on the road and being forced to sweep the stages for everyone else behind him.
In the third Toyota, Kalle Rovanpera's performance was tempered by a puncture as he continues to gain experience in the top flight, but he won the final stage of the day on the streets of Leon with style.
It was a day to forget for Hyundai. Defending world champion Ott Tanak was hampered by the 45-second deficit resulting from going off in the morning, while Thierry Neuville's engine expired in the late afternoon - ending an attempt to defy his poor road position.
The third Hyundai of Dani Sordo went out with terminal engine problems on the second pass through El Chocolate.
All of which leaves the M-Sport Ford Fiesta of Teemu Suninen in second place at the overnight halt.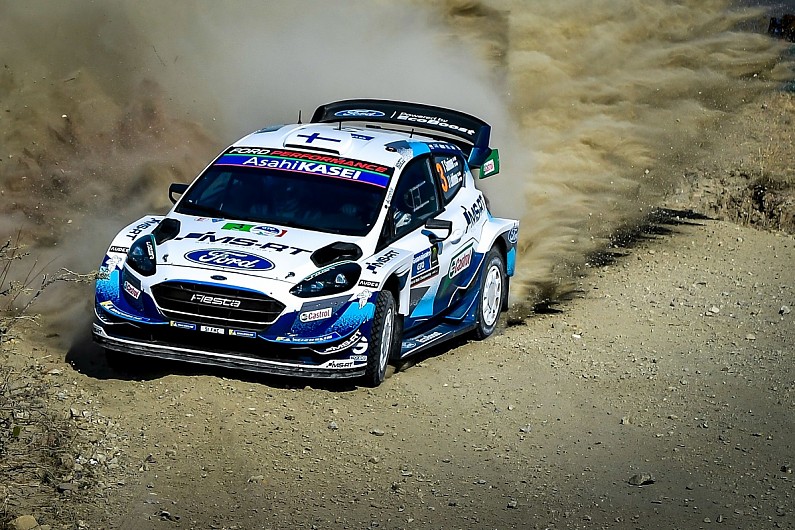 Four top-three stage times and consistent top-five pace throughout the first eleven stages have allowed the Finn to keep Ogier in his sights amid the excitement.
The biggest drama of the afternoon befell Suninen's fellow countryman Esapekka Lappi in the sister M-Sport Ford.
After completing his second pass through El Chocolate, the rear of Lappi's car erupted in flames which neither his co-driver Janne Ferm or the attendant marshals could extinguish.
Lappi tried to drive the car away but was soon forced to bail out, leaving his Fiesta to burn to the ground.
The following stage was cancelled due to the absence of fire services who were preoccupied with the Fiesta's destruction.
The day ended with crowd-pleasing spectator stages that did little to change the order: Ogier leads Suninen and has more than half a minute in hand over Evans, Tanak and Rovanpera, with nine of the 12 remaining stages scheduled to follow on Saturday.
Results after Friday's second loop:
| Pos | Class | Driver | Team | Car | Time | Gap | |
| --- | --- | --- | --- | --- | --- | --- | --- |
| 1 | RC1 | Sebastien Ogier, J.Ingrassia | Toyota Gazoo Racing WRT | Toyota | 1h19m05.8s | - | 0 |
| 2 | RC1 | Teemu Suninen, J.Lehtinen | M-Sport Ford WRT | Ford | 1h19m17.8s | 12.0s | 0 |
| 3 | RC1 | Ott Tanak, M.Jarveoja | Hyundai Shell Mobis WRT | Hyundai | 1h19m38.6s | 32.8s | 0 |
| 4 | RC1 | Elfyn Evans, S.Martin | Toyota Gazoo Racing WRT | Toyota | 1h19m39.1s | 33.3s | 0 |
| 5 | RC1 | Kalle Rovanpera, J.Halttunen | Toyota Gazoo Racing WRT | Toyota | 1h19m40.1s | 34.3s | 0 |
| 6 | RC1 | Gus Greensmith, E.Edmondson | M-Sport Ford WRT | Ford | 1h20m13.6s | 1m07.8s | 0 |
| 7 | WRC2 | Pontus Tidemand, P.Barth | Toksport WRT | Skoda | 1h23m11.9s | 4m06.1s | 0 |
| 8 | WRC2 | Nikolay Gryazin, Y.Fedorov | Hyundai Motorsport N | Hyundai | 1h23m59.4s | 4m53.6s | 0 |
| 9 | WRC3 | Marco Bulacia Wilkinson, G.Bernacchini | Marco Bulacia Wilkinson | Citroen | 1h24m45.7s | 5m39.9s | 0 |
| 10 | WRC3 | Emilio Fernandez, R.Garcia | Toksport WRT | Skoda | 1h27m15.6s | 8m09.8s | 0 |
| 11 | WRC2 | Ole-Christian Veiby, J.Andersson | Hyundai Motorsport N | Hyundai | 1h28m38.8s | 9m33.0s | 0 |
| 12 | WRC3 | Ricardo Trivino, M.Marti | Ricardo Trivino Bujalil | Skoda | 1h28m53.2s | 9m47.4s | 0 |
| 13 | RC1 | Thierry Neuville, N.Gilsoul | Hyundai Shell Mobis WRT | Hyundai | 1h29m21.4s | 10m15.6s | 0 |
| 14 | RC2 | Ricardo Cordero Jr., M.H.Valdez | Ricardo Cordero | Citroen | 1h30m55.2s | 11m49.4s | 0 |
| 15 | WRC3 | Kajetan Kajetanowicz, M.Szczepaniak | Kajetan Kajetanowicz | Skoda | 1h32m47.2s | 13m41.4s | 0 |
| 16 | RC2 | John Coyne, S.Joyce | John Coyne | Ford | 1h36m39.8s | 17m34.0s | 0 |
| 17 | WRC3 | Gianluca Linari, N.Arena | Gianluca Linari | Ford | 1h36m45.0s | 17m39.2s | 0 |
| 18 | RC5 | Martin Suriani, Z.Garcia | Martin Suriani | Renault | 1h40m13.1s | 21m07.3s | 0 |
| 19 | RC5 | Francisco Name, A.Zapata | Franciso Name | Renault | 1h41m56.3s | 22m50.5s | 0 |
| 20 | RC1 | Dani Sordo, C.del Barrio | Hyundai Shell Mobis WRT | Hyundai | 1h44m19.6s | 25m13.8s | 0 |
| 21 | RC5 | Gustavo Uriostegui, D.Hernandez | Gustavo A. Uriostegui | Renault | 1h45m53.5s | 26m47.7s | 0 |
| 22 | NAT2 | Enrique Meza Reynoso, C.J.Coronel | Enrique Jose Meza Reynoso | Ford | 1h46m57.5s | 27m51.7s | 0 |
| 23 | RC2 | Barry McKenna, J.Fulton | Barry McKenna | Skoda | 1h50m49.9s | 31m44.1s | 0 |
| 24 | RC5 | Gerardo Rejon Basanez, M.Pimentel | Gerardo Rejon Basanez | Renault | 1h52m09.2s | 33m03.4s | 0 |
| 25 | NAT | Miguel Granados, A.Carmona | Miguel Granados | Mitsubishi | 1h55m32.2s | 36m26.4s | 0 |
| 26 | NAT4 | Serge Brachet, F.Suberville | Serge Brachet | Mitsubishi | 1h57m08.0s | 38m02.2s | 0 |
| 27 | NAT2 | Alejandro Sanchez, A.D.Villegas | Alejandro Mauro Sanchez | Ford | 2h11m26.6s | 52m20.8s | 0 |
| 28 | WRC3 | Benito Guerra, D.Cue | Benito Guerra | Skoda | 2h11m30.2s | 52m24.4s | 0 |
| 29 | NAT2 | Boris Djordjevic, J.Hall | Boris Djordjevic | Ford | 2h43m21.6s | 1h24m15.8s | 0 |
| 30 | WRC3 | Alberto Heller, J.L.Diaz | Benito Guerra | Ford | 2h51m08.2s | 1h32m02.4s | 0 |