World Rally Championship leader Ott Tanak hopes Toyota's 1-2-3 Rally Germany finish will help motivate his team to "push forward" after "tension" following Rally Italy earlier this season.
Tanak dropped from the lead to fifth on the last stage in Sardinia, pictured below, - handing victory to Hyundai's Dani Sordo - following a steering problem on his Yaris WRC which was blamed on a faulty batch of parts.
It inspired an outpouring of emotion from Toyota Motor Corporation president Akio Toyoda and members of the team - including Tanak - following his return to service.
Tanak's future is currently uncertain, and the driver confirmed his representatives were in talks with other teams, namely M-Sport and Hyundai, as well as his current employer.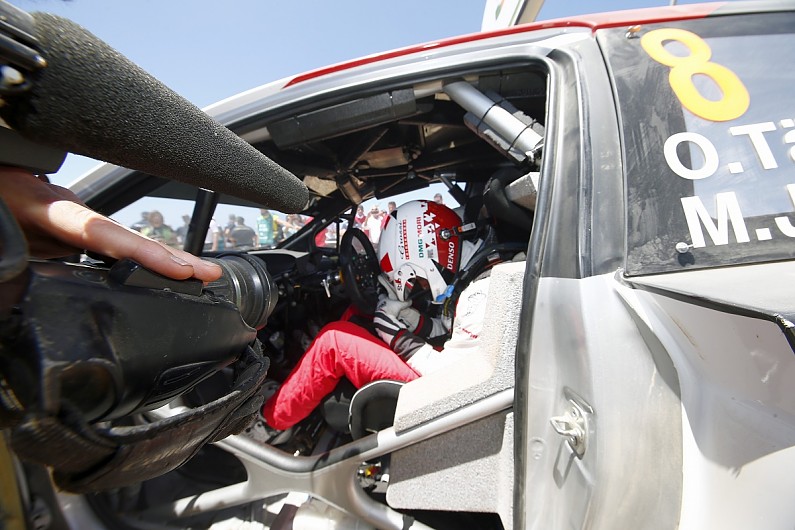 Speaking after completing a hat-trick of WRC wins and his third Rally Germany victory in a row, Tanak said: "It is important to have this kind of result.
"Only a short time ago, we had quite a dramatic end to the rally in Sardinia, and these situations always bring some tension into the team.
"We had two cars on the podium in Finland and now three here, so I believe it is important to have this kind of result for the team.
"Especially for every member of the team, to give them this motivation.
"I am sure they can also understand that their hard work is paying off and I hope it keeps the motivation high to push forward."
When asked by Autosport if his third WRC win in a row had any effect on his future decision, Tanak said: "No."